4. Download drivers by Driver Easy Free Version
Step 1: After opening the driver update software and running a scan, Driver Easy locates the out of date driver you are looking for in the list.
Step 2: Once you would like to update all this drivers, click the green button "Get Drivers" on the button right-hand side of the screen or click "Download" on the top middle to enter download window.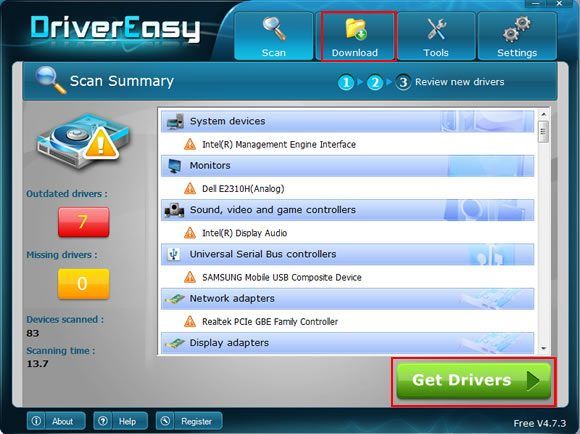 Step 3: 
Directly click the download icon for the driver you want to download. The download speed would be limited for free version. It is about 30 ~ 50KB/s. Therefore, we recommend you to use the Professional version. A little more money will save you much time.
Free version does not support One-Click Download All feature, so you need to download drivers you need one by one.
Meanwhile, Driver Easy always recommends viewing driver information first before downloading drivers. You can view driver detail information in Driver Information window.