2. Driver Easy Professional Registration and Activation Guide
Registration is fast, easy and totally secure.
Step 1: Download DriverEasy and install it on your computer. Run Driver Easy.
Step 2: At the bottom-left of the main screen, Click "Register"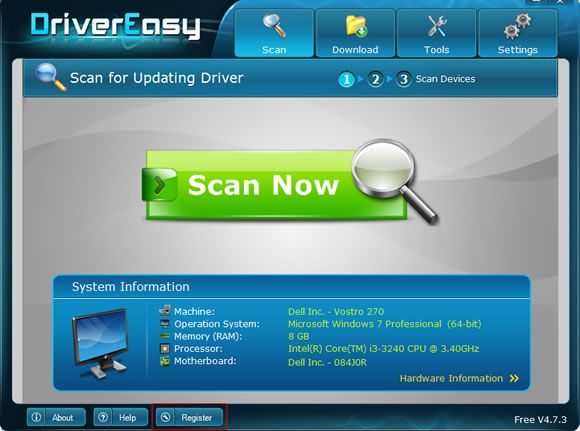 Step 3: An activation window will pop up and ask you to fill the License Key in the blank.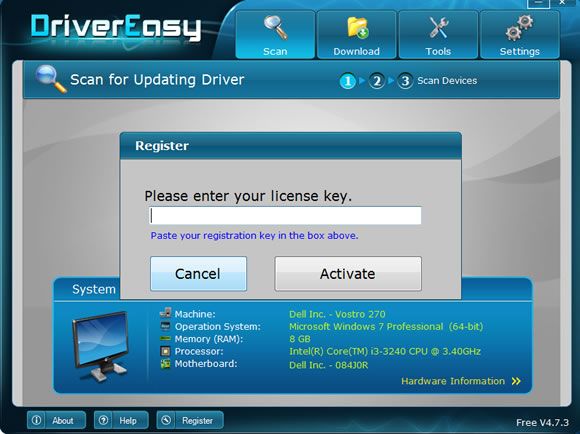 Step 4: After finishing safe and easy online payment for Driver Easy Professional, you will see the License Key displays on the successful paid page and we will also send you email attached with the License Key again.
Step 5: Copy and paste License Key on the required registration window that Driver Easy prompts!

• Use your mouse, highlight the license key on the page.• Hold down the CTRL (Control) key on your keyboard and press the "C" key to copy.
• Go back to the Driver Easy register dialog, Click the blank where the license key should be.
• Hold down the CTRL (Control) key, and press the letter "V" to paste.
• Click "Activate" button to Activate Driver Easy.
Activation done! Now you are using the Driver Easy Professional with full features!
Existing Customers that have lost or forgotten the license key
Please use the following link to resend the license key:
 http://www.drivereasy.com/resend-license-key
Also you can contact our Technical Support Department for further help. CONTACT US NOW