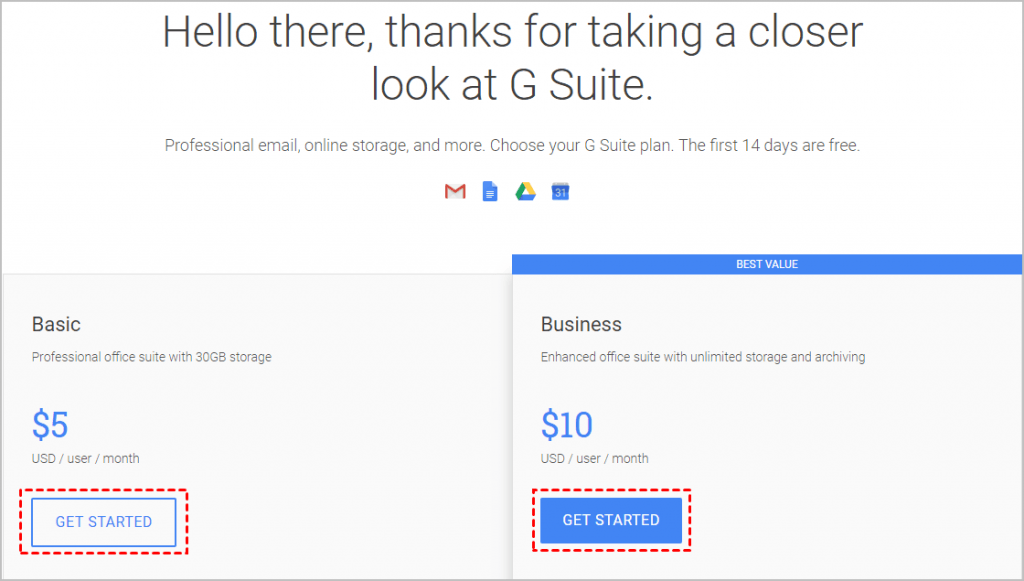 Google has three editions of G Suite: Basic, Business and Enterprise. And it's currently offering a 20% off discount on its Basic and Business editions. Check it out now…
How to sign up G Suite with G Suite Promo Code

According to Google regulations, it's not allowed to publicly distribute coupon codes, so don't worry if you don't see a promo code in this page. G Suite Promo Code will be automatically applied in the final step of the sign-up process.

Here we break down the sign-up process into 10 easy-to-follow steps.
1) Go to G Suite Sign-up Page, review the features available for each edition and click GET STARTED in the one that suits your needs.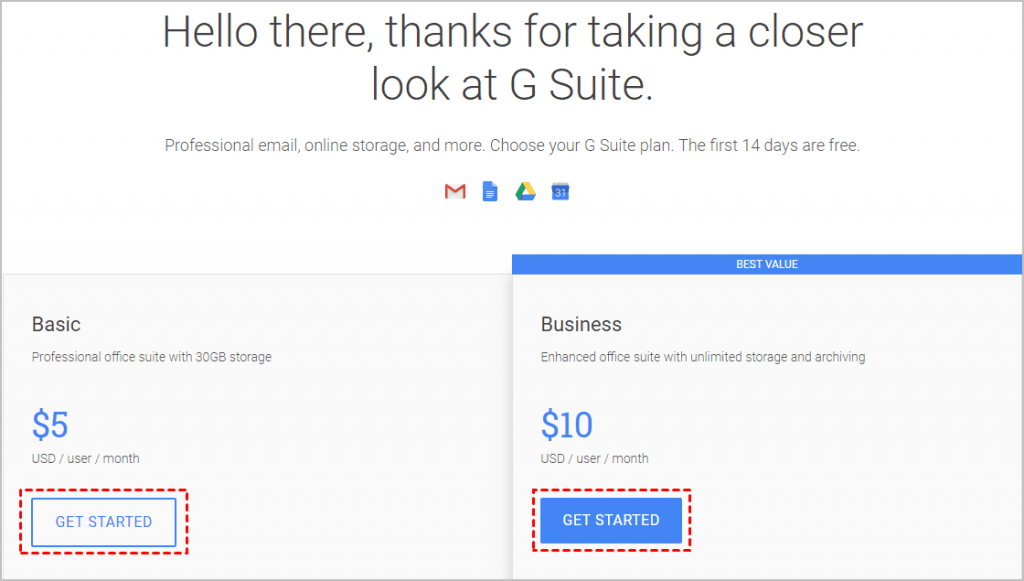 2) In Let's get started Page, enter your business name, select the range of the number of your company members, then select your country and click NEXT.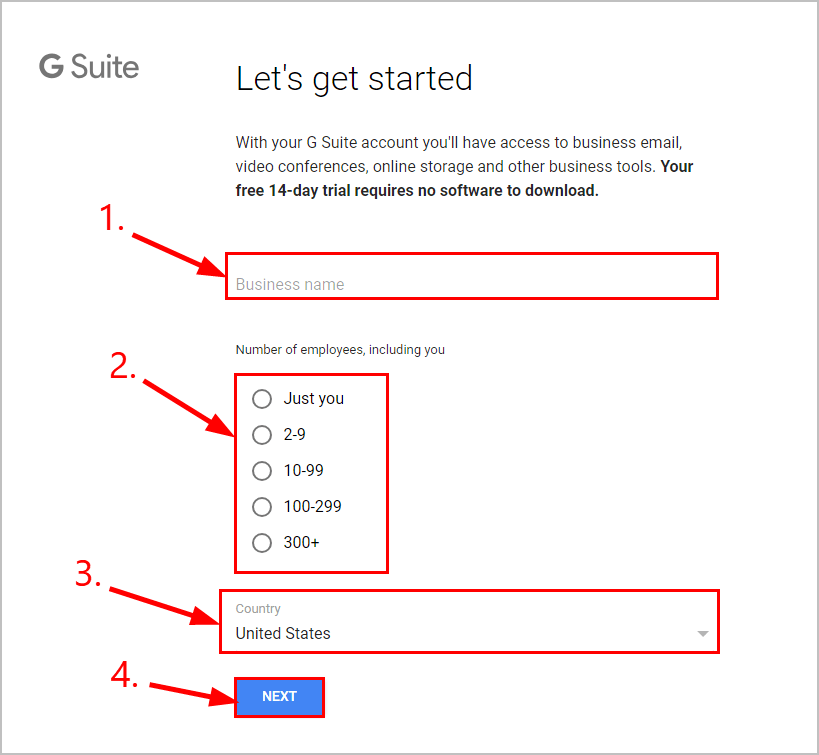 3) Then in What's your contact info Page, enter your contact info, including First name, Last name, Current Gmail address and Business phone number.
Since you're the person setting up G Suite, so you're become the administrator by default. But don't worry, you can assign this role to someone else if you wish to.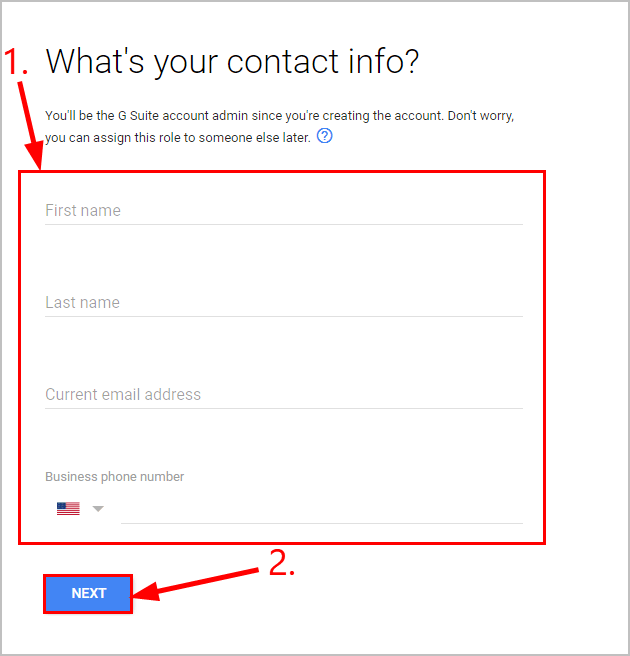 4) If you have a domain of your business, choose YES, I HAVE ONE I CAN USE. If you don't have a domain yet, click NO, I NEED ONE and follow the on-screen instructions to find one that works.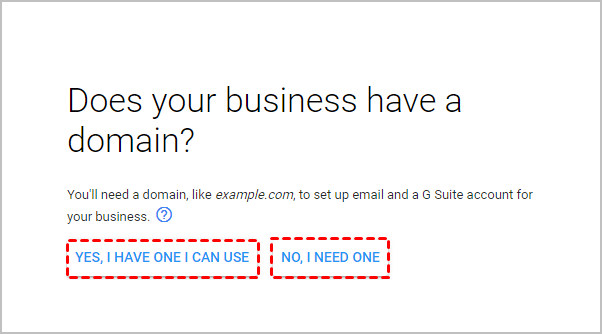 5) Enter your domain name (e.g. drivereasy.com) and click NEXT.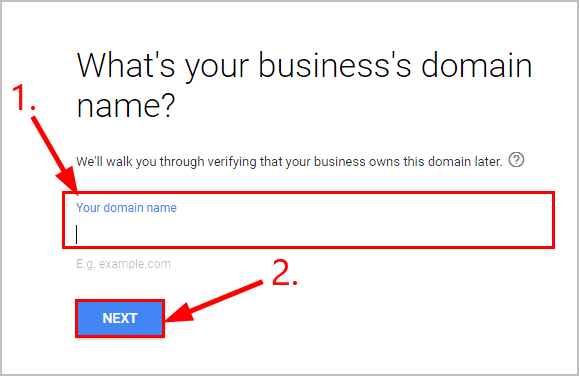 6) In Use this domain to set up the account, click NEXT.
7) After that, you'll be in How you'll sign in, type your user name. For example, if you type admin, then your email address will be admin@your business domain name.com. Then choose a password for you account and click
AGREE AND CREATE ACCOUNT.
8) You'll get a 20% off G Suite promotion code. After that, you can log into G Suite Admin Panel.
9) Click Billing to set up your G Suite billing.
10) Select your Country and its Currency and your choice of billing levels (Basic or Business). Then follow the on-screen instructions to complete the sign-up procedure.
Now congrats – you've already signed up your G Suite account. Yippee!
---
2. FAQs about G Suite
1) What is G Suite?
G Suite (formerly Google Apps for Work) is the all-in-one package of productivity apps that's supposed to meet all your needs for business. With a cloud-based technology, it helps teams to communicate, collaborate and get things done real-time anywhere and on any device.
Based on their core functionalities, these apps can be categorized into three different kinds:
2) What are the benefits of G Suite?
G Suite is becoming increasingly popular for both small teams and large organizations alike, especially for those who are scattered across different countries and areas. It's an ideal choice to help you run and grow your business.
Here're the main features of the best-loved tools in G Suite:
Gmail: Get custom email addresses (your name@your company domain name) as apposed to a regular @gmail.com, which makes it easier to look professional.
Hangouts: Texting, video conferencing, screen sharing, file sending in one place.
Calendar: Schedule your events, meetings & activities, get reminders and know what's coming up next, and share it with your team as well as your clients.
Google Doc, Sheets, and Slides: Google's version of Microsoft Office from the convenience of a web browser as opposed to the bulky desktop installation. Allows multiple individuals to work on the same project at the same time.
Google Drive: Store, access and share your files with real-time syncing. A 30GB storage limit for the Basic edition and unlimited storage and archiving for the Business and Enterprise editions.
3) How are Basic, Business and Enterprise different from one another?
Here we've put together a table for comparison among the three plans:
Feature
Basic
Business
Enterprise
Price
$5/user per mo.
$10/user per mo.
Contact G Suite Support
Apps
All
All
All
Access across devices (computer, phone, or tablet)
Yes
Yes
Yes
24/7 Support
(phone, email, and online)
Yes
Yes
Yes
Works without an Internet connection
Yes
Yes
Yes
Secure Storage (Per User)
30 GB
Unlimited (1 TB/user)
Unlimited
Jamboard

Yes
Yes
Yes
Archives
No
Yes
Yes
Google Vault
No
Yes
Yes
---
3. FAQs about G Suite promo code
1) Why am i getting the error "The promotion code you entered does not apply to your country/region"?
At the time of writing, the promo codes for G Suite are applicable in the following 24 countries/areas:
| | | |
| --- | --- | --- |
| America | Asia – Pacific | Europe |
| Argentina | Australia | Belgium |
| Brazil | Hong Kong | France |
| Canada | India | Germany |
| Chile | Japan | Ireland |
| Columbia | New Zealand | Italy |
| Mexico | UAE | Netherlands |
| Peru | | Portugal |
| USA | | Spain |
| | | UK |
If you're getting "The promotion code you entered does not apply to your country/region", then the promo code does not work in the country where you sign up for your G Suite account.
2) Why am I getting this error "The promotion code you have entered has already been used before" ?
You see this error if the G Suite promo code you are trying to apply is previously used by some other account. In this case, you can request a new coupon code.
3) Why am I getting the error "The promotion code you entered is not valid for the selected product"?
G Suite offers discounts only on the Basic and Business editions but not the Enterprise edition. If you're seeing this error, you might have to switch your plan from Enterprise to Basic or Business.

4) I'm an existing G Suite customer, can I use the promo codes for renewal or upgrading?
No. G Suite Promo Code only works for users who are signing up for the first time or those in the 14-day trial period.
5) Why doesn't my promo code seem to work?
There're three main reasons why the coupon code you enter doesn't work:
You've entered an invalid code;
The promo code you entered has already been used;
The promo code you entered is not yet available in your country.
---
1
1 people found this helpful