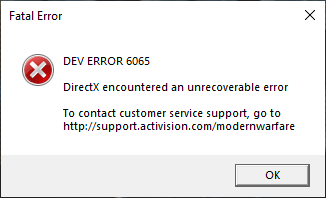 COD: Warzone was released in 2020, but the Dev Error 6065 is still there. A lot of gamers are still complaining of it from time to time. If you're trying to fix this issue on your own PC, this post is here to help.
Try these fixes:
There're 5 fixes that have helped many gamers solve their problems. You don't have to try them all; just work your way down the list until you find the one that works for you.
Fix 1: Run as administrator and disable full-screen
Set the game exe file Run as administrator sounds cliche, but it sometimes works perfectly.
Navigate to the COD game folder.
Right-click on the exe file and sele and select Run as administrator.
Right-click on Battle.net and select Properties.

Under the Compatibility tab, check the Run this program as an administrator and Disable fullscreen optimizations box.

Click Apply > OK.
Open Battle.net client.
Click Call of Duty: MW, then click Options and select Show in Explorer.

Relaunch the game and check.
Please note, if you want to live streaming or recording videos while playing the game, you need to run the software as Administrator as well.
If this fix doesn't work, please move to the next one.
Fix 2: Update your graphics driver
The Dev Error 6065 message suggests a DirectX issue, which means it could be graphics-related. It's possible that you're using a broken or outdated graphics driver. So before moving to other complicated fixes, updating your graphics driver would be a good start.
There are two ways to update your driver – manually or automatically. You can visit the graphics card manufacturer's website (NVIDIA/AMD) to find the correct driver and download it manually. But if you don't have the time or patience, you can, instead, do it automatically with Driver Easy.
Download and install Driver Easy.
Run Driver Easy and click the Scan Now button. Driver Easy will then scan your computer and detect any problem drivers.

Click Update All to automatically download and install the correct version of all the drivers that are missing or out of date on your system.
(This requires the Pro version – you'll be prompted to upgrade when you click Update All. If you don't want to pay for the Pro version, you can still download and install all the drivers you need with the free version; you just have to download them one at a time, and manually install them, the normal Windows way.)

The Pro version of Driver Easy comes with full technical support.
If you need assistance, please contact Driver Easy's support team at support@drivereasy.com.
By the way, it's bettter to keep your system up to date to prevent potential risks and issues.
Once you've updated your graphics driver and Windows system, restart your PC and see if Warzone runs properly.
If it doesn't work, you can move to the next fix.
Fix 3: Underclock the GPU
Many gamers overclocking graphics cards for better performance. Usually, the higher you overclock your GPU, the more processing power you get. However, if you have overclocked GPU and suffering from the Dev Error 6065 issue, you can try underclocking the GPU to fix the error.
It sounds strange, but it works for some people and it's worth trying.
Download MSI Afterburner.
Install MSI Afterburner.
Open the software and find your graphics card.
Because of the different PC environments, you may need to keep adjusting the Core Clock until you're no longer crashing.
Here we suggest underclocking the Core Clock by 150 and memory by 250.
Ensure to save the profile and that afterburner is running every time you start COD.
If it's still not working, try the next fix.
Fix 4: Disable all the third-party apps
The third-party apps could be the culprit for Dev Error 6065. The apps may conflict with the COD: Warzone and lead to the error. Try this fix especially when you have XMP, NZXT CAM or Razer Cortex.
Press the Ctrl + Shift + Esc together to open the Task Manager.
In the Processes tab, click the program and click End task.

End all the unnecessary background apps.
Relaunch COD: Warzone as administrator to check.
Not working? Don't give up, you can try the next one.
Fix 5: Scan and Repair the game files
If game files are corrupted, you may encounter errors and crashes. To fix that, use a built-in feature of the Battle.net client to scan and repair the game files.
Launch Battle.net client.
Click Call of Duty: MW, then click Options and select Scan and Repair.

Click Begin Scan.
After the process, relaunch the game and check if it's running properly.
If this fix is not working, you can move to the final fix.
Fix 6: Reinstall the game
If nothing works, you may come to this final fix: reinstall the game completely. It's not a ideal solution but it might fix the issue.
Open Battle.net client and click Call of Duty: MW.
Click Options and click Uninstall Game.

Follow the on-screen instructions to finish the process.
Go to COD documents folder and delete them completely.
Restart your PC and install the game again.
Launch the game to check whether Dev Error 6065 is fixed or not.
---
The error has last for 2 years, the COD: Warzone support team hasn't fix it yet. They're still investigating PC Dev Errors including DEV ERROR 6065. We have to find a way on our own and that's why we have this post that gathered all the working fixes and wish to help.
Hope one of the fixes would help you fix the issue. If you have other fixes, please share it with us in the comment section.
1
1 people found this helpful