In 2019, we noticed that the Russian antivirus program, Dr.Web, had mistakenly flagged Driver Easy as a Potentially Unwanted Program (PUP).
We've been trying, ever since (now 3 years and counting), to get the folks at Dr.Web to remove this false positive, but they have refused. We haven't even been able to get any constructive feedback from them about why they've flagged Driver Easy.
This post describes our attempts and their far from helpful replies.
If you don't have time to read the whole post, the short story is that no, Driver Easy is NOT a PUP. It's completely safe to install and use.
What is a potentially unwanted program (PUP)?
A potentially unwanted program (PUP) is software that a user may see as unwanted.
Is Driver Easy a PUP?
No. Driver Easy is only ever installed when a customer intentionally downloads and installs it from our website, in order to update their drivers.
I suppose it should be some consolation to me that Driver Easy isn't the only application that gets a false positive in Dr.Web. I used Dr.Web to scan my own, completely clean and well maintained computer, and it incorrectly flagged Driver Easy and 99 other programs as PUPs. I intentionally installed – and actively use – all of these programs: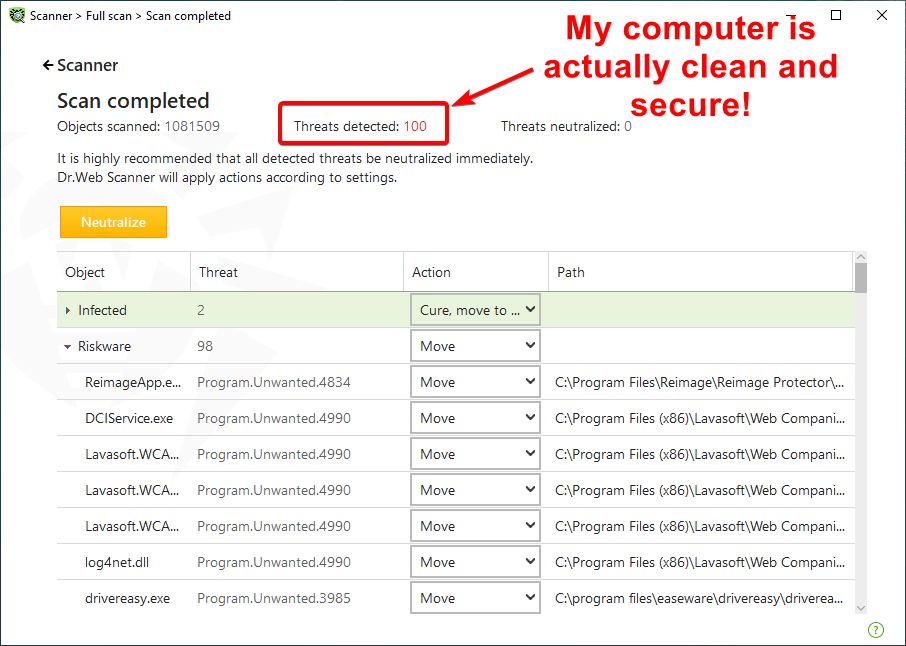 Why does Dr.Web say Driver Easy is a potentially unwanted program (PUP)?
We've reached out to Dr.Web several times about this problem.
The first time (in 2019), they said this on their technical forum:
"If the program downloads something unknown from unknown places, then it can be ranked as unwanted…

Please note that this issue is beyond our competence."
I replied:
Our customers know, full-well, that Driver Easy installs drivers from a range of different sites. This is the very reason they choose to use/buy Driver Easy: because they don't know where to find the drivers, don't know which drivers to download, and/or don't know how to manually install them.

In other words, the feature you call unwanted is the very thing these people actually want, and which many thousands pay for. It doesn't make sense that you would flag a wanted feature as unwanted. It's like flagging an antivirus program because it automatically blocks certain programs using algorithms the user doesn't understand (but nonetheless values)…

If we were hiding that functionality or doing it silently, I would understand, but it's the whole reason people use our software.
They didn't reply, so I reached out again. This time I contacted Dr.Web's support team, emailed their CEO and even sent a connection request to their CEO on LinkedIn. Their CEO didn't reply, but I got a reply from my support ticket saying only:
"Your request has been analyzed. This is not a false positive incident."
When I asked their support agent why they consider it a false positive, they told me to write a paper letter to their CEO in Russia!:
"Repeating our previous submission, this is not a false positive. The corresponding record will be not deleted from the database Dr.Web.

If you wish to discuss the matter further, please, contact Doctor Web's management via mail. You can send the official letter (paper) addressed to Doctor Web CEO Boris Sharov, 125124, Russia, Moscow, 3d street Yamskogo polya 2-12А.

Request is closed.
Thank you."
Very helpful! 🙁
As Boris hasn't answered my emails or LinkedIn request, I don't hold out much hope he'll read my letter.
Is Driver Easy safe?
Yes. Driver Easy has been around since 2009, and has been safely used by tens of millions of customers around the world. It has an average rating of 4.3 ('Excellent') on Trustpilot, from more than 14,000 reviews.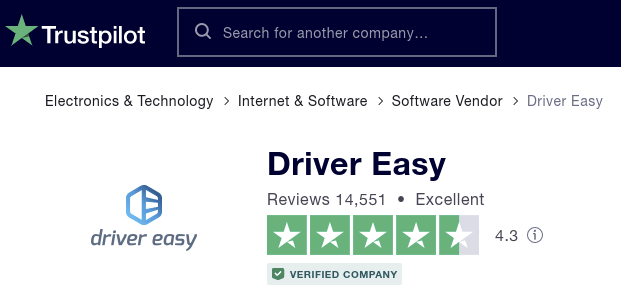 Driver Easy does not install any viruses or malware. It's certified by Norton and also by AppEsteem.
All Driver Easy installs are drivers, and they come direct from your device manufacturers; they're exactly the same drivers you'd install if you did it manually.
For Windows 10, Driver Easy installs only drivers that are 'Certified for Windows' through the Windows Hardware Quality Labs (WHQL) program.
For Windows 7, 8 and Vista, Driver Easy installs WHQL drivers by default, if they're available (which they are for 95.69% of drivers for those versions of Windows), but also gives users the option to install non-WHQL drivers.
99.98% of the drivers Driver Easy installs have either the chip manufacturer's own digital signature or a WHQL signature.
Also, as you can see from Google's VirusTotal report, Dr.Web is the only antivirus program that flags Driver Easy as a PUP. The other 67 antivirus programs all know it's safe (including Ad-Aware, Avast, BitDefender, Nod32, Malwarebytes, McAfee, Acronis, Avira, Kaspersky, Microsoft, Symantec and TrendMicro).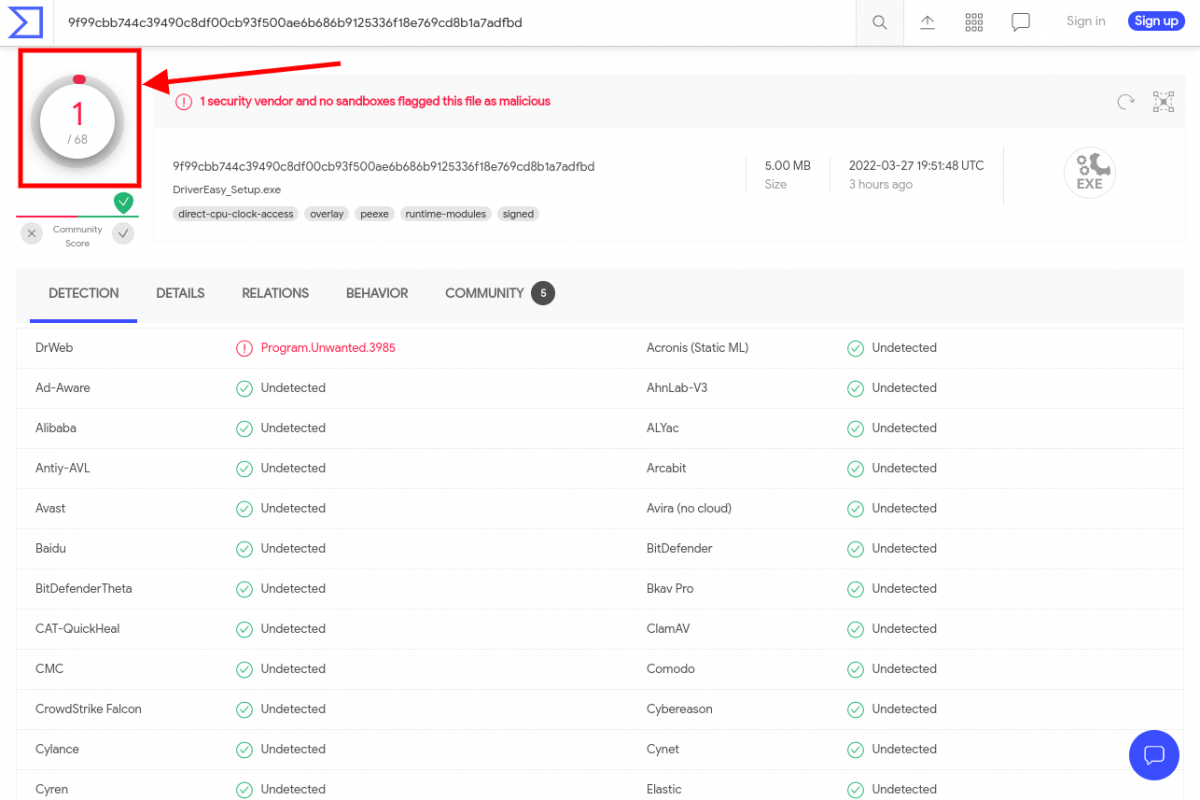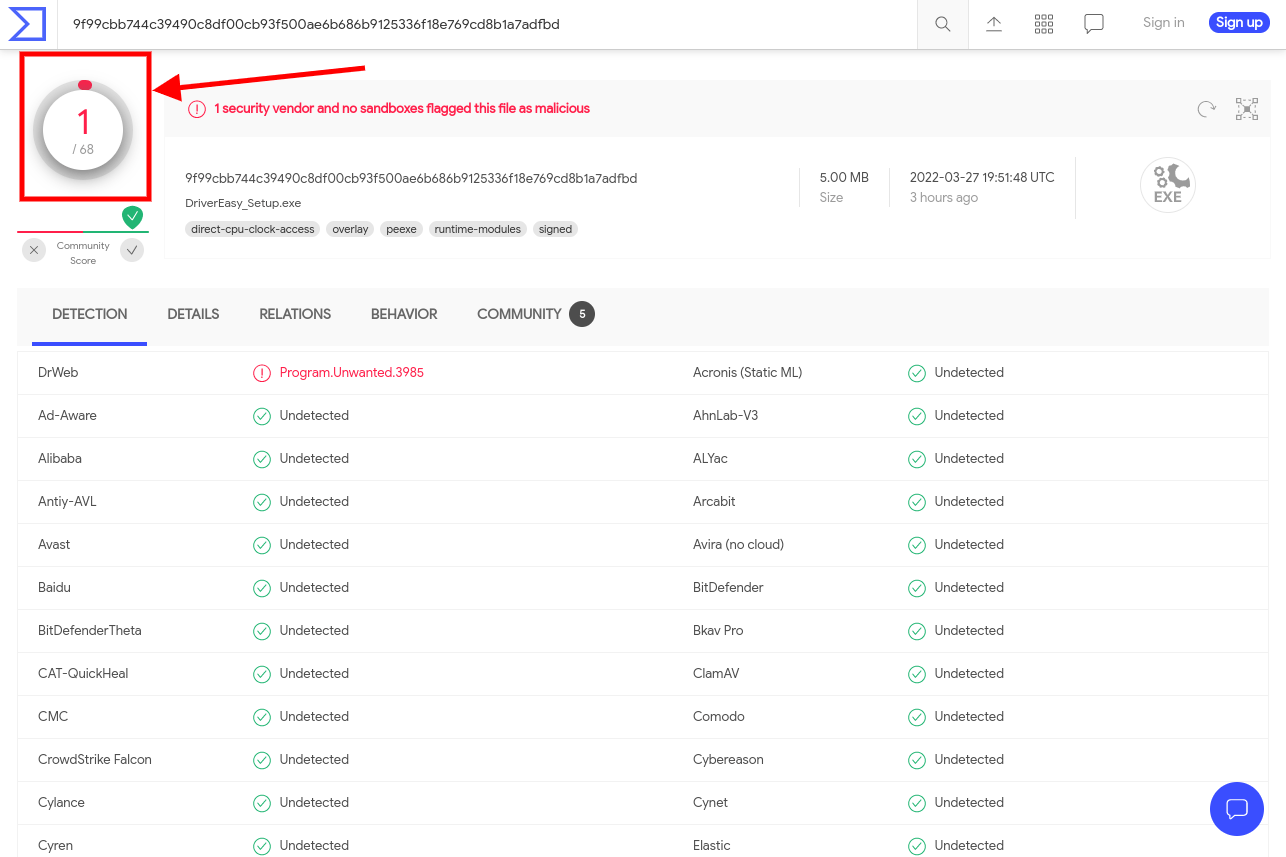 What should you do if you use Dr.Web and it incorrectly flags Driver Easy as a PUP?
Just ignore it. Hopefully one day, the folks at Dr.Web will take the time to remove this false positive, but in the meantime, you can safely ignore it.
Better yet, install a better antivirus that doesn't incorrectly flag hundreds of intentionally installed programs. (My personal favorite is BitDefender.)