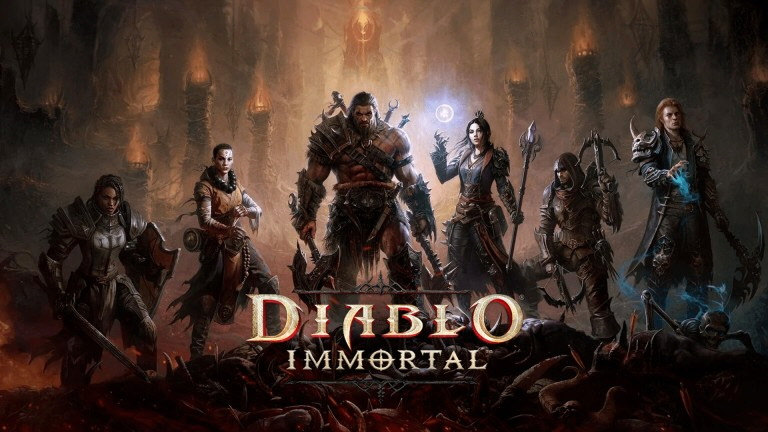 Diablo Immortal is finally on PC. But this first original release didn't work out so well, and many PC gamers are reporting a not launching/crashing at startup issue. If you happen to be on the same boat, don't worry. Here're some proven tips you can try.
Try these fixes:
You may not need to try them all. Simply work down the fixes until you find the one that does the charm.
Fix 1: Verify the integrity of game files
You can expect the new game to be a little buggy. Though the developers are rolling out nightly updates, before you try anything more complicated, you should first do a scan and repair to check if the game files are corrupted or outdated.
Open the Battle.net launcher and select Diablo Immortal.
Click the gear icon next to the Play button. Then select Scan and Repair.

Wait for the process to complete. Once done, click Play and see if you can launch the game now.
If this fix doesn't work for you, take a look at the next one below.
Fix 2: Perform a clean boot
According to some gamers, Diablo Immortal won't launch when there's a software conflict. Given we all use our PCs differently, the quickest way to find out is to perform a clean boot. This will start Windows with only the necessary system services and programs.
Also make sure to disable overclocking software like MSI Afterburner and turn off any kind of overlays: Discord, GeForce Experience, etc.
On your keyboard, press Win+R (the Windows logo key and the r key) at the same time to invoke the Run box. Type or paste msconfig and click OK.

In the pop-up window, navigate to the Services tab and check the box next to Hide all Microsoft services.

Uncheck all the services EXCEPT those belong to your hardware manufacturers, such as Realtek, AMD, NVIDIA, Logitech and Intel. Then click OK to apply the changes.

On your keyboard, press Ctrl, Shift and Esc at the same time to open Task Manager, then navigate to the Startup tab.

One at a time, select any programs you suspect might be interfering, and click Disable.

Restart your PC.
Once your PC restarts, only the essential programs and services will start. You can now launch Diablo Immortal and check if it crashes again. If not, you can try to root out the culpable program or service. A way to do that is to repeat the steps above, but disable half of the services and programs.
If Diablo Immortal is still not starting, check out the next fix below.
Fix 3: Update your graphics driver
In most cases, you're actually looking at a driver issue. New games may have trouble launching when you're using a broken or outdated graphics driver. So if you don't remember when was the last time you updated your GPU driver, definitely do it now.
You can update your graphics driver manually, by visiting the manufacturer's website, downloading the latest correct installer and installing step by step. But if you don't have the time or patience to do that manually, you can use Driver Easy to update automatically:
Download and install Driver Easy.
Run Driver Easy and click the Scan Now button. Driver Easy will then scan your computer and detect any problem drivers.

Click Update All to automatically download and install the correct version of all the drivers that are missing or out of date on your system.
(This requires the Pro version – you'll be prompted to upgrade when you click Update All. If you don't want to pay for the Pro version, you can still download and install all the drivers you need with the free version; you just have to download them one at a time, and manually install them, the normal Windows way.)

The Pro version of Driver Easy comes with full technical support. If you need assistance, please contact Driver Easy's support team at support@drivereasy.com.
After updating your drivers, restart your PC and check if Diablo Immortal runs properly now.
If the latest graphics driver doesn't give you luck, simply move on to the next method.
Fix 4: Increase your virtual memory
Though Diablo Immortal is by no means a demanding game, it could be a problem if your rig has only 8 GB RAM or less. If it's a memory issue, you can give a temporary boost by increasing the virtual memory.
On your keyboard, press the Windows logo key and type advanced system settings. Click View advanced system settings.

Under the Performance section, click Settings….

In the pop-up window, navigate to the Advanced tab. Under the Virtual memory section, click Change….

Deselect the Automatically manage paging file size for all drives checkbox. Then select Customize size.

Enter Initial size and Maximum size according to the physical memory of your computer. Microsoft recommends that virtual memory should be 1.5 to 3 times the size of physical memory. In my case, the physical memory (actual RAM) of my computer is 8 GB, so the Initial size for me here is 8 x 1024 x 1.5 = 12288 MB, and the Maximum size should be 8 x 1024 x 3 = 24576 MB. Once you've entered your size of virtual memory, click Set, then click OK to save the changes.

Restart your computer and check if you can start the game.
If you're sure it's not a memory issue, simply continue to the next fix.
Fix 5: Reinstall Diablo Immortal
Some players reported that they work around this issue by reinstalling the game. As Diablo Immortal is much smaller than COD: Warzone, you can try the same and see how it goes. In the meantime, you may also want to do a clean reinstallation of the Battle.net client.
Fix 6: Check if your system is corrupted
If your system is not configured properly or missing some important components, you'll have trouble running 3D programs. To check if that's the case, you can perform a scan with a professional system repair tool.
Fortect is a professional Windows repair tool that can scan your system's overall status, diagnose your system configuration, identify faulty system files, and repair them automatically. It gives you entirely fresh system components with just one click, so you don't have to reinstall Windows and all your programs.
Download and install Fortect.
Open Fortect. It will run a free scan of your PC and give you a detailed report of your PC status.

Once finished, you'll see a report showing all the issues. To fix all the issues automatically, click Start Repair (You'll need to purchase the full version. It comes with a 60-day Money-Back Guarantee so you can refund anytime if Fortect doesn't fix your problem).

Fortect comes with a 60-day Money-Back Guarantee. If you're not satisfied with Fortect, you can contact support@fortect.com for a full refund.
---
Hopefully this guide helps you fix the Diablo Immortal not launching issue. If you have any questions or ideas, feel free to leave a comment down below.