From tire manufacturers to online retailers, there are plenty of ways to buy tires. These options vary widely by the inventory of tire brands, sizes, pricing, delivery, and even customer support. So to streamline your experience and empower you to make an informed decision, we've put together the 5 best places for you to buy tires online. Get yourself top-quality tires with the greatest savings! 
Option 1 – Tire Rack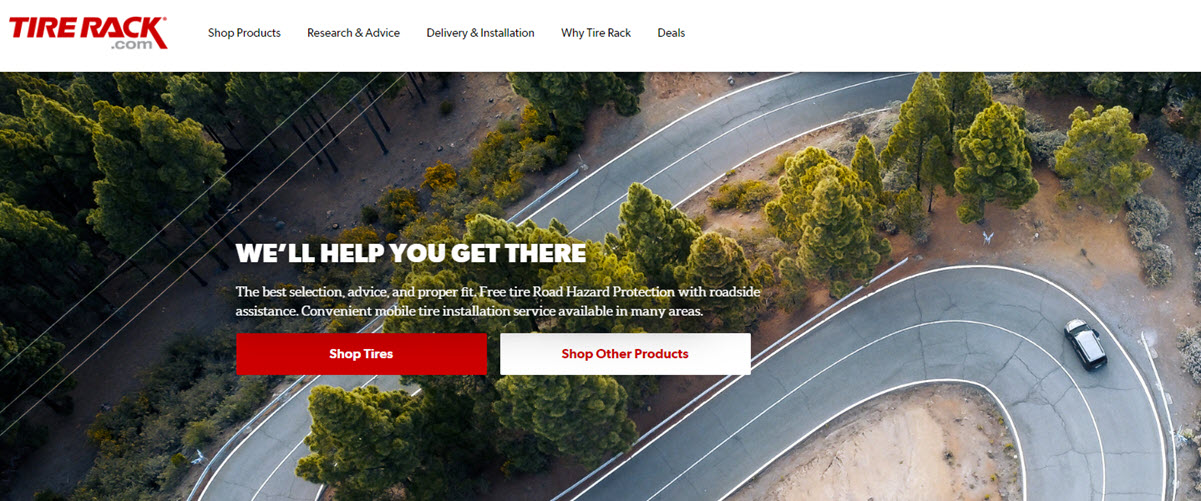 Starting as a normal tire retail shop, Tire Rack has been specialized in sales of tires, wheels, and vehicle accessories for more than 40 years. It has a huge selection of 26 major tires and 60 wheel brands and promises a super-fast delivery across the United States (1 -2 business days). It also carries out a battery of comprehensive tests to guarantee a first-hand experience of the tire performance and comfort in different conditions.
Shopping on Tire Rack is easy. You complete a few simple questions about your vehicle, how you drive, and how you prefer the tires to feel, and Tire Rack will recommend the best-matched tires for you instantly. Or you could just do your own search by the vehicle or tire size. 
The tires can be shipped directly to your home or over 10,000 installers free for any orders over $50. If you opt for mobile installation (starting from $30 per tire), the technician will bring the new tires and install them at any place of your choice. If you pick up the order at a nearby distribution center, you'll receive an extra discount. 

Pros:
Free and quick shipping
30-day return policy
Cons:
Shipping and installation are scheduled independently
Option 2 – Discount Tire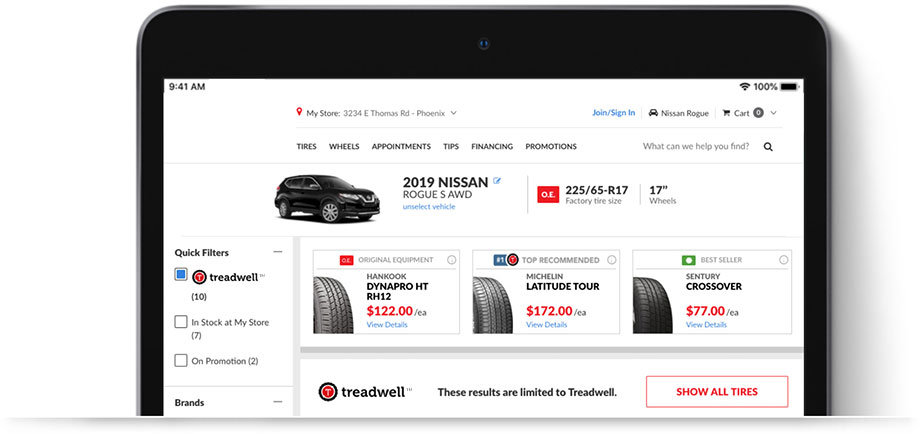 Founded in 1960, Discount Tire has become one of the largest tire retailers with over 1,000 locations in the U.S. As you can tell from the name, it claims to give you the lowest price on top-quality tires and wheels. It covers over 100 brands, ranging from household names such as Goodyear and Michelin to smaller shop franchises like Firestone. Similar to Tire Rack, Discount Tire will recommend the right tires for you by asking some questions about your vehicle and driving style.
The shipping usually takes 2- 4 business days. You may get the tires at your doorstep or choose a convenient in-store pick-up so that the technicians will fit your vehicle. Apart from shopping online, you could visit and shop in a Discount Tire store near you.
Pros:
Free shipping to 48 states
Affordable price without compromising quality
Flexible payment plan
Cons:
Shipping and installation are scheduled separately
Strict return policy
Option 3 – Amazon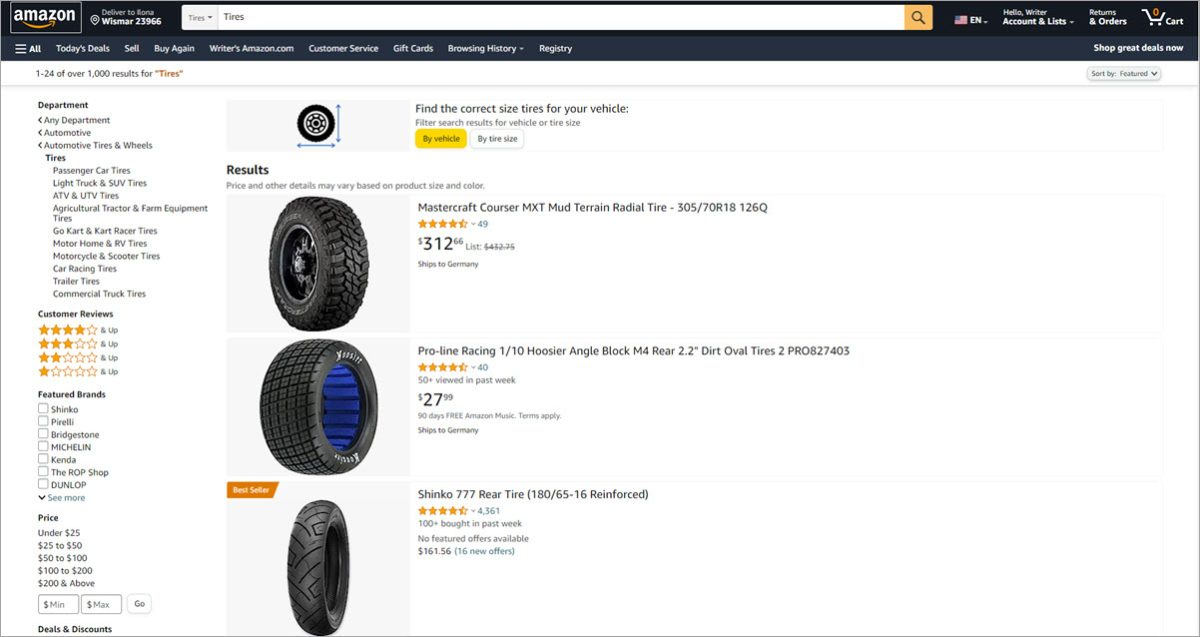 Amazon sells a massive amount of products ranging from clothes, books, housewares, electronics, and gifts to even tires! It boasts a wide selection of tires of almost any price tag and model. There are well-known brands such as Cooper, Bridgestone, Michelin, Goodyear, Firestone and more. You may also find some best sellers that are quickly sold out at your local tire stores.
The tremendous listing at Amazon might be overwhelming to go through, but with its Tire Finder, you could locate the perfect tires that fit your vehicle effectively. Upon purchase, you could get the tires installed at select installation locations or home installation via Amazon Home Services at a fee. If you're an Amazon Prime member, you'll be enjoying extra perks like free shipping and free returns.
Pros:
Extensive selection
Easy comparison
Quick & budget-friendly delivery
Cons:
No additional warranty (only manufacturer warranties)
Option 4 – SimpleTire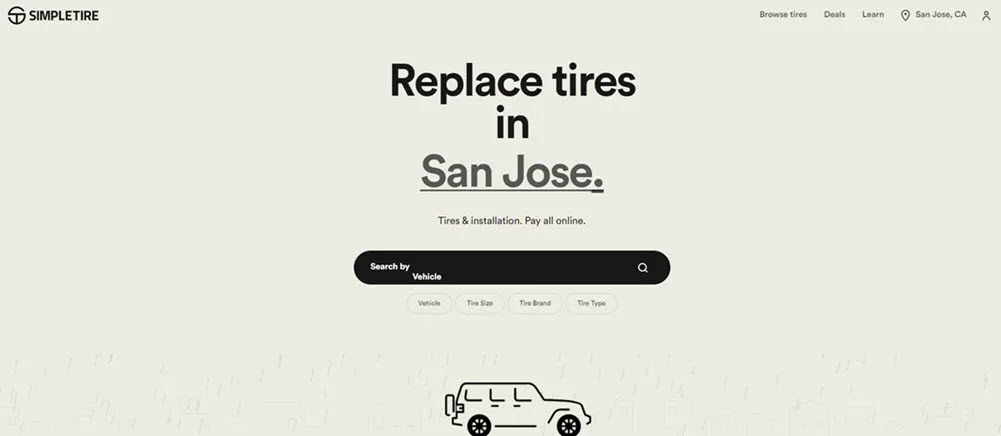 SimpleTire allows you to pick a perfect tire by car type and tire size. It carries over 300 tire brands, which are broader than most retailers and should suit almost any budget and requirement. On the SimpleTire homepage, you could easily browse the huge catalog by vehicle, tire brand, size, or type. 
SimpleTire has built a nationwide network of more than 20,000 local tire installers. Delivery to the partner installer or to a FedEx location for personal pick-ups is FREE. Shipment to a business or residence will require a nominal handling fee.
Moreover, SimpleTire has partnered with several financing institutions like Affirm, Katapult, and PayPal to pull out flexible payment plans. You don't have to worry about your budget – just buy or replace the tires while keeping your monthly expenses in check.
Saving hacks: Refer your friend to SimpleTire, and you could get a $10 Visa gift card when they complete their first purchase.
Pros:
Best price guarantee
Military and healthcare worker discounts
Various payment options
Cons:
Shipping is not free to your own address
No personalized buying recommendation
Option 5 – Walmart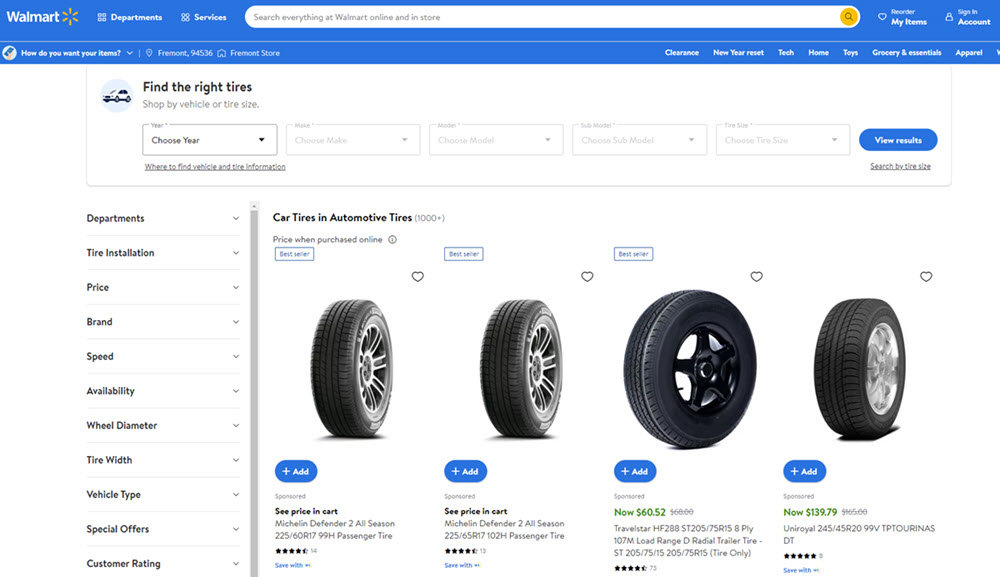 Walmart is another e-commerce giant where you could find good prices on an impressive selection of tires like Firestone, Michelin, Cooper, Goodyear, BFGoodrich, and so on. The shipping is free to both your home and local stores, and the installation is fairly cheap ($11 per tire), lower than most other online retailers.
You could also choose to upgrade to other auto services inexpensively. For example, road-hazard warranty is only $10 for each tire, with coverage of unforeseen road hazards and flat repairs. And if your tires are not fixable within the first 25% of tread life, there will be a free tire replacement.
For those who bought tires somewhere else, Walmart could be a good place for installation. The cost for each tire is $11, the same installation price as for tires that are purchased from Walmart. All you need is to make an appointment with the nearest Auto Care Center and bring your tires in.
Pros:
Free shipping for tire purchases
Cheaper installation fees than most of the other websites
Cheap road hazard warranty ($10 per tire)
Cons:
You need to spend some time searching for suitable tires
Longer installation time
Conclusion
Buying tires online is a hassle-free and time-saving experience with many benefits. You'll have greater choices of tire brands and types and find the best prices by comparing different providers easily. Instead of visiting a physical store, you could shop from anywhere and select products at your own pace. The delivery is fast (and usually free) and a local installer should take care of all the installation for you.
So these are the best places to buy tires online. Make sure you always go with a reputable company to avoid false advertising. If you have any questions or suggestions, please feel free to leave a comment below.