Does this look familiar?

All of a sudden, you Windows PC turns into a blue screen and shows you this error code: BUGCODE_USB_DRIVER. You must be very annoyed and frustrated. Don't worry. Usually this is an easy problem to fix.
5 easy & effective methods to fix BUGCODE_USB_DRIVER:
Method 1: Update your device drivers — the most successful
A very common cause to Bugcode USB Driver is the old or broken drivers. In most cases, updating your device drivers can solve the error. It's always the most successful method from users' feedback.
Whether you choose to update the device drivers manually, using Windows Update, or you use a trusted third-party product, it's essential that you have the latest correct device drivers for your operating system at all times. 
If you're not comfortable playing with device drivers, we recommend using Driver Easy. It's a tool that detects, downloads and (if you go Pro) installs any driver updates your computer needs.
To update your drivers with Driver Easy, just click the Scan Now button, then when it lists the drivers you need to update, click Update. The correct drivers will be downloaded, and you can install them – either manually through Windows or automatically with Driver Easy Pro.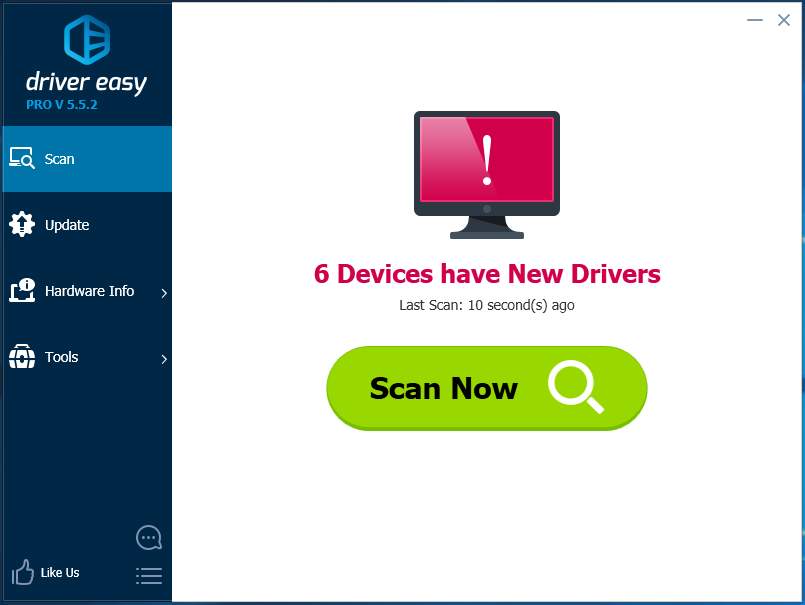 Restart your computer to see if the blue screen disappears. If it shows again, you know your drivers weren't to blame, and you should try the next fix.
Method 2: Adjust the Power settings
Sometimes inappropriate power settings could also lead to the error. In such a case, you can disable the USB selective suspend setting. Follow the steps below then.
1) Type power settings in the search box from Start. Then click Power & sleep settings on the top result.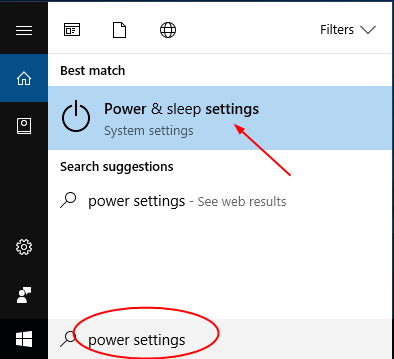 2) Click Additional power settings on the right pane.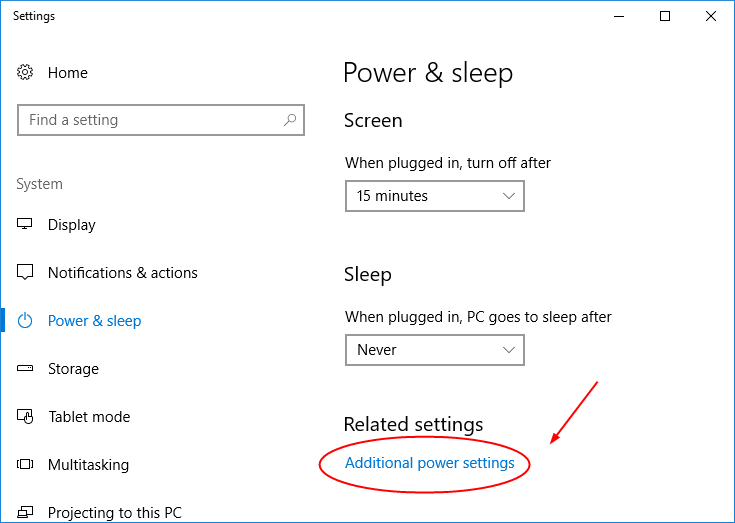 3) Click Choose when to turn off the display > Change advanced power settings.

4) On the pop-up window, expand the dialog after each: USB settings > USB selective suspend setting. Then set it to be Disable from the drop-down menu. Click OK to save your setting.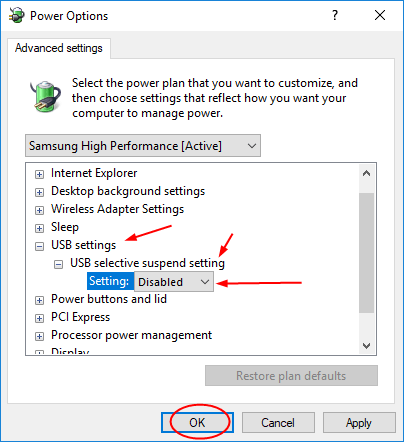 Method 3: Install Windows update on your Windows 10
Windows update always includes bug fixes and adds new features. Installing the update helps some users fix the error. How to install is shown below:
1) Type update in the Search box from the Start menu. Then click Check for updates on the top result.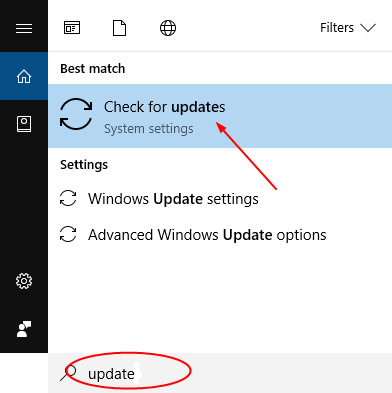 2) On the pop-up page, click Check for updates.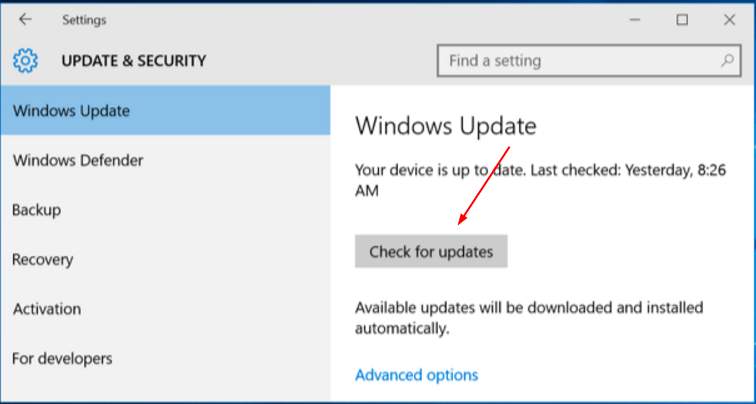 Proceed to follow the on-screen instructions to install the updates.
Method 4. Check your hard disk
Damage or corruption of your hard disk could also bring the error. You can run check disk via the command prompt to fix it. 
1) Type cmd in the search box from the Start menu. Then right-click on Command Prompt to choose Run as administrator.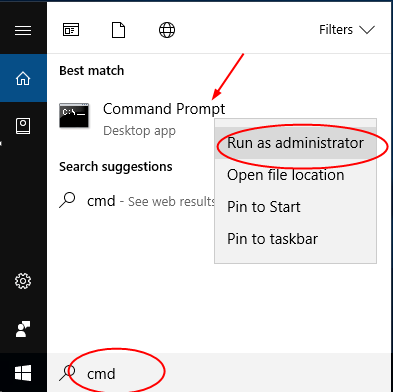 2) Click Yes when prompted by User Account Control.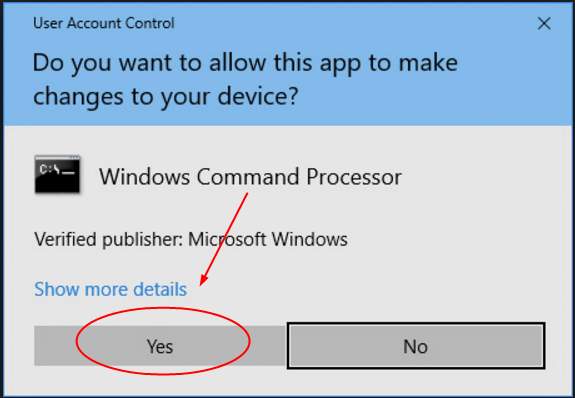 3) On the open Command Prompt window, type chkdsk /f. Then press Enter on your keyboard to run it.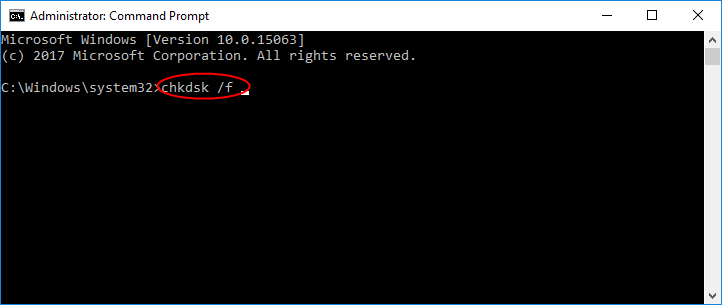 Now it would start checking the hard disk for the possible issues causing the BSOD error.
Fix 5: Repair corrupted system files
Missing, corrupt, or damaged system files may be the culprit for this BSOD error. To eliminate this issue as a possible cause, you can try the 2 ways below to repair possible system file issues.
Repair & replace corrupt system files with Fortect
The issue could be caused by corrupt system files. Fortect is a tool that specializes in Windows repairing and fixing corrupt files automatically.
With Fortect, the preliminary will scan your computer's operating system for viruses, malware, and missing, damaged, or corrupt files, then it removes all problematic files found and replaces them with new healthy files. It's like a clean reinstall of your operating system, except that you won't lose any user data, and all programs, and settings are exactly as they are before the repair.
Here's how to use Fortect to repair system files on your PC:
1) Download and install Fortect.
2) Fire up Fortect and run a free scan.

3) Once finished, Fortect will generate a detailed report of your computer health, which includes all issues detected.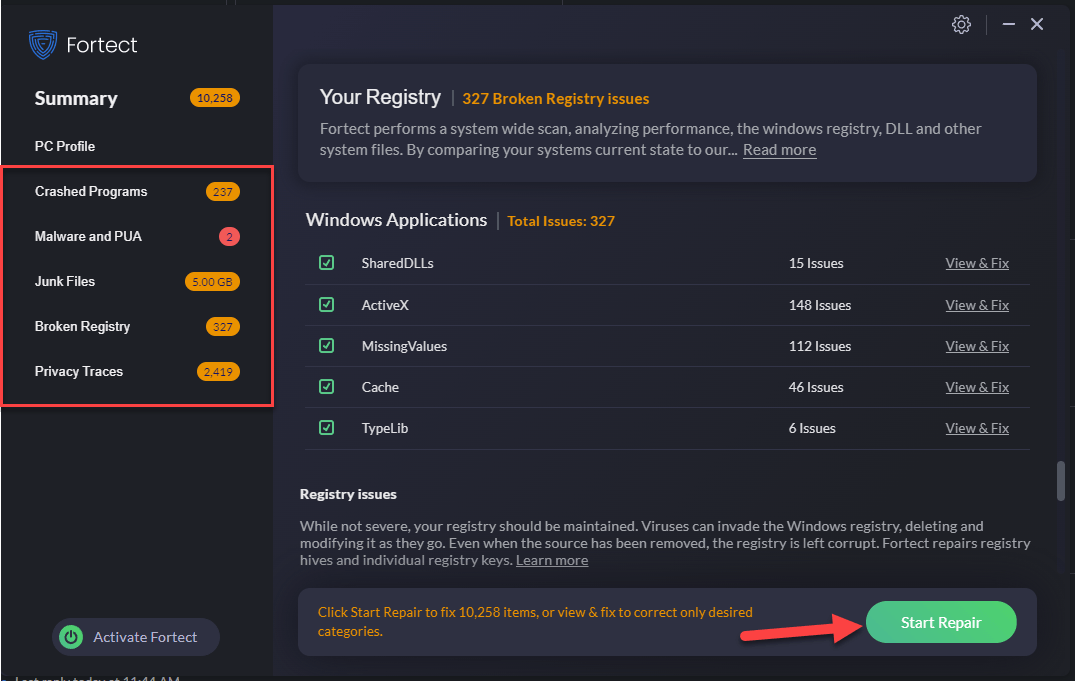 To fix all the issues automatically, click Start Repair (You'll need to purchase the full version. It comes with a 60-day Money-Back Guarantee so you can refund anytime if Fortect doesn't fix your problem).
If you run into any problems while using Fortect, or if it doesn't work for you, don't hesitate to contact Fortect support team.
5) Restart your computer for the changes to take effect.
6) Check your computer to see if the issue is fixed.

Run SFC scan
System File Checker (SFC) is a handy feature in Windows that helps scan your system files and repair missing or corrupted system files(including those related to BSOD). To run the SFC scan:
1) On your keyboard, press the Windows logo key and type cmd. Then right-click on Command Prompt and click Run as administrator.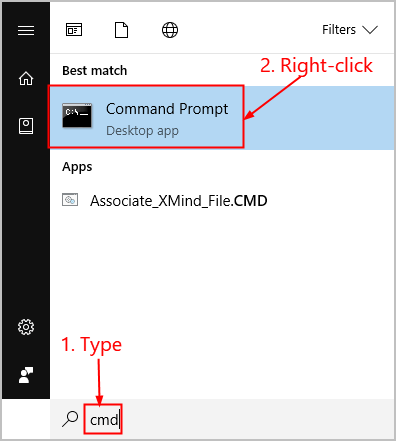 2) Click Yes when prompted to confirm.
3) In the command prompt window, type sfc /scannow and press Enter.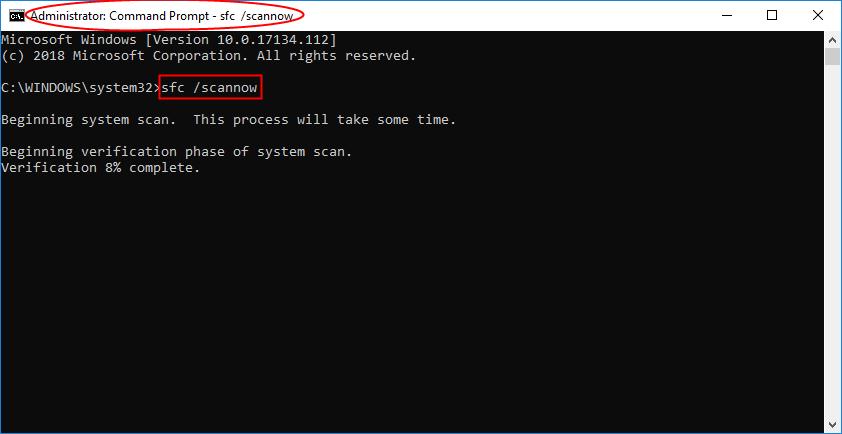 It'll take some time for the SFC to replace the corrupted system files with new ones if it detects any, so please be patient.
4) Restart your computer for the changes to take effect.
5) Check your computer to see if the problem has been fixed.

---
That's all there is to it. Have you solved the error? If you have any questions, please feel free to leave your comment below. And also if you have other methods to fix the error, share with us please, thanks.
11
11 people found this helpful