Many users have updated to Windows 11, but some of them encounter the Bluetooth not working issue. If you're looking for a cure for the Bluetooth not working issue, you're in the right place. In this tutorial, we'll walk you through all the working fixes and get your Bluetooth device working in a jiff.
Try these fixes:
You might not need to try them all; just work your way down until you find the one that suits you.
Fix 1: Check your device
Before starting any complicated fixes, make sure you've checked these things:
Make sure your device supports Bluetooth
Make sure your device has turned on Bluetooth
Make sure your PC has turned on Bluetooth
Here's how to check on Windows 11 PC:
1) Press the Windows logo key + A to open Quick Settings.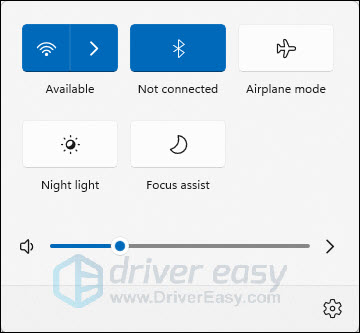 2) Make sure the Bluetooth button is enabled.
3) You can re-enable Bluetooth on PC by turning off Bluetooth then enable it later. Then check if your device can work on your PC. It may work for some users.
How to pair your Bluetooth device on Windows 11
If you're sure your device supports Bluetooth and was already paired with your PC, moving to the next method to get it working.
Fix 2: Run the Windows 11 Bluetooth troubleshooter
Windows has built-in troubleshooters to fix some common errors. You can run the Bluetooth troubleshooter to fix the Windows 11 Bluetooth not working issue. This is the most common and easy way to fix the problem.
Here's how:
1) Press Windows logo key + I (i) key together to open Settings.
2) Click System in the left panel. Then scroll down on the right panel and click Troubleshoot.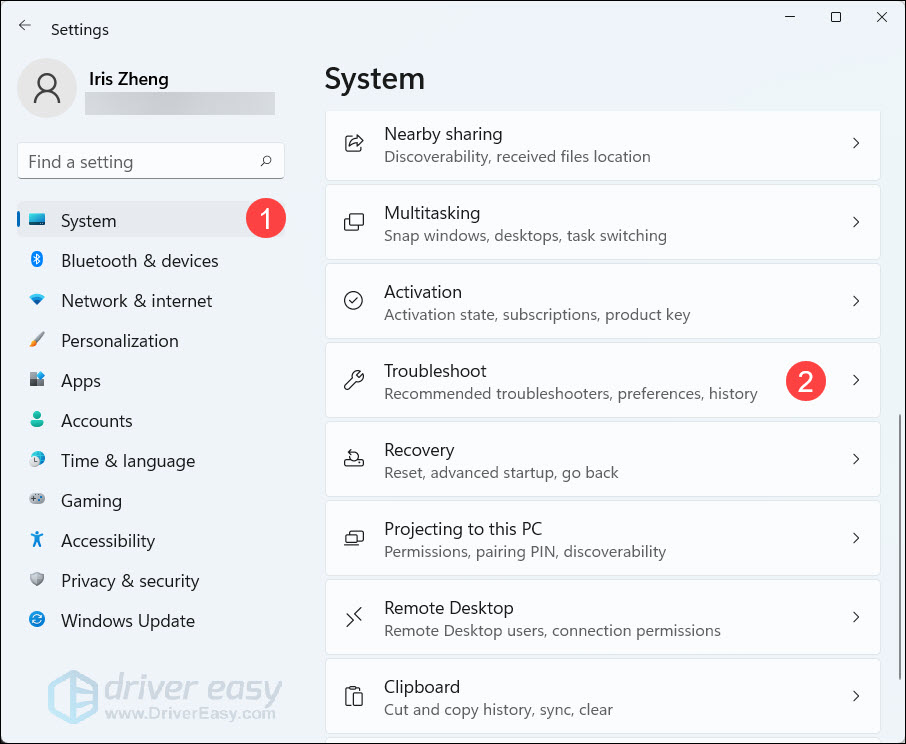 3) Click Other troubleshooter.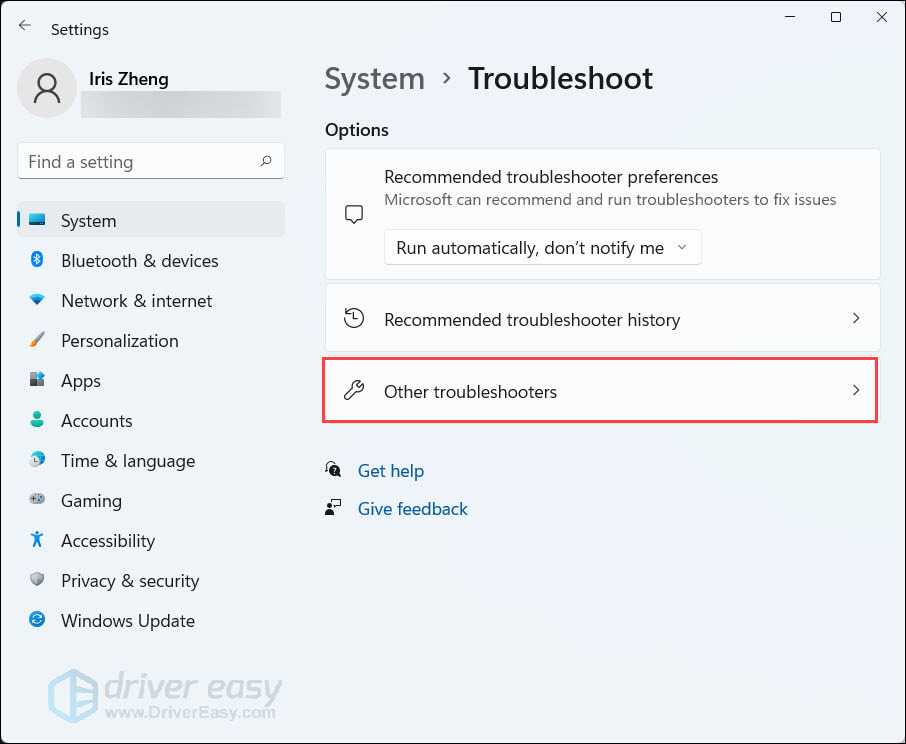 4) Find Bluetooth and click Run.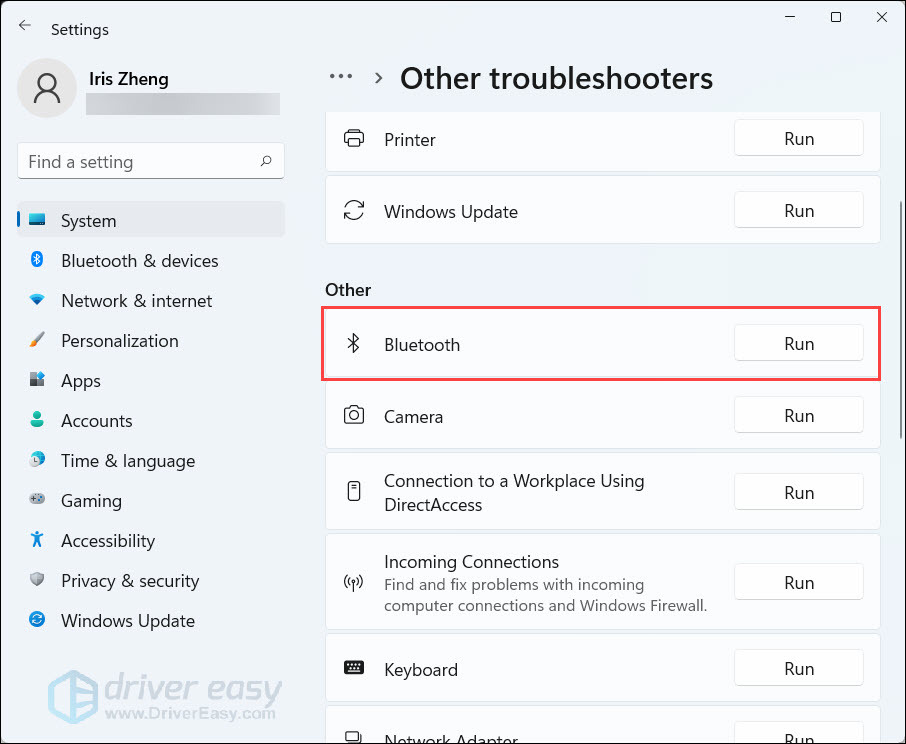 5) The system will automatically run the troubleshooter to fix the problem. When the process is completed, Windows will let you know the problem is solved or not.
If the Bluetooth troubleshooter doesn't work, move to the next fix.
Fix 3: Update your Bluetooth driver
One of the most common causes of the Bluetooth not working problem is an outdated or faulty Bluetooth driver. If you never bother to, or don't remember when was the last time you updated your Bluetooth driver, definitely do it now. It might just fix your problem right away.
There're mainly 2 ways you can update your Bluetooth driver: manually or automatically.
Option 1: Update your Bluetooth driver manually
If you're familiar with computer hardware, you can try to update the Bluetooth driver manually.
To do so, first visit the website of your device manufacturer, then search for your device model. Be sure to download only the latest driver that's compatible with your operating system. Once downloaded, open the installer and follow the on-screen instructions to proceed.
Option 2:Update your Bluetooth driver automatically (Recommended)
If you don't have the time, patience or computer skills to update your Bluetooth driver manually, you can, instead, do it automatically with Driver Easy. Driver Easy will automatically recognize your system and find the correct drivers for your exact device, and your Windows version, and it will download and install them correctly:
1) Download and install Driver Easy.
2) Run Driver Easy, then click Scan Now. Driver Easy will then scan your computer and detect any problem drivers.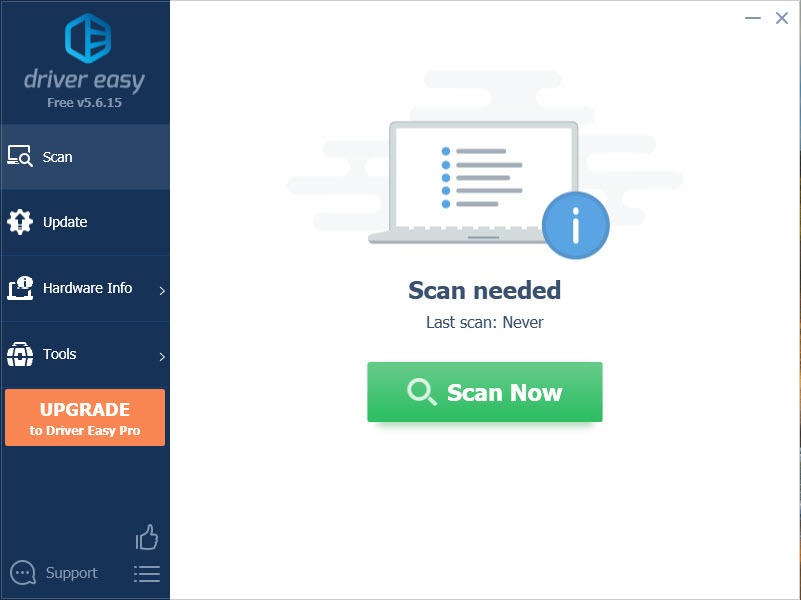 3) Click Update All to automatically download and install the correct version of all the drivers that are missing or out of date on your system.
(This requires the Pro version – you'll be prompted to upgrade when you click Update All. If you don't want to pay for the Pro version, you can still download and install all the drivers you need with the free version; you just have to download them one at a time, and manually install them, the normal Windows way.)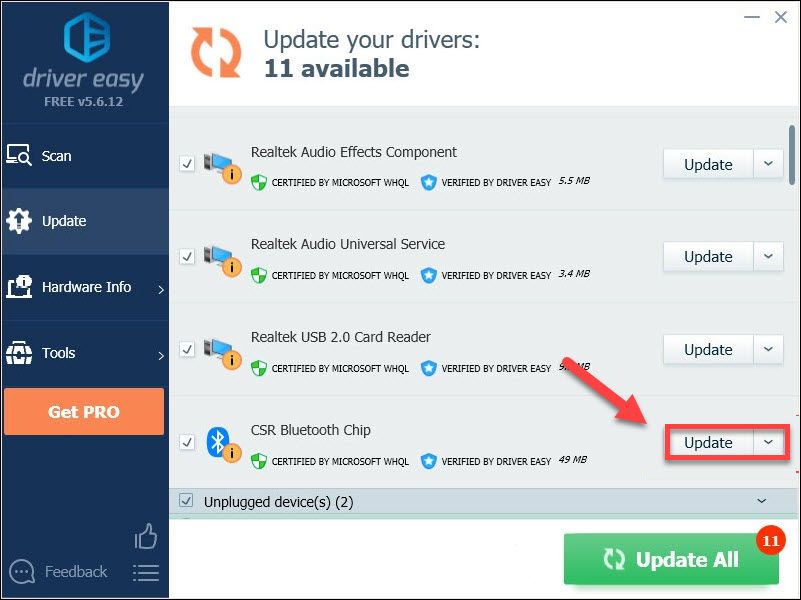 Fix 4: Restart Bluetooth Support Service
If the Bluetooth Support Service is not working or is set to manul, you might encounter Bluetooth not working issue. You can check if that's the case of your PC by following the steps below.
1) Press Windows logo key + S together.
2) Type services in the search bar, then click Services app.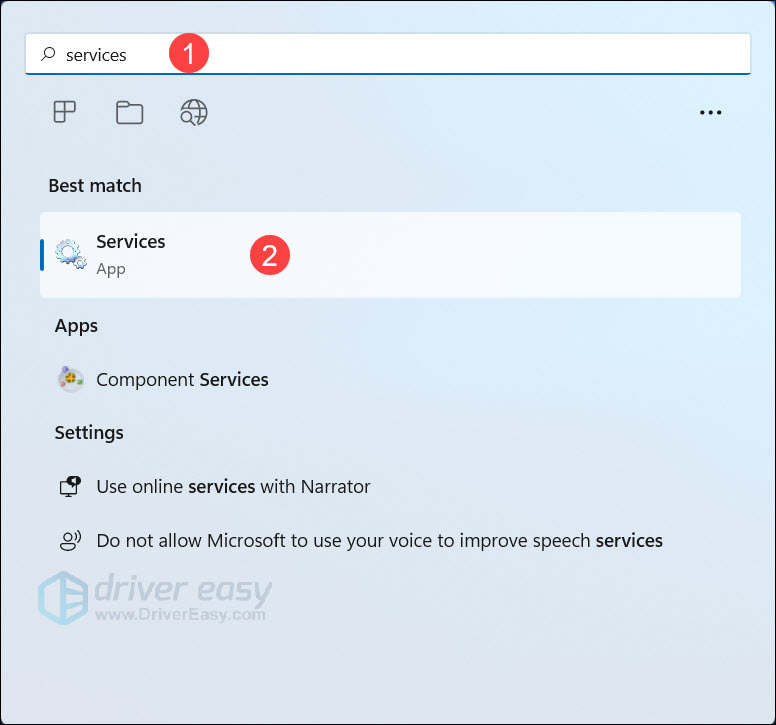 3) Scroll down to find Bluetooth Support Service, then double click on it.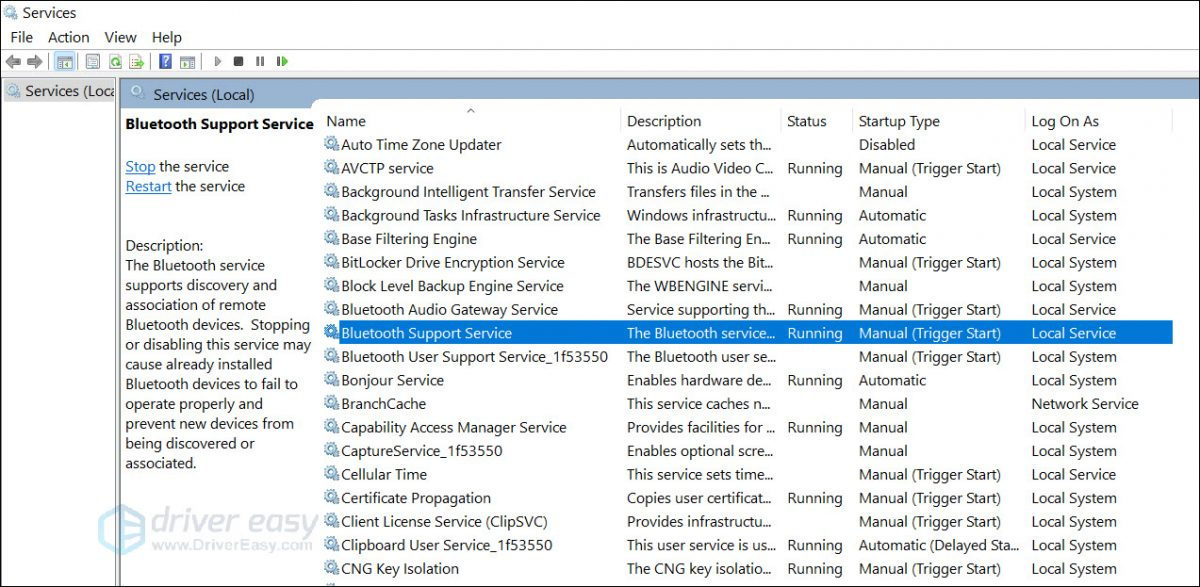 4) In the pop-up window, go to the General tab. Click Stop under Service status. Then click Start next to it.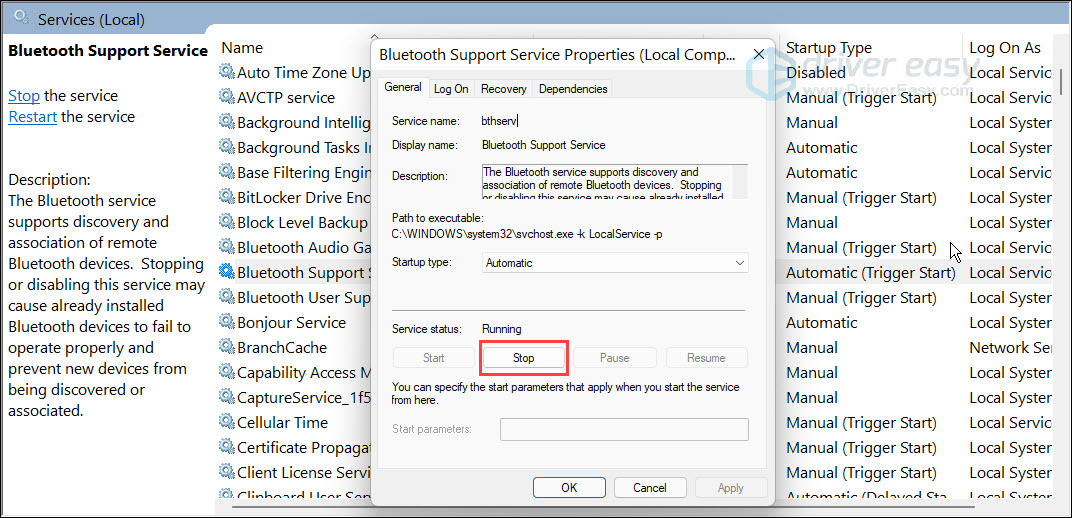 5) Select Automatic in the Startup type drop-down menu. Then click Apply > OK.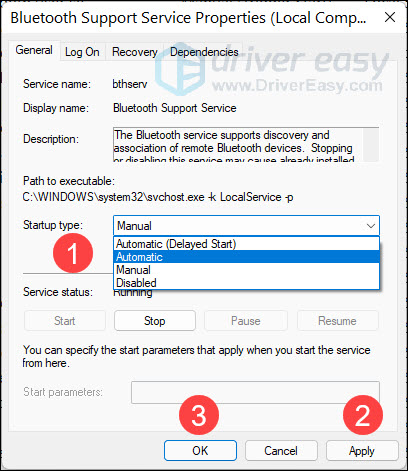 The Bluetooth Support Service is running in normal terms and you should be able to pair your device and use it normally.
Fix 5: Repair your system files
It's possible that Bluetooth not working issue is caused by Windows system error. Corrupt, damaged, or missing system files can cause Windows issue. To check if this is the exact cause, you can either use the Windows built-in tool to run a basic check or use an automatic tool to perform a complete diagnosis.
Option 1- Automatically (Recommended)
Use a repair tool to check various areas in your computer to determine the cause of Windows common issues. It will deal with issues related to system errors, critical system files and find the right fix for you.
Option 2 – Manually
System File Checker is a built-in tool to check for corrupt, damaged system files and manage to restore them if there're any. However, this tool can only diagnose major system files, and won't deal with damaged DLL, Windows Registry key, etc.
Option 1 – Automatically (Recommended)
Reimage (commonly known as Reimage Repair) is a computer repair software that can diagnose problems on your computer and fix them immediately.
It is tailored to your specific system and is working in a private and automatic way. It will firstly check hardware-related issues to identify problems, and then security issues (powered by Avira Antivirus), and finally it detects programs that crash, missing system files. Once complete, it will find a solution to your specific problem.
Reimage is a trusted repair tool and it will do no harm to your PC. The best part is that you won't need to worry about losing any programs and your personal data. Read Trustpilot reviews.
1) Download and install Reimage.
2) Open Reimage and run a free scan. This may take a few minutes.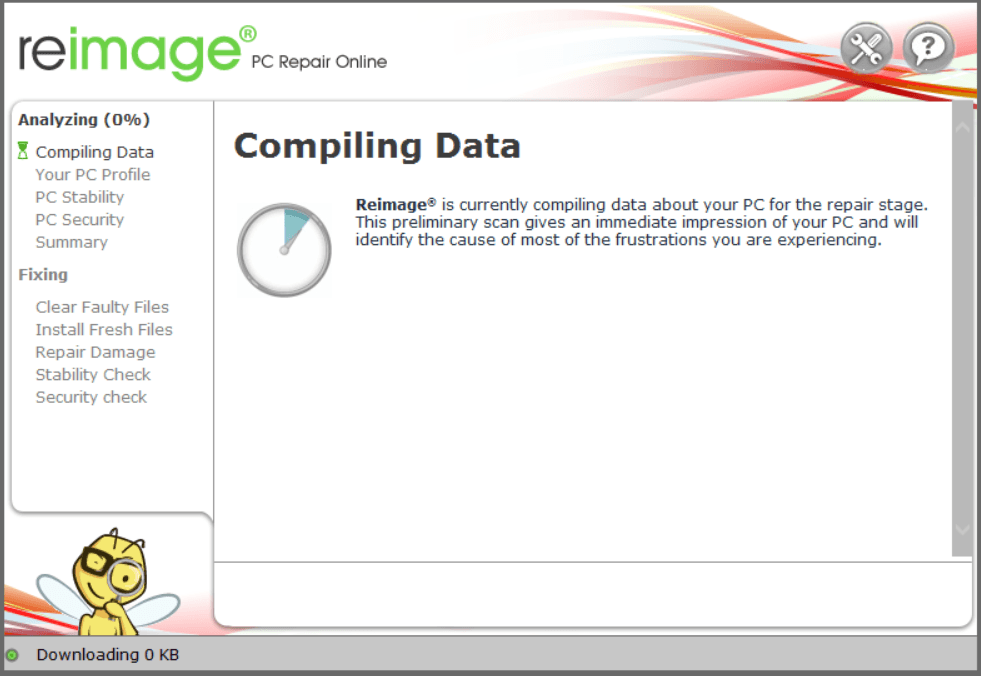 3) You'll see the summary of detected issues on your PC. Click START REPAIR and all the issues will be fixed automatically. (You'll need to purchase the full version. It comes with a 60-day Money-Back Guarantee so you can refund anytime if Reimage doesn't fix your problem).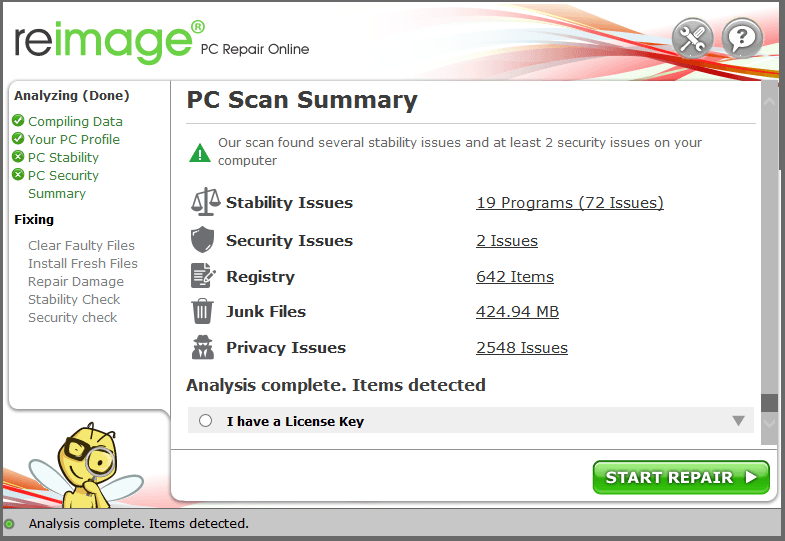 Note: Reimage comes with 24/7 Technical Support. If you need any assistance while using Reimage, click the question mark on the upper-right corner of the software, or use one of the following:

Chat: https://tinyurl.com/y7udnog2
Phone: 1-408-877-0051
Email: support@reimageplus.com / forwardtosupport@reimageplus.com
Option 2 – Manually
Microsoft inbuilt program – System File Checker (SFC) makes it easy for you to get your original system files back. It will restore any broken or missing system files that could be causing your PC issues.
1) Press Windows logo key + S together to open Search panel.
2) Type cmd and then right-click on Command Prompt. Click Run as administrator. Click Yes to provide administrator permission.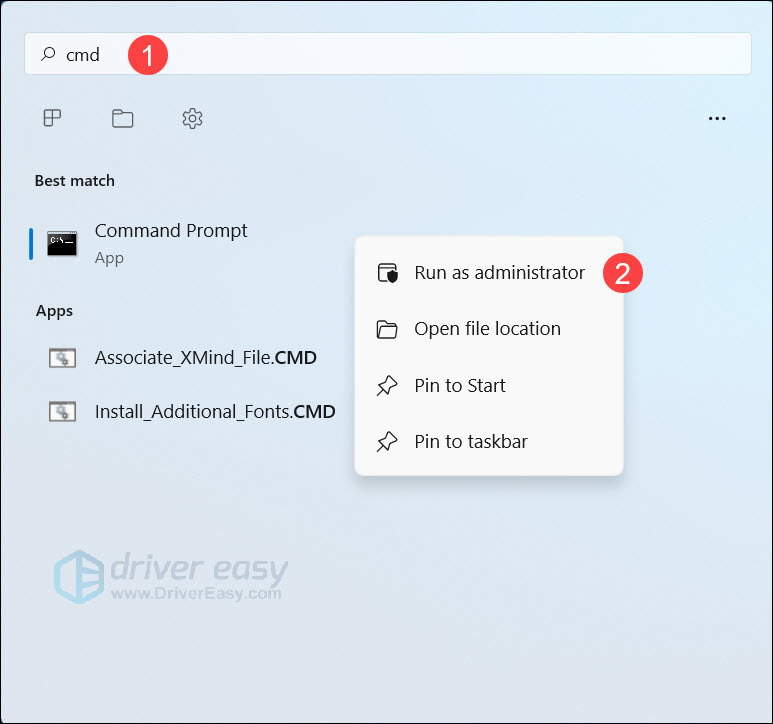 3) In the black Command Prompt window, type:
sfc /scannow
Then press Enter on your keyboard.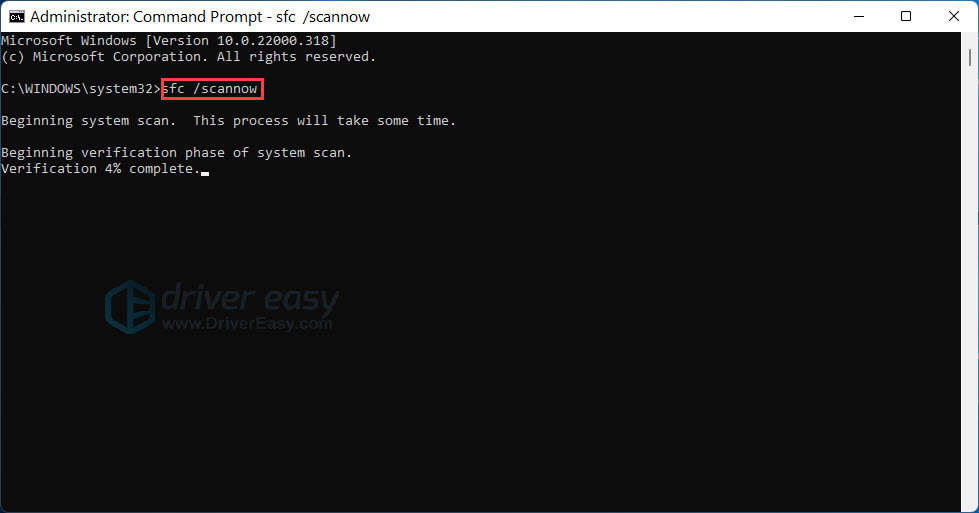 Windows will scan your system for corrupted files, and attempt to fix any it finds. The results will display in this window, so please leave it open until the operation is complete.
How to pair your Bluetooth device on Windows 11
1) Press the Windows logo key + I (i) key together to open Settings.
2) Click Bluetooth & devices. In the right panel, click Add device.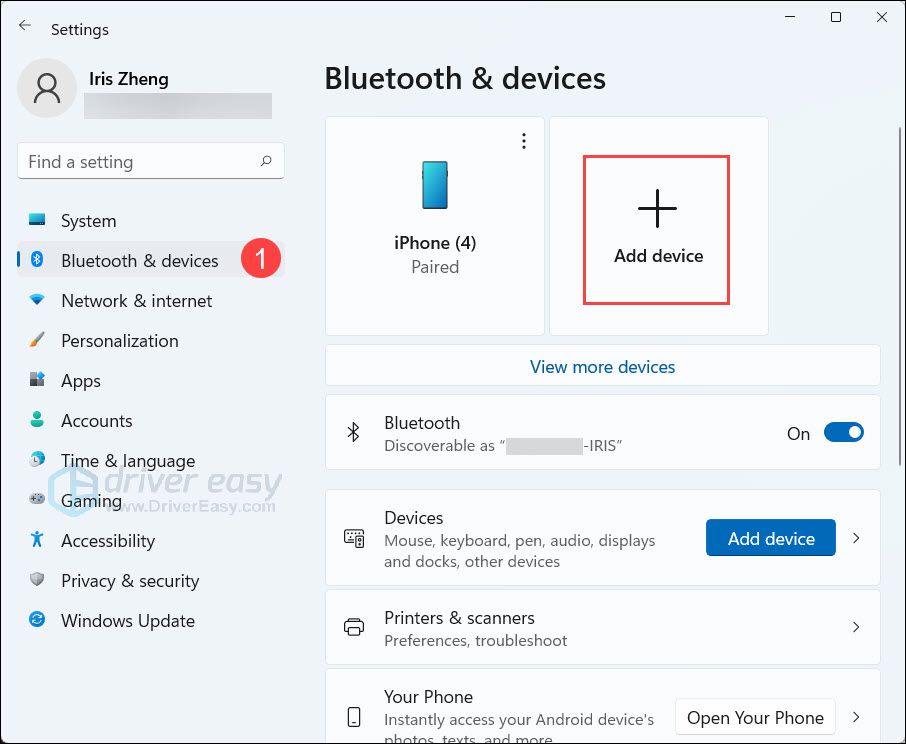 3) Click Bluetooth. Make sure your Bluetooth device is turned on and discoverable. Then wait the device the show up in the list.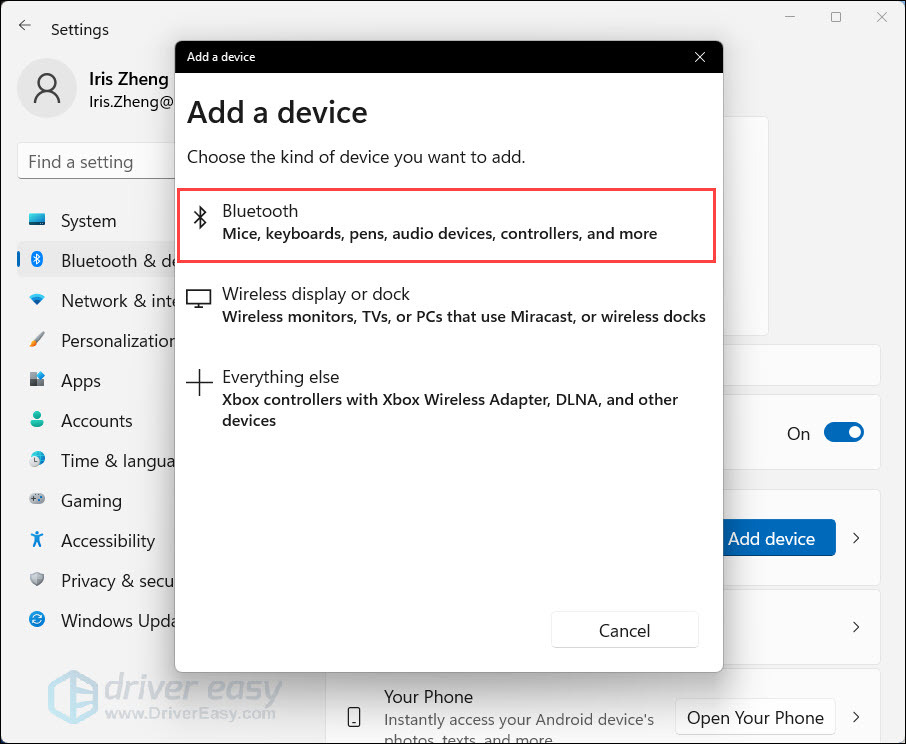 4) Click the device you want to pair and wait for a while. It should be appeared as Connected or Paired.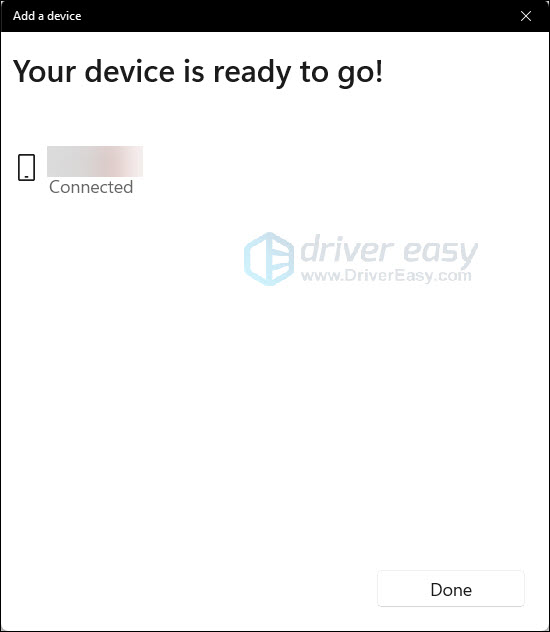 1
1 people found this helpful