When loading games or launching programs in Windows, you may get the error below. Don't panic. This is a common Windows issue and you can fix msvcr120.dll is missing easily and quickly.
The program can't start because MSVCR120.dll is missing from your computer. Try reinstalling the program to fix this problem.
How to fix MSVCR120.dll missing
To know how to fix MSVCR120.dll is missing, follow the given solutions below. You don't need to try them all; just work your way down until your problem is solved.
Note: the screenshots below come from Windows 10, and fixes apply to Windows 8 and Windows 7.
Fix 1: Restore MSVCR120.dll automatically
MSVCR120.dll, used to extract necessary application resources by third-party installation programs, is essential to the functioning of the Windows Operating System. If the files are missing or corrupt, you will not be able to run any programs in the C, C++, or C++/CLI programming languages. This means that you will have problems loading games or launching some applications on your Windows computer.
When MSVCR120.dll is missing error pops up, you should restore the file. You can either run SFC scan to diagnose the problem (which takes time and computer skills), or use an automatic tool to repair the missing file in a couple of seconds for you.
Fortect is an all-in-one system repair tool. When you run a scan with Fortect, the preliminary will detect your computer's operating system for viruses, malware, and missing, damaged, or corrupt files, then it removes all problematic files found and replaces them with new healthy files. It's like a clean reinstall of your operating system, except that you won't lose any user data, and all programs, and settings are exactly as they are before the repair.
Here's how to use Fortect to restore MSVCR120.dll automatically on your PC:
1) Download and install Fortect.
2) Fire up Fortect and run a free scan.
3) Once finished, Fortect will generate a detailed report of your computer health, which includes all issues detected.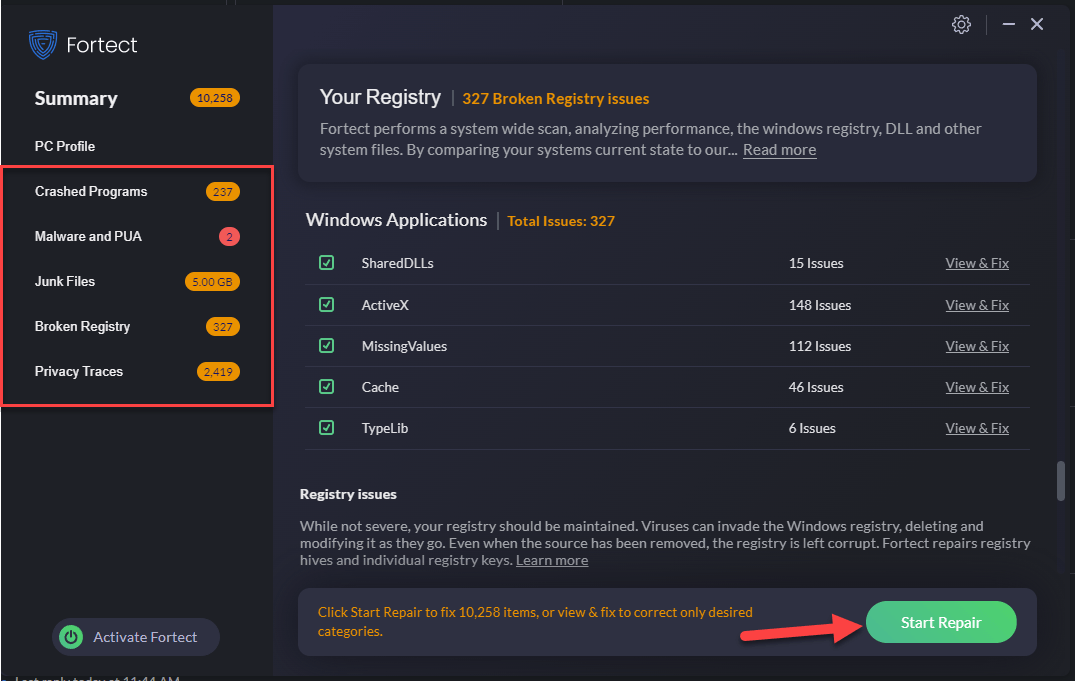 To fix all the issues automatically, click Start Repair (You'll need to purchase the full version. It comes with a 60-day Money-Back Guarantee so you can refund anytime if Fortect doesn't fix your problem).

If you run into any problems while using Fortect, or if it doesn't work for you, don't hesitate to contact their support team.
5) Restart your computer for the changes to take effect.
6) Check your computer to see if the MSVCR120.dll missing issue is fixed. If yes, then congrats! If the problem persists, please try Fix 2, below.
---
Fix 2: Reinstall the Visual C++ Redistributable Packages
The MSVCR120.dll file belongs to the Visual C++ Redistributable Packages for Visual Studio 2013. If it's missing on your computer, something went wrong installing this package. So one way to fix msvcr120.dll is missing is to re-download the packages from Microsoft.
Important: Download the file from the official websites to avoid potential risks. In addition, DO NOT download the .dll files from the unofficial websites, in attempt to replace your missing files. Those are unapproved sources for DLL files, and may be infected with viruses. So it's recommended not to do that to ensure your computer security.
1) Go to Microsoft download website.
2) Click Download.

3) Select the file according to your system type ( x64 for 64-bit and x86 for 32-bit). Then click Next.
Tips: You can check if you are running 32-bit or 64-bit via cmd in Windows: Open cmd.exe, and type systeminfo, and press Enter, and then you can see your system type is x86-based or x64-based.

4) After downloading, double click the downloaded .exe file, and follow the instructions to install.
5) Restart your PC. Then open the same program to see if it works.
This should resolve your problem. If not, try the following steps.
Fix 3: Do a clean installation of the program
As suggested in the error message, you can try to reinstall the program to fix it. The program file may be corrupted when installing, so a clean reinstallation to have a complete and correct file may solve the problem.
1) On your keyboard, press the Windows logo key + R at the same time.
2) Type appwiz.cpl in the Run box, and press Enter.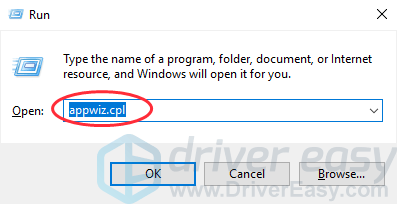 3) Right click the program that gives the error, then click Uninstall. In my case, the program that gives the error is Python, so I right click Python and click Uninstall.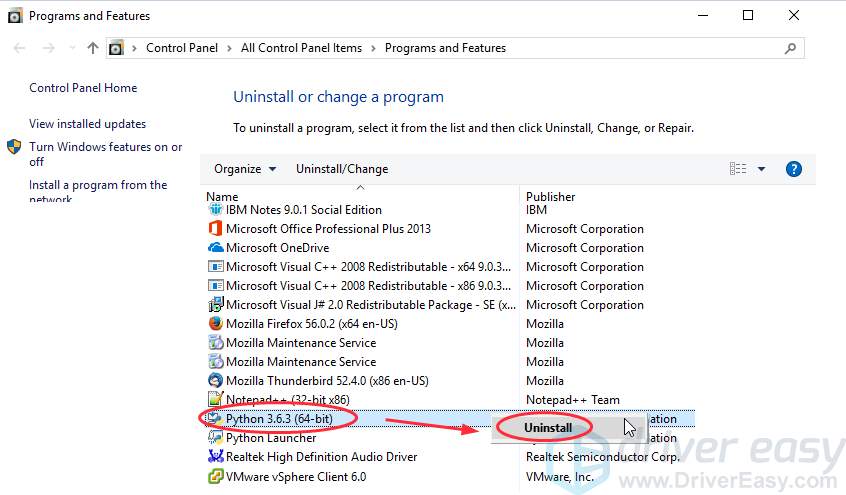 4) Follow the popup instructions to confirm the delete.
5) Restart your computer, reinstall the program, and open it to see if it works.
Fix 4: Copy the file from another computer
You can also fix this error by copying the same file from another computer and paste it to your own. To do so:
Find another computer that runs the same operating system as yours.
The versions (Windows 10/8/7) and architectures (32-bit/64-bit) of both operating systems must be the same.
On that computer, open File Explorer (by pressing the Windows logo key




and E on your keyboard), then go to C:WindowsSystem32 and copy the msvcr120.dll there.

Paste the copied file to the same location (C:WindowsSystem32) on your own computer. (You may need an external storage device, like a flash drive.)
Try launching the program again and it should be working.
Fix 5: Run a virus scan for your system
A virus or malware infection in your system could also stop the .dll file from running. Some errors like dll not found or dll is missing, are related to malware, such as Trojan, that pretends to be the dll files.
To check this possibility, run a full system check with your anti-virus program. Windows Defender alone might not be able to help, so you can try other anti-virus programs, such as Norton and AVG AntiVirus Free.
Run a complete virus scan for your entire Windows system, and this could take a few minutes. A quick system scan may not include many parts of your Windows PC, so please ensure to check every part of your computer.
After scanning, restart your PC. If unfortunately, your Windows has been infected by malware, follow the instructions shown by the anti-virus program to fix it. Then restart your computer and see if the problem is solved.
Bonus Tip: Update your drivers
A missing or outdated device driver can bring various problems to your computer, so updating device drivers should be an always go-to option to prevent your computer from further issues.
You can update your drivers manually or automatically. The manual process is time consuming, technical and risky, so we won't cover it here. Nor do we recommend it unless you have excellent computer knowledge.
If you don't have time or patience to manually update drivers, you can automatically update drivers with Driver Easy.
Driver Easy will automatically recognize your system and find the correct driver for your computer.
1) Download and install Driver Easy.
2) Run Driver Easy and click Scan Now. Driver Easy will then scan your computer and detect any problem drivers.
3) Click the Update button next to a flagged driver to automatically download and install the correct audio driver (You can do this with the FREE version).
Or click Update All to automatically download and install all the latest correct drivers that is missing or outdated (This requires the Pro version. You will be prompted to upgrade when you click Update All).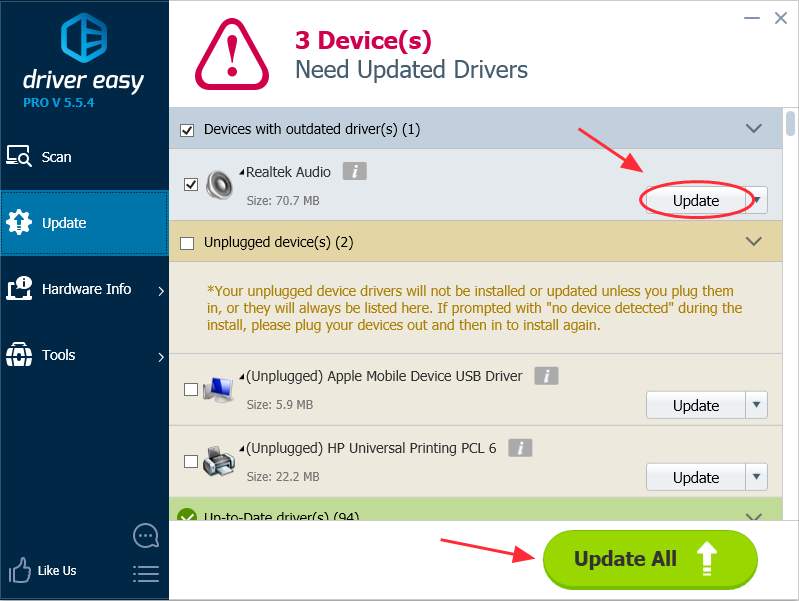 4) Restart your computer to take effect.
These are the best solutions to fix msvcr120.dll is missing in your computer. Hope this can help. You can share with us which solution helps. If your problem still persists, feel free to let us know and we will see what more we can do to help.
83
83 people found this helpful
Available in other languages
In diesem Artikel werden Sie erfahren, warum die Datei MSVCR120.dll fehlt und wie Sie das Problem beseitigen können.