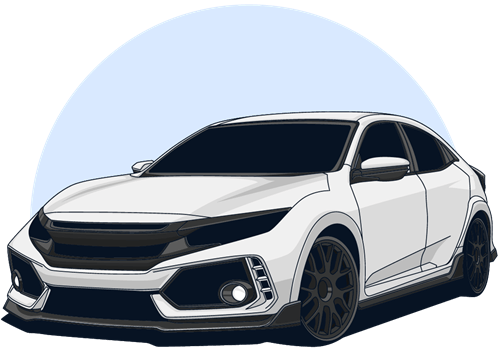 Flood History Lookup
Enter VIN to Check the Car's Flood Record & More History.
Vehicles ever trapped in flood usually don't get severe damages on the outside, but rather on the inner systems. According to CARFAX, only in 2022 there were 399,000 flooded cars back on the road. So the flood damage issue is serious as well as covert in the used car market.
If you're buying a used car and worried about the potential flood damage risk, check this guide out to find the vehicle's hidden condition.
1. Look up the Flood Title
What Is A Flood Title?
Titles are like labels to describe various risky events that could happen to vehicles. And "flood" is one of the branded titles, also called as "water damage" in some states. A flood title confirms that the vehicle has been swamped in water and that caused damages in its one or multiple systems. So to check the flood title is the most straightforward way to see if the car has been damaged by water.
Where to Check the Vehicle Titles?
NMVTIS (National Motor Vehicle Title Information System) is the official agency that documents the title history of vehicles. But it doesn't provide the title check service itself. Instead it issues approvals for some vehicle search services to access its data and offer tailored reports.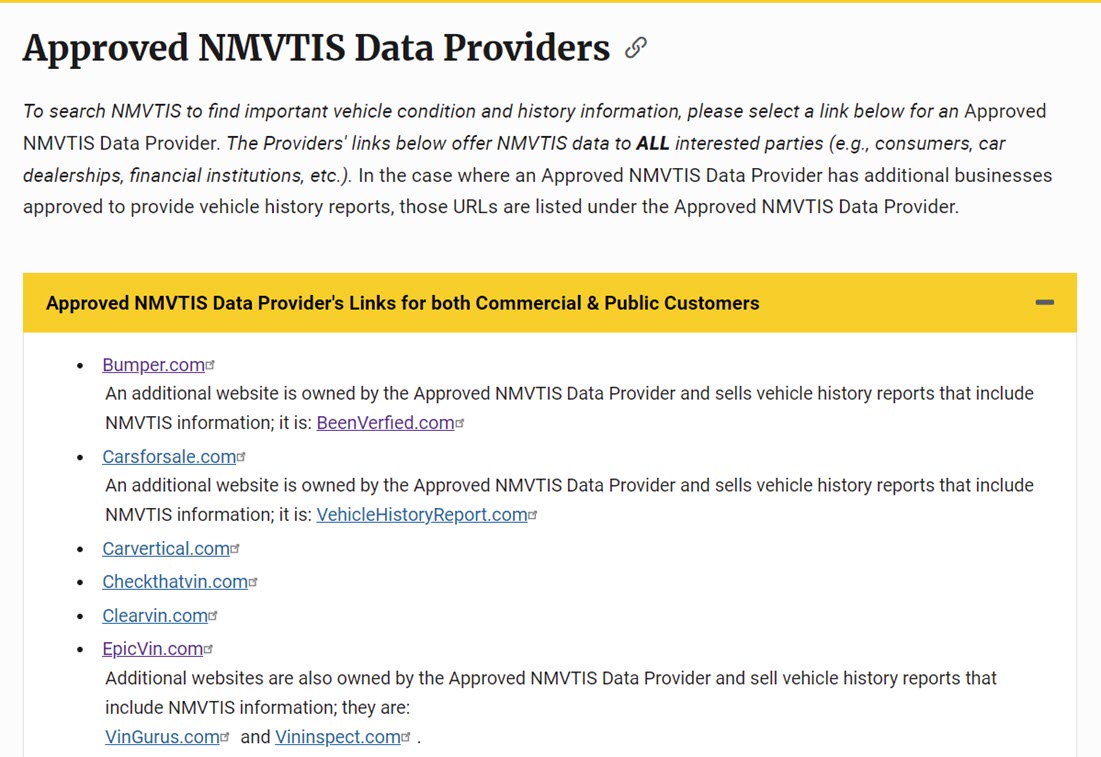 We'll introduce you to the 2 vehicle search platforms on the top of the list for both commercial and public customers. We've tested them both and their reports are pretty detailed in listing the title records and related information.
BeenVerified
BeenVerified can be your first choice for conducting a vehicle title search. It can access the databases of NMVTIS, NHTSA and many other governmental and top industrial agencies. So the report contains not just the title brands the vehicle now has, but also other history records on them. Even if the flood title doesn't appear, you may still search for the water damage traces from photos, ownership history, damage history and maintenance records.
1. Go to BeenVerified Vehicle Search.
2. Enter the VIN number or the license plate number and click SEARCH.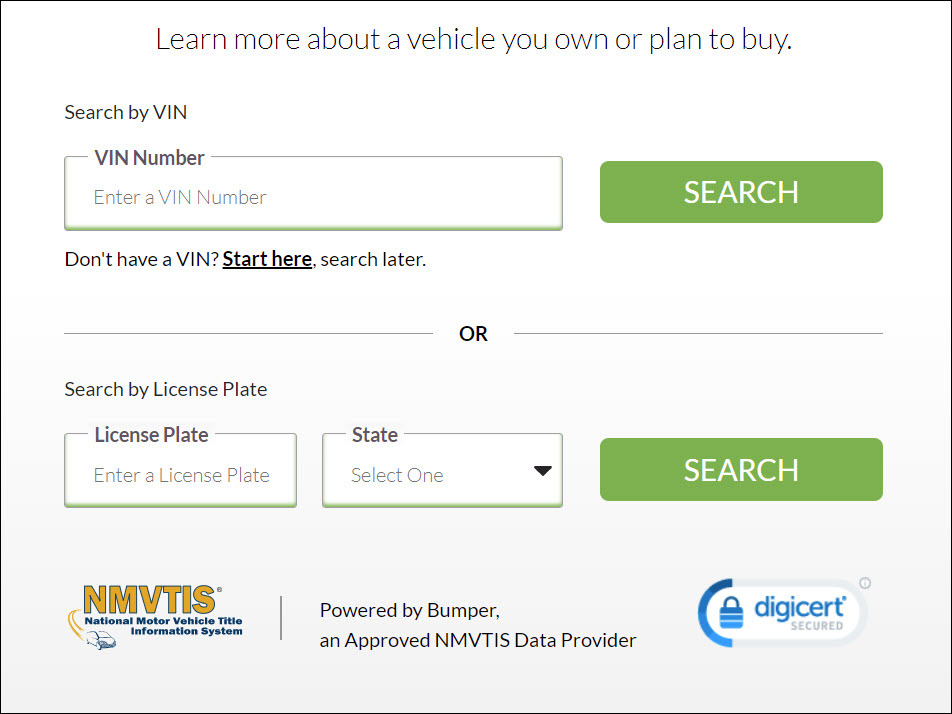 3. You would get the full report about the car history in seconds. Open it and the summary part shows clearly how many title records the vehicle has. And you may click View records or View brands to see if a flood title is listed.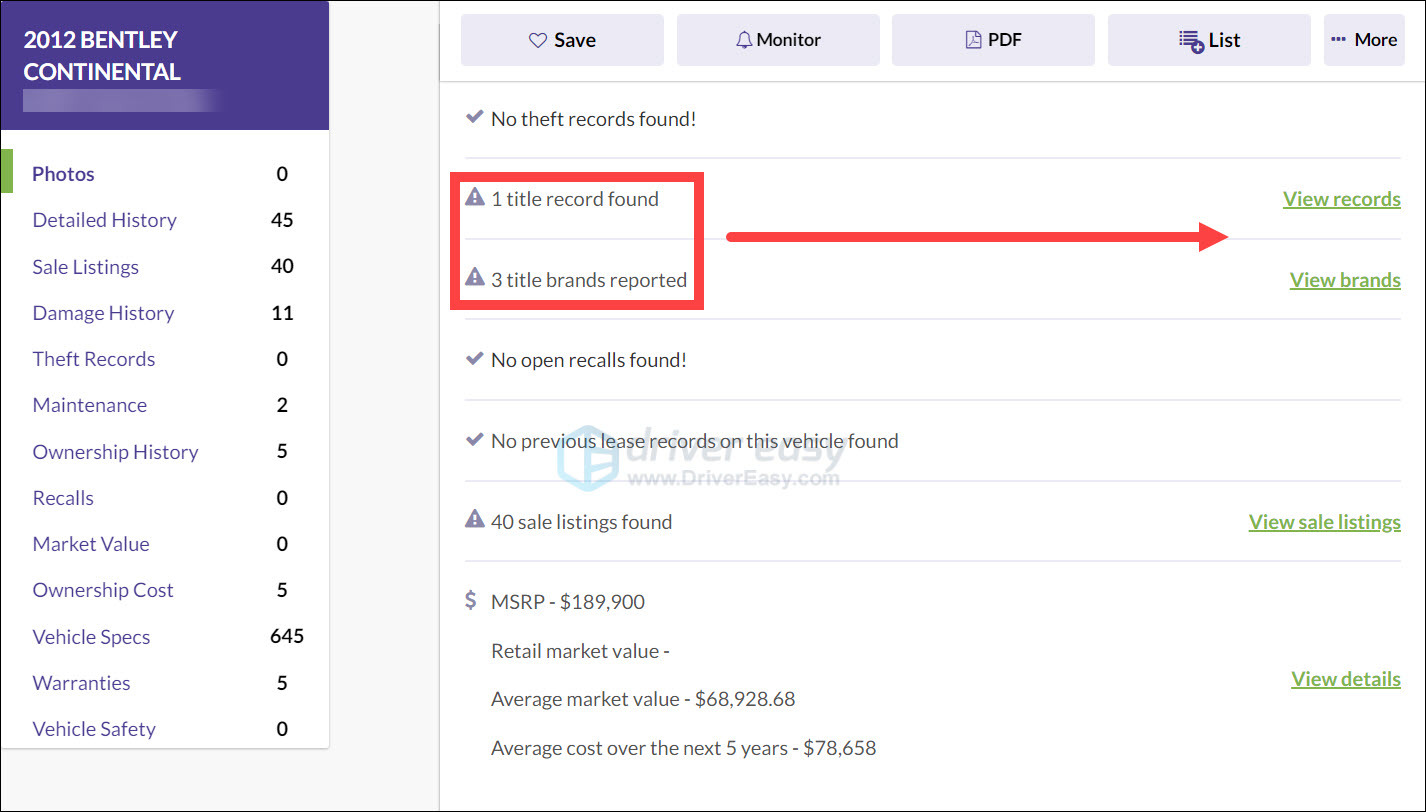 4. You may as well use the navigation bar to delve into any detail that might reveal the flood traces. For example in the Ownership History you could see the title brand reports under the prior driver.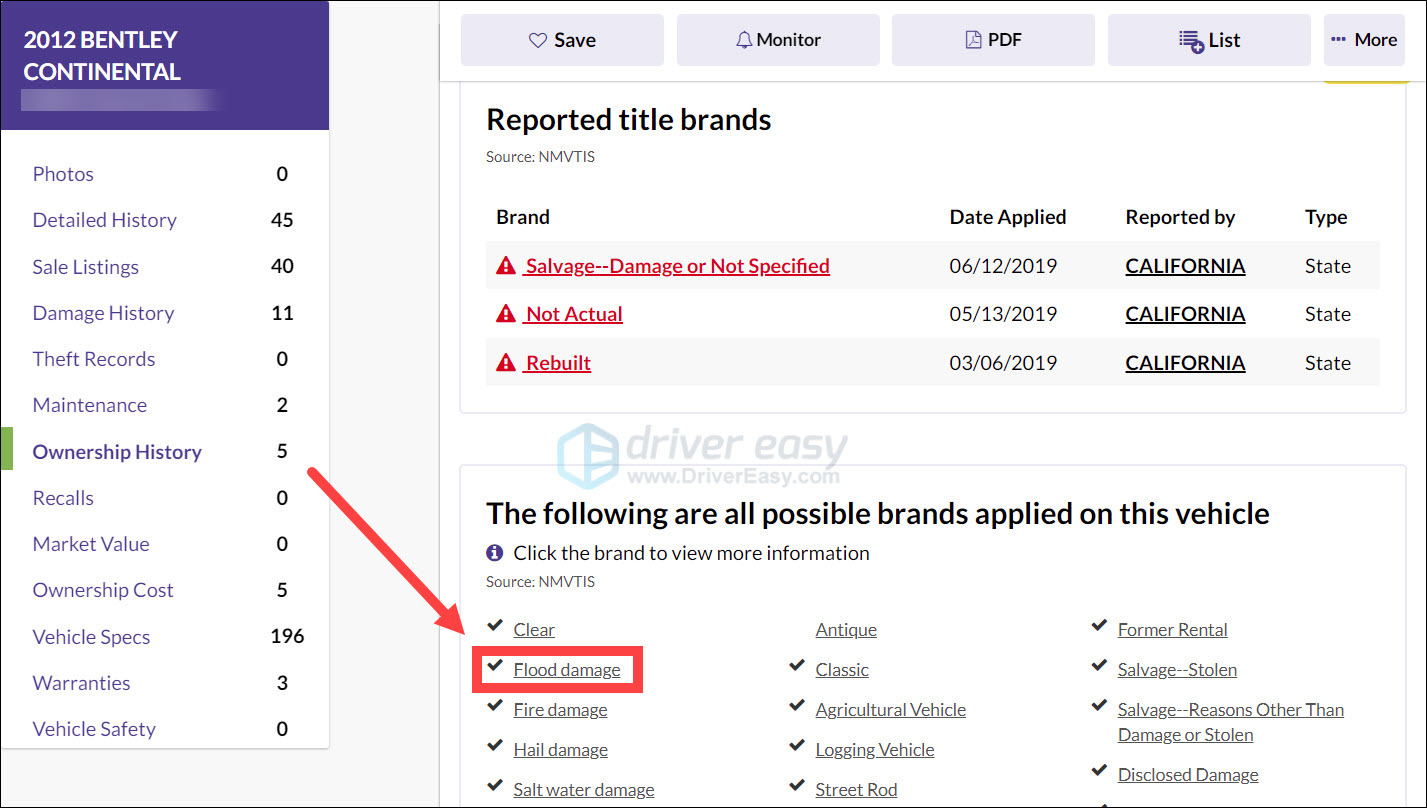 5. If the flood title is clean, you may further check the Damage History, Maintenance and Vehicle Safety.
BeenVerified has altogether 7 people search features for various search needs. When you purchase a plan for its vehicle search, you can at the same time unlock other 6 features without extra charge.
Bumper
Bumper is a vehicle search platform with subtle and customized services for used cars. Its record sources are either governmental or top in the industry like NMVTIS, NHTSA and J.D. Power. Besides it cooperates deeply with 50+ big auto insurance companies for detailed insurance records. All these allow you to reveal as much details as possible for a flood title event.
1. Go to Bumper Vehicle Search.
2. Enter the VIN number or the license plate number and click SEARCH.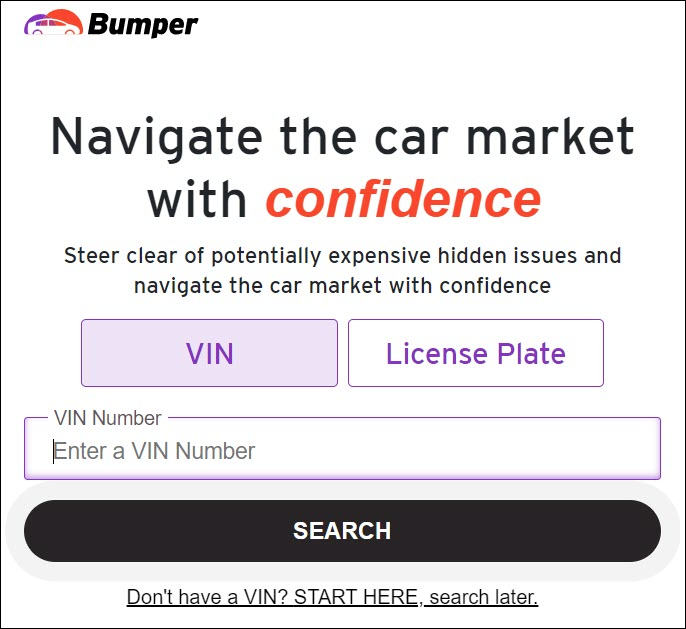 3. Wait for Bumper to search through the databases and crawl the associated data. You'll have 15 categories of data to explore.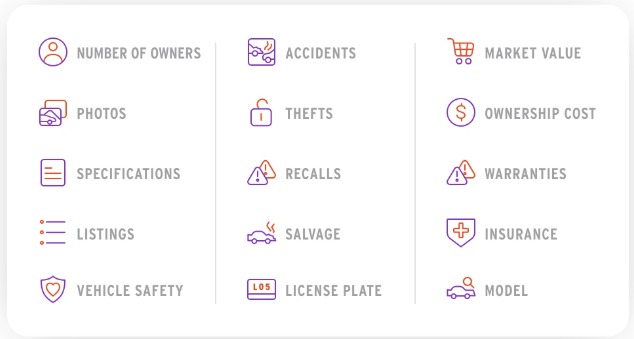 4. Find clues for historical flood title in salvage records, recalls, insurance events and vehicle safety records.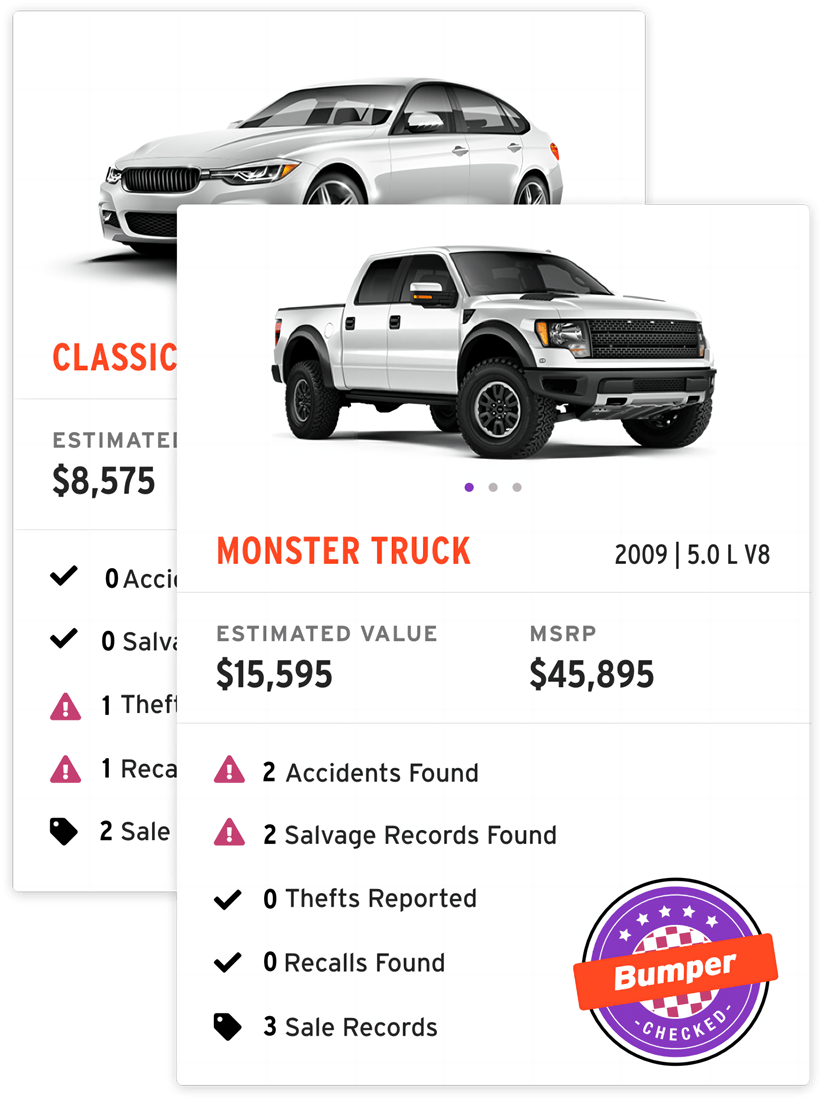 If you're to investigate more than one car, you may consider purchasing a membership plan and enjoy unlimited full vehicle history checks on Bumper.
2. Check through Insurance Records
The National Insurance Crime Bureau (NICB) is the most famous nonprofit organization for recording all kinds of auto insurance claims. For vehicles, you might find information about theft claims and events causing salvage or junk titles here. So if a car was insured and has ever suffered a total loss from flood, you may be able to find the clues here for free.
1. Visit the NICB VINCheck.
2. Enter the VIN number and click SEARCH VIN.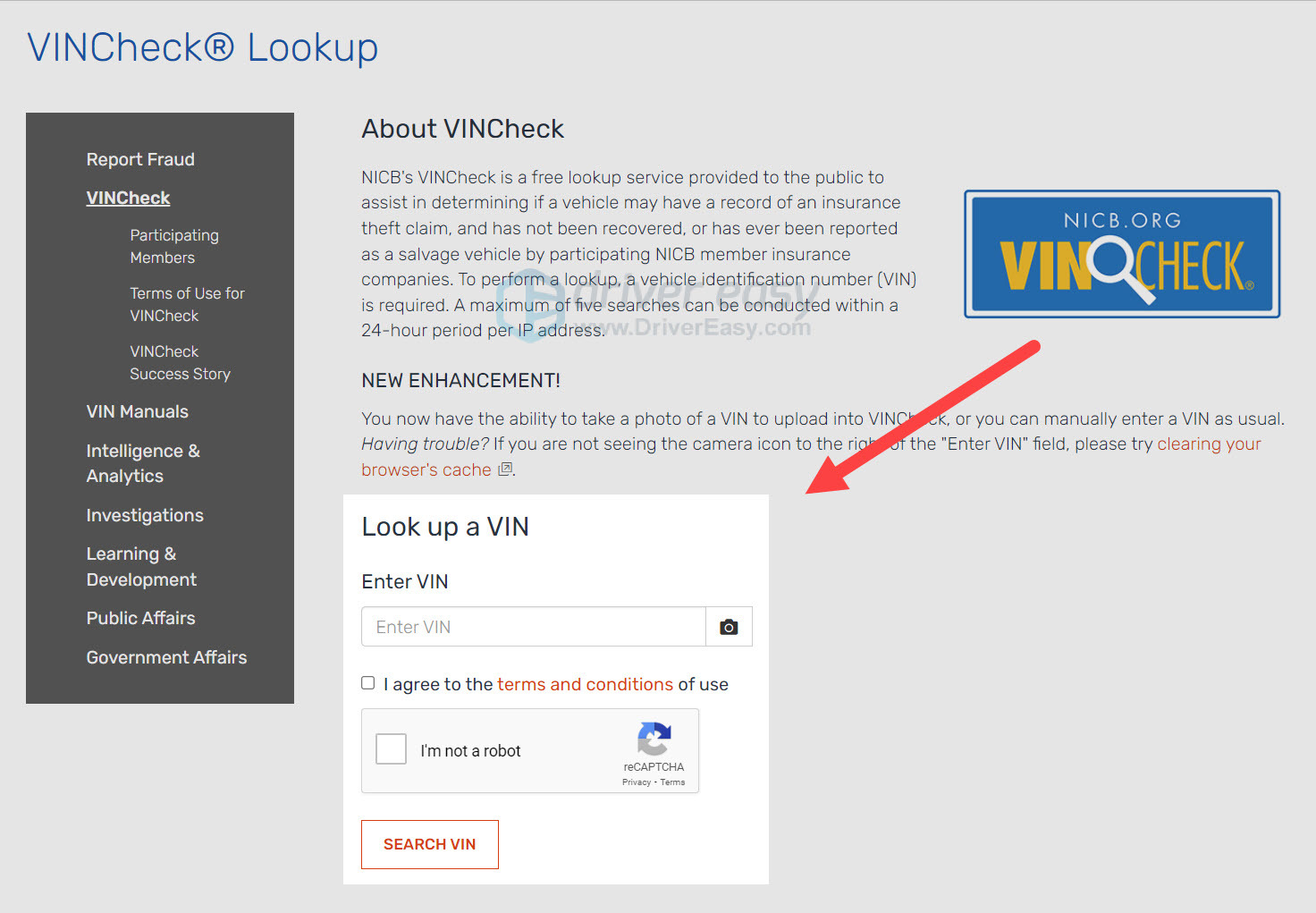 3. If the vehicle has a total loss record, you would see the details in the simple report of NICB. See if it encountered any water damage under Cause of loss.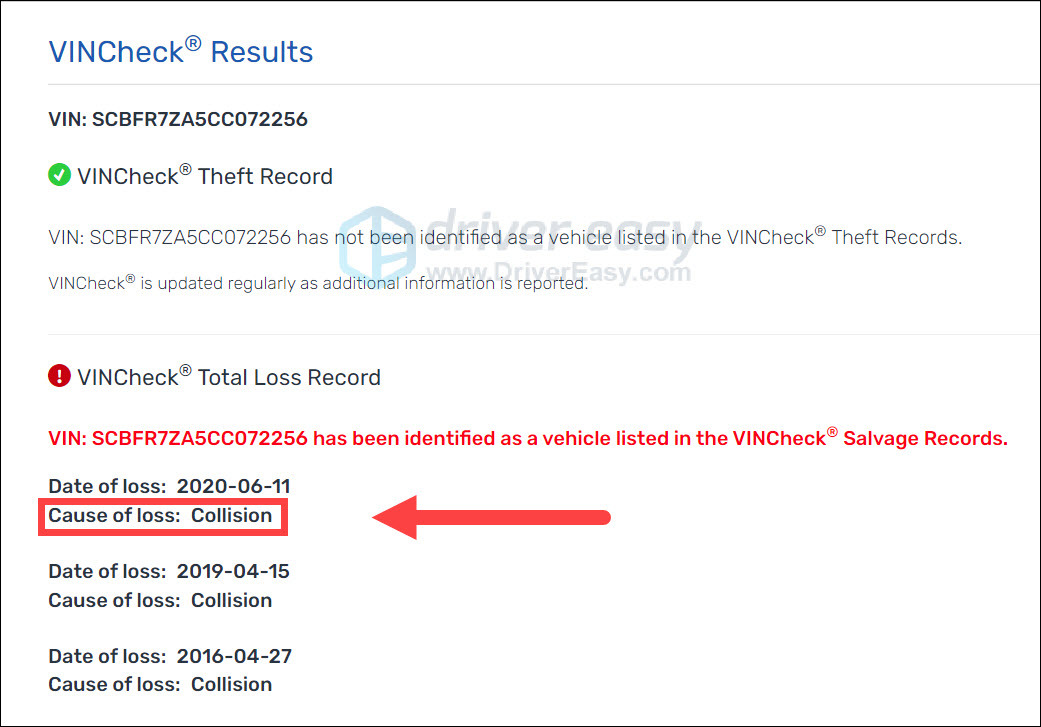 3. Select Cars with CPO
Flood damage is hard to detect, especially when you're purchasing a car online. Therefore, if you don't want to expend too much effort ruling out the risks yourself, you may consider buying a car with CPO.
CPO (Certified Pre-owned) is an authentication for the quality of a used car, issued by the manufacturer or the dealership it's sold at. The certification indicates that the vehicle has passed a thorough inspection: title clean and in good condition. And a CPO usually comes with an extended warranty.
When you're inspecting a car on the spot, you may find the CPO as a sticker on the window.

When you're searching a used car on a dealership website, usually you can find the CPO mark in the profile.

The only problem is that a car with CPO would probably sell at a higher price on the market. If your budget is tight, you'd better think about checking the flood damage with the other methods in the article, which are more cost-effective.
4. Inspect the Vehicle Yourself
No virtual data nor certifications can replace an inspection in person. Before picking up your dream car, you'd better examine the car by yourself. And here's a checklist we prepare for you:
Carpets and upholstery: Look closely to see if there're signs of damp or mold. Or if the whole set of interior decoration is too new for the age of the used car, you should raise an alarm.
Unpainted screws: Check especially the screws in the nook and corner inside, like the ones under the dashboard and for the seat mountings. See if they get rusty.
Waterline: On the head lights and around the engine compartment are places you might witness the flood traces.
Engine Compartment: Open the trunk and check if the engine oil is clear enough. Milkshake-like quality indicates there's too much water mixed into it. And don't miss out on tiny caked-on dirts in deep areas.
---
These are the most efficient ways to rule out the risk of buying a flood-damaged car. In your investigation on it, to get as much vehicle history information as possible, you can use vehicle search tools like BeenVerified and Bumper. Hope you've found your dream car already. And if you have any ideas or questions, feel free to leave a comment below.
The methods in this article provide you with easy access to public record information, but without a guarantee for accuracy and may include links to websites not listed as a Consumer Reporting Agency (CRA). Information acquired from these bodies is illegal to be used for employment, housing, credit, and other purposes alike, according to laws such as the Fair Credit Reporting Act (FCRA). If you're not sure whether your use of our methods is appropriate, click here for details.