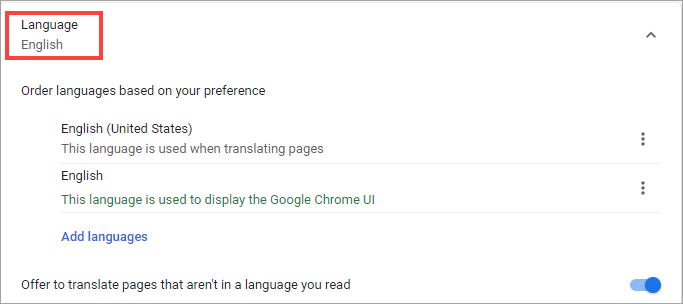 Wondering how to change the language settings in your Google Chrome? Luckily, this is not a difficult question to answer. Just a few mouse clicks and you'll get what you want with the help of this tutorial! It'll take you just a few minutes to finish all the steps below – easy to follow even for a computer newbie.
How to change Google Chrome Language
To change the default language of your Chrome browser, please complete the following procedure:
Click this icon (in the form of three stacked dots) in the upper right corner of your Chrome. Then select Settings from the drop-down list.
On the pop-up page, scroll down to the bottom and click Advanced.
Scroll through the page until you find the Languages section. Next, click the down arrow button to view more detailed settings.
Under Order languages based on your preference, click Add languages if you don't see any desired languages listed above.
Check one or more boxes of the languages you would like to add. Then click Add to confirm.
Now the new languages should be displayed in your list.
Click the menu button (the icon with three stacked dots) next to a new language. Then make sure you check the Display Google Chrome in this language box.
The changes you've made to language settings are automatically saved by Google Chrome. Once finished, shut down your Chrome browser and restart it to apply the changes.
If the procedure above cannot solve your problem, or you find the Chrome interface shown in this post different from yours, please visit the official website of Google Chrome and download the latest program.
---
So that's all you should do to change the Google Chrome language. Hopefully you'll find this post useful. If you have any follow-up questions or ideas, please feel free to leave comments below.
1
1 people found this helpful