Battle royale genre has been a huge success around the globe since 2017. Numerous players are hooked on this type of games which features exhilarating and fast-paced survival combats. If you like to play battle royale games on console, this article is definitely written for you – you may consider renting your desired games from GameFly, a noted website in game rental service, to save your time and energy.
GameFly: Start Your Free Trial
GameFly is a video game and movie rental service provider which aims at offering the most cost effective and convenient way for their customers to play a wide range of console games. If you want to play more games with less money, why not take a look at GameFly?
You can find many battle royale games in the library of GameFly, such as PUBG and Battlefield ?. If you're also interested in other game genres, just take your time to look around!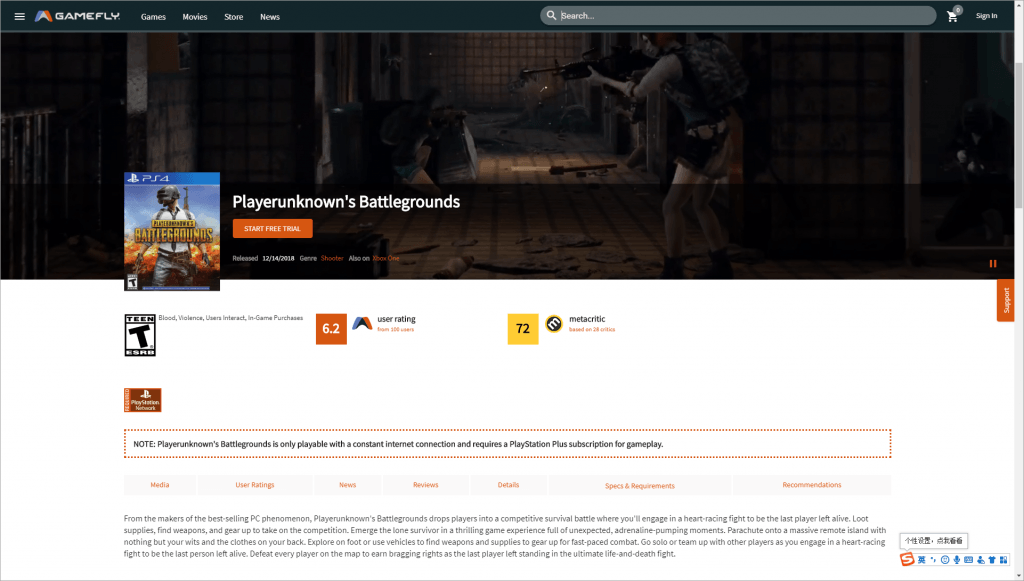 How to rent games from GameFly
It's quite simply to rent games from GameFly. Here's the guidance:
Visit the official website of GameFly.
Create a new account for GameFly. Before renting games, you need to choose a subscription plan which will charge you through credit card. For example, you can rent up to 4 games per month with the 4-Game plan at $36.95/month.
On the top menu bar, click Games.
Then select the type of your platform (such as PlayStaton 4) in the lower part of the site. You can also search for a particular game by typing its title into the search box.
After the page reloads, you'll see a number of results that can be played on the platform you've chosen. Scroll through the list to locate your desired game and then click the RENT button below it. For newly registered users, there'll be a START FREE TRIAL caption instead of RENT.
Click Go to Q and then the game will be put into your Q list. But if you want to rank it first in your Q, click Move to Top.
Now all you need to do is to wait till the games are shipped to your home. Note that games will be delivered in the order of your Q list, depending on their availability.
---
About Battle Royale Games
Battle Royale Game is a kind of multiplayer games that thrust players into a free-for-all deathmatch with just one goal: win as the only survivor. Rules and tactics may vary in different games, but some basic elements are quite the same – that is, every battle royale game contains a big map, a number of players, randomized gears, and a slowly shrinking battlefield that forces all combatants into more intense confrontations. Moreover, the very essence of battle royale games remains unchanged, which is to win the game, you'll need to be the last person standing. So far, some of the most successful battle royale games include Fortnite, PUBG, Apex Legends, HIZ1, Battlefield ?, and Ring of Elysium.
Although battle royale games may not be the most popular these days, they still boast a lot of committed players. Aside from the established leaders such as Fortnite: Battle Royale and PUBG, many other dogged contenders have been offering their own take on this formula. While some games are designed solely for battle royale gaming, others roll out new modes to cater for the increasing needs thereof, making deliberate attempts to ride the wave of this particular game genre.
Battle royale game gets its name from a Japanese movie debuted in 2000 – Battle Royale. With a similar setting, the movie franchise titled The Hunger Games attracted even more popularity several years later. It's said that the releases of these two popular movies have inspired their fans to create player mods in honor of them and to make battle royale an increasingly prevalent game mode. Thanks to the freely available developer tools, more and more mods were made by the resourceful players, which have gradually evolved into the battle royale games we have today.
---
Hopefully you'll find this post useful. Please feel free to leave a comment below if you have any follow-up questions or ideas. Thanks for reading!