✅ Previous owner
✅ Market value
✅ Vehicle specs
✅ Theft records
✅ Accidents history
✅ Recalls & warranties
Checking a car's history is an essential part of buying a used car. To learn more about the car, you need to check its history, including accident history, salvage records, theft records, and more. So, where can you find all this information to check a car's history? Read on to find out how.
It's possible that a previous owner paid for repairs out of pocket instead of making an insurance claim. So use these services as a tool, but don't expect they can be 100% accurate.
5 Free ways to check car history
Here are 5 ways to check a car's history records. It's worth noting that free searches are often incomplete and inaccurate, requiring you to spend more time comparing results from different sources. If you want to obtain a comprehensive and detailed car history report in one go, please use a paid service.
1. National Insurance Crime Bureau
The National Insurance Crime Bureau (NICB) allows individuals to verify the history of a vehicle using its unique Vehicle Identification Number (VIN) for free. It's important to note that the NICB VIN check primarily focuses on information related to insurance claims and theft records.
Go to NICB official website and enter the VIN number.
Tick checkboxes and click SEARCH VIN.

You'll receive VINCheck results related to the records of theft, salvage, or Total Loss record associated with the VIN in seconds

By utilizing the NICB VIN check service, individuals can reduce the risk of being involved in fraudulent or illegal activities related to stolen or salvaged cars. However, this report doesn't include all details about a vehicle's history. It is still recommended to obtain a comprehensive vehicle history report from reputable sources, such as Bumper or EpicVIN. These sources provide more extensive information on a vehicle's past ownership, accident history, maintenance records, and more.
2. Get a free Carfax report
Carfax is a well-known commercial service with a high reputation. It does not provide free vehicle history reports, but you can sign up for a free Carfax Car Care account and view your vehicle service history.
3. Get free vehicle history report from dealer/seller
You can obtain a free vehicle history report from dealers and sellers, both online and in your local area. Many dealer websites offer the option to access a free Carfax report. While browsing a dealer's used car inventory, keep an eye out for links to free Carfax reports. If a link is not available, you can contact the dealer directly and request the report.
Additionally, dealerships in your area may also provide free Carfax reports. Simply inquire about it when you visit their showroom.
4. VehicleHistory.com
VehicleHistory.com is a website that offers free vehicle history reports to help consumers make informed decisions when purchasing used cars. By entering the Vehicle Identification Number (VIN) of a vehicle, users can access a comprehensive report that provides valuable information including sale history, recall information, vehicle specifications, and more.

5. iSeeCars.com/vin
iSeeCars.com is a website that provides free vehicle history reports to assist individuals in making informed decisions when buying a used car. The platform offers comprehensive reports that contain valuable information about a vehicle's history, helping buyers assess its condition and reliability.
By entering the Vehicle Identification Number (VIN) of a vehicle on iSeeCars.com, users can access a detailed report that includes data from various sources, including government records, insurance companies, and other industry partners. The report may include details such as title information, accident history, mileage readings, ownership history, recalls, and more.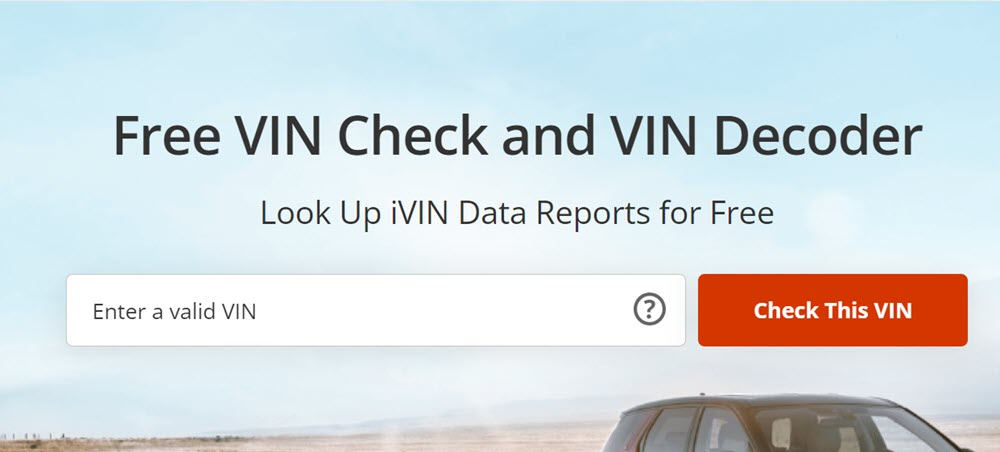 It's important to note that while free sites like iSeeCars.com and vehiclehistory.com offer free vehicle history reports, the level of detail provided may not be as extensive as that of paid services such as Bumper or EpicVIN. However, the reports can still provide valuable information to help you make a more informed purchasing decision.
Get detailed reports from paid services
1. Use Bumper to research used cars
Bumper is the best vehicle search website to help you gather important information about a vehicle. Bumper provides a report containing the vehicle's accident history, salvage, theft records, branded titles, standard equipment, manufacturer recalls, equipment and trim specifications, sale history, market value, ownership costs and much more details.
If you're trying to find a comprehensive report with easy-to-understand information, Bumper would be the best choice.
1) Go to Bumper.
2) Enter the VIN Number/License plate number and click SEARCH.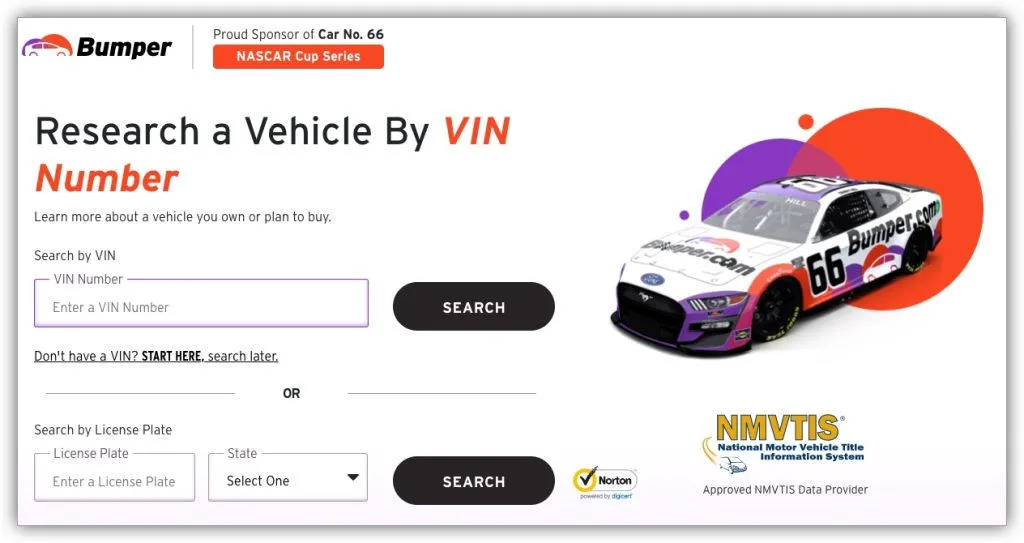 3) Bumper will search on its database and give you a report that contains the information you need.
2. Check car history with BeenVerified
BeenVerified is one of the best search engines to check car history. The advantage of outperforming other competitors is that you are able to find the previous owner of the car with BeenVerified power people search, so you're able to get more details. BeenVerified not only allows you to use VIN numbers/license plate to search for all-related information about the car but also provide owner details of a vehicle. Back up by billions of real-sourced data, both from governments and the public, BeenVerified has the ability to offer users to find what they want.
1) Visit the BeenVerified vehicle search page.
2) Enter VIN number/License plate number + State to search.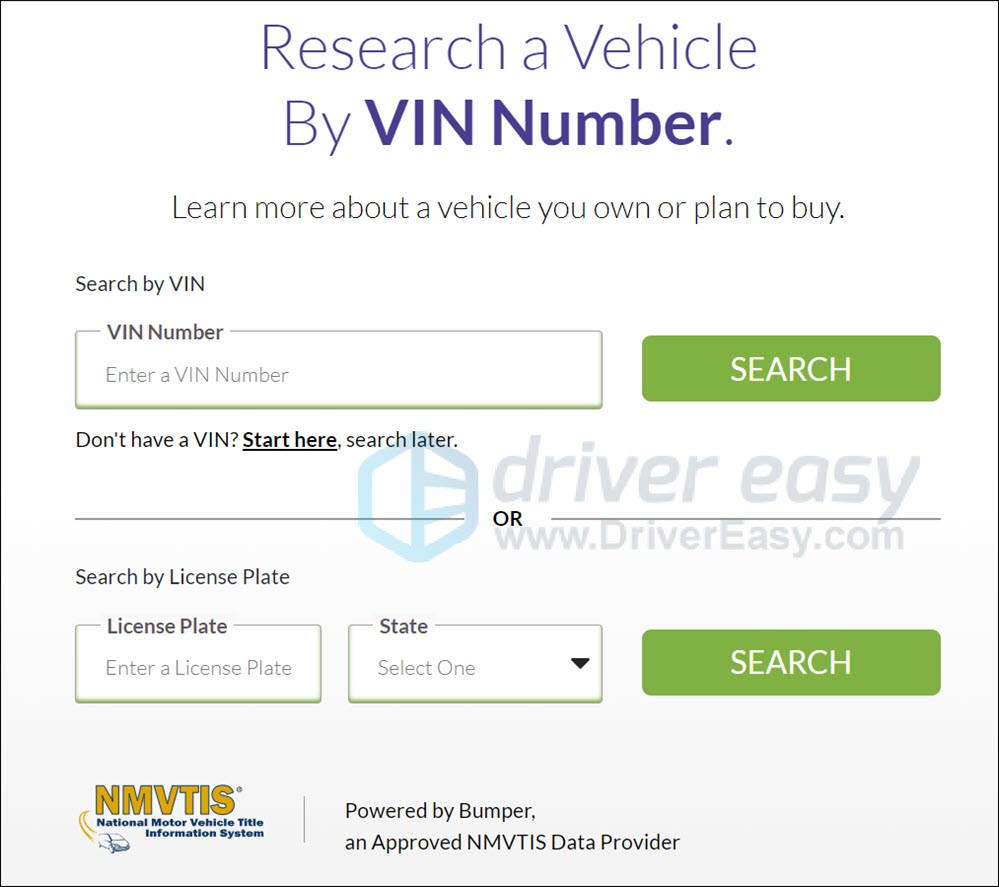 3) You'll get a detailed report about the car, including the market value, ownership cost, and more. You can find the previous owner in the Owner Details section. Then you can search for this person on BeenVerified to get more helpful information.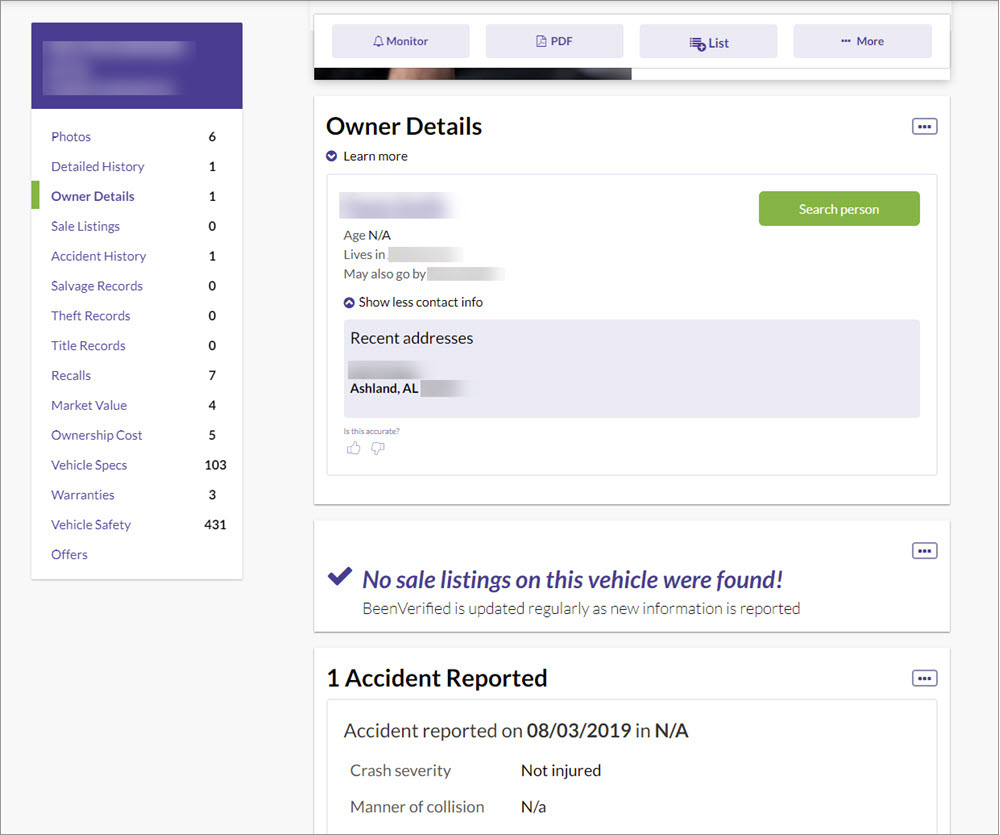 3. Request car report from DMV
DMV maintains the public records of vehicles including vehicle registration (VR), driver's licenses (DLs), occupational licenses (OLs), and more. You can request vehicle information for yourself and others from the DMV and pay a fee to access it online and offline.
Final thought
It's essential to check the car history before buying a used car. You need a VIN number or license plate number to search for related and trustworthy information. It would be great to get a free VIN check, but the data you find on free sites are not comprehensive. I would suggest turning to a paid service to save your time and energy.
Note all the data you get from a car report should match up with the car. If there's no match, you should stop moving to the purchase.
The methods in this article provide you with easy access to public record information, but without a guarantee for accuracy and may include links to websites not listed as a Consumer Reporting Agency (CRA). Information acquired from these bodies is illegal to be used for employment, housing, credit, and other purposes alike, according to laws such as the Fair Credit Reporting Act (FCRA). If you're not sure whether your use of our methods is appropriate, click here for details.