Can't stand for the small screen on your laptop? You can connect an external monitor to improve your productivity and user experience. But how to connect a monitor to a laptop?
In fact, this is very easy. Follow the clear steps below, and you'll set up an external monitor on your laptop easily and quickly.
Things to check before the start
Windows XP/7/8/10 all support multiple monitors, but you need to make sure your laptop is capable to add an external monitor. And that depends on your Windows operating system, the capability of your graphics cards and drivers. so you need to check the graphics card and ports on your laptop.
1. Check the graphics card
First of all, you have to make sure your graphics card supports multiple monitors. Normally, every graphics card provides at least two outputs, but you will need to check the graphics card properties on the manufacturer's website, find your graphics card and check the specifications to see if it supports adding two external monitors.
For example, if you are using the NVIDIA GeForce graphics card, you can check it out on the official website, and click the graphics card you have, and click SPECS to check the specification. You will see if it supports multiple monitors.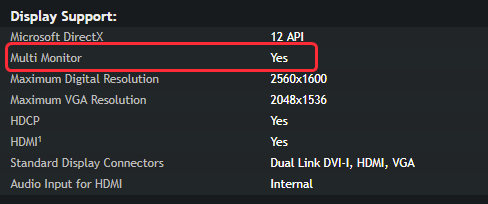 If it does not support adding multiple monitors, you may need to buy and install a suitable graphics card (e.g GeForce RTX 2080) before you go to the next step.
2. Check available ports on your laptop
The next step is to check the ports on your laptop. Generally, a computer or laptop should include any of these four ports:
Display Port can provide an interface with an optional audio high-definition content protection.
Digital Video Interface (DVI) is usually color-coded with white plastic and labels.
Video Graphics Array (VGA) is normally color-coded with blue plastic and labels.
High-Definition Multimedia Interface (HDMI) can connect all kinds of video devices and provide sounds through the cable.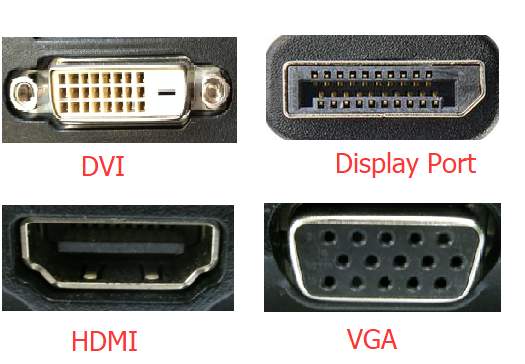 Usually, you'll find the same video ports on your monitor and your laptop. Otherwise, you will need to buy an extra adapter, such as DVI to HDMI adapter to connect them.
If you don't have the match ports for your laptop and your monitor
If the ports on your laptop are not the same as the connectors in your monitor cables, don't give up hope. There is a workaround! You can try one of the methods below to continue:
Use an adapter, such as an HDMI to DVI adapter. This works if you have two different ports for your laptop and your monitor.
Use a switch splitter, such as a Display splitter to have two HDMI ports. This works if you have only one HDMI port on your laptop but you need two HDMI ports.
Use a docking station, and it works in various circumstances.
Note: Lenovo CLEARANCE SALE save up to 57%!
How to connect a monitor to your laptop
Now you're ready to start connecting the monitor to your laptop.
Note: Connect your monitors while your laptop is turned on. In most cases, Windows will detect when a new monitor is plugged in.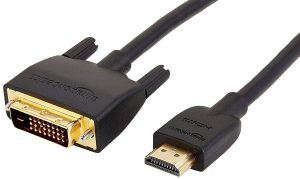 HOW: Plug the cable of the external monitor to the correct video port on your laptop.
You should see that your external monitor is working on your laptop. If not, restart your computer. If the problem persists, try the fixes here.
You should see that your external monitor is working on your laptop. If not, restart your computer. If the problem persists, try the fixes here.
Then, change the current display settings to get a better view. Follow the steps below.
On your desktop, right-click an empty area, then click Display settings (or Screen resolution if you're on Windows 7).

Click the Detect button to make sure both your screens are recognized by your operating system.

If there's only one screen detected, restart your laptop and try the Detect button in your multiple display settings again. If the problem persists, try the fixes here.


Click the Identify button to see which display is your first display (the screen with the number 1) and which is your second (the number 2).

Change your display settings. What you can change are as follows:
Select and drag your two displays to rearrange them if you don't like the current screen arrangement.

Configure your screen resolution and orientation.

Select a multiple display mode from the Multiple displays drop-down menu.

Don't forget to take a look at the Make this my main display. Check this box could make the currently selected screen your main display (the display that shows your program shortcuts).

Now you've configured your multiple display settings. You can now enjoy your external monitor. But if you have any issue with your external monitor setup, try the fixes below.
When you're having issues with your dual-screen setup…
If one (or both) of your screens is not working properly, there are a few fixes you should try:
Make sure you've correctly connect your monitor to your power socket.
Replace your video cable or try a different video port. This will help you resolve any problems due to your cable or ports.
If you're using a video output adapter, use a different adapter or try to connect your monitor directly to your laptop.
Try updating your graphics driver. Your screens may not be working properly if you're using a wrong graphics driver or it's out of date. You should update it and see if that's the case for you. If you don't have the time, patience or skills to update your graphics driver manually, you can do it automatically with Driver Easy

.

Driver Easy will automatically recognize your system and find the correct drivers for it. You don't need to know exactly what system your computer is running, you don't need to risk downloading and installing the wrong driver, and you don't need to worry about making a mistake when installing.You can download and install your drivers by using either Free or Pro version of Driver Easy. But with the Pro version it takes only 2 clicks (and you get full support and a 30-day money back guarantee):

? Download and install Driver Easy.
? Run Driver Easy

and click the

Scan Now

button.

Driver Easy

will then scan your computer and detect any problem drivers.

? Click the Update button next to your graphics adapter to download the latest and correct driver for it, then you can manually install it. You can also click the Update All button at the bottom right to automatically update all outdated or missing drivers on your computer (this requires the Pro version — you will be prompted to upgrade when you click Update All).

If you have any issues with Driver Easy, please contact Driver Easy's support team at support@drivereasy.com for advice. You should attach the URL of this article so they can help you better.
If you have any questions, leave us a comment below.
Feature image by Joshua Aragon on Unsplash
4
4 people found this helpful