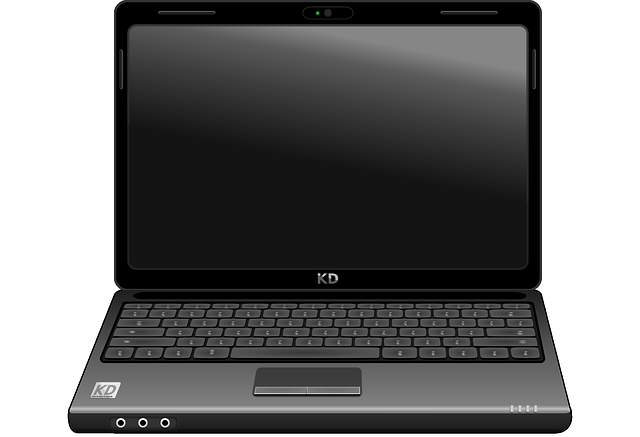 Laptops nowadays are more powerful and compact than ever, but these features can also bring about a serious problem — excessive heat. Laptop overheating has become one of the most common and troublesome issues for laptop users. It is possible that you are dealing with one now.
There are several signs that show your laptop is or about to be overheating. First, certain areas of your laptop are so hot that you may not be able to place your hand on them for a long time. Besides, the fan of your laptop is emitting whirring noise as it is struggling to cool your laptop down. In the meantime, your computer runs much more slowly than before, and there would be error messages popping up or lines showing up on the screen. In some cases, your laptop will get BSOD (Blue Screen of Death) or just shut down itself all of a sudden.
You should take immediate actions if your laptop is overheating, or your laptop will suffer from further damage. These are the methods that are useful for fixing your laptop overheating issue.
4) End the tasks with high resource usage
6) Troubleshoot the physical issues


1) Restart your computer
Sometimes a laptop overheating issue exists just for the time being. There may be files or programs using too much system resources temporarily. Or you have used your laptop to perform some heavy tasks for too long. Your computer needs rest. A simple restart of your laptop will sort everything out.
This method is effective for temporary overheating. If you have tried restarting your laptop and the problem persists, you need to perform the methods below.


2) Ensure sufficient cooling
One highly possible culprit of laptop overheating is insufficient cooling. You will need to rule out anything that can keep your laptop from getting adequate cooling.
Try putting your laptop at a cool area. An air-conditioned room is an ideal place to keep your laptop cool.



The vents of your computer are supposed to be cleaned and cleared. The dirt covering these vents will prevent the air from flowing in and out, and therefore results in high temperature.


You will also need to place your laptop on a hard and flat surface that will be less likely to block the airflow. Soft surfaces like quilt or sofa can stop the proper airflow of your laptop and lead to overheating or, even worse, fire.


If you can afford one, it is recommended that you buy a laptop cooler. It places additional fans on the bottom of your laptop and help it get enough cool air.



3) Update drivers
Drivers are programs that monitor the hardware on your computer. Faulty or outdated drivers can cause various hardware issues, including overheating. You should update drivers regularly to get rid of all these troubles.
One easy and reliable method to update drivers is to use Driver Easy.
Driver Easy will automatically recognize your system and find the correct drivers for it. You don't need to know exactly what system your computer is running, you don't need to risk downloading and installing the wrong driver, and you don't need to worry about making a mistake when installing.
You can download and install your drivers by using either Free or Pro version of Driver Easy. But with the Pro version it takes only 2 clicks (and you get full support and a 30-day money back guarantee):
a) Download and Install Driver Easy.
b) Run Driver Easy and hit Scan Now button. Driver Easy will then scan your computer and detect any problem drivers.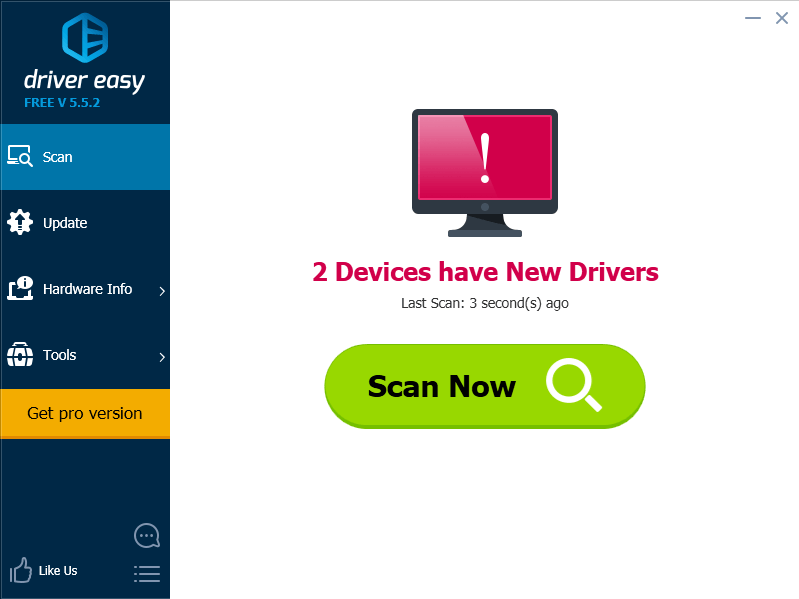 c) Click on the Update button next to each device to download the latest and correct driver for this device. You can also hit Update All button at the bottom right to automatically update all outdated or missing drivers on your computer (this requires the Pro version — you will be prompted to upgrade when you click on Update All).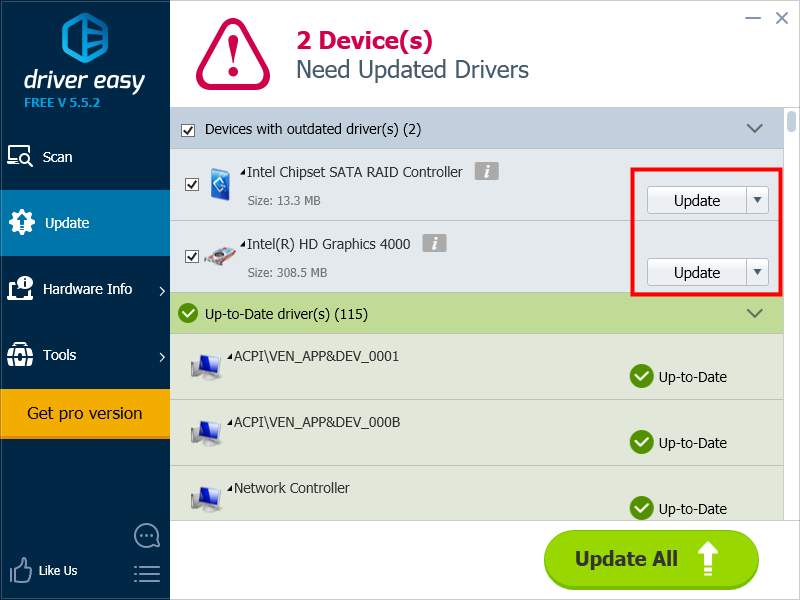 4) End tasks with high resource usage
Your laptop overheating issue may also result from applications or programs that are using up your system resources and put heavy burden on your computer. These applications have excessive high CPU or disk usage. Sometimes a simple reboot of your laptop can solve these problems (as mentioned in method 1). But if it can't you should look into Task Manager and identify every program that causes trouble.
a) Right click on the empty space of the taskbar at the bottom. Then select Task Manager.

b) On the Processes tab in Task Manager window, you can see a list of processes (programs or applications) running along with their system resource usage status. You should check the CPU and Memory (and Disk as well if you are using Windows 10) status and see if any of them continuously stays at an unusual high level. If that's true scroll down to find which task is over-using these resources.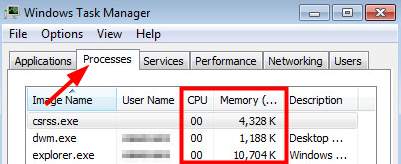 c) If you have found a program with high CPU, memory or disk usage, you need to find a way to calm it down. The proper method to do this is to note their names and search them on the Internet. Use Google to find out what exactly they are and find an appropriate solution to stop them from using too much system resources.


5) Reduce the CPU clock speed
If you are an advanced laptop user, you may have overclocked your CPU to seek for higher performance. But an overclocked CPU is usually the culprit of laptop overheating issues.
If you have just overclocked your CPU and your laptop is burning now, just undo the recent actions you have taken. Set your CPU clock speed back to default and everything will go back to normal.


6) Troubleshoot physical issues
If the methods above would not help you, you may need to prepare your tools to troubleshoot problems inside your laptop.
One of the most common cause of overheating is the dirt inside your laptop. Open the cover of your laptop, check the inside carefully, and clean the dust out of there. When necessary, open the heat sink so that you can thoroughly clean your laptop.


You may also need to replace the faulty parts of your laptop. Check and see whether the battery, the RAM, or the hard drive of your laptop is giving out heat. They may be too old if they are overheating. If you have a new part, you can try replacing the old one with it and see if the problem resolves.


If your laptop is still under warranty, it is strongly recommended that you leave all the jobs above to the manufacturer of your laptop. You can contact them and ask for further assistance. They will help you have your laptop repaired or replaced.


9
9 people found this helpful