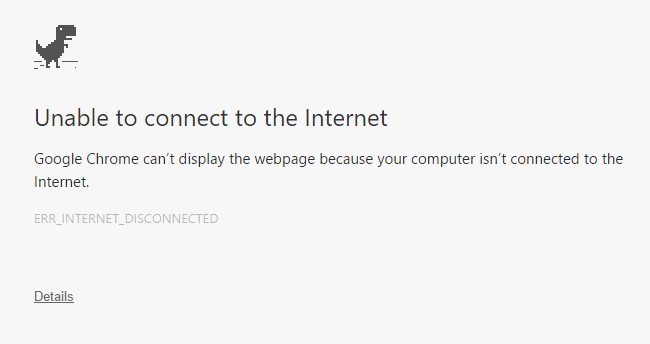 Many Windows users come across an ERR_INTERNET_DISCONNECTED error when they are using Google Chrome web browser. This error occurs with a message that says you are unable to connect to the Internet. This error usually results from the problems with your Internet connection.
Here are some methods that can help you solve the ERR_INTERNET_DISCONNECTED error:
1) Check your Internet connection
2) Configure Internet settings
5) Flush DNS and reset network settings
7) Reinstall your network adapter


1) Check your Internet connection
In most cases, the Err Internet Disconnected error happens when your computer disconnects from the Internet. Before anything else, you should check the network connection status of your computer. If your computer is disconnected, check and see if you have enabled the network connection on your computer, the network cables are properly plugged, your network devices run normally, etc. 
If you still get the error, you can go ahead and try the methods below.


2) Configure Internet settings
There may be something wrong with your network settings and therefore resulting in ERR_INTERNET_DISCONNECTED error. To check and change your Internet settings, follow the steps below.
a) Press Win key and type "internet options". Open Internet Options in the result.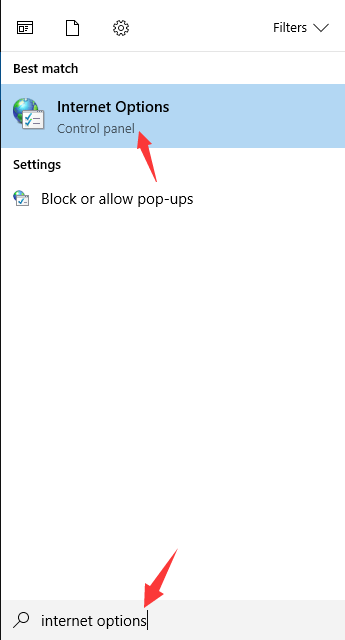 b) Go to Connections tab, and then click on LAN settings.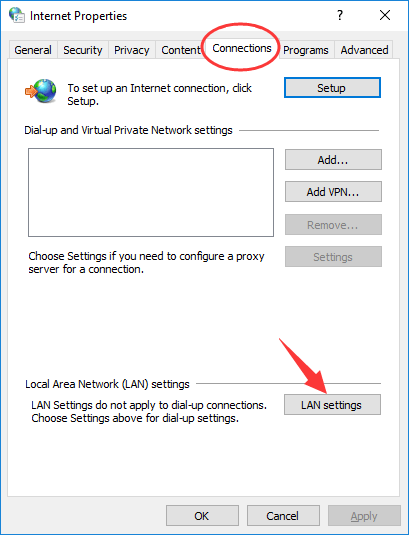 c) Ensure Automatically detect settings and Use a proxy server for your LAN are unchecked.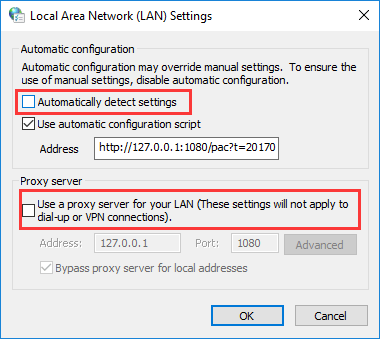 d) Open your Chrome and see if the problem resolves.


3) Clear browsing data
The browsing data, like cache and cookies, of your Google Chrome browser can sometimes affect the connection. If you come across an Err Internet Disconnected error, you may need to clear the browsing data of your browser.
a) Open your Chrome, and then enter "chrome://settings/clearBrowserData" in the address bar.

b) Choose to clear data from the beginning of time. Tick all the items. Then hit Clear browsing data.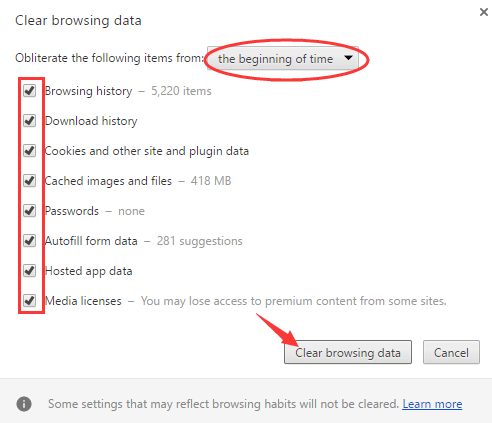 c) Your browsing data is cleared. You can see if this method fixes the problem.


4) Check security software
Sometimes the security software you are using, such as firewall and antivirus software, can block your web browser or your Internet connection. You should check the settings of the product you use and see if it restricts your Chrome or your network connection. You may need to disable them to solve the problem if necessary.


5) Flush DNS and reset network settings
Flushing DNS and resetting network settings are effective methods for dealing with network issues. You need to open Command Prompt to perform these actions.
a) Press Win key and type "cmd". Right click on Command Prompt in the result and select Run as administrator.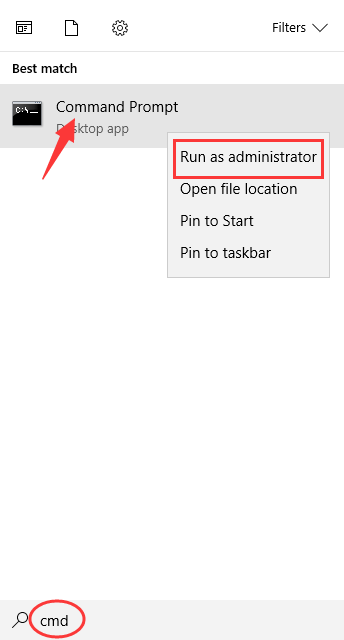 b) In Command Prompt, enter the following lines. (You need to press Enter after each line of command and wait for the process to complete before you go to the next line.)
ipconfig /flushdns
ipconfig /renew
netsh int ip set dns
netsh winsock reset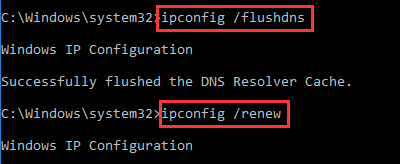 c) Restart your computer and open your Chrome browser. Check and see if the error has gone.


6) Power cycle your router
Since the ERR_INTERNET_DISCONNECTED error probably comes from problematic network connection, this error can be fixed by power cycling your router.
Turn off your router completely. Then unplug the power cable and leave it for a few minutes. After that plug the power cable back into the router and power it on. You can check that if your network connection gets back to normal.


7) Reinstall your network adapter
You can also try reinstalling your network adapter when you face the internet disconnected error. 
a) Press Win + R keys. Enter "devmgmt.msc".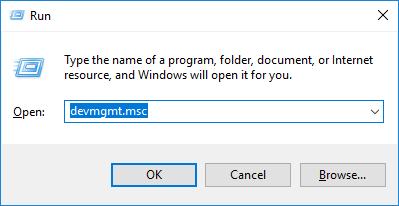 b) In Device Manager, find and open Network adapters category. Right click on your network adapter under this category and select Uninstall device. Confirm your action if you are prompted.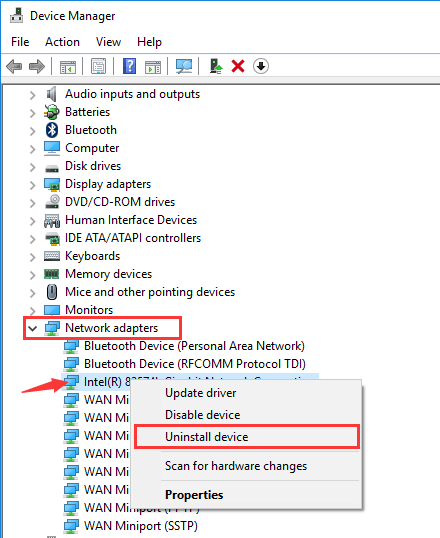 c) Restart your computer and the system will automatically check and reinstall your device.


It is also possible that there are hardware issues on your network adapter or router when you encounter ERR_INTERNET_DISCONNECTED error. In this case you can find your device manufacturers to see what professional solutions they can provide to your problem.
65
65 people found this helpful
Available in other languages
Stoßen Sie auf den Fehlercode ERR_INTERNET_DISCONNECTED, wenn Sie eine Webseite in Chrome öffnen? Hier finden Sie dafür 7 Fixe!