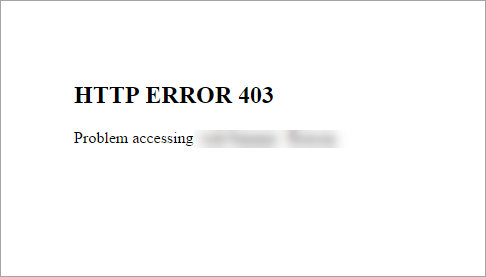 Seeing the HTTP Error 403 on your browser? You're not alone! A lot of people have seen this error code "HTTP Error 403" when they've tried to access a website. They usually see these variants of the error:
HTTP ERROR 403
403 Forbidden
HTTP Error 403: The service you requested is restricted
Forbidden: You don't have permission to access / on this server
…
Now you may be wondering what HTTP Error 403 and these variants mean…
What is HTTP Error 403?
HTTP Error 403, or HTTP 403, is an HTTP status code (a code the website server responds to you with). It tells you your access to this web resource is denied. In other words, you're not allowed to see and use it.
Why this error occurs? Usually, it's because the website administrator impose some restrictions (e.g. region) to stop you from going to the website. But in other cases, the cause is your web browser cache or your Internet connection issue.
How to fix or get around this error?
The following are some effective ways to fix or get around HTTP Error 403. You may not have to try them all; just work your way down the list until you find the one that works for you.
Fix 1: Do some basic troubleshooting
The first thing you should do is to perform basic troubleshooting. And here are the things you should check:
Make sure you've entered the correct address.
Try reloading the web page and see if this works.
Try waiting for some time before you access the web page again.
If the error still persists, don't worry! There are still fixes for you to try…
Fix 2: Clear your browser data
There may be issues with your browser cookies or cache so you're seeing the HTTP Error 503 code. You should try clearing these data to see if this fixes these issues. To clear your browser data:
This removes all your cache and cookies. You may need to fill in again your information on some websites the next time you browse them.
On your web browser, press the Ctrl, Shift and Del/Delete keys on your keyboard at the same time.
Select the time range that covers every cookies and cache.

Select the checkboxes of Cookies and Cache.

Click the Clear button.

If this has worked for you, great! But if not, there is still one fix you can try…
Fix 3: Use a VPN service
VPN can help you get around the restrictions of the website. So when you see HTTP Error 403, you should try using a VPN.
You can set up a VPN connection manually, but this requires a lot of time and computer skills. And you have to have a VPN server. So it's easier to use a VPN service, such as NordVPN.
NordVPN is a very easy-to-use VPN service. It helps you set up a fast, stable and secure VPN connection to anywhere. And you can do this with just a few clicks!
You can get a decent deal for the NordVPN services. Check out the NordVPN coupons here!
To use NordVPN:
Download and install NordVPN.
Run NordVPN, then choose a location you want to connect to.
Hopefully one of the fixes above helped you resolve your problem. If you have any questions or suggestions, you're more than welcome to leave us a comment below.
2
2 people found this helpful