Warzone has been out for a while now, but there're still many gamers complaining about the lag or high ping issue that puts them in a shot-first-die-first situation. If you happen to be one of them, don't worry. Here're some fixes that can help you resolve or mitigate the lag.
Make sure the lag is network related
First things first, there're mainly 2 types of lag: one is low FPS and another is high latency. Low FPS means the game is challenging to your graphics card or CPU, and high latency indicates that there's a network issue on either your end or the server end. In simpler terms, low FPS makes your game look like a slideshow, and high latency puts you in a shoot-first-die-first situation.
This post targets the high ping lag issues in Warzone.
Try these fixes:
You might not need to try them all; simply work your way down until you find the one that does the trick.
Fix 1: Reboot your network
When it comes to network troubleshooting, sometimes the easiest and quickest solution is to reboot your network equipment. This is helpful especially when your router or modem is overloaded or overheated.
And here's simple guide for that:
Unplug the power cords of both your modem and router.


Modem

Wireless router

Wait 2 minutes and plug the cords back in. Make sure the indicator lights of both devices are back to their normal state.
Open your computer and browse a website to verify your Internet connection.
Once you're back online, open Warzone and test the gameplay.
If Warzone still lags after you reboot your network, check if you're using WiFi for your game. If so, check out the next fix. Otherwise you can jump to the third fix.
Fix 2: Use a wired connection
Wireless connection is fine for web browsing, but not stable enough for online gaming. WiFi channel conflict and bad reception are two common causes of lag spikes. So to avoid possible interference, we always recommend playing shooter games on a wired network.
Don't forget to check your cables as well. Lagging can result from substandard or broken cables. And while you're checking, make sure the cables are securely plugged in.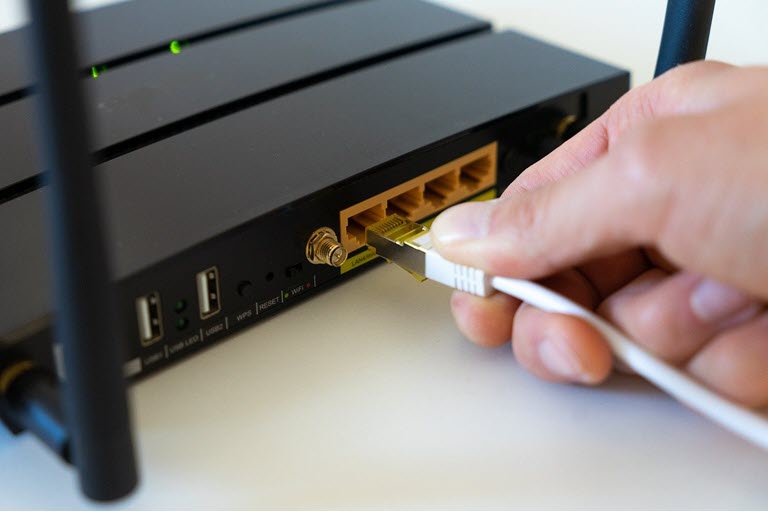 However, if gaming on WiFi is the only option you have, simply continue to the next fix.
Fix 3: Change your DNS servers
In layman's terms, Domain Name System (DNS) is like the phonebook of the Internet: every time you visit a website, your DNS server translates the web address into an IP address, which is often long and hard to remember.
Why change your DNS server
Normally we're using a DNS server provided by our ISP, one whose quality is unknown. In most cases, changing to a popular and reliable DNS server offers a faster and safer connection.
Also, Warzone has a great number of game servers. A reliable DNS server connects you to the one that is geographically closest to you.
How to change your DNS servers
You can follow these steps to change your DNS servers:
On your keyboard, press the Windows logo key and R at the same time to invoke the Run dialog. Type or paste control ncpa.cpl and click OK.

In the pop-up window, right-click your Ethernet adapter and select Properties.

Double-click Internet Protocol Version 4(TCP/IPv4).

In the pop-up window, select Use the following DNS server addresses:. For Preferred DNS server, type 8.8.8.8; and for Alternate DNS server, type 8.8.4.4. Click OK to save the changes.


8.8.8.8 and 8.8.4.4 are the most popular DNS servers developed by Google.

Next you need to flush the DNS cache. On your keyboard, press the Windows logo key and type cmd. Then select Run as administrator.

In Command Prompt, type ipconfig /flushdns and hit Enter.

You've now changed your DNS server. So the next thing is to try it out with Warzone and see if it fixes the lag issue.
If this method doesn't give you any luck, you can move on to the next one below.
Fix 4: Update your network driver
Another possible cause of your lag problem is that you're using a faulty or outdated network driver. If you don't remember when's the last time you updated your network driver, definitely do it now as it could save the day.
You can update your network driver manually, by visiting the motherboard manufacturer's website, downloading the latest installer that fits your system and installing it step by step. But if you're not comfortable playing with device drivers, you can update automatically with Driver Easy.
Download and install Driver Easy.
Launch Driver Easy, then click Scan Now. Driver Easy will then scan your computer and detect any problem drivers.

Click Update All to automatically download and install the correct version of all the drivers that are missing or out of date on your system.(This requires the Pro version – you'll be prompted to upgrade when you click Update All. If you don't want to pay for the Pro version, you can still download and install all the drivers you need with the free version; you just have to download them one at a time, and manually install them, the normal Windows way.)

The Pro version of Driver Easy comes with full technical support. If you need assistance, please contact Driver Easy's support team at support@drivereasy.com.
Once you've updated your network driver, restart your computer and launch Warzone. Test your gameplay and see if the lag is still there.
If you're still feeling delay in the game, you can try the next fix below.
Fix 5: Close bandwidth hogging programs
You might experience lag when there's a bandwidth-hungry software lurking in the background. So before you can enjoy a smooth gaming, you want to make sure you've closed or disabled programs like OneDrive, Skype or Windows Update that could use a great amount of bandwidth to function.
Here's how you can check:
On your keyboard, press Ctrl, Shift and Esc at the same time to open Task Manager. Click the Network tab to sort tasks by traffic consumption.

On at a time, select processes that consume the most traffic, click End task to close them.

After cleaning up the bandwidth hogging programs, you can launch Warzone and check if it improves your experience.
If this trick doesn't do the job for you, have a look at the next method.
Fix 6: Disable Crossplay
Warzone includes a feature named "Crossplay", which allows you to compete with players from other platforms. Sounds fancy, but some PC gamers have reported that disabling Crossplay fixed their lag issue. So let's hope this works for you too.
Here's how to disable Crossplay in Warzone:
Open Warzone and go to Main Menu.
Open up Options and navigate to the Account tab. Under the Online section, set Crossplay to Disabled.

Join a game and check if your lag has disappeared.
If disabling crossplay doesn't fix your lag problem, turn it back on and take a look at the final fix.
Fix 7: Check if it's a server issue
Warzone is a great game, yet the lag is unbearable. It makes you wonder if there's a problem from your end. But sometimes you're not the only one experiencing the lag. So when you've tried everything above and nothing works, maybe you'd want to check if it's a server issue, by visiting the Activision Support Twitter and the Modern Warfare Reddit.
Why is Warzone so laggy?
Warzone has lots of server scattered around the world, but at the same time it's also one the most popular shooters.
Normally, you should check if it's a temporary issues on the server side. But you can also try using a VPN to fix this once and for all. With a VPN you can bypass the faulty servers, and forget about those complex settings regarding your firewall or NAT type.
And here're some gaming VPNs we recommend:
There're sporadic reports claiming VPN might result in accounts being banned. To be safe, consider it as the last resort.
---
So these are the tips that can help you resolve or at least mitigate the lag in Modern Warfare and Warzone. If you have any questions or suggestions, please feel free to leave a comment.
15
15 people found this helpful
Available in other languages
Si vous rencontrez le lag du jeu Call oj duty: Warzone, ne vous inquiétez pas, vous pouvez lire cet article pour trouver une solution.