After you perform a Windows 10 update or upgrade system to Windows 10, if your bluetooth keyboard randomly stops working, the most probably reason is faulty drivers. Of course there may be some other reasons. In this post, you will learn how to solve this problem.
Note: The methods below requires you to use the mouse. Ensure your mouse works properly. And the methods only apply to bluetooth keyboard issues.
Method 1: Update Drivers

Windows update or upgrade may cause driver problems. You can go to Device Manager and check for the driver status. If there is problem with the drivers, you can see a yellow mark next to the device as follow screenshot shows.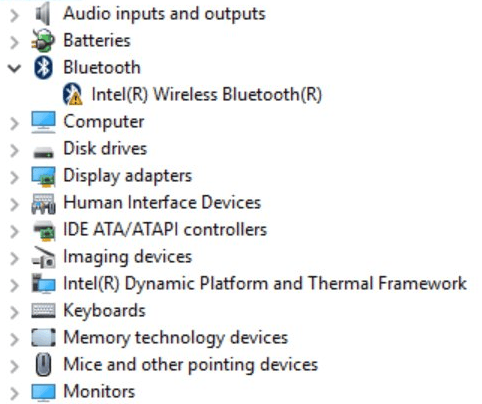 If you are not sure how to go to Device Manager, follow steps below:

1. Tap the File Explorer icon on taskbar.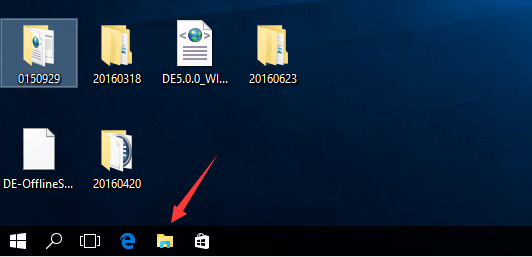 2. Righ-click on
This PC
and choose 
Manage
in the context menu. Then Computer Management window will open.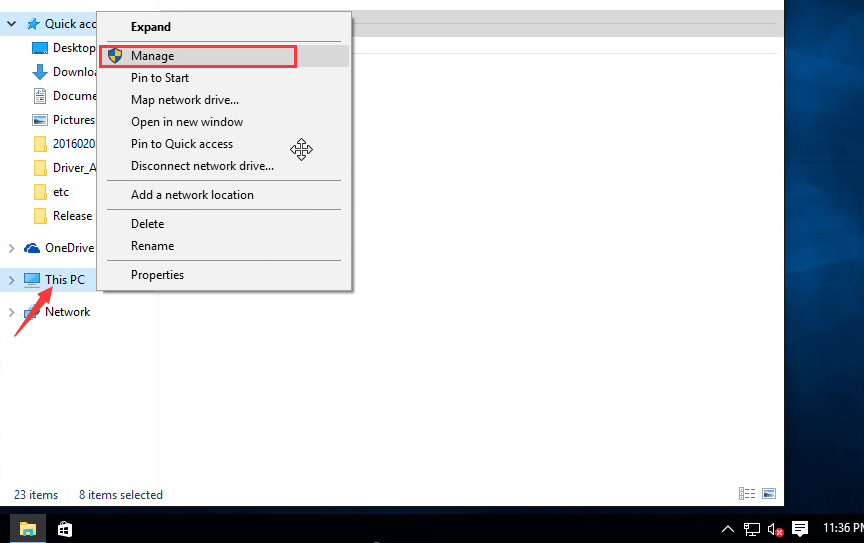 3. In Computer Management window, click Device Manager in the left pane. In the right pane, you will the device list.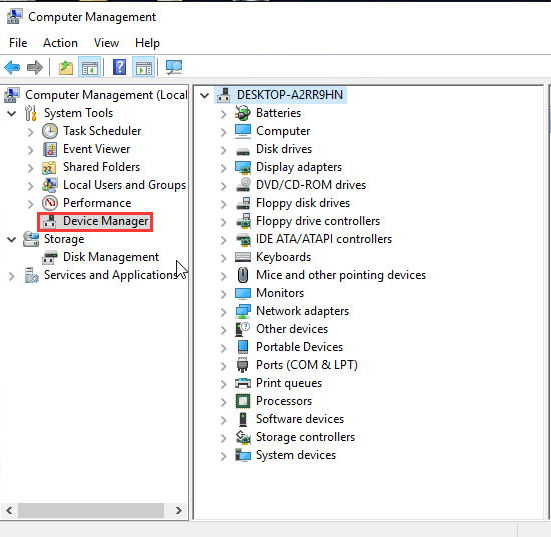 The keyboard problem most probably is caused by bluetooth drivers or usb drivers. If you see a yellow mark next to the bluetooth device or usb device, go to your PC manufacturer's website to download the latest drivers. Updating drivers should resolve the problem. Before you get started to download drivers, ensure that you know the PC model name and specific operating system that you are using (Windows 10 32-bit or Windows 10 64-bit)
If you have problem updating drivers manually, you can use
Driver Easy
to help you. You can use Driver Easy to scan your computer to detect all problem drivers in your computer. After that, you will be given a list of new drivers. Then you can download the driver that you wish to update. If the keyboard problem is caused by faulty drivers, Driver Easy will help fix it quickly. Moreover, if you upgrade to Professional version, you can enjoy free technical support guarantee. We would provide you with further assistance regarding this.
If updating drivers doesn't work for you, try below methods. 
Method 2: Try on a different USB port 


Plug the bluetooth transceiver to another USB port and see if it works.
Method 3: Verify power levels


Insufficient power may cause bluetooth keyboard fail to work. If there are other USB devices being used, disconnect them and see if the keyboard works.
Method 4: Enable Bluetooth Services 

Follow these steps:
1. Go to
Device Manager
.
2. Right-click on the keyboard device and choose
Properties
in the context menu. 
3. In Properties dialog box, click the Services tab. Make sure the checkbox next to "Drivers for keyboard, mice, etc" is checked.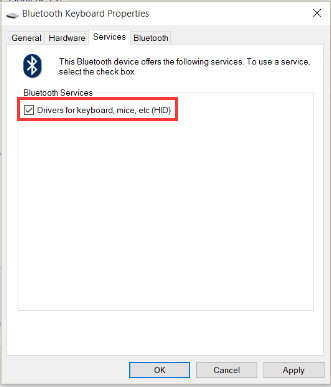 Method 5: Change power setting
Follow these steps:
1. Go to Device Manager.
2. Right-click on the keyboard device and choose Properties in the context menu. 
3. In Properties dialog box, click the Power Management tab.
4. Right-click on your keyboard and choose Properties in the context menu.
5. Turn off the Allow the computer to turn off this device to save power option, and click OK button.

If you are using Windows 10 and your bluetooth keyboard doesn't work at all, try solutions in this post and the problem should resolve. 
28
28 people found this helpful