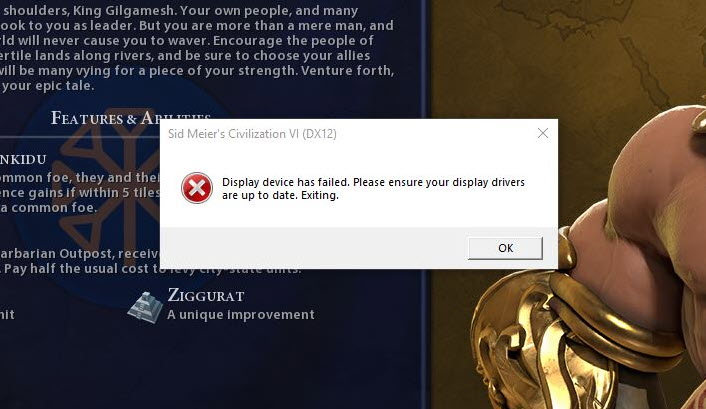 Looks like the recent update of Civilization VI didn't go so well, and many gamers start reporting a game not launching issue. But annoying as the problem may be, it might not be so hard to fix.
Try these fixes:
We've gathered the latest working fixes for your Civ 6 not launching issue. Simply work your way down until you find the one that gives you luck.
If you have trouble updating the game, you might just need a simple reboot.
Fix 1: Verify the integrity of game files
You can't expect your game to work fine if there're files missing or broken. So first you need to run a scan of your game folder.
Here's how to do it on the Epic Games client:
Open your Epic Games client and go to Library.

Click the ellipses at the bottom right corner of Sid Meier's Civilization VI. Then select Verify and wait for the process to complete.

Now you can try again and see if Civ 6 launches.
If this doesn't help, you can take a look at the next fix below.
Fix 2: Update your graphics driver
It's very likely that your game won't run when you're using a broken or outdated graphics driver. If you're an avid gamer, you should always keep your drivers up to date so as to avoid compatibility and performance issues.
You can update your drivers manually if you're a tech savvy user: you need to go to the manufacturer's website, then search, download and install the driver step by step. If you're not comfortable playing with device drivers, you can leave it to Driver Easy. It's a tool that detects, downloads and installs any driver updates your computer needs.
Download and install Driver Easy.
Run Driver Easy and click Scan Now. Driver Easy will then scan your computer and detect any problem drivers.

Click Update All to automatically download and install the correct version of all the drivers that are missing or out of date on your system.
(This requires the Pro version – you'll be prompted to upgrade when you click Update All. If you don't want to pay for the Pro version, you can still download and install all the drivers you need with the free version; you just have to download them one at a time, and manually install them, the normal Windows way.)

The Pro version of Driver Easy comes with full technical support. If you need assistance, please contact Driver Easy's support team at support@drivereasy.com.
After updating your graphics driver, restart your computer and check if Civ 6 works now.
If the latest graphics driver doesn't do the charm, you can check out the next fix.
Fix 3: Install all Windows updates
Civ 6 has been out for several years now, so it's possible it'll run into compatibility issues with the latest Windows 10. Microsoft releases system updates for Windows 10 on a regular basis. It's important to make sure you install all the system updates.
On your keyboard, press Win+I (the Windows logo key and the i key) to open the Windows Settings app. Click Update & Security.

Click Check for updates. Windows will then download and install the available patches. It might take some time (up to 30 mins).

To confirm you've installed all the system updates, repeat these steps until it prompts "You're up to date" when you click Check for updates.
Once you've installed all the system updates, check if you can get Civ 6 working now.
If this solution doesn't help, you can continue to the next one.
Fix 4: Perform a clean boot
Given we all have different desktop environments, the cause of the issue could be interfering programs. If you're not sure, do a clean boot to rule out this possibility.
On your keyboard, press Win+R (the Windows logo key and the r key) at the same time to invoke the Run box. Type or paste msconfig and click OK.

In the pop-up window, navigate to the Services tab and check the box next to Hide all Microsoft services.

Uncheck all the services EXCEPT those belong to your hardware manufacturers, such as Realtek, AMD, NVIDIA, Logitech and Intel. Then click OK to apply the changes.

On your keyboard, press Ctrl, Shift and Esc at the same time to open Task Manager, then navigate to the Startup tab.

One at a time, select any programs you suspect might be interfering, and click Disable.

Restart your PC.
Now you can try to launch Civ 6. If it's working this time, repeat these steps and disable only half of the services and programs to root out the offenders.
If a clean boot doesn't help, you can check out the next fix.
Fix 5: Install the latest Visual C++ redistributable
Some gamers reported that installing the latest Visual C++ redistributable package fixes the issue, so you can try the same and see how it goes.
Go to the support page of Microsoft. Under the Visual Studio 2015, 2017 and 2019 section, click vc_redist.x64.exe and download the installer.

Open the installer and follow the on-screen instructions to install.
You can also uninstall all the Visual C++ redistributable in Programs and Features, then reinstall them one by one. Be sure to choose the latest 64-bit installer.
Fix 6: Switch your DirectX version
According to some, running Civ 6 on another version of DirectX might be a potential fix. Normally you're prompted to select the DirectX version at startup. But you can also use the .exe file directly. By default, you can the .exe files in C:\Program Files (x86)\Steam\steamapps\common\Sid Meier's Civilization VI\Base\Binaries\Win64Steam. Use CivilizationVI_DX12.exe for DirectX 12 and CivilizationVI.exe for DirectX 11.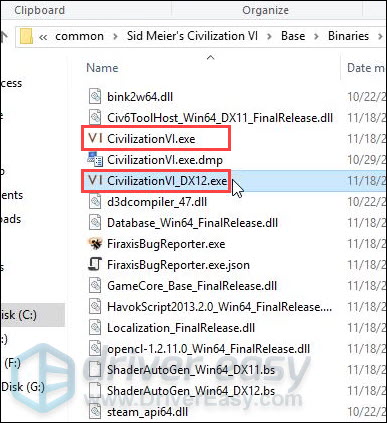 ---
Hopefully, you've fixed the issue and can get your game working as expected. If you have any problems, simply leave a comment and we'll get back to you.
1
1 people found this helpful