You may have encountered this situation: you open the OBS studio and are ready to record a game video, but during the preview and recording process, you can only see a black screen. This is frustrating.
Don't worry, OBS black screen is a common problem, you can find fixes in this article.
Try these fixes:
---
Fix 1: Run OBS as administrator
Some features may be blocked by the Windows system that causes the black screen problem. With high integrity access, the OBS can make full use of its features, won't be blocked by other programs. So run OBS as an administrator to fix the problem.
HOW: Right-click on the OBS icon and select "Run as administrator".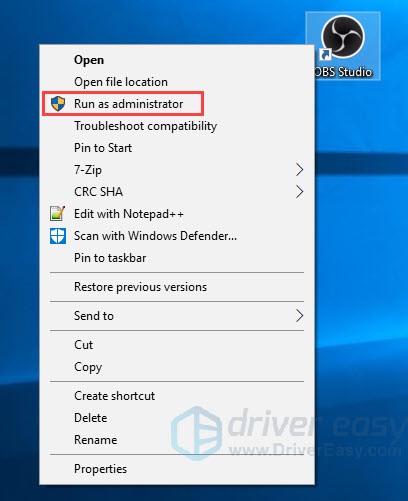 Then check whether the black screen problem is fixed or not.
If the problem is still there, you can move to the next fix.
---
Fix 2: Switch OBS's GPU
If you have two graphics cards and one is NVIDIA, you can try this method to solve the problem. The reason for the OBS black screen under this situation is most likely due to OBS and the game you want to record run on different graphics cards. Because they're on separate adapters, the image of the game cannot be acquired because it's not available on the device OBS is on.
So OBS and the target game should be running on the same graphics adapter to get a proper capture.
Run NVIDIA Control Panel and select Manage 3D settings. Then click Program Settings in the right panel and click Add.
Click Browse and navigate to OBS.exe. You can right-click on the OBS icon and select "Open file location" to locate its path.
Choose "High-performance NVIDIA processor" and click Apply.
Close the NVIDIA Control Panel and restart OBS to see if the black screen problem is fixed or not.
---
Fix 3: Enable the Compatibility Mode
The OBS black screen problem may be caused by compatibility problems with the running apps. If this is the reason, you can enable OBS's compatibility mode to solve it.
Right-click on the OBS icon and choose Properties.
Under the Compatibility tab, tick Run this program in compatibility mode for, then you can choose the system you want to compatible with.

Click Apply > OK.
Restart OBS to see if the black screen problem is fixed or not
---
Fix 4: Use an alternative to do a game capture
Windows Game Capture
In the Windows 10 system, a feature screenshot tool for games is built in to capture images and record videos in games and other software interfaces. Images and videos will be saved in the folder "C: Users XXX (user name) Videos Captures".
How: Press the Windows logo key + G, then click the recording button to record games in the pop-up toolbar.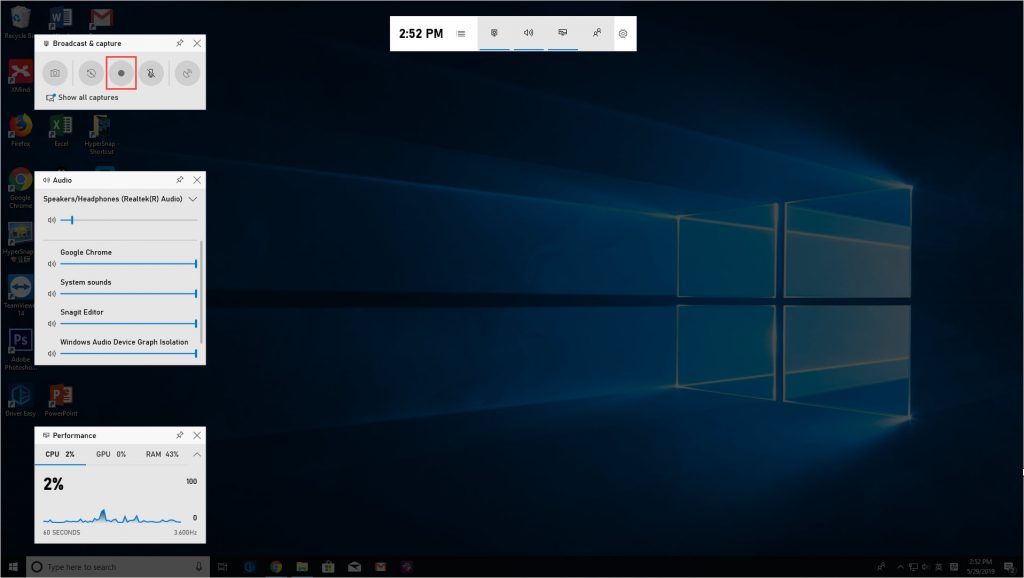 You can set shortcuts on the Settings-Game Bar page.
Use Snagit to record game
If you feel like the Windows built-in tool can't meet your needs, you can consider using Snagit. Snagit is a powerful tool for screenshots and video recording.

Snagit has a screen recorder to record videos. Snagit lets you switch between webcam and screen recording during a video. You can use the recorder to add a personal touch to your teammates or customers, no matter where they are. Also, the audio can be recorded in your video from either a microphone or your computer's system audio.
Snagit not only allows you to record video but also let you edit video. You can use it to trim video clips, remove unwanted sections to make your video more delicate. With Snagit, you can turn part of your video into an animated GIF and share with others.
Download and install Snagit.
Run Snagit, choose Video and then click Capture, or press the PrtSn key on your keyboard.
Drag the region you want to record, then click the red button to start recording. You can turn on audio or microphone by clicking the button. The audio/microphone button turns green means the function is turned on, otherwise it's turned off.
Click Share to save the file.
You can get a free trial for 15 days and click here for the detailed tutorial.
---
We hope these methods can help you solve the OBS black screen issue. And it would be very nice if you share your opinion with us below.
12
12 people found this helpful