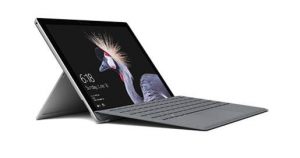 If you are a Surface user, you may get this frustrating issue that you won't be able to turn on your Surface. You may not be able to start up your Surface. Or you have put your tablet into sleep mode but now you can't wake it up. The screen of your Surface is black, and you can't get any response when you press the power button. Your device become unusable. This is a quite common issue. Many Surface users have encountered it but, don't worry, many of them have been able to fix it with one of the methods below. You can give them a try and they will help you start up your Surface.
Here are the things you should try to fix your Surface not turning on issue:
Method 1: Charge the battery of your Surface
Once you find that your Surface can't turn on, the first thing you should check is your battery. If your battery is out of power, your won't able to power on your device. Try connecting your Surface to the power and charge the battery for a while. Then check to see if you can turn on your Surface.
Method 2: Restart your Surface completely
There may be corruption issues on your Surface that stop your device from starting up. You can try the following ways to completely restart your Surface and see this can help you fix your Surface issue. First, you can try forcing a shut down:
1)
Press and hold the
power button
for a full
10
seconds. Then release the button.
2)
Press and release the
power button
to turn on your Surface. If this can't help you, try another shutdown process to turn off your device completely. The process varies depending on the Surface model you use.
a)
If you are using
Surface Pro, Pro 2, Pro 3, Pro 4 and Book
:
i.
Press and hold the
power button
of your device for around 30 seconds and then release it.
ii.
Press and hold the
power button
and the
volume-up (+) button
on the edge of your Surface at the same time for about 15 seconds and then release them. (Do
NOT
let go the buttons when the Surface logo pops up on the screen.)
iii.
Wait for about
10
seconds.
b)
If you are using the
new Surface Pro, Surface Laptop and Surface Studio
:
i.
Press and hold the
power button
until your device restarts and a Windows logo is displayed on the screen. (This takes about 20 seconds.) When you have turned off your device completely, press the power button to turn it on. Your Surface should work fine now.
Things you should do after trying all these methods
If any method above has helped you, you may need to update your system and device drivers to prevent the same issue happening in the future: To update your system, simply run
Windows Update
and you will be able to install the system updates for your Surface. Updating drivers, on the other hand, takes more time and energy. You need to spend some time finding the latest and correct drivers for your devices. But if you want the process is as easy (and reliable) as using Windows Update, you can use
Driver Easy
. This is a recommended option when you update your drivers, for it can automatically find and download the drivers you need for you. But if you have tried all the methods above and the problem persists, there may be hardware issues with your Surface. You can contact Microsoft and ask them for advice. They may help you fix your problem or get your device repaired or replaced.
34
34 people found this helpful