Car Value Calculator
Enter VIN to check out a car's estimated value
Whether you're selling or buying a used car, it's important to know the car's history and estimate its value. This helps you set a competitive price for your automobile as a seller or avoid overpaying as a buyer. To determine a used car's value, you'll need to consider its make and model, condition, mileage, accident history, ownership, and so on, but don't worry. By running a VIN check, you can figure out a car's true value easily.
VIN is a unique 17-digit code assigned to every vehicle when it's manufactured. It records significant events in the vehicle's lifespan that may impact its value and reliability.
What is the used car value?
There are different types of value associated with a car, but which one matters if I'm going to buy or sell a used car? After reading the introduction to these types of car values, you'll know which data point is crucial for your purposes.
MSRP (Manufacturer's Suggested Retail Price): It represents the price that the vehicle manufacturer recommends dealers to sell the vehicle. It's often higher than the actual transaction price.
Invoice Price: The amount the dealer pays to the manufacturer for the vehicle. It's lower than the MSRP and the gap is the dealer's profit margin.
Retail Value / Market Value: The average price for a used car by a dealership or private seller. Buyers often negotiate the retail price during the transactions.
Trade-in Value: The amount that a dealer pays for a used vehicle in the trade-in. This is typically the lowest of values for a car.
Private Party Value: It estimates the price of a used vehicle when sold to a private seller.
Auction Value: The price a vehicle sells at auction.
Whether you're buying or selling a used car, it's important to research the retail value, trade-in value, and private party value. That will give you a better idea of the average prices paid for similar vehicles on the market and help you decide the best way to buy/sell a car.
For buyers, it's often cheaper to buy from an individual seller than a dealership, but private sales may come with inherent risks and lack assurances and protections from dealerships.
For sellers, since the trade-in value is lower than the private party value, selling directly to a private buyer may yield higher returns. Dealerships tend to offer lower prices for maximum profits and coverage of selling costs. However, private sales require you to advertise, meet with potential buyers, and handle paperwork on your own.
---
3 ways to check used car value by VIN
The best way to check the real price of a car, truck, or SUV is to perform a VIN check. VIN check websites collect dozens of vehicle-related data from authentic sources and evaluate a car's price by looking at auctions, recent sales, and even seasonal trends.
If you don't know the VIN number, a license plate lookup also works.
License Plate Lookup
Research a Vehicle by License Plate
1. BeenVerified
BeenVerified is one of the best and most powerful VIN decoders. Featuring a VIN or license plate lookup, it enables you to dive into the history of a car throughout its life. And the entire search process is as simple as taking 2 steps:
1. Go to the BeenVerified vehicle search page.
2. Enter VIN and click Search.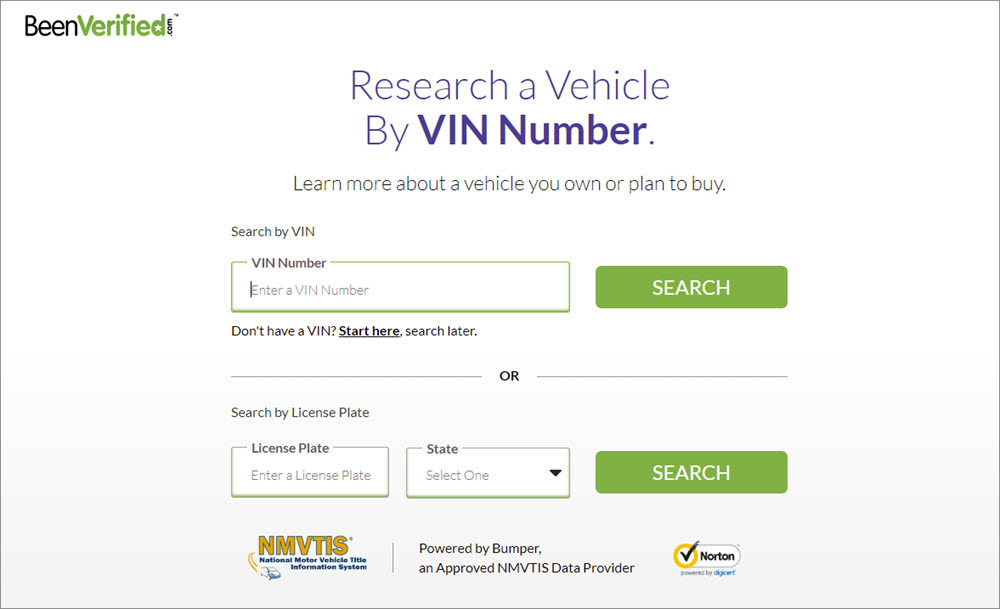 3. Wait a few minutes and you'll receive a precise vehicle report. You can take a look at its listing history and price.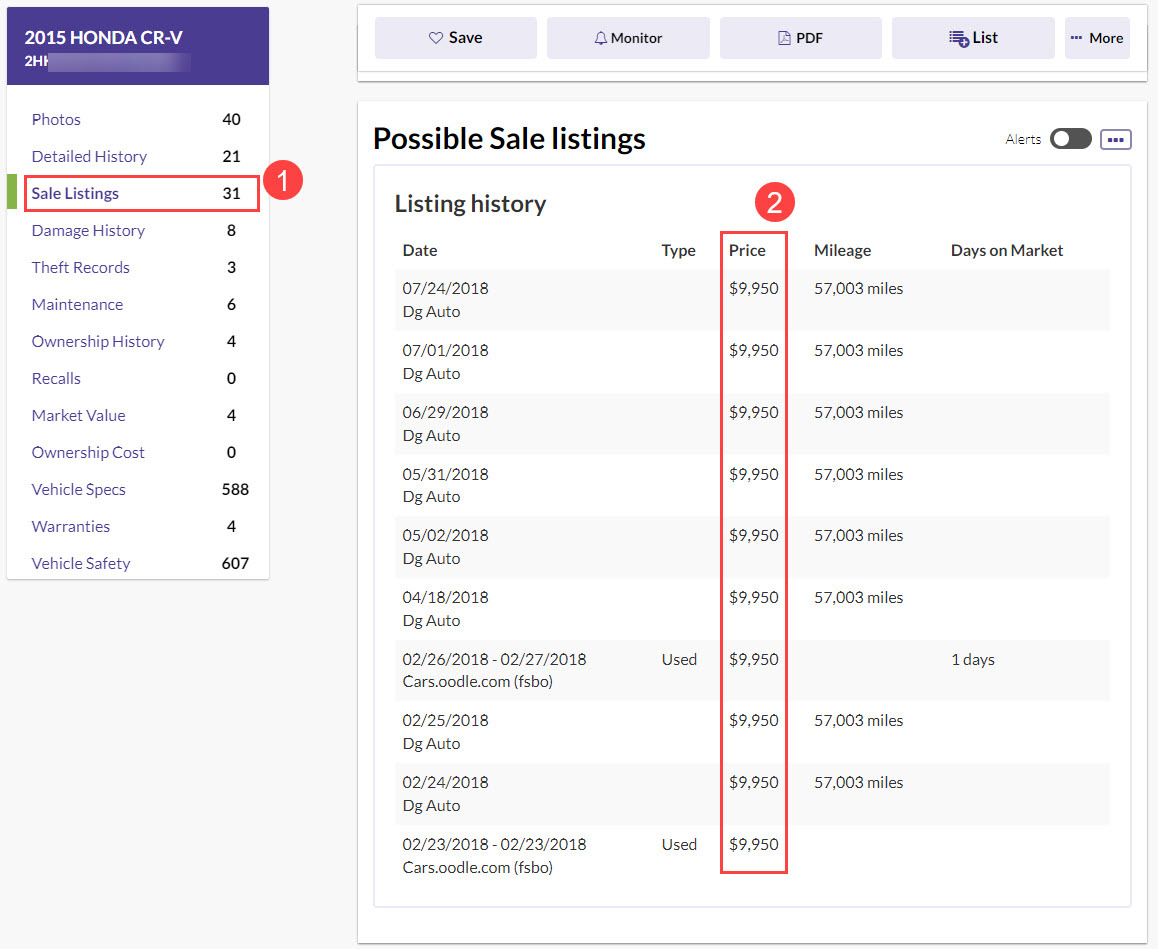 Also, check the Market Value section, which will reveal the average retail value based on similar vehicles for your reference. You can adjust the mileage and state to get a more accurate number that might fit your vehicle.
The trade-in values indicate the possible price to sell your used cars to a dealership.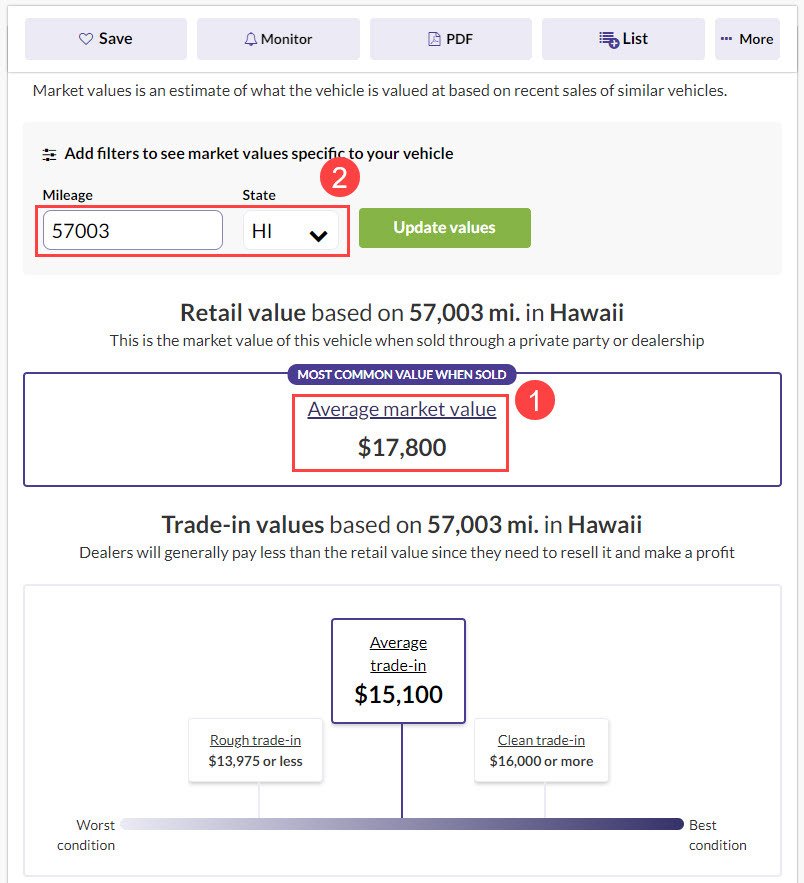 Since a car's value largely depends on its history and condition, you should review the other details like ownership history and cost, accident & salvage records to decide on a fair price.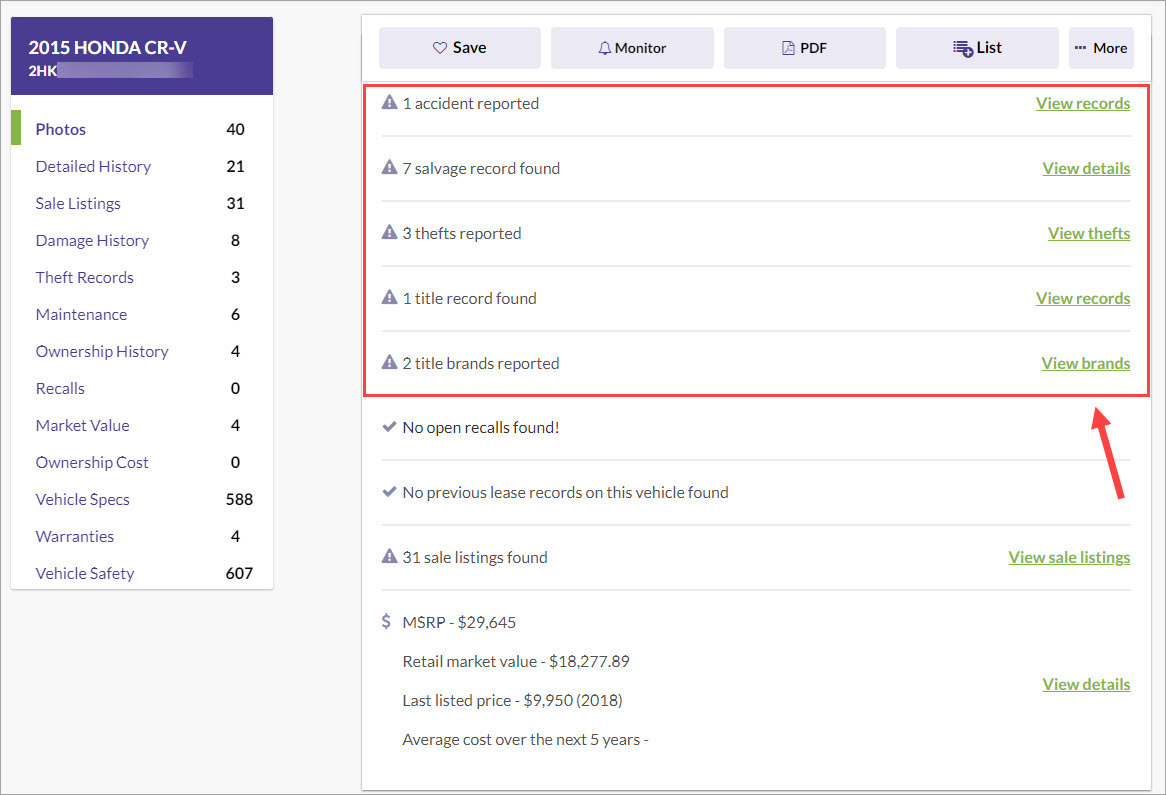 As an all-around people search, BeenVerified also gives you access to other helpful search tools like name search, reverse phone lookup, reverse email lookup, address search, and username search.
2. Bumper
Bumper is a leading online marketplace for used cars. It provides detailed vehicle history reports that not only give you basic insights into the vehicle, such as the specifications, ownership, and vital records but also an accurate assessment of the car's market values. This will help you have a better idea of what to expect when selling to individual buyers or to dealerships.
1. Visit the Bumper homepage.
2. Input a car's VIN and click Search.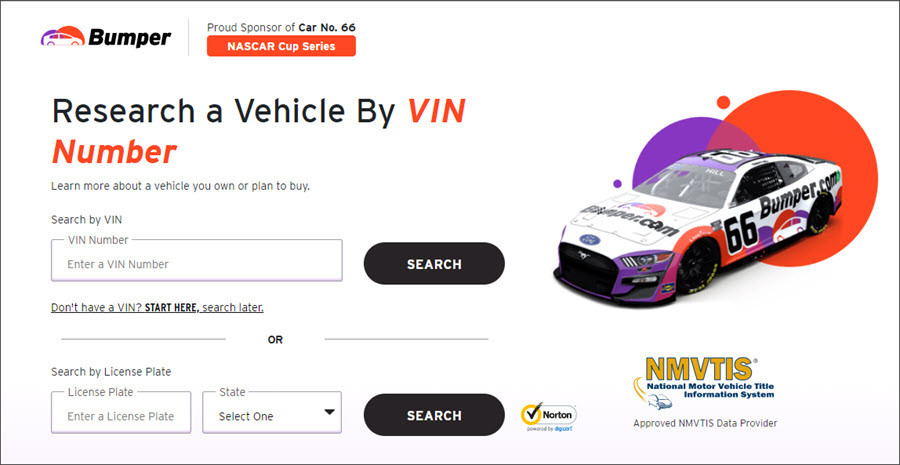 3. Open the report when it's finished. You'll find out the car's market value, sales history, and other pertinent information you need to judge the vehicle thoroughly. Having this information at hand may assist you in negotiating a fair deal.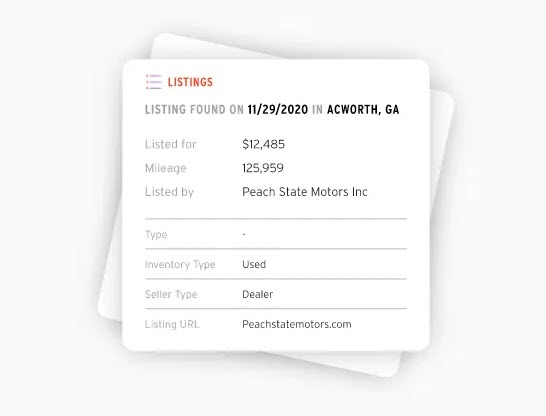 3. EpicVIN
As an NMVTIS-approved data provider of vehicle history reports, EpicVIN is one of the best choices for car value checks. Based on thorough analytics of the price of similar cars sold across the United States in recent months, it delivers dealer sales (trade-in value) as well as private party sales, which indicate the potential amount you'll get for selling your car to anyone other than a dealer.
Follow the steps below to obtain a market value report from EpicVIN:
1. Go to the EpicVIN search page. Plug in a VIN or license plate + state and click Check.

2. It may take a while for EpicVIN to structure the report. It displays extensive vehicle records ranging from ownership history, odometer readings, title checks, safety recalls, to junk and salvage information.
You'll also see the car price as well as how it changes over the years and mileage by diagram. If the vehicle was ever listed for sales or auctions, you're able to view the relevant details along with photos.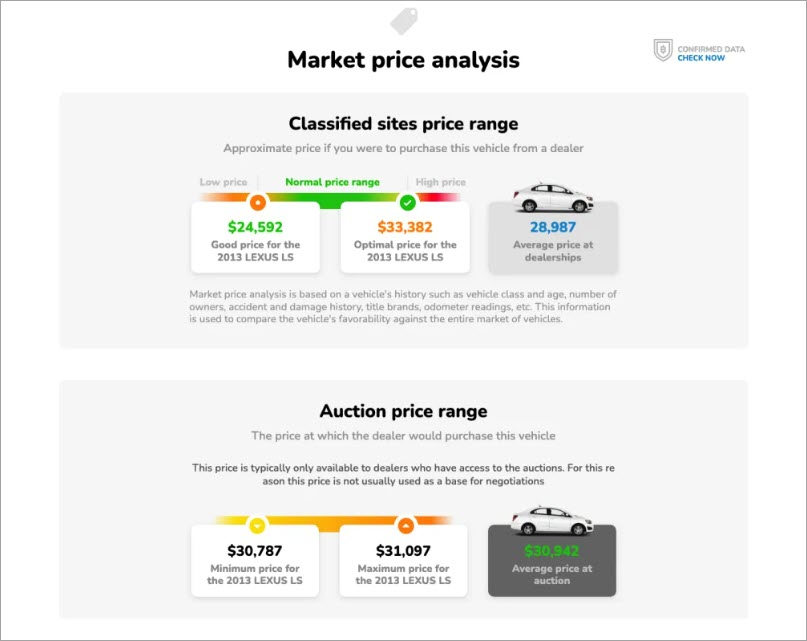 ---
To value a used car, there are various factors to take into account. Car dealers and sellers may not provide you with the necessary information to assess what a used car is truly worth and even hide potential damages that could devalue the car. So to have an unbiased understanding of a car and avoid any future surprises, a VIN check is highly recommended.
If you have any questions regarding the VIN lookup service, feel free to leave a comment below. We'd be more than happy to help.
Image source: Pixabay
The methods in this article provide you with easy access to public record information, but without a guarantee for accuracy and may include links to websites not listed as a Consumer Reporting Agency (CRA). Information acquired from these bodies is illegal to be used for employment, housing, credit, and other purposes alike, according to laws such as the Fair Credit Reporting Act (FCRA). If you're not sure whether your use of our methods is appropriate, click here for details.