If you'd like to stream from PS4 to your PC or Mac, you can find the instructions on Sony's official website easily. But in this article, you not only learn how to stream from PS4, but also how to stream with less delay even no latency. There are two methods you can use. Just choose the easier one for you.
Method 1: Stream from PS4 with Remote Play
Using Remote Play is the first method announced by Sony, which allows you to play PS4 games directly on your computer or your Mac. To set up Remote Replay to play PS4 games, you just need to follow the instructions below.
First, prepare the following:
PS4 controller
A micro USB cable
A PSN account (Sony Entertainment Network account)
Remote Play (Click here to the download page and download Remote Play to your system. Then double click on the downloaded file to install the application.
PS4 system: version 3.50 or newer (Visit here and download the latest version on Sony official website.)
PC system: Windows 8.1 or Windows 10 later. (If you're using Mac, you'll need OS X 10.10 or OS X 10.11.)
Then follow below instructions:
Step1: Enable Remote Play
First, you need to enable the Remote Play on your PS4:
Turn on your PS4 console. Then head to Settings > Remote Play Connection Settings, and then check the box for Enable Remote Play.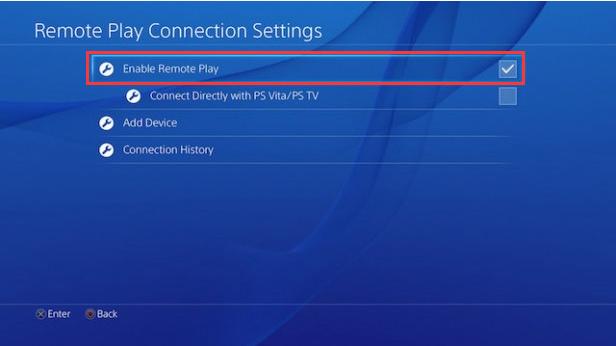 Step 2: Activate your PS4 system
After Remote Play is enabled on your PS4, activate your PS4 system as your primary PS4:
Navigate to Settings > PlayStation Network/ Account Management > Activate as Your Primary PS4 then select Activate.
Step 3: Set Remote Play available in Rest Mode
You may want to access Remote Play even if when PS4 is in Rest Mode. To do so, you just need to:
Go to Settings > Power Save Settings > Set Features Available in Rest Mode. Check the boxes for Stay Connected to the Internet and Enable Turning On of PS4 from Network.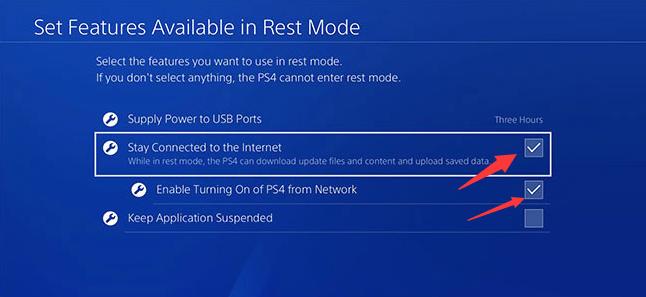 Step 4: Connect the Remote Play with PS4
Follow these steps:
1) Switch on your PS4.
2) Connect the DualShock 4 to your computer or mac with the micro USB cable.
3) Run the Remote Play on your PC or Mac, then click Start. The program will search for any PS4 on the network.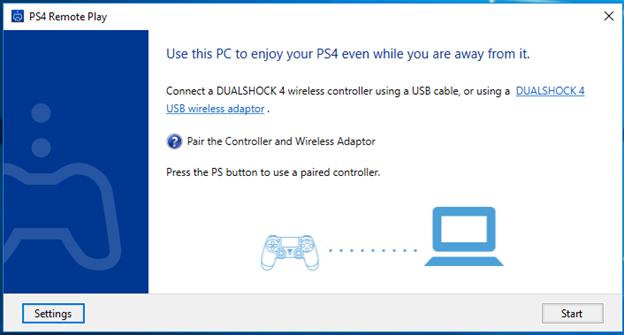 4) Sign in to PSN using the same PlayStation Network account you used for your PS4 system.
5) Check to see if you can stream from PS4.
After you follow the above instructions to stream from PS4 successfully, you may find lags when you start to play games. The reason is your PS4 controller is paired to your PC or Mac directly, but not to PS4 console. It means the signal transfers to your PS4 via internet first, then transfers to the computer via PS4. During the process, lags could occur. One method to reduce delay is pair the controller to PS4 console directly.
To do so, you need two PSN accounts. One account is the primary account that you use often. The other account is the account that you rarely use. If you just have one account, create a new one. Then follow steps below:
1) Log in to PS4 using the two PSN accounts separately.
2) Run Remote Play on your PC or Mac. Click Start then the program will search for any PS4 on the network.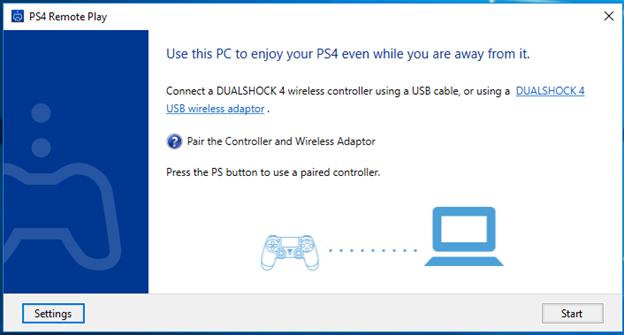 3) Sign in to Remote Play with the account that you don't use often.
4) Connect the Remote Play to your PS4.
This method is to prevent the controller from connecting to PC. So not to plug the controller to the computer when Remote Play is trying to connect.
5) After connection is done, press the PS button on your PS4 console.
6) Log in to PS4 using your primary PSN account.
7) Check to see if you can play games with no delay.
Method 2: Stream from PS4 with PlayStation Now
Another method you can stream games from PS4 to your computer is via PlayStation Now.
What is PlayStation Now?
PlayStation Now is a cloud gaming service developed by Sony. It allows you to stream PS4 games and PS3 games via internet. And it allows you to choose from new titles and older titles. According to Sony, PlayStation Now has over 500 titles from the original PlayStation to the PlayStation 4, including PlayStation exclusives and greatest hits.
PlayStation Now is currently available for PC. For Mac users, you don't need to disappoint. It'll be available for MAC later soon. It's nice that Sony provides 7-Day trial to try PlayStation Now. But it's only available to US residents and Canadian residents with a PlayStation Network account who are 18 years or older.
After 7-Day trial, you'll be billed 19.99 each month if you want to continue the PlayStation Now service.
The minimum spec to run PlayStation Now service on your PC:
Windows 7 (SP1), Windows 8.1 or Windows 10
Core i3 2.0 GHz
300 MB
2 GB RAM
Minimum 5Mbps Internet connection (Wired Connection Suggested)
How to use PlayStation Now to stream games from PS4?
When everything is ready, follow steps below to stream games using PlayStation Now:
1) Download and install PlayStation Now.
2) Launch PlayStation Now.
3) Sign in with your PSN account. (If you don't have a PSN account, create a new account.)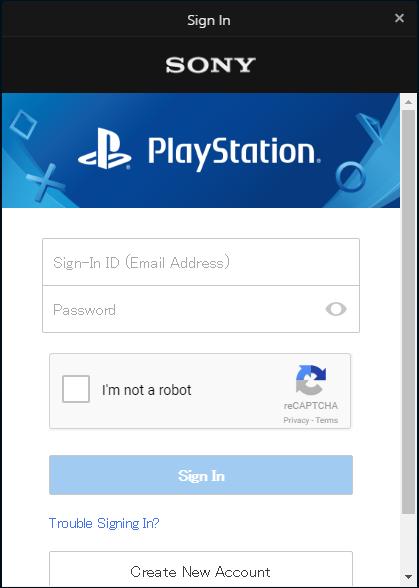 4) Once you log in, you can start your 7-Day free trial. After that, you can pick up your favourite PS4 game.
5) Plug the PS4 controller to the computer. Then you can enjoy the games.
To stream from PS4, you can use Remote Play or the PlayStation Now. Using PlayStation is easier. You just need to install and download the program, but you need to invest money each month. If you don't want any delay, using Remote Play should be your choice. To choose what method, it depends on what you prefer.
Hope you find the instructions helpful to stream from PS4. If you have any questions or ideas, please leave your comment. We'd love to hear of any ideas and suggestions.
11
11 people found this helpful