Many Steam users have encountered this frustrating issue — they can't open or launch their Steam client. Nothing happens when they try to open the client, or the program closes itself a few seconds after being launched.
This issue can result from various reasons, such as unclosed Steam processes in the background or interference from other software. No matter what causes it, this issue can be very annoying and scary. You can't play the games in your Steam library now! And you will desperately want a solution to fix this issue. But don't panic! You CAN fix this issue!
The following are the methods that have helped many Steam users. They can also help you open your Steam client. Just give them a try! (You may not have to try them all; just work your way down until you find the one that works for you.)
 The screenshot below was taken from the Windows 11. If you are using Windows 7/8/10, please be aware that the visual appearance of your screen may vary slightly, but the steps to perform the task remain consistent.
Method 1: Close all the Steam tasks in the background
Sometimes your Steam client hasn't shut down completely, and its processes or tasks are still running in the background. So when you launch Steam later, your operating system thinks the same processes have already been running and refuses to launch the client.
To open your Steam client normally in these cases, you should end all tasks of Steam in Task Manager before launching it. To do so:
1) Right-click any empty space of the taskbar and then click Task Manager or Start Task Manager.

2) End all the running Steam tasks* (right-click a task and click End task or End processes).
* Tasks, including applications and processes, can be found on the same Processes tab in Windows 10 & 11's Task Manager. But on Windows 7, they are displayed on the different tabs, Applications and Processes. You need to end all the Steam tasks on both tabs if on Windows 7.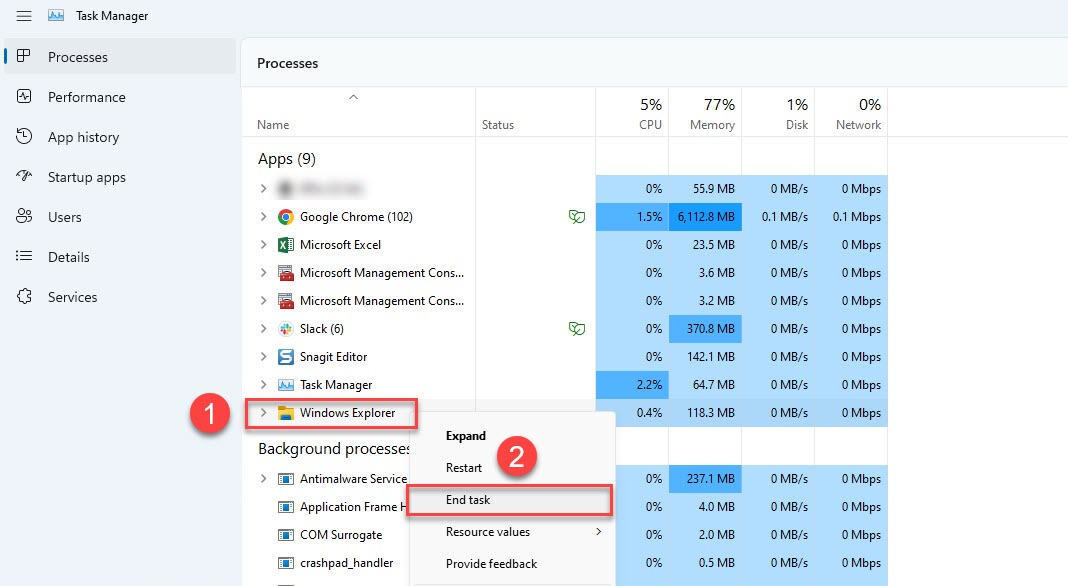 3) Launch your Steam client and see if it opens.
Method 2: Restart your computer
There may be tiny problems with the programs or processes on your operating system that stop your Steam client from opening. Or maybe the state or the cache of your computer is interfering with your client.
You can try restarting your computer to get rid of these issues. Then check to see if you can open Steam.
Method 3: Restart your network devices
You may not be able to open your Steam client because of the bad network status. Your network devices, like your modem and router, have got corruption issues.
And these issues can stop your Steam client from running without noticing you. You can restart your network devices to reset them and put them back in a normal state. To restart your network devices: 
1) Shut down your computer, then your modem and router.
2) Unplug the power cables from the modem and the router.
3) Wait for a couple of minutes.
4) Plug the power cables back in.
5) Start your modem and router and wait until they are fully on.
6) Power on your computer and check if your Steam won't open issue is resolved.
Method 4: Reinstall your Steam client
Reinstalling your Steam client can help you fix issues with the Steam files or operating system compatibility problems. To reinstall your Steam client:
1) Download a new Steam installer from its official website.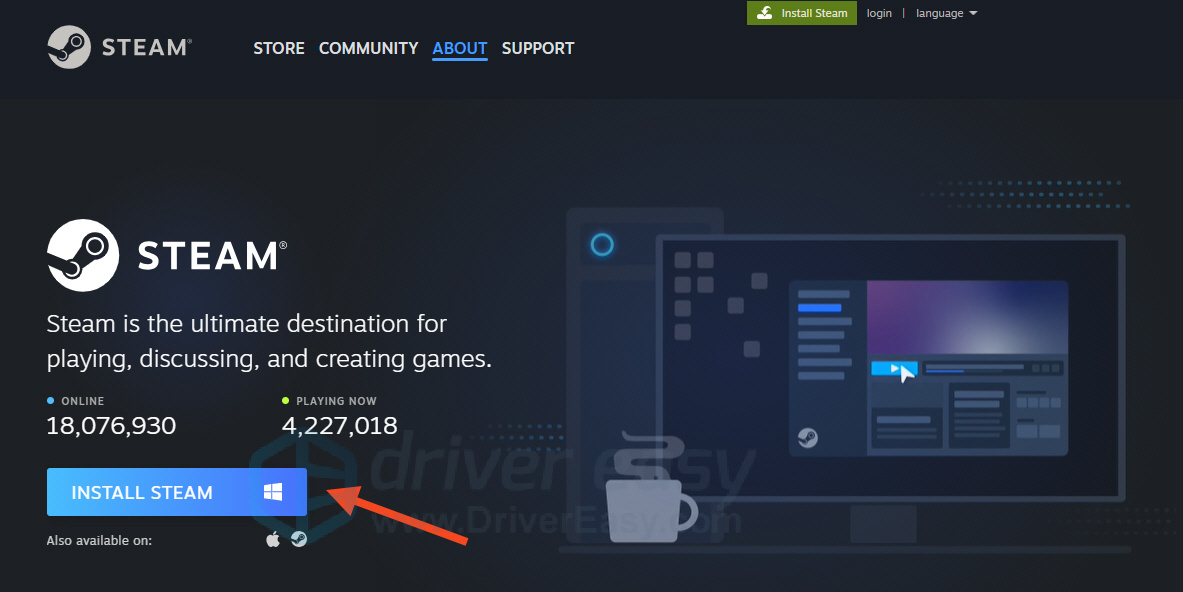 2) Open the installer you have just downloaded. Then follow the instructions of the wizard to reinstall your Steam client*.
* Please note that you should use this way only to reinstall your client and reinstall it to the same location it is already installed. Or all your user data and games will be lost.
Method 5: Update your operating system and drivers
Your Steam client may be having problems because your operating system or drivers are out of date. You can try updating your system and device drivers and see if this fixes your problems. To update your operating system:
1) Type "update" in the search box on the taskbar. Then click Check for updates or Windows Update.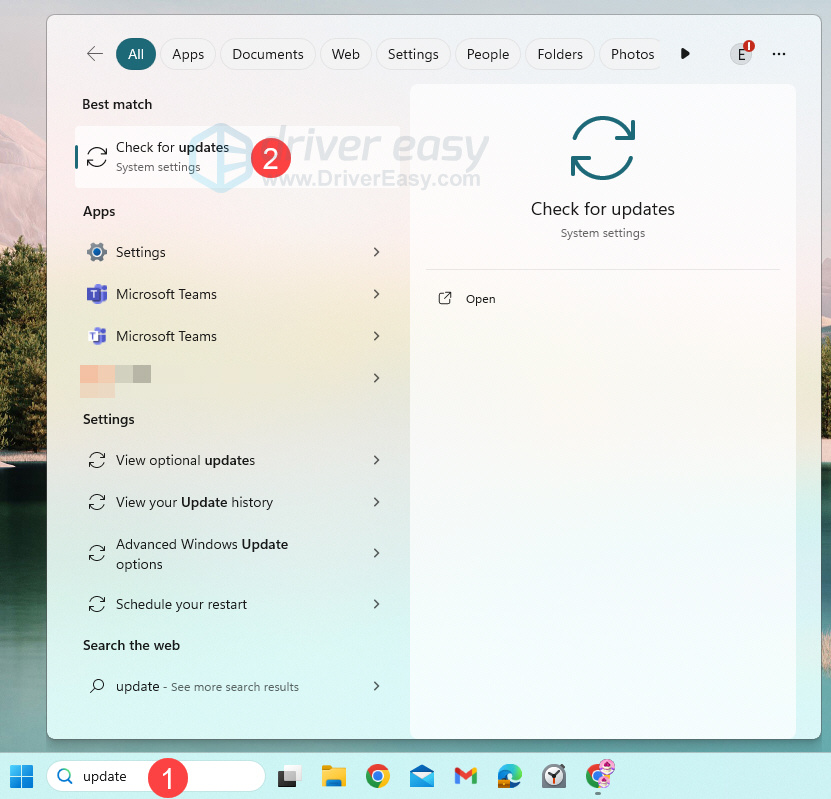 3) Click Check for updates*. 
* On Windows 7, you will see Check for updates in the left pane of the Windows Update window.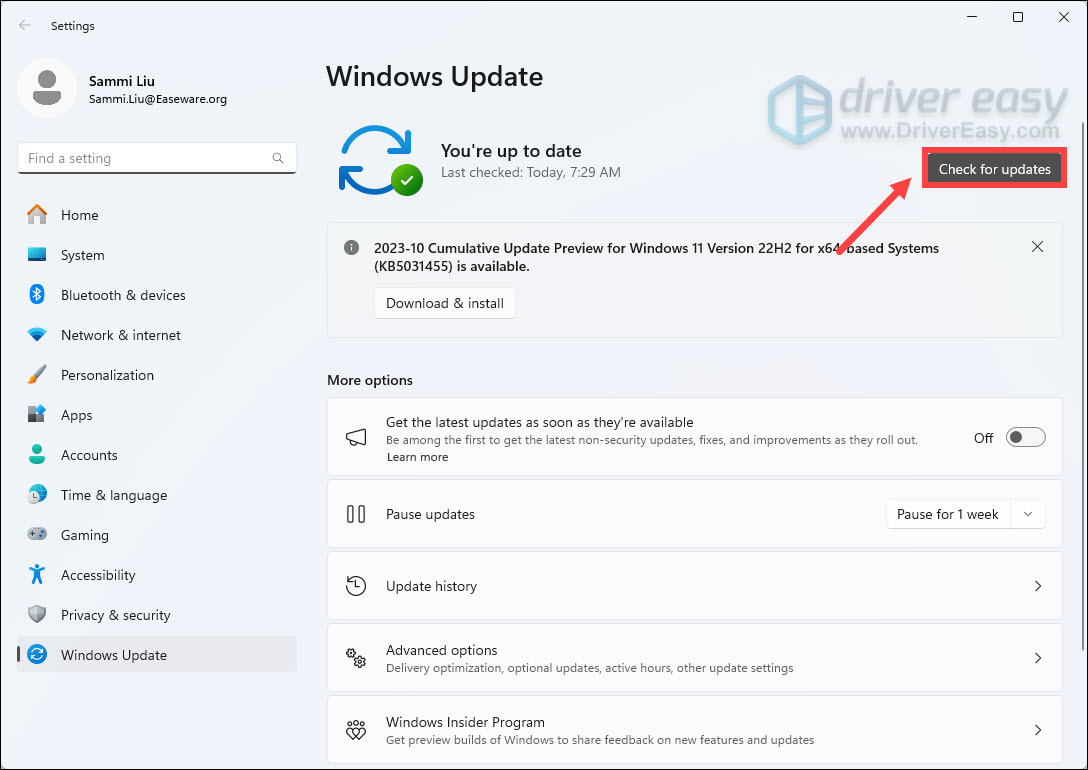 4) Windows Update will check your computer and may list the system updates you need to install. Download and install these updates on your computer.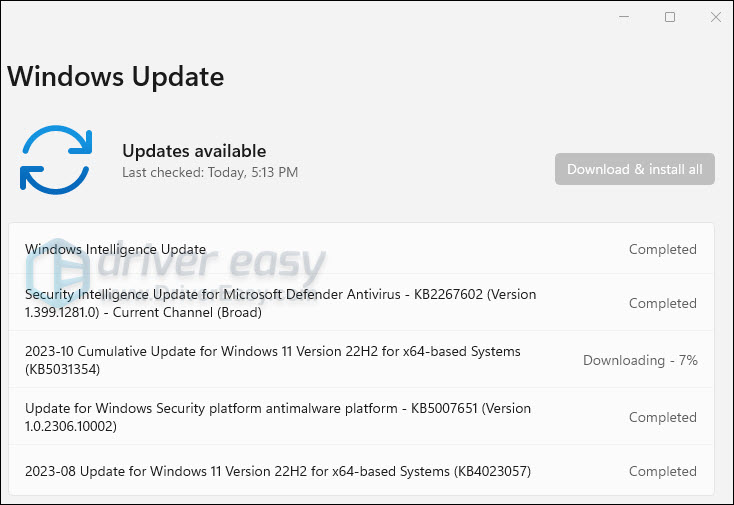 5) Check your Steam client and see if this resolves the problem.
Updating drivers, on the other hand, takes more steps and computer skills than installing system updates. But if you don't have the time or skills to do it manually, you can do it automatically with Driver Easy.
Driver Easy will automatically recognize your system and find the correct drivers for it. You don't need to know exactly what system your computer is running, you don't need to risk downloading and installing the wrong driver, and you don't need to worry about making a mistake when installing.
You can download and install your drivers by using either the Free or Pro version of Driver Easy. But with the Pro version it takes only 2 clicks (and you get full support and a 30-day money back guarantee): 
1) Download and Install Driver Easy.
2) Run Driver Easy and click the Scan Now button. Driver Easy will then scan your computer and detect any problem drivers.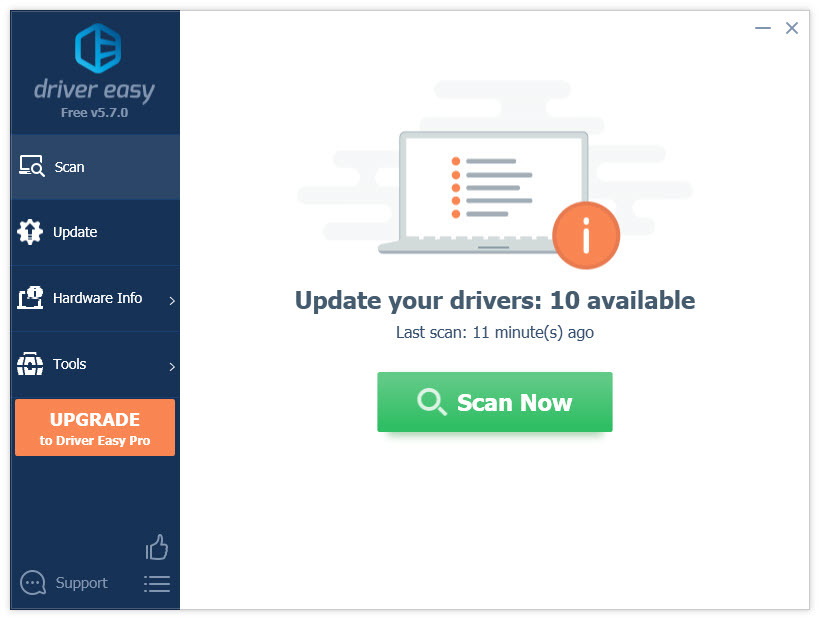 3) Click the Update button next to each of your devices to download the latest and correct driver for this device.
You can also click the Update All button at the bottom right to automatically update all outdated or missing drivers on your computer (this requires the Pro version — you will be prompted to upgrade when you click Update All).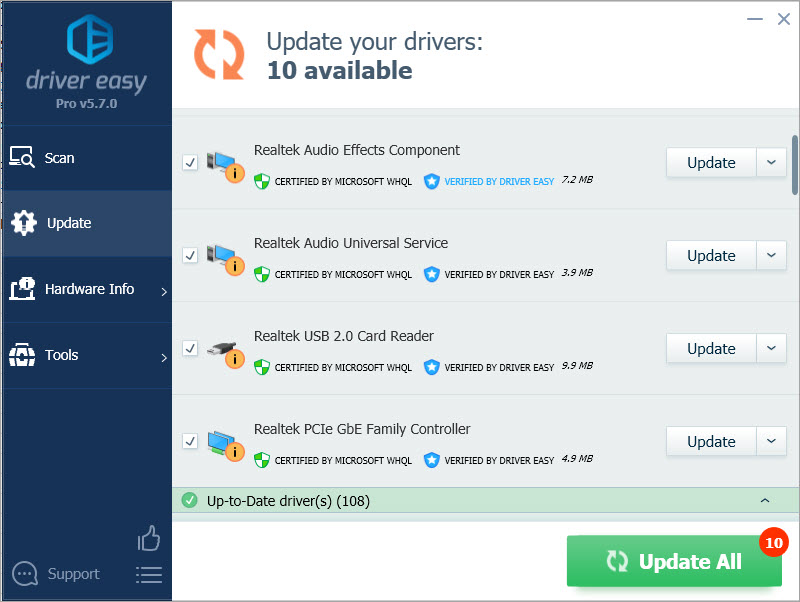 4) Restart your computer, then check to see if you can open your Steam client.
Method 6: Temporarily disable your antivirus software
Sometimes your Steam can't open due to the interference from your antivirus software. You can temporarily disable your antivirus and check if the problem persists. (Consult your antivirus program documentation for instructions on disabling it.)
If this resolves the problem, contact the vendor of your antivirus software and ask them for advice, or install a different solution.
IMPORTANT: Be extra careful about what sites you visit, what emails you open and what files you download when your antivirus is disabled.
Method 7: Repair System Files
Corrupt, damaged, or missing system files can cause programs to fail. To check if this is the core issue, you can use Fortect to run a complete scan of your system and check the overall status of your device.
Fortect is a professional Windows repair tool that can scan your system's overall status, diagnose your system configuration, identify faulty system files, and repair them automatically. It gives you entirely fresh system components with just one click, so you don't have to reinstall Windows and all your programs, and you don't lose any personal data or settings.
Here's how to use Fortect to check for broken system components in just one click:
1) Download and install Fortect.
2) Open Fortect and run a free scan. (This may take a few minutes and you'll get a detailed report of your PC status after this.)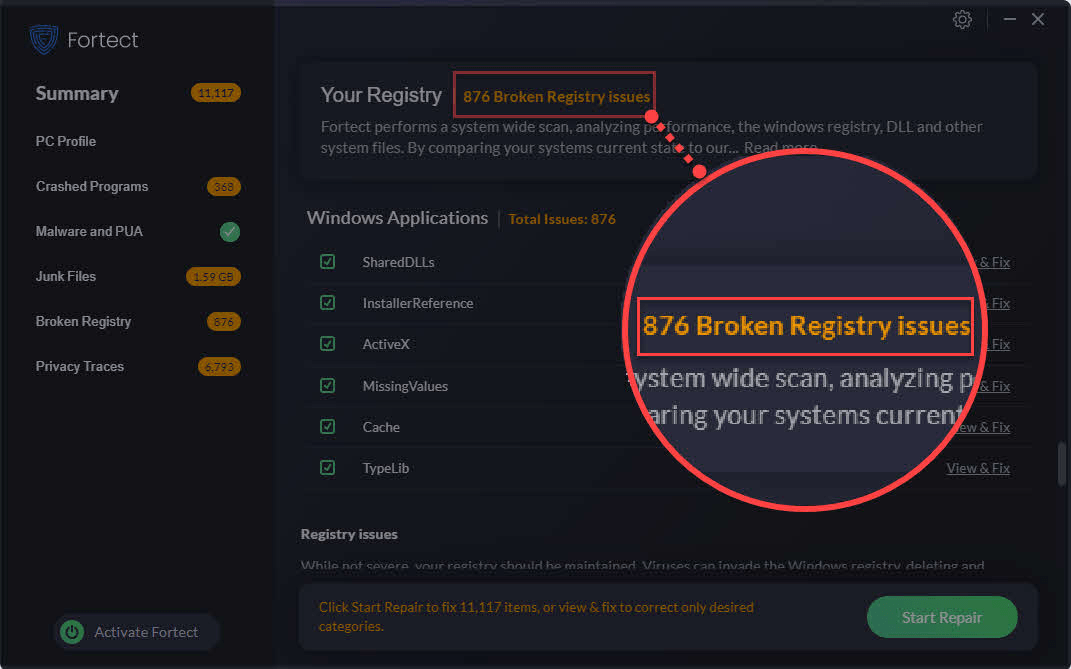 3) You can review a summary of the issues detected after the scan is finished. Click START REPAIR to start the repair process. This requires the full version – which comes with a 60-day Money-Back Guarantee.
4) Restart your computer for the changes to take effect.
Method 8: Restore your computer from a restore point
If you have adjusted the settings, turned on a feature, or installed a new program on your computer, and you can't open your Steam client after that, it is likely that the changes you've made are the cause. You should undo those changes. Then check to see if this fixes your problem.
You can also use the System Restore feature to restore your system to a previous state (this requires a restore point you have created before the issue happens). This will help you undo the recent changes on your system and fix your issue. To do this:
1) In the search box on the taskbar, type "recovery". After that click Recovery in the list of results.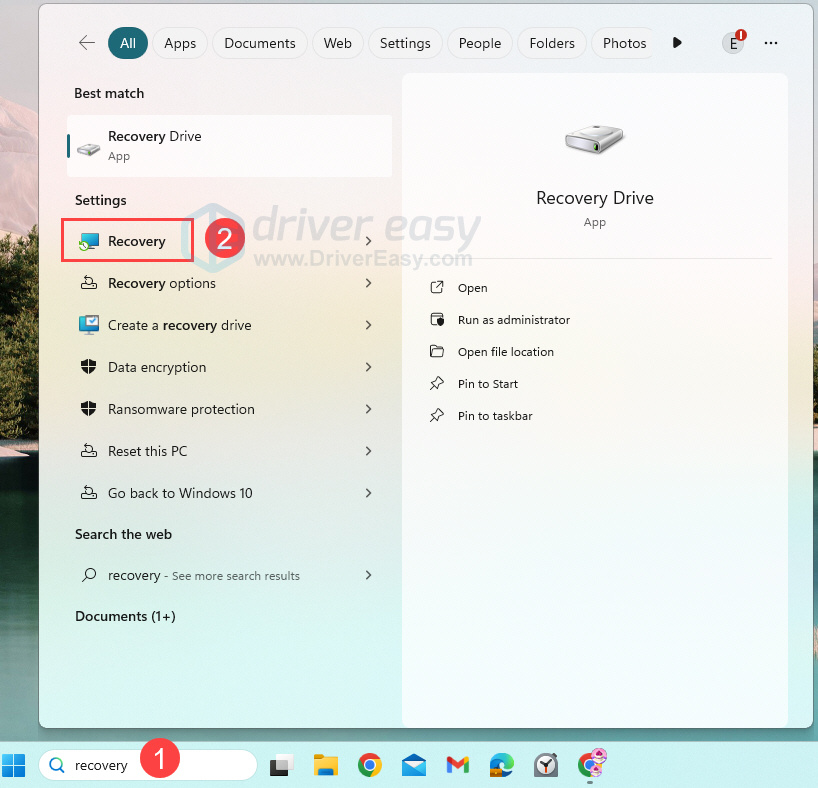 2) Click Open System Restore. Then the System Restore wizard will appear.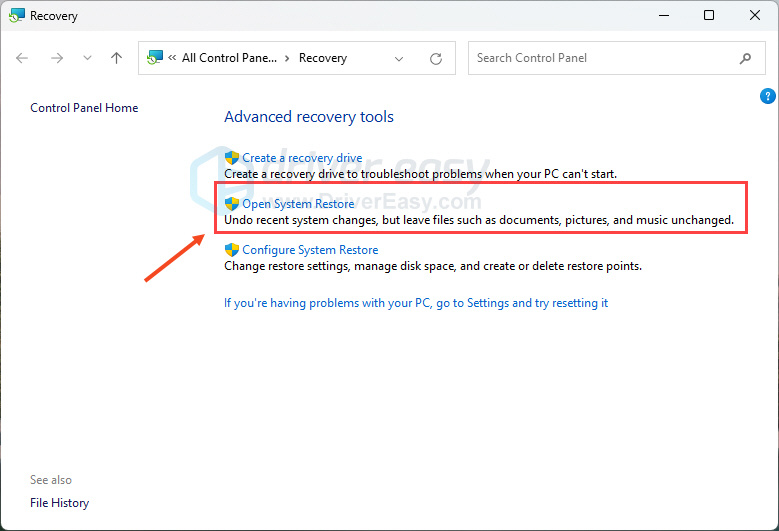 3) Follow the instructions of the wizard to restore your system from a system restore point.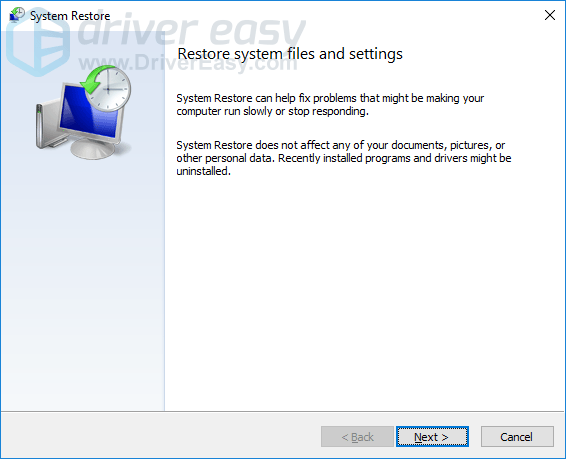 4) After the process completes, open your Steam client and see if it works fine.
93
93 people found this helpful
Available in other languages
Es nervt sehr, dass Steam nicht starten kann, wenn Sie zocken möchten. Hier finden Sie 7 Fixe, um Steam wieder starten zu können.