Many Call of Duty: Black Ops 4 players have reported their games crashes or freezes on PC. This is annoying. But don't worry. You can fix Black Ops 4 crashing issues on PC.
Why does Black Ops 4 crash?
Generally your video game crashes because of your hardware issue, for example your graphics card issue. So make sure your PC meets the minimal requirements to play the game. Sometimes your game will crash if your game is with buggy issue, or inappropriate settings.
It's hard to troubleshoot the cause of your game crashing issue though, there are workarounds to fix Black Ops 4 crashing issue.
How to fix Black Ops 4 crashing
Here are solutions to fix Call of Duty: Black Ops 4 crashing. You don't have to try them all; just work your way down the list until everything's working again.
Fix 1: Stop overclocking your CPU
Overclocking means setting your CPU and memory to run at speeds higher than their official speed grade. Almost all processors ship with a speed rating.
You might have increased the clock frequency of your GPU so as to make it operate faster and improve your game performance. But this can sometimes undermine your game's stability. If Call of Duty: Black Ops 4 starts to crash after you overclock your GPU, you can try lowering it back to the default setting. This might be enough to prevent or reduce the number of crash issues you're experiencing.
Fix 2: Install the latest patch
Since many technical problems can be resolved by restarting, it never hurts to restart your computer and your game. Often this will be enough to fix the error.
Game developers always keep releasing patches to improve their games and fix any issues, so you should check for updates of your game. Then install the latest patch to keep it up to date. This can fix some issues like Black Ops 4 crashing.
Fix 3: Update your video card driver
Your game may crash if you are using a wrong device driver of it's out of date. You should update all your drivers on your computer and see if this fixes your issue.
You can update your driver manually or automatically. The manual process is time consuming, technical and risky, so we won't cover it here. Nor do we recommend it unless you have excellent computer knowledge.
Updating your driver automatically, on the other hand, is very easy. Simply install and run Driver Easy, and it will automatically find all the devices on your PC that need new drivers, and install them for you. Here's how to use it.
1) Download and install Driver Easy.
2) Run Driver Easy and click the Scan Now button. Driver Easy will then scan your computer and detect any problem drivers.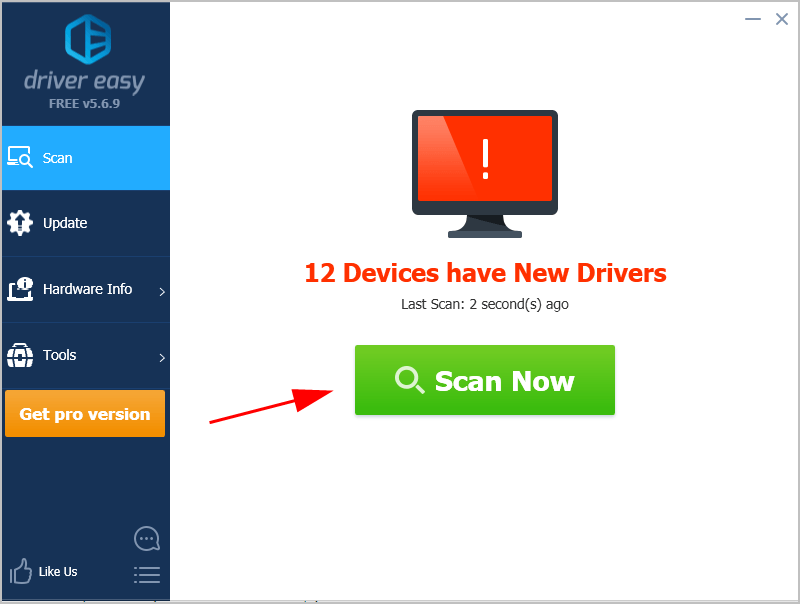 3) Click the Update button next to your graphics card to download the latest and correct driver for it, then you can manually install it.
You can also click the Update All button at the bottom right to automatically update all outdated or missing drivers on your computer (this requires the Pro version — if you don't already have it, you will be prompted to upgrade when you click Update All).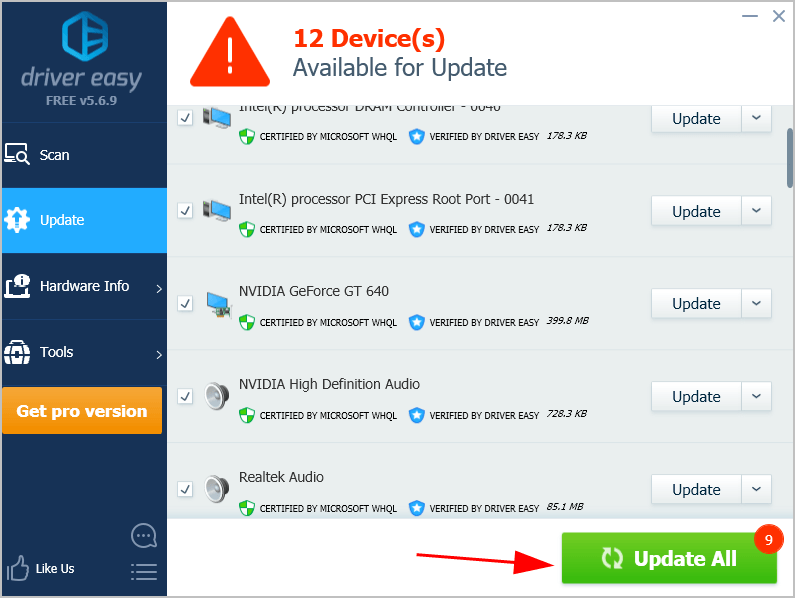 4) Restart your computer to take effect.
Launch Call of Duty: Black Ops 4 and see if it stops crashing.
Fix 4: Scan and Repair your game
The Scan and Repair feature in the Blizzard application helps fix Black Ops 4 crashing issue.
Here's what you need to do:
1) Open the Blizzard app in your computer.
2) Click Games. Click Options in Call of Duty: Black Ops 4, and choose Scan and Repair.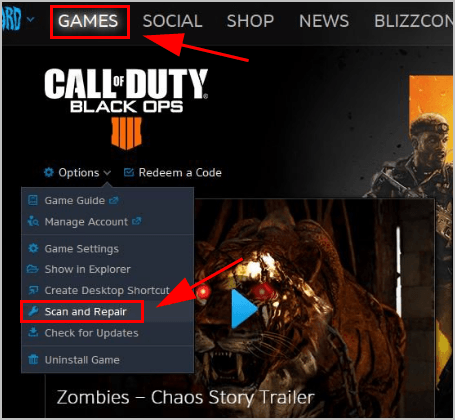 3) Follow the on-screen instructions to finish the process.
4) Restart your game and see if the crashing issue has been resolved.
Fix 5: Check the graphics settings in your game
High graphics setting in Black Ops 4 sometimes cause problems like crashing, especially when your hardware doesn't meet the settings. So you should check Black Ops 4 in your computer and make sure the settings are set Low.
You may need to check two settings, in particular:
Disable V-Sync.
Try playing your game in windowed mode.
That's it. Hope this post fixes Black Ops 4 crashing for you.
1
1 people found this helpful