To maintain your Windows 10 computer performance, it's important to regularly remove those unused files and clean up the disk space. If you don't know how you can do this, don't worry! Just follow the instructions below, and you'll be able to clean up your Windows 10 computer disk space easily.
To clean up your Windows 10 computer disk space
These are the things you should do.
---
1. Free up disk space in the Storage settings
The first thing you should check is your computer storage usage. To do so:
Click the Start menu (the Windows logo) in the lower left corner of your screen, then click the Settings icon.
Click System.
Click Storage.
Now you should be able to view the storage usage of your computer.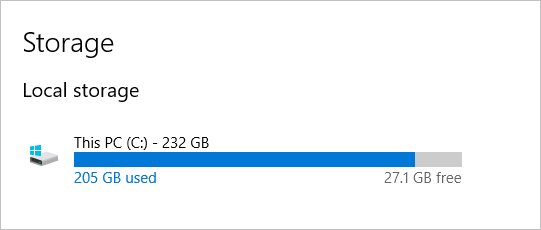 If you want to reduce the amount of space being used:
Click Free up space now.
Wait for the scanning process to be complete.
Select the files you want to remove, then click Remove files.

Before you select an option, read carefully its description to learn what you'll remove if doing so.

Wait for the cleaning process to be complete.
This should free up an amount of space for you. But if that isn't enough for you, then you should check if there are other files or programs you may want to remove:
Click the left arrow in the upper left corner of the window to go back to the storage settings.
Click the disk you're going to clean up.
Check the space usage of each data type. If you want to manage the usage of a type, click it to view more details.

* The following are a few things we recommend you take a look at:

The data type that uses the most amount of space
Apps & Games to see if there are any program installed you don't need
Temporary files
Desktop
…

This should free up a lot of space for your Windows 10 computer.
2. Clean up your system restore points
Your disk may include system restore points that take up lots of space. To clean them up:
This removes all but the most recent restore point.
Press the Windows logo key and R on your keyboard at the same time to invoke the Run box.
Type "cleanmgr.exe" and press Enter on your keyboard.

Click Clean up system files.


Click Yes when you're prompted.
Select the More Options tab, then click the Clean up button in the System Restore and Shadow Copies section.

Click Delete.
This should clean up the restore points (except the most recent one) on your Windows 10 system.
Hopefully, the methods above helped you clean up your Windows 10 computer. If you have any questions or suggestions, you're more than welcome to leave us a comment below.
1
1 people found this helpful