Your Asus laptop can't connect to your WiFi network? Don't worry. Although this is incredibly annoying, you're definitely not the only person to experience it. More importantly, you can solve the problem with the following fixes…
Try these fixes
Before getting started, please check if other devices can connect to the same WiFi network. If other devices can connect to WiFi, there might be something wrong with your laptop. You should be able to solve it with the fixes below.
Note: If other devices also fail to connect the WiFi, the WiFi router is the one to blame. You can restart your router to see if it works again (you'd better disconnect it from the power source for over 1 min). If the restart doesn't work, you can consult your Internet service provider for additional help.
Fix 1: Check if WiFi is enabled
Asus lets you save power by turning off the WiFi adapter when it is not needed, or you may have disabled it accidentally. To check if this is your problem, you can press the hotkey Fn + F2 at the same time to enable WiFi.
If the hotkey doesn't work for you, you can re-check the WiFi in Network and Sharing Center:
1) Type network connections in the Search box and select View Internet Connections.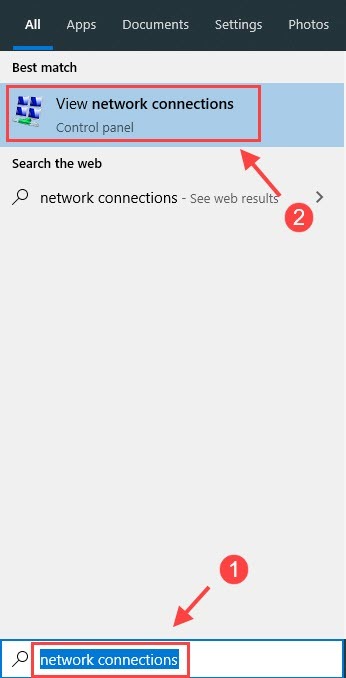 2) Right click on your WiFi connection (with a name of Wi-Fi or Wireless Network Connection) and select Enable.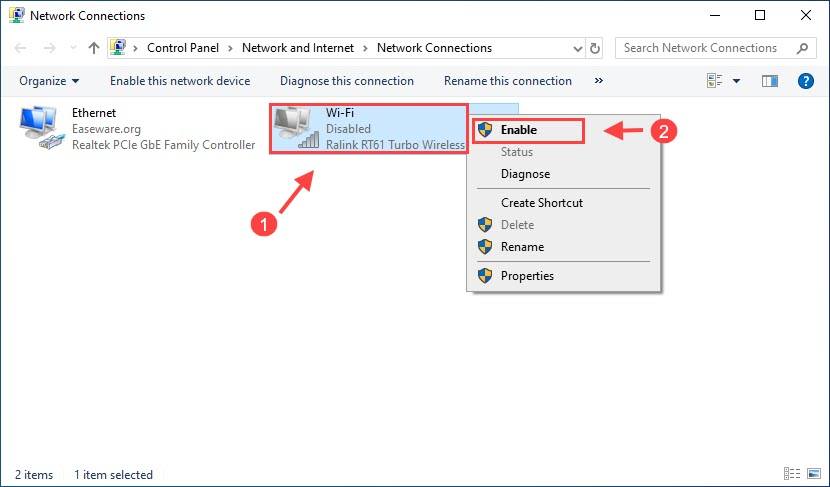 If the connection is already enabled, you can disable and re-enable the WiFi network.
See if your WiFi works after it. If not, you can try the next fix, below.
Fix 2: Change your DNS server address
No internet issues may occur if the DNS server address is set in the wrong way. So you should make sure you have the right DNS server settings to see if it fixes the issue.
1) If the Network Connections window remains to be open, you can simply right-click your Wi-Fi and select Properties.
If you have closed the window, you can open it by typing network connections in the search box and select View Network Connections.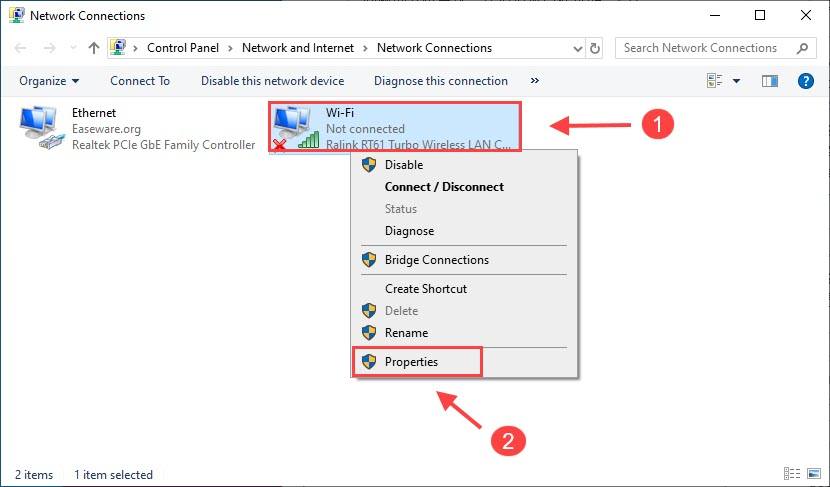 4) Click Internet Protocol Version 4 (TCP/IPv4) and then click Properties.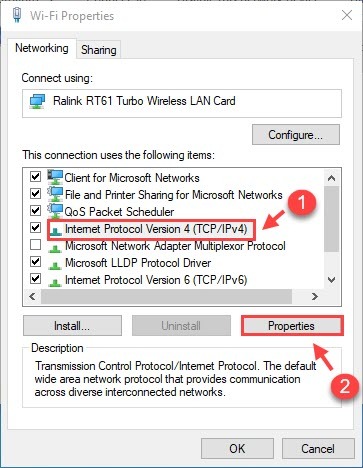 5) Under the General tab, click Use the following DNS server addresses.
for Preferred DNS server, enter 8.8.8.8
for Alternate DNS server, enter 8.8.4.4.
Then click OK to apply.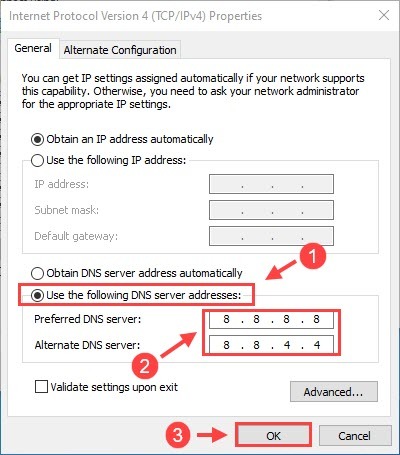 See if this helps you solve your WiFi problem. If so, then congrats. If not, you can move on to the next fix.
---
Fix 3: Make sure WLAN AutoConfig Service is running
Your laptop may fail to connect to WiFi if your WLAN AutoConfig Service is not running. So you need to make sure this service is working properly. Here is how to do it.
1) On your keyboard, press the Windows logo key and R at the same time to invoke the Run box. Then type services.msc and press Enter.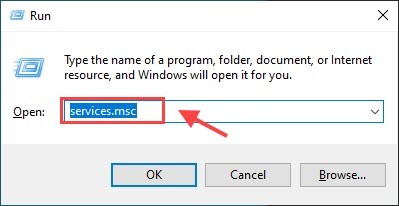 2) Scroll down to the bottom and double click WLAN AutoConfig.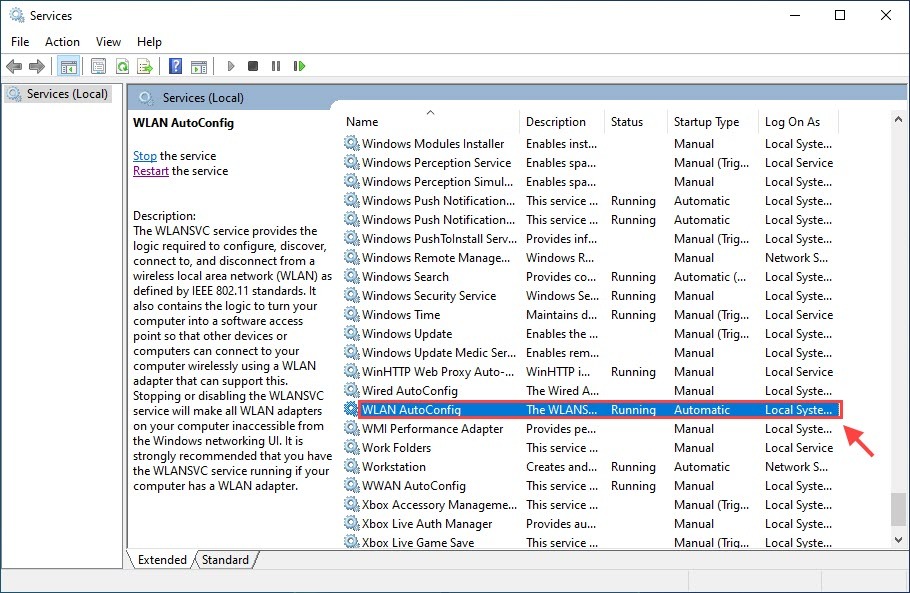 3) Set the Startup type to Automatic and click Start. Then click Apply > OK.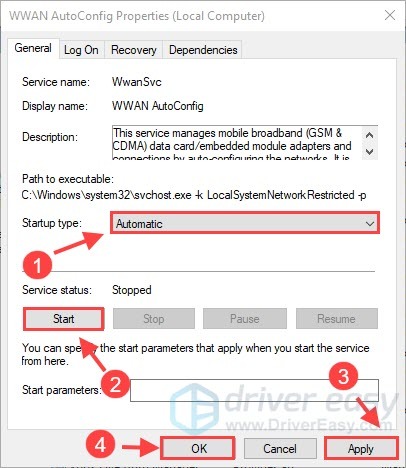 See if the WiFi not working problem is resolved. If the issue still persists, you can try the next fix.
---
Fix 4: Reset your network settings
According to users, you can fix WiFi connection problems by resetting your network settings with Command Prompt. Here is how:
1) Type command prompt in the search box. Then select Run as administrator.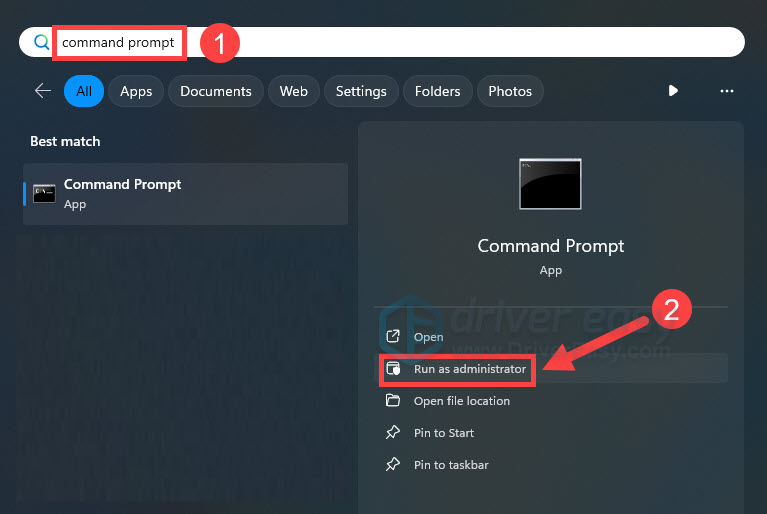 2) After entering each command line below, press Enter.
netsh winsock reset

netsh int ip reset

ipconfig /release

ipconfig /renew

ipconfig /flushdns
Note: There's a space between ipconfig and / .
3) After running all the commands, you need to restart your laptop for the changes to take effect.
Check if your WiFi connection is working properly again. If not, go on and try the next fix below.
Fix 5: Update your WiFi adapter driver
The WiFi connection issues may occur if you're using the wrong wireless network adapter driver or it's out of date. You should try updating the driver and see if this works for you.
Note: Since your Asus laptop can't connect to WiFi, you can try an Ethernet connection or download the driver into a USB drive on another computer.
There are two ways to update your network adapter driver: manually and automatically.
Manually update the driver:
You can go to the website of your network adapter, search for the latest version of your adapter, then download and install it into your laptop.
Automatically update the driver:
If you don't have the time, patience, or skills to update your wireless adapter driver manually, you can do it automatically with Driver Easy.
You don't need to know exactly what system your computer is running, you don't need to risk downloading and installing the wrong driver, and you don't need to worry about making a mistake when installing. Driver Easy handles it all.
If your computer can't get access to the Internet, you can still update your drivers with Driver Easy using its Offline Scan feature. All you need to do is download Driver Easy to your USB on another computer with Internet access and install it on this computer.
1) Download and install Driver Easy.
2) Run Driver Easy and click the Scan Now button. Driver Easy will then scan your computer and detect any problem drivers. (Or you can try Offline Scan in the Tools.)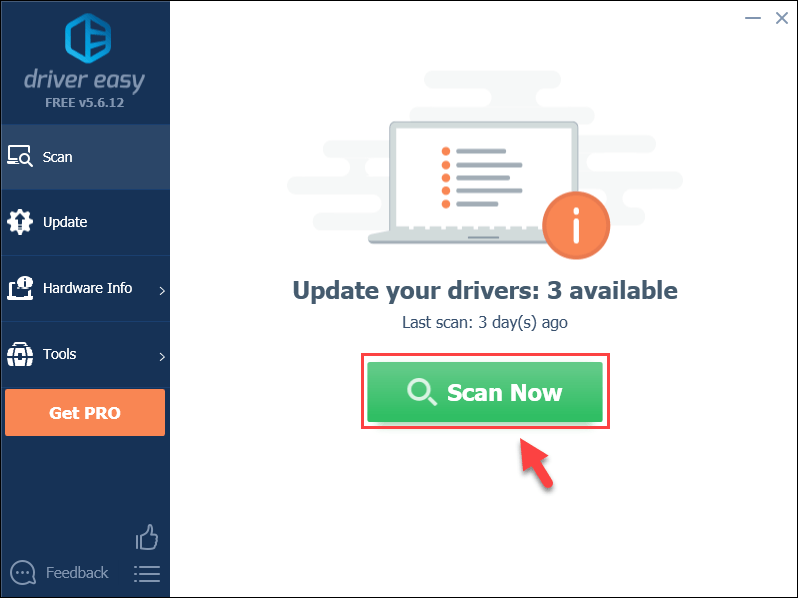 3) Click the Update button next to your wireless adapter to download the correct version of its driver, then you can manually install it.
Or
Click the Update All button at the bottom right to automatically update all the drivers. (This requires the Pro version — you will be prompted to upgrade when you click Update All. You get full support and a 30-day money back guarantee.)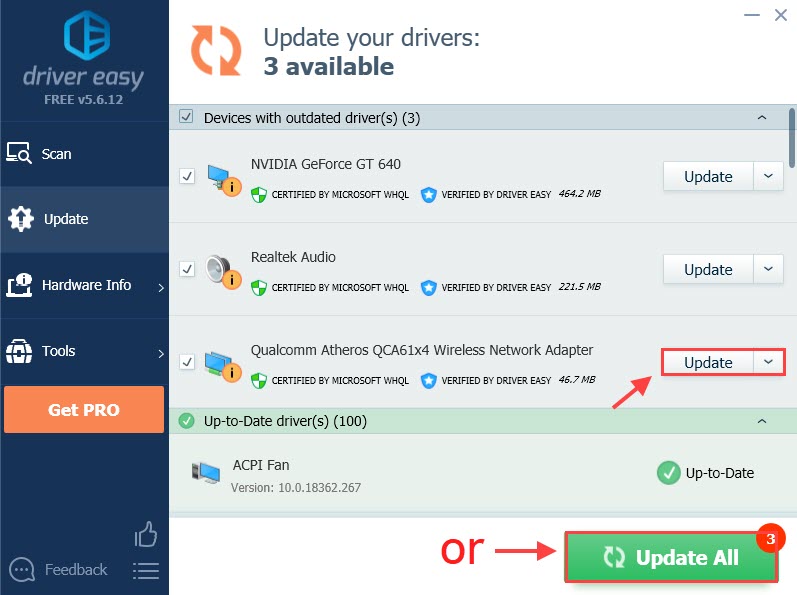 4) Restart your laptop to take effect. See if this solves your WiFi not working issue.
Fix 6: Adjust power management
Your computer might mistakenly turn off your Wireless LAN card to save power, which causes your WiFi not connecting problem. To check if that's your issue, try these steps below:
1) Open Device Manager by right-clicking the Start menu (Windows logo).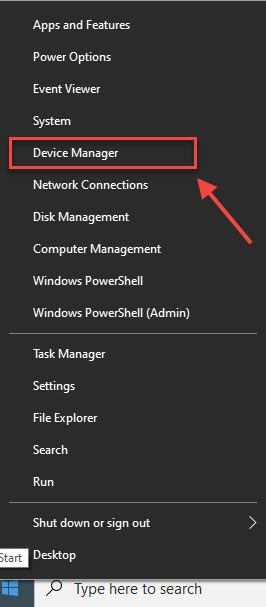 2) Expand Network adapters and right-click your Wireless LAN Card.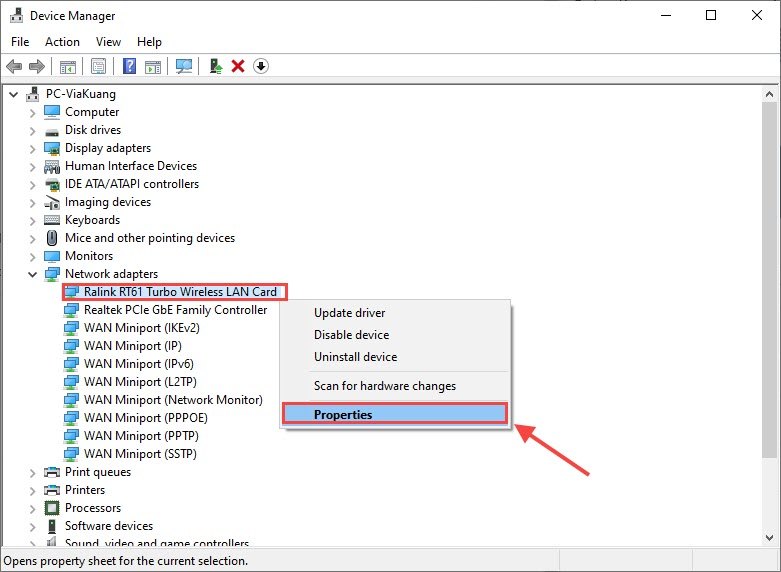 3) Go to the Power Management tab and uncheck the option Allow the computer to turn off this device to save power. Then click OK.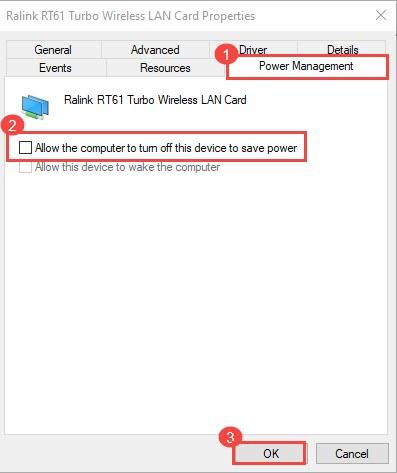 ---
Fix 7: Repair your system files
The internet issues, especially when the fixes above failed, are very likely caused by your internet-related system files. If a specific system file is damaged, corrupt, or missing, you can try one of the following methods to restore it:
Option 1 – Automatically (Recommended)
Use a repair tool to check various areas in your computer to determine the cause of WiFi-related issues. It will deal with issues related to system errors, critical system files and find the right fix for you.

Option 2 – Manually
System File Checker is a built-in tool to check for corrupt, damaged system files and manage to restore them if there're any. However, this tool can only diagnose major system files, and won't deal with damaged DLL, Windows Registry key, etc.
Option 1 – Automatically (Recommended)
Fortect is a computer repair software that can diagnose problems on your computer and fix them immediately.
Fortect Windows Repair is tailored to your specific system and is working in a private and automatic way. It will first check hardware-related issues to identify problems, and then security issues (powered by Avira Antivirus), and finally it detects programs that crash, missing system files. Once complete, it will find a solution to your specific problem.
Fortect is a trusted repair tool and it will do no harm to your PC. The best part is that you won't need to worry about losing any programs and your personal data.
1) Download and install Fortect.
2) Open Fortect and run a free scan. This might take 3~5 minutes to fully analyze your PC. Once complete, you will be able to review the detailed scan report.
3) You'll see the summary of detected issues on your PC. Click Start Repair and all the issues will be fixed automatically. (You'll need to purchase the full version which comes with full technical support. )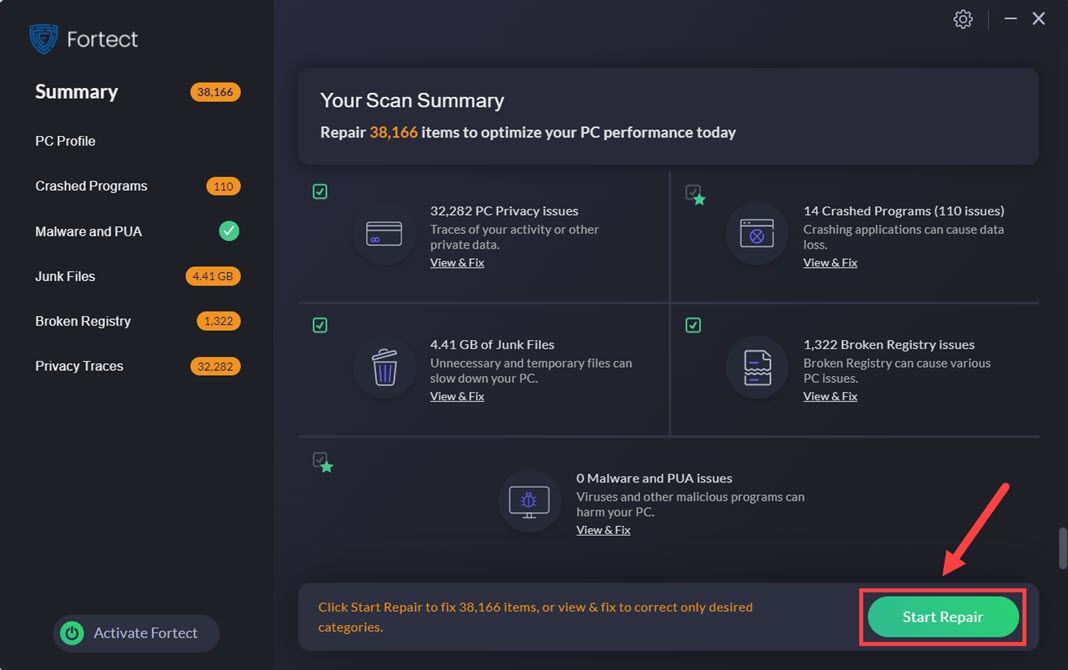 Option 2 – Manually
To check and restore your system file might take time and computer skills. You will need to run numerous commands, wait for the process to complete, or risk your personal data.
Step 1. Scan corrupt files with System File Checker
System File Checker (SFC) is a Windows built-in tool to identify and repair corrupted system files.
1) On your keyboard, press the Windows logo key and R at the same time to open the Run box. Type cmd and press Ctrl+Shift+Enter to run Command Prompt as administrator.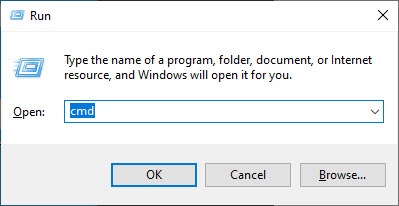 Click Yes when prompted for permission to make changes to your device.
2) In the Command Prompt, type the following command and hit Enter.
sfc /scannow
3) System File Check will begin to scan all system files and repair any corrupted or missing ones it detected. This may take 3-5 minutes.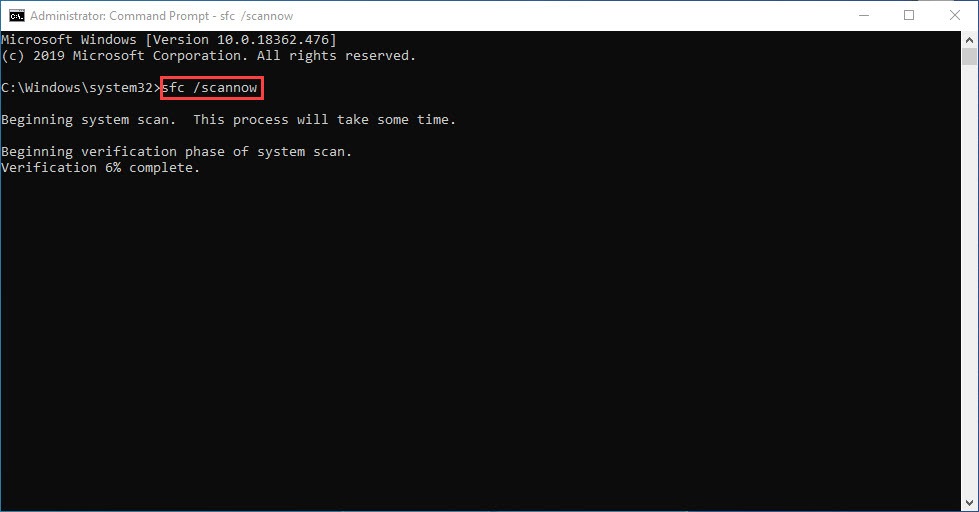 4) You may receive something like the following messages after the verification.
no errors
it fixed some errors
could not fix all errors
could not fix errors at all
……
No matter what message you receive, you can try running dism.exe (Deployment Image Servicing and Management) to further scan the health of your PC.
Step 2. Run dism.exe
1) Run Command Prompt as admin and enter the following commands.
This command line will scan the health of your PC:
dism.exe /online /cleanup-image /scanhealth
This command line will restore the health of your PC:
dism.exe /online /cleanup-image /restorehealth
2) After the restore health process finishes, you may get some error messages.
If restore heath gave you errors, you can always try this command line. This will take up to 2 hours.
dism /online /cleanup-image /startcomponentcleanup
If you get Error: 0x800F081F with the restore health scan, reboot your PC and run this command line.
Dism.exe /Online /Cleanup-Image /AnalyzeComponentStore
If the System File Check finds any files corrupted, follow the on-screen instructions to repair them, and then restart your computer for the changes to take full effect.
---
Feel free to drop us a line if you have any suggestions or questions.
50
50 people found this helpful