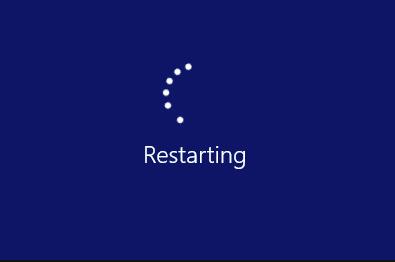 If your computer automatically restarts without a warning, or goes into a reboot loop, and you have no idea what to do about it, don't panic. There're still methods you can try to fix computer keeps restarting.
How do I fix
Computer Keeps Restarting?
Here are the solutions you can try. You don't need to try them all; just work your way down until you find the one that works for you.
Why does my computer keep restarting?
Your computer generally restarts in a loop because of the hardware faulty, corrupted driver, malware infection or dirt & dust.
It's usually hard to identify the issue for Windows restarting without warning, but you can try these methods to troubleshoot and fix the computer restarting issue.
Fix 1. Disable the Automatically restart feature
It's so annoying to see the computer keeps rebooting, as you can do anything else to troubleshoot, so you should first disable the Automatically restart feature to stop restarting.
1) Boot your computer into Safe Mode.
2) After entering the Safe Mode, press the Windows logo keyand R at the same time on your keyboard.
3) Tyep sysdm.cpl and click OK.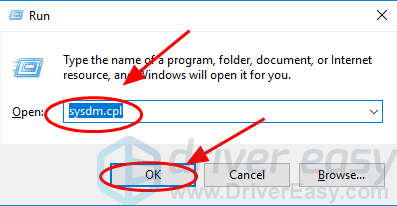 4) Click the Advanced tab, and click Settings in the Startup and Recovery section.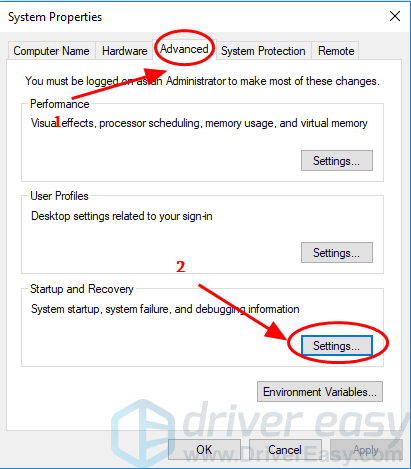 5) Uncheck Automatically restart. You may also want to check Write an event to the system log if it's not selected yet. This will help record the problem when it happens.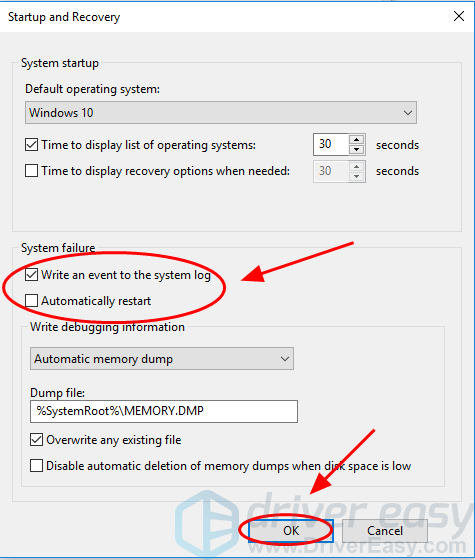 6) Click OK to save.
Note: This is a method to temporarily stop the computer from restarting. After disabling the Automatically restart feature, you should check the following methods to identify the issue and solve it.
Fix 2. Check the hardware issue
The hardware faulty can cause the improper restarting on your computer, so you should check and make sure that your hardware works correctly. Below is the possible issues you should check:
1) Check your RAM
Random Access Memory (RAM) can be one of the issues of restarting your PC.
You should take a look at your RAM itself, or the slot of your RAM is inserted in. You can remove the RAM from the RAM from the slot and clean them carefully, then insert it back to check again.
2) Check your CPU
The processor overheating issue can also cause the restarting, so you should check your CPU and make sure that it works properly.
Unpack your CPU from the dust, clean the processor's fan and surrounded areas. Then put it back to see if it's running.
3) Check the external devices
If your computer is connecting to some external devices, unplug them all, and see if the issue is resolved.
If yes, plug a external device one at a time, until you can identify the problem.
4) Clean the inside of your computer
Over time, dust buildup inside your computer could cause overheat and do harm to your computer's components, thus resulting in your computer frequent restarting issues.
To clean the inside of your computer:
Turn off your computer and unplug it from the power source.
Open up your computer's case.
Use compressed air can to blast the dust away. For the fan blades, you can use rubbing alcohol applied to a soft brush (a toothbrush works great) to clean all the fans thoroughly. If it gets too dirty, feel free to remove it from the case for easy cleanning.
To wipe the thermal paste off the CPU, moisten a lint-free cloth with 99 percent isopropyl alcohol, then wipe away the thermal grease from the processor and the heat sink.
Be sure to dust off all the ports on the computer with compressed air and clean all the exterior vents with rubbing alcohol and a cotton swab.
Fix 3. Update all the drivers
The missing or outdated drivers can cause the computer restarting, because the devices can't communicate with your system properly. So you should check all your drivers. verify that they work correctly, and update those that don't.
There are two ways to update your drivers: manually and automatically.
Manually update your drivers – You can go to the manufacturer's website of your drivers, then search and install the correct driver for your computer. This requires time and computer skills.
Automatically update your drivers – If you are not familiar with playing around with drivers, you can do it automatically with Driver Easy.
Driver Easy will scan your computer and detect all problem drivers. You don't need to know your Windows OS. You don't need to risk downloading the wrong drivers. You can update the drivers automatically with the Free or the Pro version of Driver Easy. But with the Pro version it just takes 2 clicks (and you get full support and 30-day money back guarantee).
1) Download and install Driver Easy.
2) Run Driver Easy and click Scan Now. Driver Easy will then detect any problem drivers.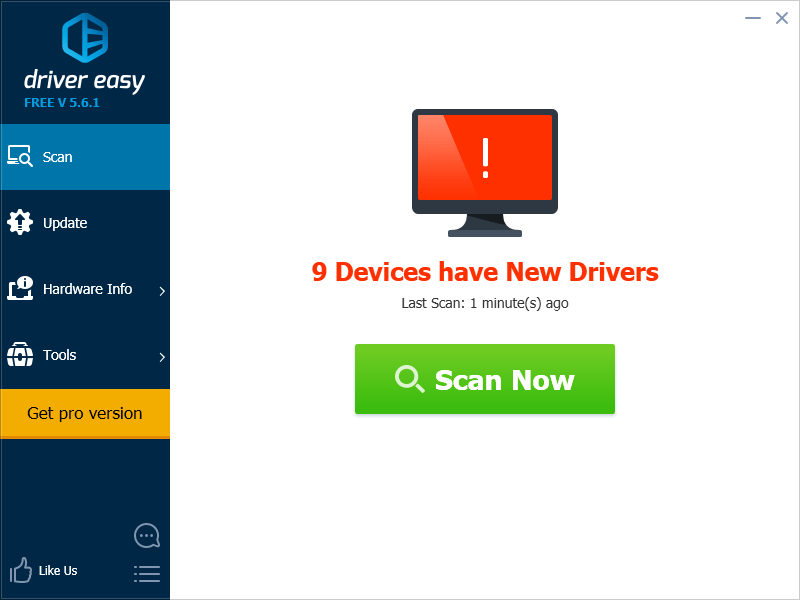 3) Click the Update button next to the flagged device name to automatically download and install the correct version of the driver (you can do this with the FREE version).
Or click Update All to automatically download and install the correct version of all the drivers that are missing or out of date on your system. (This requires the Pro version. You'll be prompted to upgrade when you click Update All.)
The Pro version of Driver Easy comes with full technical support.
If you need assistance, please contact Driver Easy's support team at support@drivereasy.com.
4) Restart your PC and see if the restarting problem is solved.
Fix 4. Run a virus scan
The malware or virus infection is likely to cause your computer keeps restarting, so you should run the full virus scan in your computer to make the system works properly.
Run a complete check with your anti-virus program, and Windows Defender may not be able to help, so you can try another anti-virus program, like Norton.
After scanning, follow the on screen instructions to fix any problem detected by your anti-virus program, then restart your computer to see if the problem is solved.
These are the possible solutions to fix Computer Keeps Restarting issue. Feel free to comment below to share your ideas!
27
27 people found this helpful