After you do a complete fresh install of Windows 7, if you cannot access internet, it's most probably that network drivers are removed. You can check for driver status in Device Manager. If the network driver is missing, you will find a yellow mark next to the ethernet device which mostly is named as "Ethernet Controller" under Other devices or Unknown devices. You may be wondering how to download and install the driver without getting network card model. Below you will find the solutions.

Download and Install Latest Network Drivers from Manufacturer's Website
If you are using a branded computer, you can go to the computer's website (HP, Dell, Lenovo, Asus, Acer, etc.) to find and download the latest network drivers. To locate the right drivers, you will need to identify the computer model name and the specific operating system (Windows 7 32-bit or Windows 7 64-bit).
If you are using an assembled computer, you can go to the motherboard's website (Intel, Asus, Acer, Gigabyte, etc) to download the network drivers. To find the right driver, you will need to identify the motherboard model name which can be found on the motherboard. And you also need to identify the specific operating system (Windows 7 32-bit or Windows 7 64-bit).
Since you cannot access the internet, you need to download the driver using a computer with internet connection and save the downloaded driver to external hard drive like USB flash drive. Then transfer the driver to the computer with no internet connection. After installing the driver, the network issue should resolve.
Download Latest Network Drivers Using Driver Easy
If you are having difficulty with downloading the network driver manually, you can consider using Driver Easy to help you. Driver Easy provides Offline Scan feature which will help you download latest network drivers quickly. With it, you can download the network driver even easily if you don't know much about computers. See how to use the Offline Scan feature to download network drivers.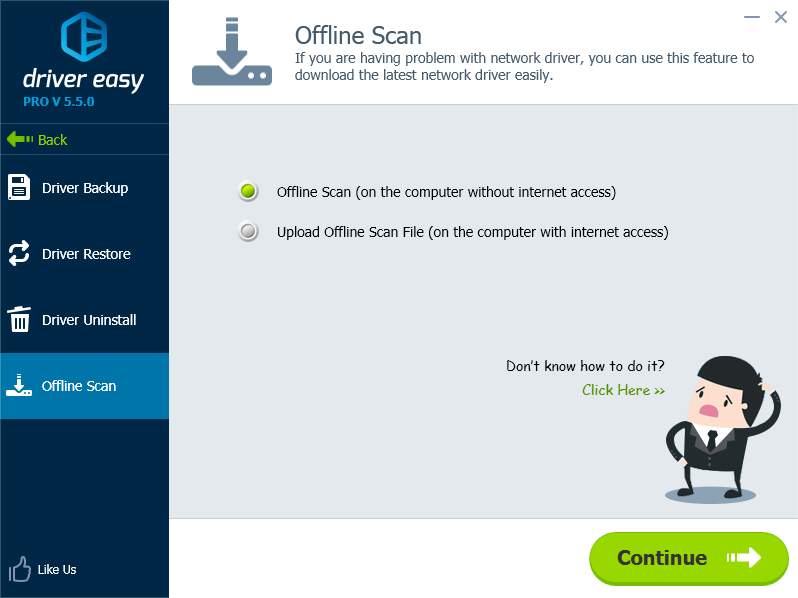 130
130 people found this helpful