Fall Guys: Ultimate Knockout is finally out now, but more and more players start complaining about low FPS when they're bouncing around. If you happened to be one of them, don't worry, because you've come to the right place! Here're 7 useful tips to help you reduce lag and grab a crown in Fall Guys.
Try these fixes:
You might not have to try them all, simply work your way down the list until you find the one that does the trick for you.
Fix 1: Check if your PC meets the hardware requirement
Though Fall Guys: Ultimate Knockout is not exactly a graphically demanding game, having a great computer setup always gives you a leg up. So check if your computer specs meet the minimum requirements below. If not, then maybe it's time for an upgrade.
Fall Guys: Ultimate Knockout system requirements (Minimum):
| | |
| --- | --- |
| Supported OS: | Windows 10 64-bit only |
| Processor: | Intel Core i5 or AMD equivalent |
| RAM: | 8 GB |
| Graphics Card: | NVIDIA GTX 660 or AMD Radeon HD 7950 |
If you're sure your computer is powerful enough for the game, simply move on to the next fix.
Fix 2: Disable full screen optimization
Recent Windows 10 builds include a new feature named Full Screen Optimization, which improves performance of games or apps when they're running in full screen mode. But there're also reports that this feature might bring about side effects. So it's possible that you can fix the lag issues by disabling this feature.
To disable Full Screen Optimization, follow these steps:
Open the file location where Fall Guys is installed on your computer.
Right click FallGuys_client.exe and select Properties.
Go to the Compatibility tab, and check the box next to Disable fullscreen optimizations. Click OK to finish.

Now you can open Fall Guys and check if the problem has gone away.
If the issue is still there, take a look at the next fix.
Fix 3: Update your graphics driver
The Fall Guys lag issue can be caused by an outdated or faulty graphics driver. If you're not sure whether you're using the latest graphics driver, you should definitely have a check. Driver updates are basically a zero-cost benefit, so it's always advisable to keep your drivers up to date.
There're mainly 2 ways you can update your graphics driver: manually or automatically.
Option 1: Update your graphics driver manually
Visit your graphics card manufacturer's website and search for your card model:
Choose ONLY the version that's compatible with your current operating system. Once you've downloaded the driver installer, open it and follow the on-screen instruction to install.
Option 2: Update your graphics driver automatically (Recommended)
If you're not comfortable playing with device drivers, we recommend using Driver Easy. It's a tool that detects, downloads and installs any driver updates your computer needs.
Download and install Driver Easy.
Run Driver Easy, then click Scan Now. Driver Easy will then scan your computer and detect any problem drivers.

Click Update All to automatically download and install the correct version of all the drivers that are missing or out of date on your system.
(This requires the Pro version – you'll be prompted to upgrade when you click Update All. If you don't want to pay for the Pro version, you can still download and install all the drivers you need with the free version; you just have to download them one at a time, and manually install them, the normal Windows way.)

Restart your computer for the changes to take full effect.
The Pro version of Driver Easy comes with full technical support. If you need assistance, please contact Driver Easy's support team at support@drivereasy.com.
Once you've completed these steps, open Fall Guys and test your gameplay.
If updating the graphics driver doesn't solve your problem, check out the next method.
Fix 4: Check for Windows updates
Windows updates offer bug fixes and sometimes a performance boost, so it might be one potential solution to the lag issue. Besides, it requires only little computer skills.
Here're the steps:
On your keyboard, press the Windows logo key and I at the same time to invoke Windows Settings app. Select Update & Security.

Click Check for updates. It'll try to download and install available updates. It might take a while depending on your network speed.

Wait until all the updates are installed. After that, restart your computer.
You can now open Fall Guys and see if the problem remains. If yes, there're still some fixes for you to try.
Fix 5: Change your power plan
Power plans are simply a set of predefined settings to manage how your computer consumes or preserves power. By default, your computer is running at the "Balanced" power plan, which makes your computer less power-hungry. But this might affect your gaming experience as it puts a limit on some of the functions.
Actually, Windows 10 recently introduced a hidden power plan called Ultimate Performance, which might give an extra boost to your system. To enable this power plan, follow these steps:
The Ultimate Performance power plan is only available to Windows 10 version 1803 or above. You can check your version in Settings > System > About.
On your keyboard, press the Windows logo key and R at the same time to invoke the Run dialog. Type control and click OK to open Control Panel.

View the Control Panel by Category. Select Hardware and Sound.

Click Power Options.

Select Ultimate Performance. If you don't see this option, continue to the following steps to unhide this power plan.

On your keyboard, press the Windows logo key and type cmd. Select Run as administrator.

In the pop-up window, type (or copy and paste) the following command and hit Enter.


powercfg -duplicatescheme e9a42b02-d5df-448d-aa00-03f14749eb61

If you see a prompt similar to this, go back to step 3 to enable the Ultimate Performance power plan.
After changing your power plan, you can launch Fall Guys and test the improvement.
If it doesn't do the trick, check out the next fix below.
Fix 6: Close unnecessary programs
One possible cause of lag might be the background tasks that are eating your resources secretly. To ensure a smooth and undisturbed gameplay, Fall Guys should be the only large program running on your computer. So before you start the game, make sure you've closed Chrome, Skype, Discord and any other programs that might be resource-hungry.
Fix 7: Adjust in-game settings
The Fall Guys lag issue might be triggered by improper graphics settings. For example, if you choose a setting that's too demanding for your rig, you might not get the corresponding experience you desired. To check if the lag issue is related to game settings, lower the in-game graphics settings and see if it reduces the lag.
Launch Fall Guys and go to Graphics Settings. Change your settings according to this list:
Preset: Custom
Resolution: 1920×1080 60Hz
Windowed: Off
V-Sync: Off
Texture Detail: Half Res
Shadows Detail: Low
Motion Blur: Off
Bloom: Off
Depth Of Field: Off
Ambient Occlusion: None
Antialiasing: None
Anisotropic Filtering: Off
Screen Space Reflections: None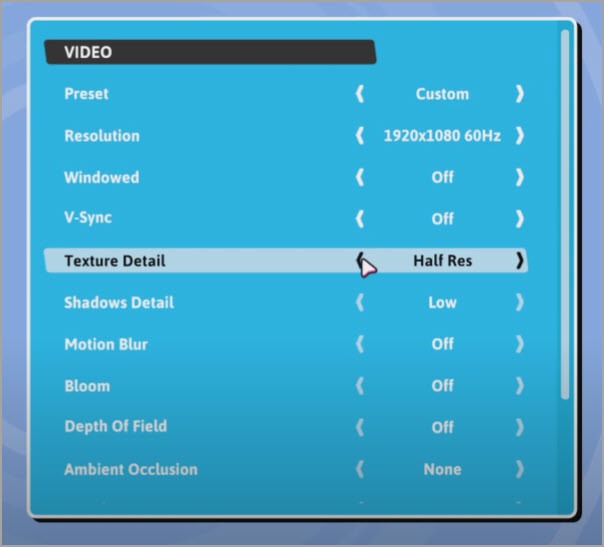 Hopefully, these methods help you fix the Fall Guys lag issue. If you have any questions or suggestions, please feel free to drop a comment down below.

1

1 people found this helpful

x