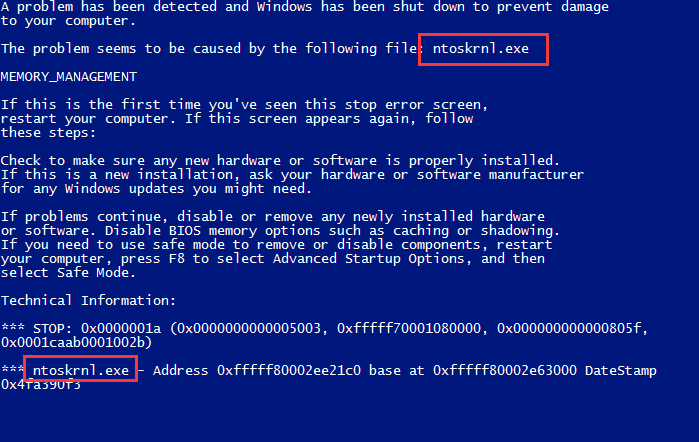 If you're on Windows 7, and you can see a screen that looks like the image above, it can be super frustrating. Yep, it's the blue screen of death. And it's telling you that you've got a problem caused by ntoskrnl.exe. But don't panic. We've had reports of this error from many Windows 7 users, and you'll be relieved to know it's possible to fix.
4 fixes for 'ntoskrnl.exe'
Here are 4 solutions you can try. Just work your way down the list until you find the solution that works for you.

You'll need to be logged into Windows on the problem computer to try any of these solutions. If you can't log into Windows, power on and off your PC 3 times to perform a hard reboot and restart it in Safe Mode, then try these solutions.
What is ntoskrnl.exe?
Ntoskrnl.exe is the kernel of the operating system. Without it, Windows just won't work. If this file is at fault, your computer is very likely to experience frequent blue screen of deaths incidents and have a few other problems too.
1: Update device drivers
Outdated or faulty drivers are a common cause of blue screen of death errors. So whenever you get one, you should verify that all your devices have the right driver, and update any that don't.

There are two ways you can get the right drivers for your video card and monitor: manually or automatically.
Manual driver update – You can update your device drivers manually by going to the manufacturer's website for your hardware devices, and searching for the most recent correct driver for each. Be sure to choose only drivers that are compatible with your version of Windows 10.
Automatic driver update – If you don't have the time, patience or computer skills to update your device drivers manually, you can, instead, do it automatically with Driver Easy. Driver Easy will automatically recognize your system and find the correct drivers for your hardware, and your version of Windows 10, and it will download and install them correctly. Here's what you need to do:
1) Download and install Driver Easy.
2) Run Driver Easy and click the Scan Now button. Driver Easy will then scan your computer and detect any problem drivers.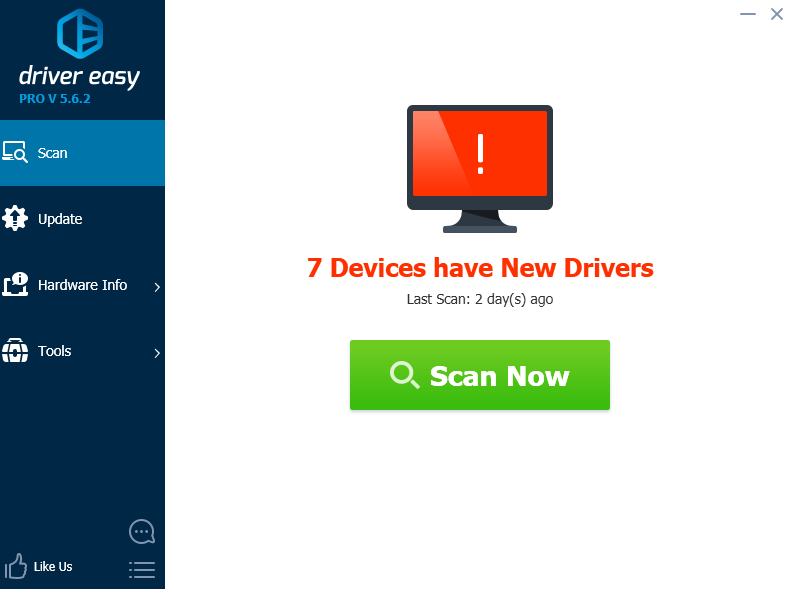 3) Click the Update button next to all flagged devices to automatically download and install the correct version of their drivers (you can do this with the FREE version).
Or click Update All to automatically download and install the correct version of all the drivers that are missing or out of date on your system. (This requires the Pro version which comes with full support and a 30-day money back guarantee. You'll be prompted to upgrade when you click Update All).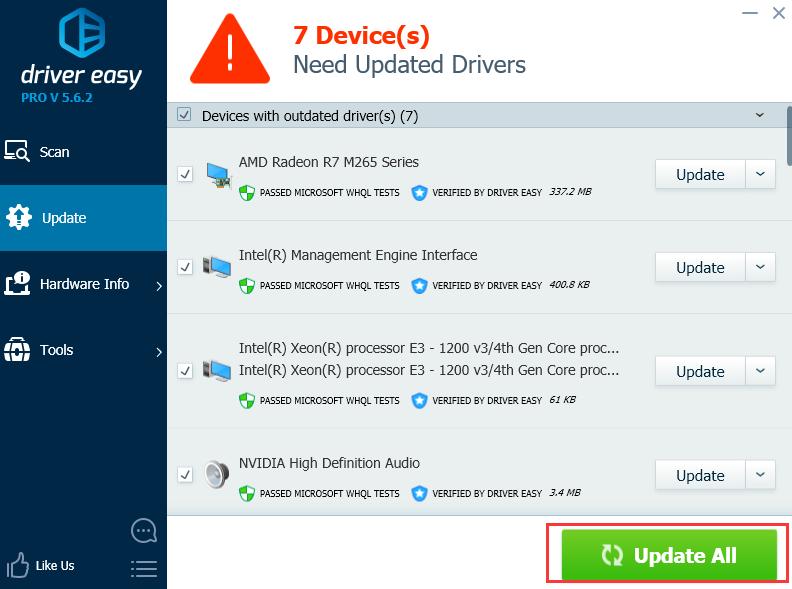 2: Reset overclocking settings

One of the reasons for this blue screen of death error is overclocking drivers. If you have a trusted program to help you change the overclock in BIOS, use it.
If not, follow the instructions below to help you clear the CMOS from within the BIOS menu and reset your BIOS settings back to their factory default state.
Note: The following instructions are for Windows 7. The procedure is different if you're on Windows 8, 8.1 or 10 operating systems.
1) Press and hold the power button for about 10 seconds, or until your system completely shut down.

2) Power on the system. As soon as the first logo screen appears, immediately press F1, F2, F10, ESC or Delete for desktops to enter the BIOS.
NOTE: Sometimes instead of these keys, you'll need to press a combinations, such as CTRL+ ALT+ ESC or CTRL+ALT+DEL if you're using an old machine. The keys to press differ between computers depending on the manufacturer and model. Try to read what comes up on the initial load screen, as it will usually tell you the right key to press.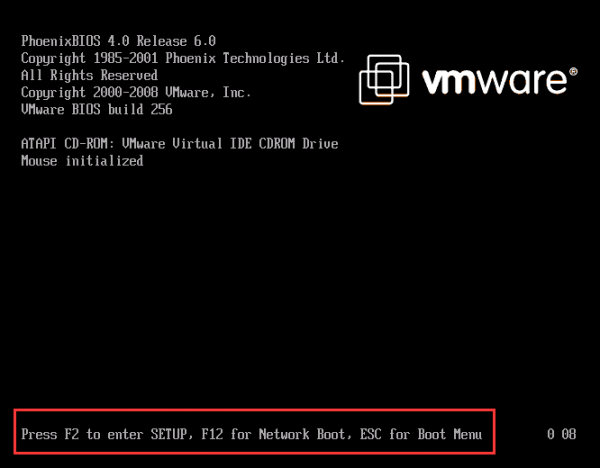 3) Use your arrow keys to go to Exit and then move down to Load Setup Defaults. (Your computer might be different, but you should be able to see the option Load Setup Default.)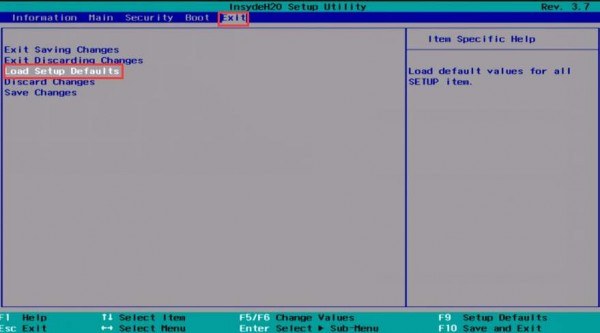 4) Then press the Enter key. You might be able to see a notification like the one below. Use the arrow key to select Yes and then press Enter again.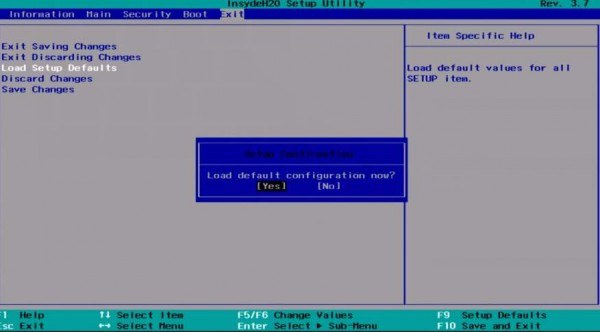 5) Exit Saving Changes should be highlighted now. Press Enter and then press Enter again to save configuration change.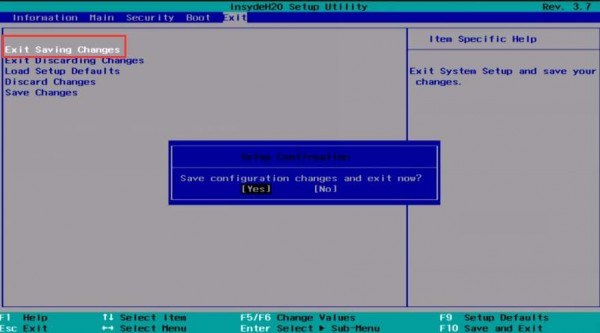 You computer will restart.
Again, the information showing on your computer may be different from ours, and you should change the settings according to the prompts on your screen. If you're not sure how to complete a step, please go to the official support page for your computer's manufacturer and ask for help. Or you can ask a question in the comments section below, and we'll do our best to help.
3: Repair corrupt system files
The ntoskrnl.exe BSOD error could be caused by missing, corrupt or damaged system files on your computer. To see if this is the case, you should run a Windows repair.
There are two ways you can repair possible issues with your system files:
Repair & replace corrupt system files with Reimage
Reimage is a tool specializing in Windows repairing. With Reimage, the preliminary will scan your computer's operating system for virus, malware, missing, damaged, or corrupt files, then it removes all problematic files found and replace them new healthy files. It's like a clean reinstall of your operating system, except that you won't lose any user data and all programs, settings are exactly as they are before the repair.
Here's how to use Reimage to run a Windows repair:
1) Download and install Reimage.
2) Open Reimage and click Yes.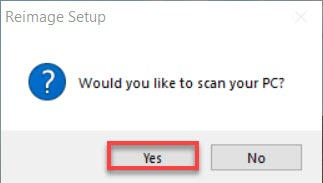 3) Wait for Reimage to run a scan on your PC. The process might take a couple of minutes.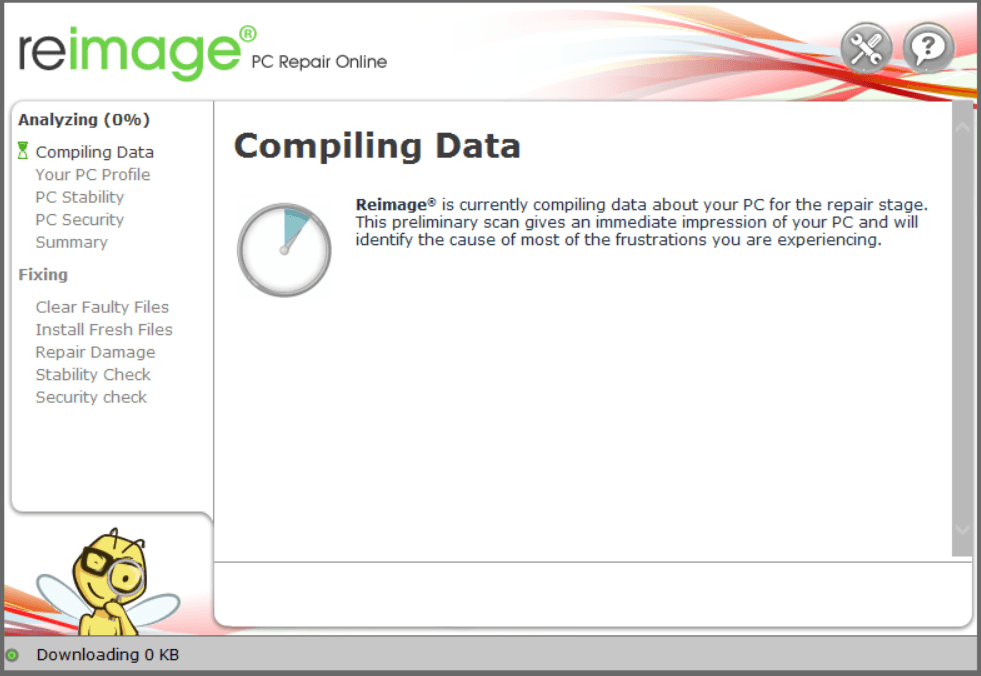 4) Once the scan finishes, you will get a summary of the issues found on your computer. If you need to proceed with the repair function, you'll be required to purchase the full version.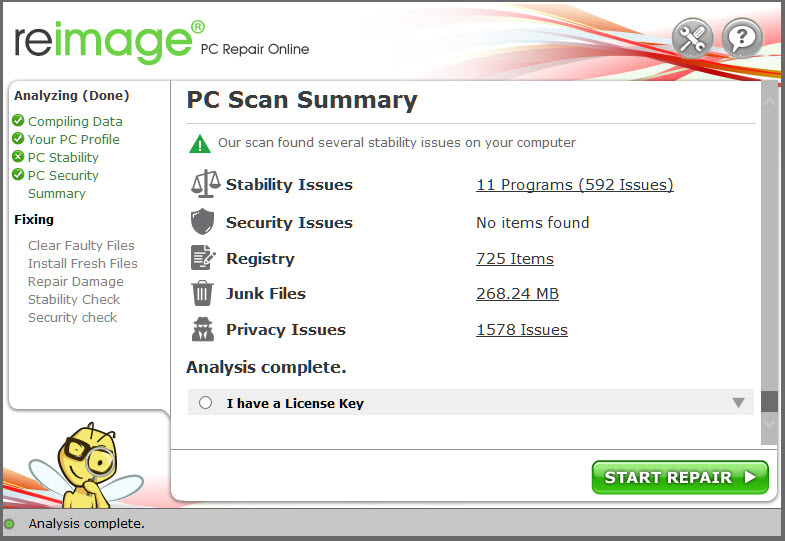 The full version of Reimage comes with a 60-day money-back guarantee and full custom support. If you run into any problems while using Reimage, or if it doesn't work for you, don't hesitate to contact Reimage support team.
5) Restart your computer for the changes to take effect.
6) Check your computer to see if the ntoskrnl.exe BSOD problem has been fixed.

Run SFC scan
System File Checker (SFC) is a handy feature in Windows that helps scan your system files and repair missing or corrupted system files(including those related to BSOD). To run the SFC scan:
1) On your keyboard, press the Windows logo key and type cmd. Then right click on Command Prompt and click Run as administrator.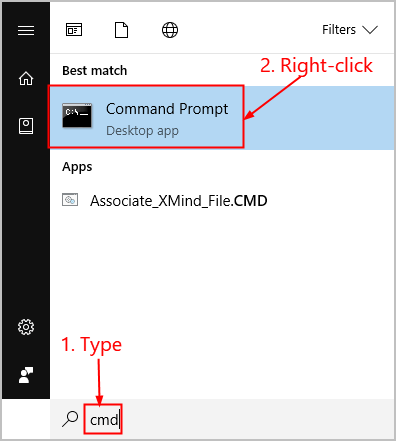 2) Click Yes when prompted to confirm.
3) In the command prompt window, type sfc /scannow and press Enter.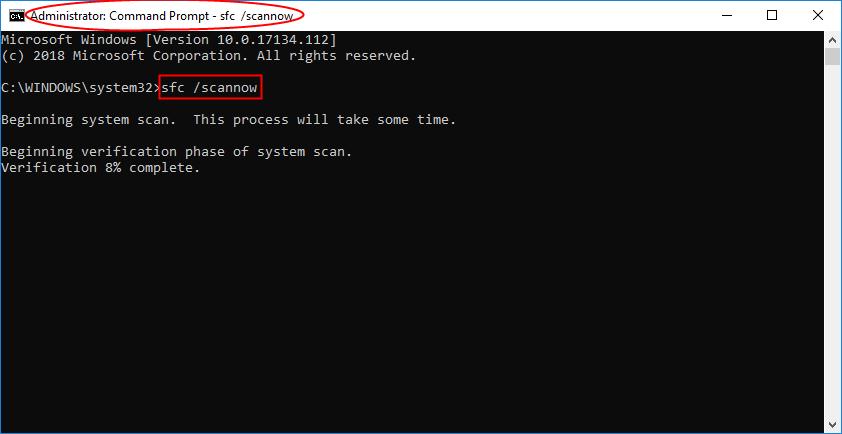 It'll take some time for the SFC to replace the corrupted system files with new ones if it detects any, so please be patient.
4) Restart your computer for the changes to take effect.
5) Check your computer to see if the ntoskrnl.exe BSOD problem has been fixed. If yes, then congrats! If the issue still persists, please move on to Fix 4, below.

4: Perform a memtest
The ntoskrnl. exe BSOD is usually related to memory, and is possibly caused by a faulty driver. We suggest that you run the following memory test to check your computer's memory and find out which driver is causing the problem.
Note: If you're over-clocking any apps or programs, please shut them down first before you run the tests. You will need to reboot your computer to perform the test. During the test, you won't be able to use your computer.
1) On your keyboard, clcik the Start button, then type Windows Memory Diagnostic and press Enter.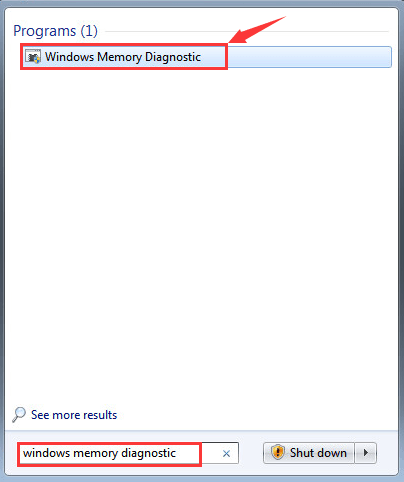 2) Click Restart now and check for problems(recommended). Be sure to save your work first because your computer will restart immediately.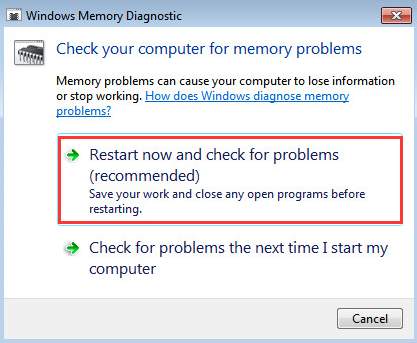 3) Your computer will restart and the Windows Memory Diagnostic Tool screen will appear.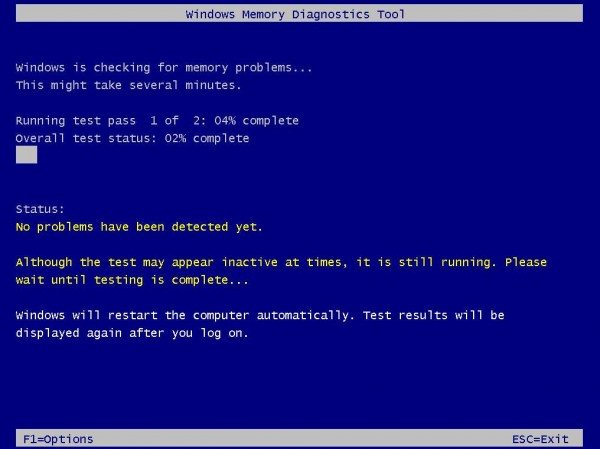 Don't worry if your test takes some time to finish. That's normal. You'll see the test results after you log on.
---
58
58 people found this helpful
Available in other languages
Kommt ein Bluescreen-Absturz mit einer Fehlermeldung zur Datei ntoskrnl.exe vor, wenn Sie geraden an Ihrem Computer arbeiten? Wir verraten Ihnen 5 Methoden.