Many Windows users have encountered a "Problem Ejecting USB Mass Storage Device" error. This error occurs when they try to safely remove their USB device. There are several common ways they can see the "Problem Ejecting USB Mass Storage Device" error:
This device is currently in use. Close any programs or windows that might be using the device and then try again.
Windows can't stop your 'Generic volume' device because it is in use. Close any program or windows that might be using the device, and then try again later.
The device 'Generic volume' cannot be stopped right now. Try stopping the device again later.
…


You may have some concerns about it when you get this error: What does this error mean? Why does it occur? How can you get rid of it and safely eject your USB device? Can you just ignore the error and unplug your device from your computer anyway?
But don't worry. This guide will give you all the answers to your questions. Follow it and you can fix your problem ejecting device error.


What does this error mean and why does it occur?
Basically, this error means the storage device you are attempting to eject is currently being used. Your computer can't safely remove it when it is in use. You should stop these actions before you can eject your device.
This happen usually because the files on your USB storage device are still open or being used by other programs, or because the device is being accessed by other software or your operating system. To protect your data and your device, the system stops the ejection and shows you the "Problem Ejecting USB Mass Storage Device" error.


Can you unplug your device regardless of the error?
You'll be at risk of losing your files or data if you do so. Perhaps you get nothing wrong after you ignore the error and unplug your USB device. But it is also possible that the files or the partition on your storage device will be corrupted. And sometimes your device can be damaged.* So don't rush into unplugging your device directly.
* If your USB storage device are corrupted, you can perform data recovery to save the files or data on it.
In fact, there are useful methods that can help you remove your storage device without data loss. You can follow the steps below to safely eject your device.


How to safely eject your device?
There are several steps you can try to remove your device safely. You don't have to try them all. Just work your way down until you find the one that works for you.
Step 1: Check the unclosed files or programs
Once you get the "Problem Ejecting USB Mass Storage Device" error, the first thing you should check is those unclosed files or programs. Make sure you have closed the files on your USB storage device, or the programs that are running are not using your device.
Check carefully the taskbar buttons on the taskbar. See if there are any portable programs on your storage device are running or any files on that are opened. Pay attention to those combined taskbar buttons —  they may hide a running file on your USB device but you may not be aware.

If there are no such files or programs you can see on the taskbar, then check the processes and programs running in the background with Task Manager*.
* Some processes you see in Task Manager are critical for your system. Closing these processes can bring about serious consequences. If you're not sure what a process is or whether you can close it, do some research on the Internet or just leave it there and skip this step.
To open Task Manager, right click any empty space of the taskbar, and then select Task Manager.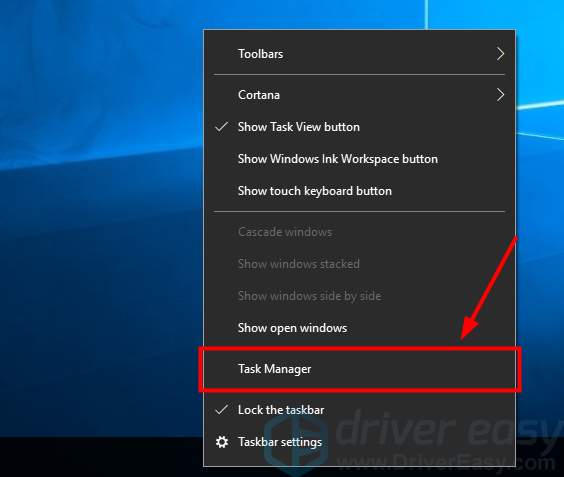 In Task Manager, check the list of running apps and processes on the Processes tab. Scroll through the list and end any process that you think can be using your USB device (such as Excel, Word or OneDrive).
To end a process, right click it and select End Task.
(Note that this will stop immediately what the application is processing and you may risk losing your unsaved files.)
When you have checked your computer and confirmed that your USB device is not in use, you can try ejecting your device again and see if the error is gone.
Step 2: Sign out and log on your system
The applications or processes that are accessing your external drive will cause the ejecting problem. But you may not know what they are or how to close them. A safe way to shut them down is to sign out of your system — this will safely close down the system. The next time you log on, you would not be troubled by the error.
Please note that the steps of signing out on Windows is slightly different from on Windows 10. Here are the differences.
To sign out of a Windows 7 system, click the Start button at the lower left corner of your screen, click the arrow next to the Shut down button, and then click Log off.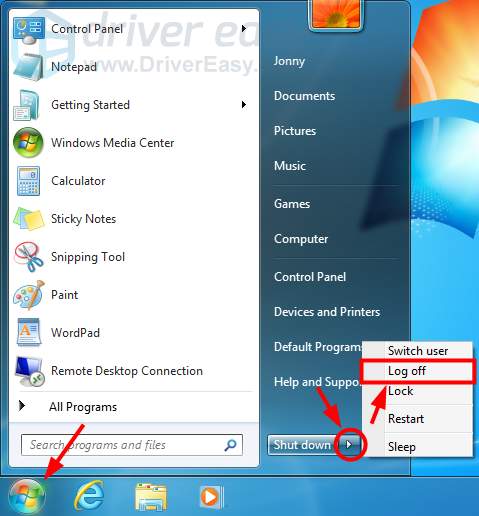 If you are on Windows 10, to sign out, click the Start button at the lower left corner of your screen, select Account, and then click Sign out.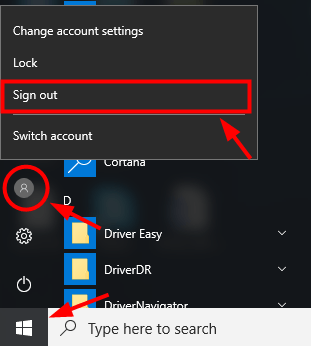 After you have signed out, sign in your account again, and then try ejecting your storage device. If this method works for you, you won't see the error again.
Step 3: Restart your computer
Sometimes signing out of your operating system may not be able to end the processes that are using your USB device. Or maybe there are programs running on another account. In these cases, you can try restarting your computer. This will close down all programs on every account. You will be able to safely remove your device after you restart your computer.


Top tip: Recover your data
If you'd removed your USB storage device unsafely and you lost your data on it, you can try to recover these data with the help of third-party software or an expert. But before you do that, you shouldn't make changes or move any new files to your device (or your lost data will be overwritten).
There are a lot of data recovery programs on the Internet, paid or free. You can do some research and test with several to find out the one that can help you
Or you can find a data recovery service provider to recover your data. Learn carefully about the reputation and reliability of these providers though — those providers better at these are more likely to save your files. 
32
32 people found this helpful