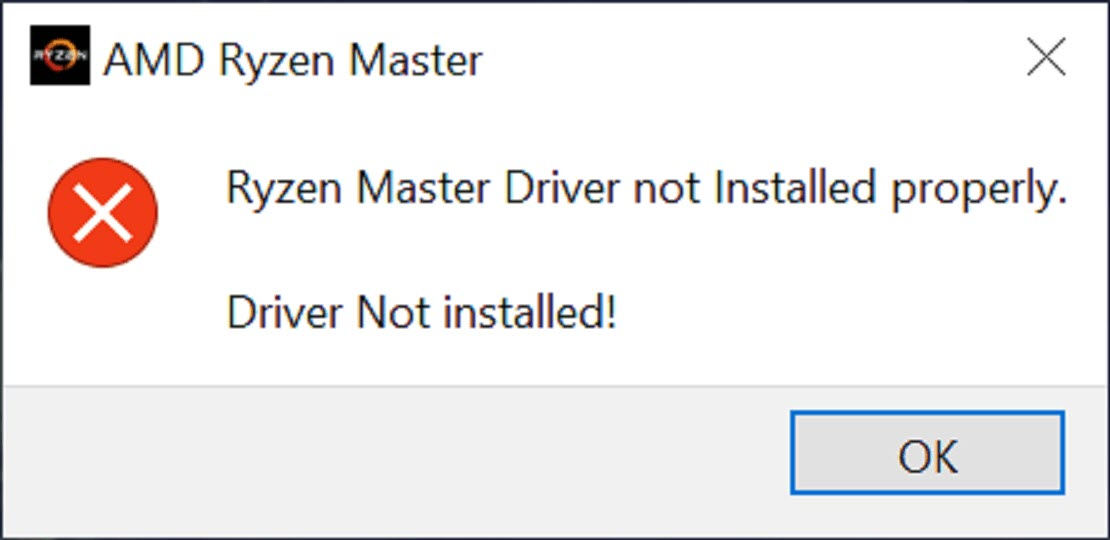 Ryzen Master Utility allows you to get the most of your hardware, but first you'll need to get it to work. Many gamers are having trouble starting Ryzen Master Utility, and the most common error is Ryzen Master Driver Not Installed Properly.
But don't worry if you're on the same boat. This problem is not that hard to fix at all.
Try these fixes:
You might not need to try all the fixes. Just work down the list until you hit the one that gives you luck.
Fix 1: Perform a clean boot
According to many users, the error could mean something is conflicting with Ryzen Master Utility. You can do a clean boot to root out the offender.
There're reports suggesting that EasyTune by GIGABYTE is conflicting with Ryzen Master Utility. If you have used/are using a GIGABYTE motherboard, check if you have EasyTune installed. If you do, remove it before the clean boot.
On your keyboard, press Win+R (the Windows logo key and the r key) at the same time to invoke the Run box. Type or paste msconfig and click OK.

In the pop-up window, navigate to the Services tab and check the box next to Hide all Microsoft services.

Uncheck all the services EXCEPT those belong to your hardware manufacturers, such as Realtek, AMD, NVIDIA, Logitech and Intel. Then click OK to apply the changes.

On your keyboard, press Ctrl, Shift and Esc at the same time to open Task Manager, then navigate to the Startup tab.

One at a time, select any programs you suspect might be interfering, and click Disable.

Restart your PC.
If this solves your issue, you can find out what is causing the trouble, by repeating the steps and disabling half of the programs and services.
If the problem lingers on, take a look at the next fix.
Fix 2: Check and repair your drivers
The error could be driver-related. In other words, certain drivers are missing on your PC, or something went wrong during their installation. Either way, you should make sure your computer has all the latest correct drivers.
You can check your drivers manually, by visiting the manufacturer websites one by one, finding the latest correct driver installer and installing step by step. But if you don't like playing with device drivers, you can use Driver Easy. It's a smart driver updater that repairs & updates your drivers automatically.
Download and install Driver Easy.
Run Driver Easy, then click Scan Now. Driver Easy will then scan your computer and detect any problem drivers.

Click Update All to automatically download and install the correct version of all the drivers that are missing or out of date on your system. (This requires the Pro version – you'll be prompted to upgrade when you click Update All. If you don't want to pay for the Pro version, you can still download and install all the drivers you need with the free version; you just have to download them one at a time, and manually install them, the normal Windows way.)

The Pro version of Driver Easy comes with full technical support. If you need assistance, please contact Driver Easy's support team at support@drivereasy.com.
After updating all the drivers, restart your PC and try to launch Ryzen Master Utility.
If the latest drivers can't fix your issue, simply check out the next method. (Or you can follow this guide and do a clean reinstallation with DDU.)
Fix 3: Modify your Registry
Prior to 2021, you might be able to fix the issue by deleting the AMDRyzenMasterDriverV13 and AMDRyzenMasterDriverV14 entries in Registry. But that doesn't seem to work any more. Fortunately, some users come up with a newer fix, which is also modifying the registry. You can try this and see if that gives you luck.
On your keyboard, press Win+R and type or paste regedit. Click OK.

In the address bar, type or paste Computer\HKEY_LOCAL_MACHINE\SYSTEM\ControlSet001\Services\AMDRyzenMasterDriver and press Enter.

In the right pane, double click ImagePath. In the Value data section, delete the "\??\" before C:\Program Files (without the double quotes). Click OK and restart your PC.

If the problem persists, you can check out the next solution.
Fix 4: Reinstall Ryzen Master Utility Completely
It's possible that it's just a faulty installation. After making sure nothing is conflicting with Ryzen Master Utility, you can take a general and direct approach to reinstall the entire program.
On your keyboard, press Win+R and type or paste appwiz.cpl. Click OK.

Right click AMD Ryzen Master and select Uninstall/Change. Then follow the on-screen instructions to uninstall.

Restart your PC. Then go to the download page and get the latest Ryzen Master Utility installer.
If reinstalling the program doesn't work for you, simply move on to the next solution.
Fix 5: Repair your system
If none of the fixes above work for you, or the error only occurs after a hardware upgrade, you might be facing a critical system issue. But before you scrub everything and reinstall Windows, you can use a professional repair tool to scan for system issues.
Fortect is a professional Windows repair tool that can scan your system's overall status, diagnose your system configuration, identify faulty system files, and repair them automatically. It gives you entirely fresh system components with just one click, so you don't have to reinstall Windows and all your programs.
Download and install Fortect.
Open Fortect. It will run a free scan of your PC and give you a detailed report of your PC status.

Once finished, you'll see a report showing all the issues. To fix all the issues automatically, click Start Repair (You'll need to purchase the full version. It comes with a 60-day Money-Back Guarantee so you can refund anytime if Fortect doesn't fix your problem).

Fortect comes with a 60-day Money-Back Guarantee. If you're not satisfied with Fortect, you can contact support@fortect.com for a full refund.
---
Hopefully this post helps you get Ryzen Master Utility working again. If you have any questions or ideas, don't hesitate to leave a comment down below.
11
11 people found this helpful