Nothing kills the passions more than the extremely long loading times when trying to launch a game. And this is what's happening to Battlefront II players. To help you out, we've put together some fixes in this article.
Try these fixes:
You may not need to try them all; simply work your way down the list until you find the one that works.
1. Install all Windows updates
Out-of-date operating systems can cause a variety of issues and are one of the first things to check when a game is having problems. Therefore, to troubleshoot the issue you're encountering, you should download and install the latest Windows updates:
1) In the Search box, type in check for updates. Click Check for updates from results.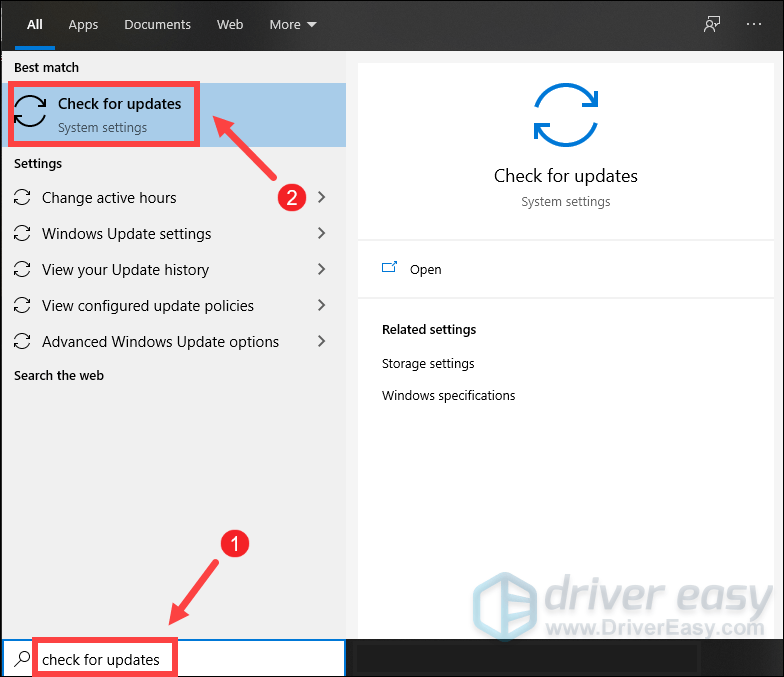 2) Click on the Check for updates tab. If there are any updates available, it'll automatically start to download and install it. Simply wait for it to complete and you should be asked to restart your computer.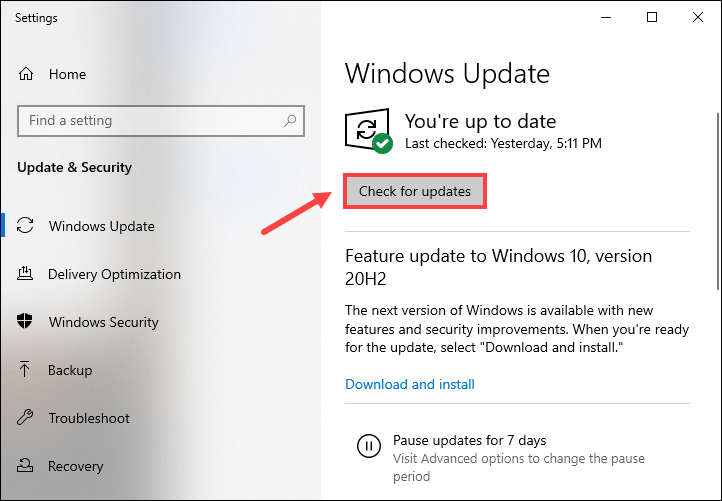 Once you've installed the latest Windows updates, click on the Play button and check if your issue has been solved. If the load times are still horrid, proceed to the next fix below.
---
2. Update your graphics driver
When your game takes an extremely long time to load into the main menu screen, you need to check if you're using an outdated graphics driver. It's worth mentioning that out-of-date drivers can create technical issues with specific games while the new ones fix the compatibility issues and bring new features. Therefore, to fix the extremely long loading time issue in Battlefront II, you're supposed to update your graphics driver.
There are mainly two ways you can update your graphics driver: manually and automatically.
Option 1: Manually update your graphics driver
To update your graphics driver manually, you can go to the official website:
Then find the driver corresponding with your Windows version and download it manually. Once you've downloaded the correct driver for your system, double-click on the downloaded file and follow the on-screen instructions to install it.
Option 2: Automatically update your graphics driver (recommended)
If you are not familiar with computer hardware, and if you don't have the time to update your graphics driver manually, you can, instead, do it automatically with Driver Easy. It's a useful tool that automatically recognizes your system and finds the correct drivers for it. With Driver Easy, you don't need to waste your time hunting for driver updates as it will take care of the busy work for you.
Here's how to update drivers with Driver Easy:
1) Download and install Driver Easy.
2) Run Driver Easy and click the Scan Now button. Driver Easy will then scan your computer and detect any devices with missing or outdated drivers.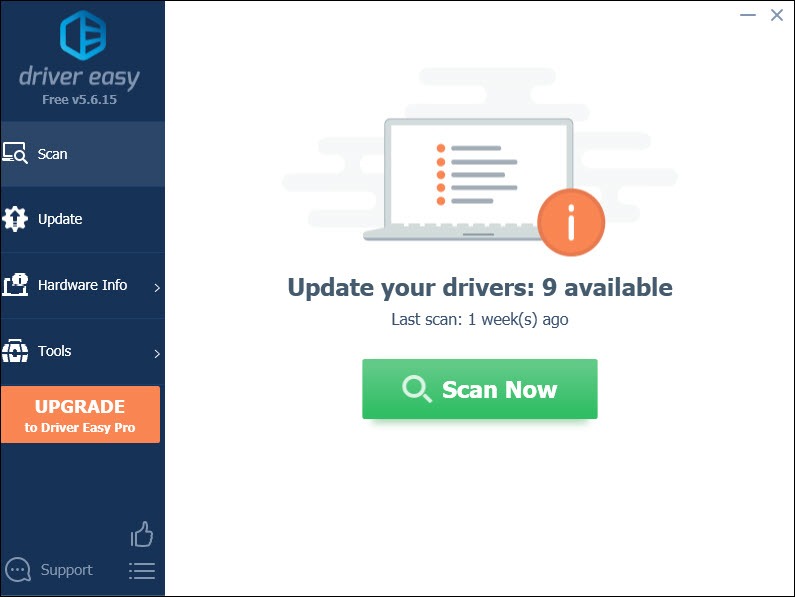 3) Click Update All. Driver Easy will then download and update all your outdated and missing device drivers, giving you the latest version of each, direct from the device manufacturer.
(This requires the Pro version which comes with full support and a 30-day money-back guarantee. You'll be prompted to upgrade when you click Update All. If you don't want to upgrade to the Pro version, you can also update your drivers with the FREE version. All you need to do is to download them one at a time and manually install them.)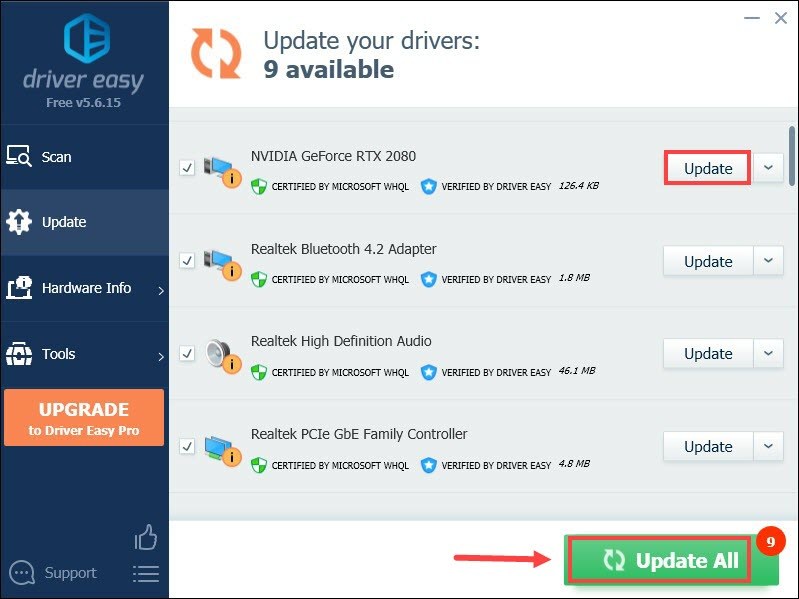 The Pro version of Driver Easy comes with full technical support. If you need assistance, please contact Driver Easy's support team at support@drivereasy.com.
After updating drivers, restart your computer and launch your game to check if the problem is solved. If not, then continue trying the fixes below.
---
3. Repair your game
When you're having problem with Battlefront II not loading properly, you are supposed to check if your game files are intact. While the feature of repairing game in Origin or verifying integrity of game files on Steam can check your game's installation and then automatically download any replacement or missing files.
If you're playing Battlefront II on:
Origin
1) Restart your computer and launch Origin.
2) Select My Game Library in Origin.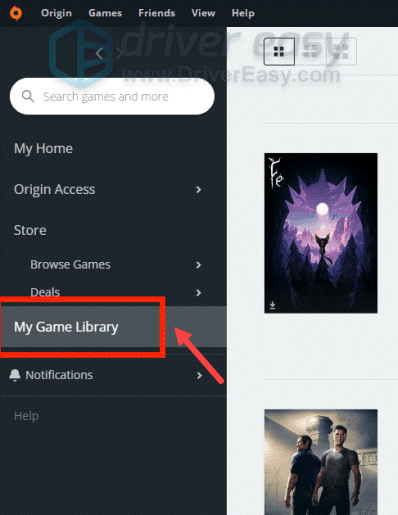 3) Right-click on your game file.
4) Select Repair Game.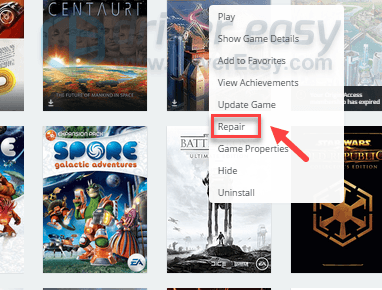 The file check can take up to an hour to complete depending on your computer's hardware.
Steam
1) Restart your computer and launch Steam.
2) Under the LIBRARY tab, right-click your game title and select Properties.
3) Select the Local files tab and click on the Verify integrity of game files… button.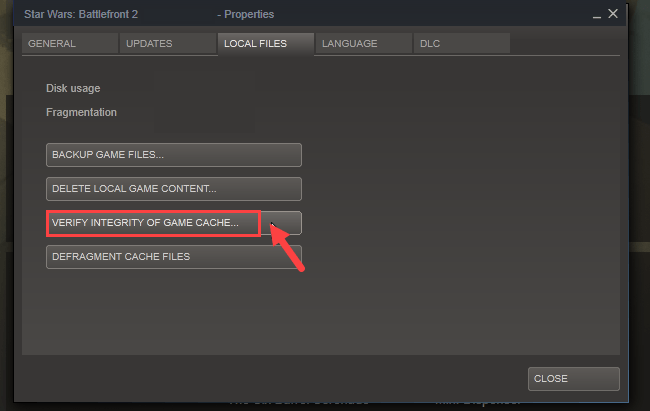 Steam will verify the game's files – this process may take several minutes.
---
4. Perform a clean boot
A clean or safe boot on your PC disables tasks that can cause interference with your game and thus may help fix problems accessing game content.
Here's how you can perform a clean boot on your PC:
1) On your keyboard, press the Windows logo key + R at the same time to open the Run dialog box.
2) Type msconfig and press Enter.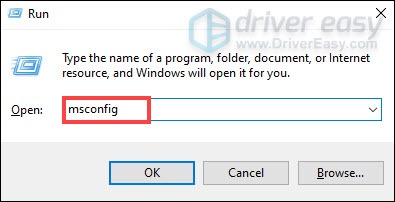 This will bring up the System Configuration window.
3) Click on the Services tab. Check the box to Hide all Microsoft services and then click Disable all.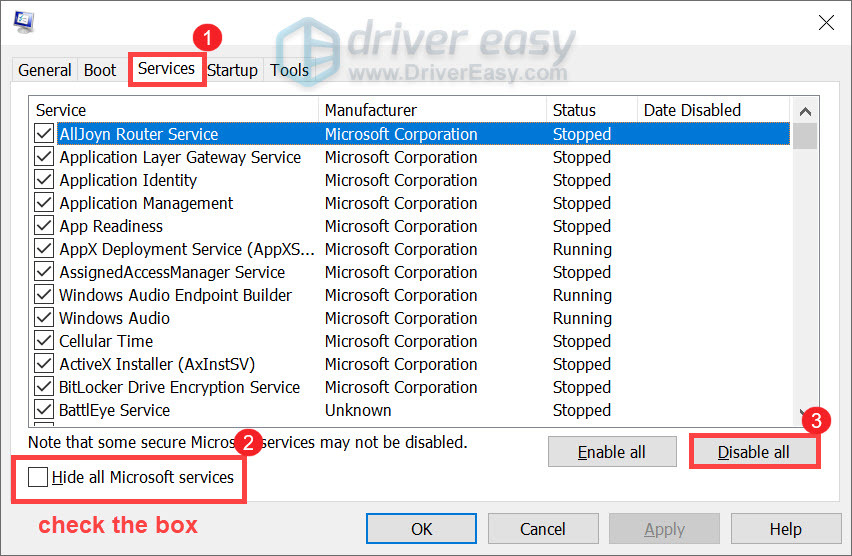 4) Now click on the Startup tab. Then click Open Task Manager.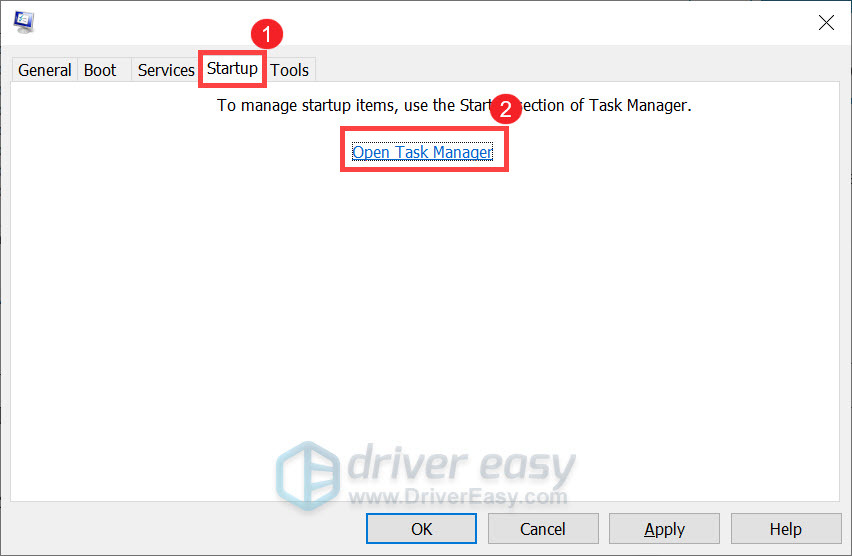 5) Once the list fully loads, right-click and choose Disable on each of the programs listed.
6) Close the Task Manager window and go back to the System Configuration window.
7) Click Apply > OK to save your changes and then restart your computer.
Till then, you can launch Battlefront II. If it works properly, it means that something's running on your PC at start-up is interfering with your game.
---
5. Increase virtual memory
Virtual memory is basically an extension of your computer's physical memory, but when it runs low, the system performance may suffer and it will take much longer time for Battlefront II to load into the main menu screen. To see if that's the case, you can increase the virtual memory by following the instructions below:
1) In the Search box, type advanced system settings. Then click View advanced system settings from the results.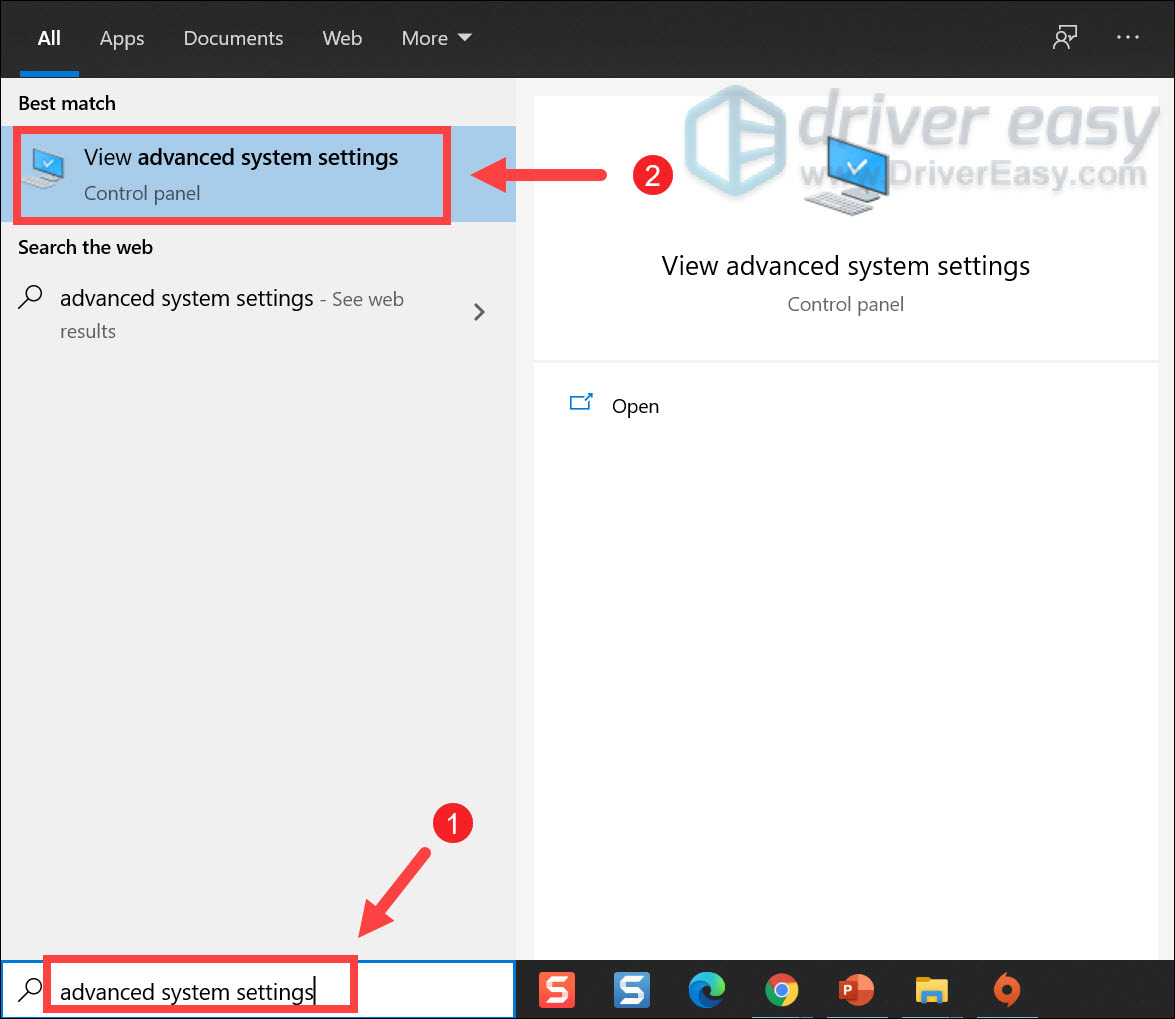 2) Click on the Settings button in the Performance section.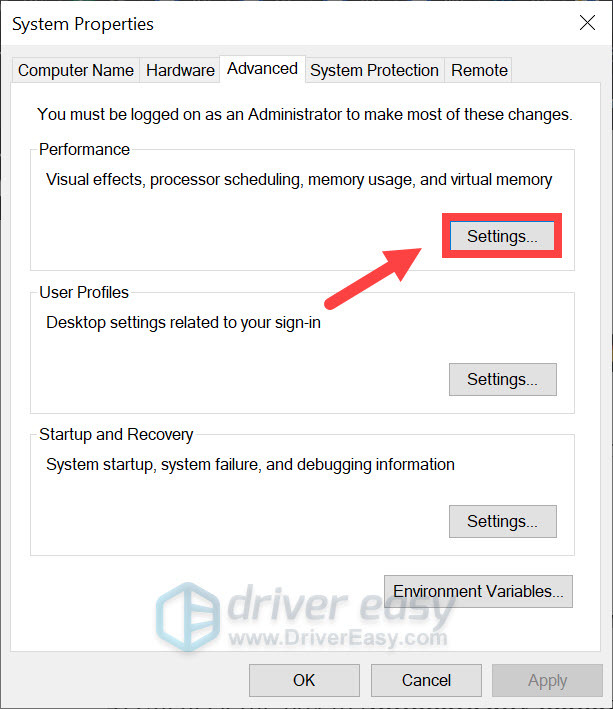 3) Select the Advanced tab and then click Change.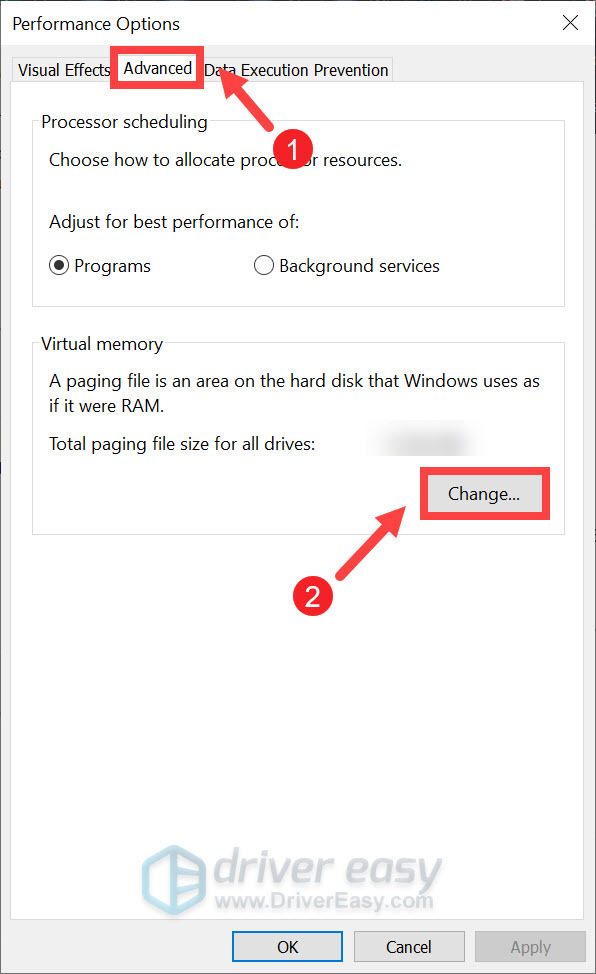 4) Uncheck the box to Automatically manage paging file size for all drives. Then select your C drive and click Custom size.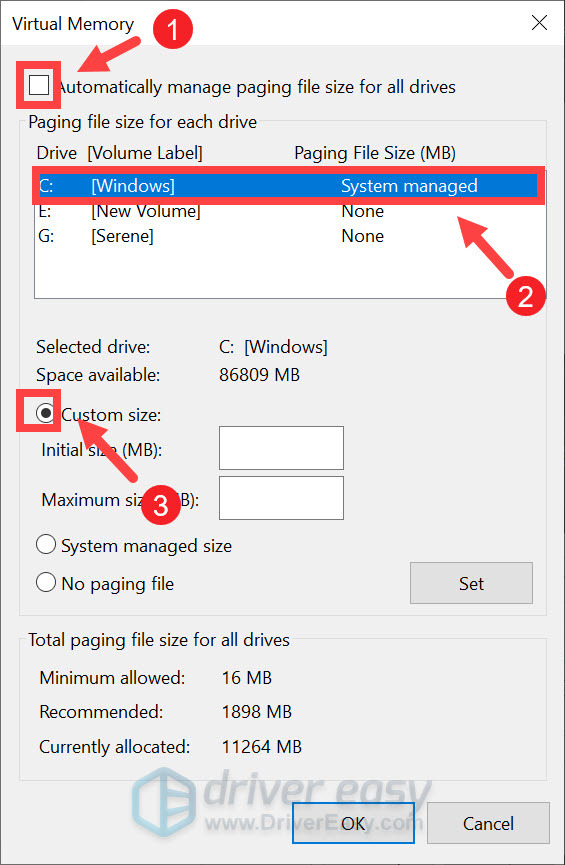 6) Enter the initial size and maximum size depending on the amount of RAM your PC has. Then, click OK.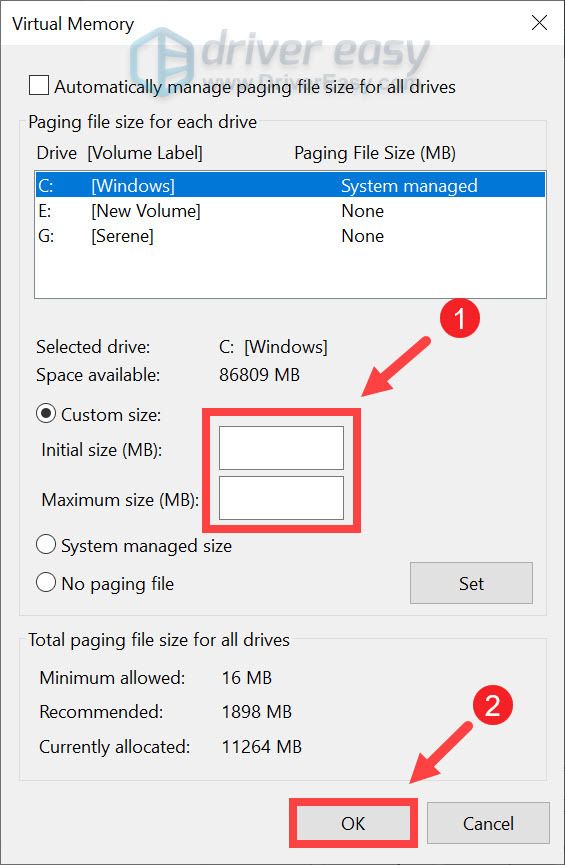 Note: According to Microsoft, you should set virtual memory no less than 1.5 times and no more than 3 times the amount of RAM on your computer. For example, if you have 8 GB RAM, the Initial size should be 8 x 1024 x 1.5 = 12288 MB while the Maximum size should be8 x 1024 x 3 = 24576 MB. If you don't know how much RAM you have, read our post to check RAM on your computer.
Once done, restart your computer. Then launch Battlefront II and you should be able to boot up your game instantly.
---
Hopefully, the solutions listed above could be helpful to you. If you have any ideas or questions, do not hesitate to leave us a comment below. We'll get back to you ASAP.
1
1 people found this helpful