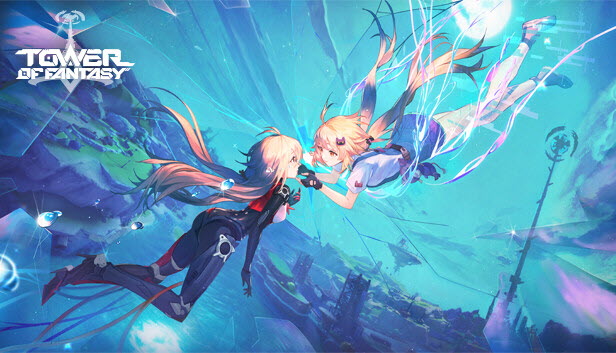 Tower of Fantasy is finally out. We don't know if it's going to be the Genshin Killer, but what we do know is the launch wasn't that smooth and many PC players are reporting a crashing issue. If you happen to be on the same boat, don't worry. We've already got some working fixes for you to try.
Try these fixes:
You may not need to try all of them. Simply work your way down until you find the one that does the charm.
Fix 1: Modify config files to fix launching issues
Though Tower of Fantasy is not a demanding title, it is reported to have launching issues on some low end PCs. If you can't seem to launch the game, you can try to modify some config files to make it work.
On your keyboard, press Win+R (the Windows key and the R key) to invoke the Run box. Type or paste %Appdata% and click OK.

Go to Local > Hotta > Saved > Config > WindowsNoEditor. Right click GameUserSettings.ini and rename it to GameUserSettings.ini.backup.

Right-click the empty area and create a new .txt file with the name GamerUserSettings.ini. Edit the file and paste the following:

[D3DRHIPreference]
bPreferD3D12InGame=False


Then press Ctrl+S to save the changes.
Now you can restart Tower of Fantasy and check the results.
If the game still crashes, take a look at the next fix.
Fix 2: Update your graphics driver
Some wanders reported a Vega Integrate Graphics crashing issue, which means the game crashes could be driver-related. If you are using a buggy or outdated graphics driver, you may run into performance issues with new titles. Always make sure you're using the latest correct graphics driver.
You can update your graphics driver manually, by visiting the GPU manufacturer's website, downloading the latest correct driver and installing manually. But if you don't have the time or patience to do that manually, you can use Driver Easy to update automatically:
Download and install Driver Easy.
Run Driver Easy and click the Scan Now button. Driver Easy will then scan your computer and detect any problem drivers.

Click Update All to automatically download and install the correct version of all the drivers that are missing or out of date on your system.
(This requires the Pro version – you'll be prompted to upgrade when you click Update All. If you don't want to pay for the Pro version, you can still download and install all the drivers you need with the free version; you just have to download them one at a time, and manually install them, the normal Windows way.)

The Pro version of Driver Easy comes with full technical support. If you need assistance, please contact Driver Easy's support team at support@drivereasy.com.
After updating all the drivers, restart your PC and check the gameplay in Tower of Fantasy.
If the latest drivers can't stop the crash, you can check out the next fix below.
Fix 3: Install all Windows updates
You should also make sure your system has all the system updates. Normally Windows will schedule that for you, but you need to confirm it manually when you're experiencing computer issues.
On your keyboard, press Win+R (the Windows logo key and the R key) to invoke the Run box. Type or paste control update and click OK.

Click Check for updates. Windows will then check for available updates. (Or click Restart now if it prompts "Restart required")

To confirm you've installed all the system updates, repeat these steps until it prompts "You're up to date" when you click Check for updates.
If Tower of Fantasy still crashes, you can try the next fix below.
Fix 4: Run in compatibility mode
In some cases, the constant crashes indicate a compatibility issue. According to the feedback, running the game in compatibility mode is a potential fix to the problem. So you can give it a shot and see how things go. This is worth a shot especially if you're on Windows 11.
Go to the installation path of Tower of Fantasy (e.g. C:\Tower Of Fantasy\Launcher).
Right click tof_launcher.exe and select Properties.

In the pop-up window, navigate to the Compatibility tab, set to run this program in compatibility mode for Windows 8. Then check the box next to Disable fullscreen optimizations and Run this program as an administrator. In the end, click OK to save the changes.

Now you can test the gameplay in Tower of Fantasy.
If this fix doesn't work for you, undo the settings and continue to the next one below.
Fix 5: Modify your Registry (Advanced)
This fix requires a certain level of computer knowledge. Proceed with caution. (If you don't know what you're doing, skip this one and jump to the next fix.)
Some players found a possible solution to the crash by disabling TDR (Timeout Detection and Recovery) of the graphics driver in Registry. You can try the same and see how this goes.
On your keyboard, press Win+R. Type or paste regedit and click OK.

In the address bar, type or paste Computer\HKEY_LOCAL_MACHINE\SYSTEM\CurrentControlSet\Control\GraphicsDrivers and press Enter.

Right click the empty space and create a DWORD (32-bit) Value. Then name it TdrLevel.

Double-click TdrLevel to edit the value. Select Hexadecimal and set Value data to 0.

Now reboot your PC and launch Tower of Fantasy.
If TdrLevel didn't fix the issue, rename TdrLevel to TdrDelay, select the Decimal option and set Value data to 10 and try again after reboot.
If this fix doesn't give you luck, take a look at the next one.
Fix 6: Check for corrupted system files
If none of the fixes above work for you, chances are you're looking at a system issue. We all use our computer differently, so it's hard to determine what went wrong exactly: could be a faulty driver, or it might be corrupted system files. Either way, you can first run a scan with a system repair tool.
Restoro is a professional Windows repair tool that can scan your system's overall status, diagnose your system configuration, identify faulty system files, and repair them automatically. It gives you entirely fresh system components with just one click, so you don't have to reinstall Windows and all your programs, and you don't lose any personal data or settings. 
Download and install Restoro.
Open Restoro. It will run a free scan of your PC and give you a detailed report of your PC status.

Once finished, you'll see a report showing all the issues. To fix all the issues automatically, click START REPAIR (You'll need to purchase the full version. It comes with a 60-day Money-Back Guarantee so you can refund anytime if Restoro doesn't fix your problem).


---
Hopefully this post helps you fix the Tower of Fantasy crashing issue. If you have any ideas or suggestions, feel free to give us a shout in the comments below.
2
2 people found this helpful