System Service Exception on Windows 10 [Solved]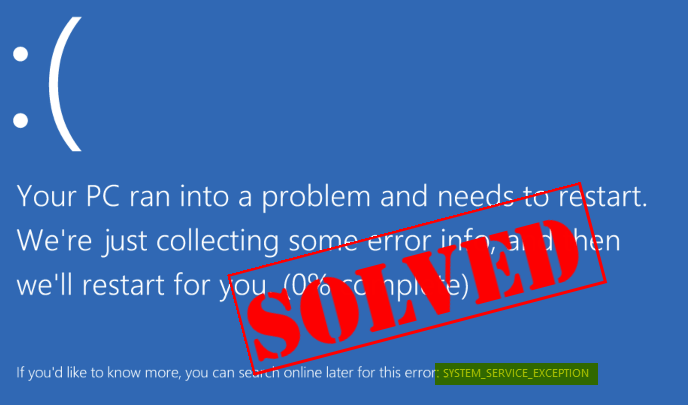 Are you getting the SYSTEM SERVICE EXCEPTION blue-screen error in Windows? There's nothing scarier, in the Windows world! But don't worry. You're not alone, nor are you stuck with it. The System Service Exception blue screen of death (BSOD) error is quite common, but it's usually also quite simple to fix. Here's how… 
4 fixes for the System Service Exception blue-screen error
Here are 4 fixes for you to try, ordered by how likely they are to resolve the problem. You may not need to try them all, just work your way down until you find the one works for you.
You need to log in to the affected PC to follow try any of these fixes. If you're having trouble restarting your PC, read Option One in this post.
Fix 1: Update your device drivers (RECOMMENDED)
It's very likely the System Service Exception error is being caused by incompatible, faulty or outdated drivers.
Don't worry; it's probably not something you did. Drivers can become a problem overnight – one day they're working fine, the next, they're causing a blue-screen. That's because your computer is constantly updating its version of Windows, and the devices themselves routinely install new drivers. With all these changes occurring, it's only a matter of time until something fails or gets out of sync.
Easily check if your PC has problem drivers
Windows has a built-in tool for flagging problem drivers. To use it, on your keyboard, just press the Windows logo key and X at the same time, click Device Manager, then expand and your list of devices and look for one with an exclamation point. If you see any, those drivers need to be updated: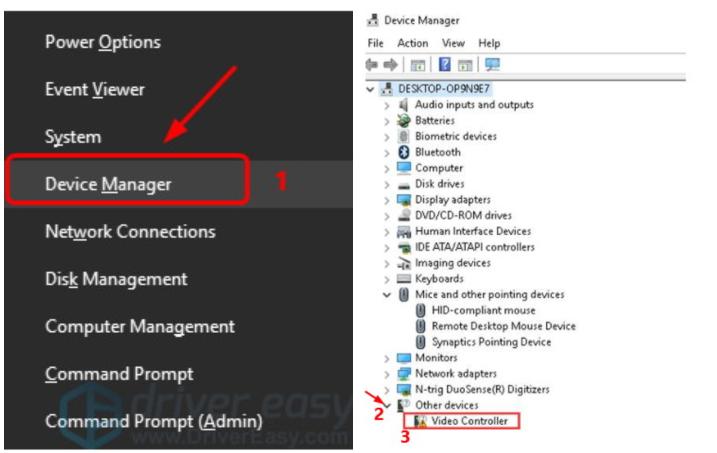 Automatically update all your drivers at once
Updating drivers is easy – you can do it automatically with Driver Easy. It will identify, download and install all the correct drivers for your particular combination of computer, devices and operating system. Here's how:
1) Download and install Driver Easy. 
2) Run Driver Easy and click the Scan Now button. It will scan your computer and detect any problem drivers.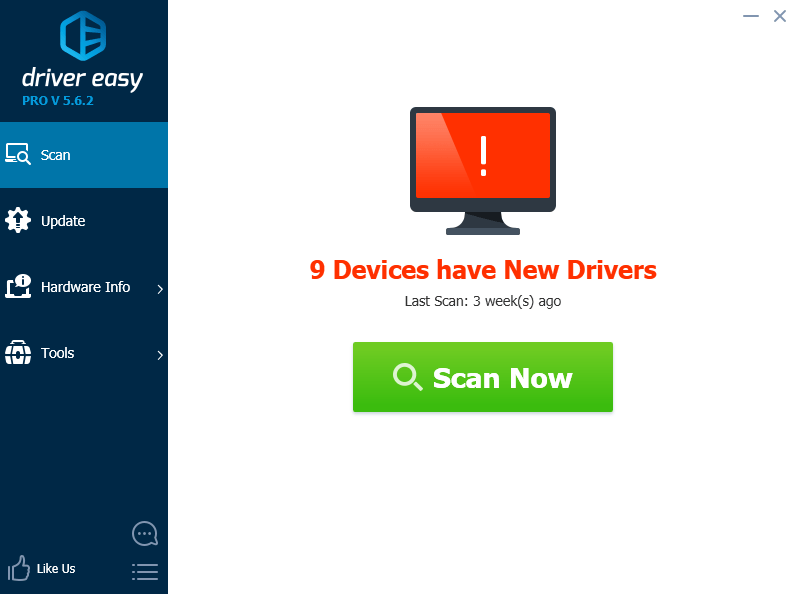 3) Click Update All to automatically download and install the correct version of all flagged drivers.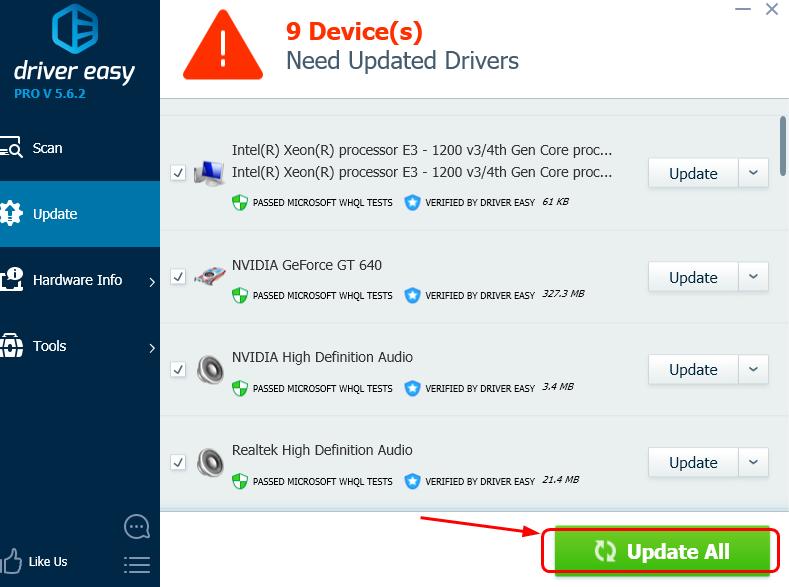 4) Restart your computer and see if the same problem is resolved. 
Note that the above procedure requires the Pro version of Driver Easy (don't worry, it comes with a 30-day money-back guarantee – no questions asked). If you'd rather update your drivers manually, you can do this with the free version of Driver Easy, or you can do it by visiting the appropriate manufacturer websites for all your problem drivers, searching for the most recent correct drivers for your devices, then downloading and installing them. But be sure to choose the correct variant for your version of Windows; a single wrong driver can cause big problems.
Fix 2: Revise recent system changes
One of the causes of this blue screen error could be recent changes you've made to your system. If you've added new hardware or software to your system recently, remove them to see if the problem is fixed. Or check to see if any patches are provided by vendors. 
Fix 3: Run System File Checker
The System Service Exception blue screen error could also be caused by corrupt or faulty system files. To see if this is your problem, use System File Checker. It will identify and replace any corrupt system files. To run it: 
1) On your keyboard, press the Windows logo and S at the same time, type cmd, then right-click Command Prompt and click Run as administrator.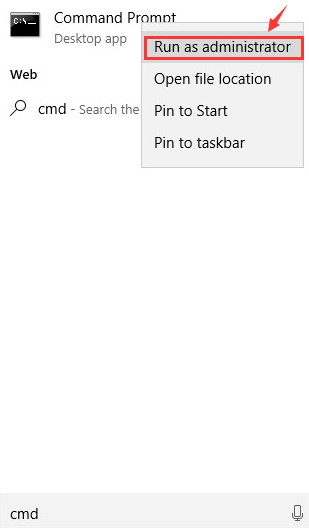 2) Type chkdsk /f /r, then press Enter on your keyboard.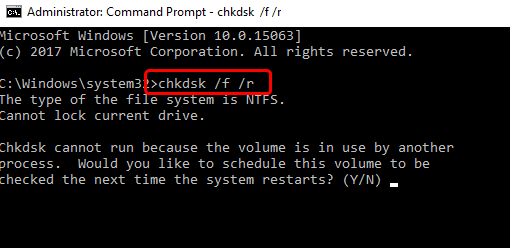 3) Press Y on your keyboard.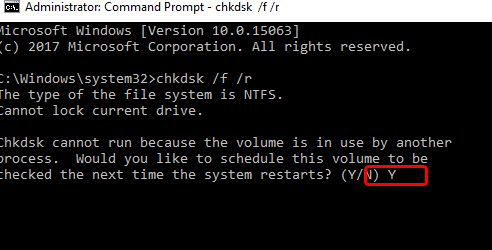 4) Restart your PC. Wait for the scans to finish (it can take up to 15-20 minutes).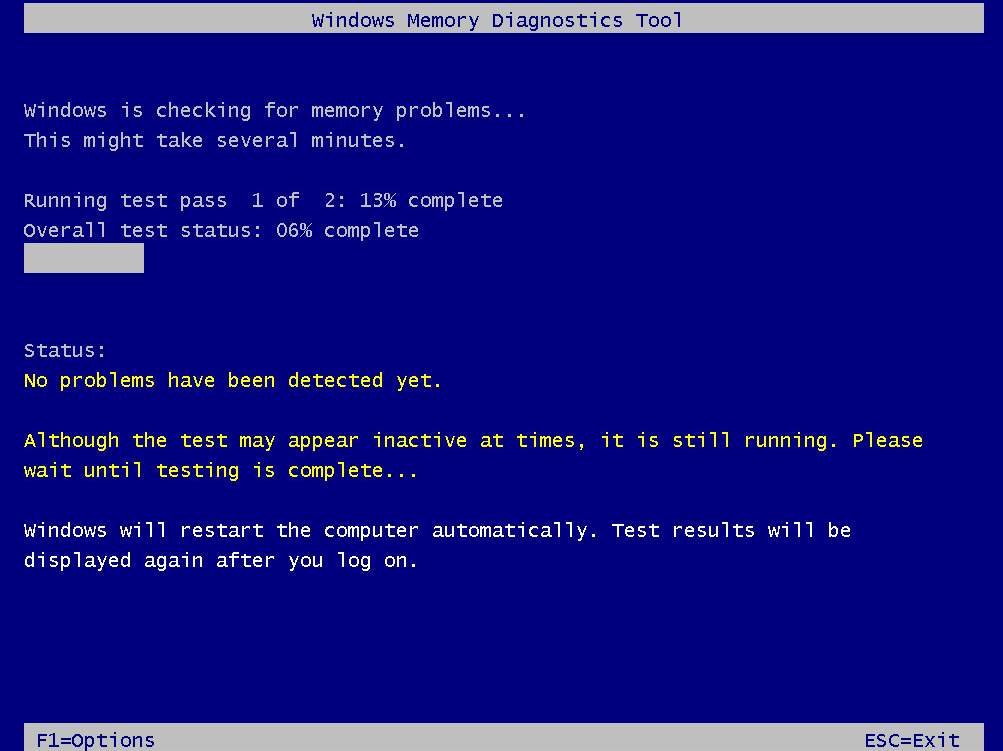 5) Check if the problem is resolved. 
Fix 4: Uninstall any third-party antivirus applications 
If you have an antivirus program other than Windows Defender on your PC, it may be causing the System Service Exception blue screen error. 
So if you're using antivirus software such as McAfee, BitDefender, Virtual Clone Drive etc., you should disable it. If this resolves the problem, contact the program's support team for more assistance. (Or just uninstall the program completely. Windows Defender is more than enough for most ordinary users.)
Be extremely careful about the websites you visit when you have no antivirus applications installed. You should leave Windows Defender on all the time.