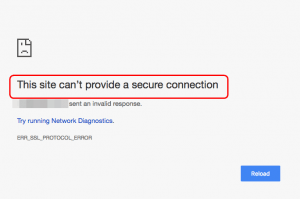 If you're on Google Chrome and you can't go to a webpage, and you're seeing the error message This site can't provide a secure connection, you're not alone. Many Windows users are reporting this issue as well. Some of you might notice the error message ERR_SSL_PROTOCOL_ERROR underneath as well.
But no worries, this type of error shouldn't got your worry so much if you are not the website administrator. But there are always fixes we can adopt to rule out the cause on our side. Here are 3 of them. 
What does 'This site can't provide a secure connection' mean? 
SSL protocol is usually related to the server on the website end. If you're seeing SSL errors, there are big chances that the server of the website you are to access is somehow flawed, causing communication problems between you and the website. 
That said, there is little say for you to decide how to deal with this sort of issues. But there are always something we can do on our end, just to make sure that the problem is not on our side. 
Option 1: Try to access the same website later
If this is the first time you run into this error message in the website, you can turn it off and restart your browser. Then try to access again.
You can also try to access to the same website via other browsers. If they give similar error messages, the problem is very likely to be on the website server side.
If Google Chrome is the only browser you're having trouble with, try to reinstall your Chrome to see if the problem happens again.  
You can also restart your PC and try again from there. 

Option 2: Try to use 'http://' instead of 'https://'
If you can make sure that the website you are to visit is absolutely secure, you can try to adjust it URL address to one that begins with http:// instead of https://. 
Change from this: 

to this: 

But we should remind you that not all websites allow you to do so. 
And you should only do this when you're 100% sure that the we page is safe and secure and you shall never disclose your personal information there. 

Option 3: Contact the website administrator
If you've done all you can do on your side and the problem remains, you should consider contact the website administrators for more information. 
They should be able to tell you exact what goes wrong and when the problem will be fixed. 
57
57 people found this helpful