This post shows you how to convert VOB to MP4 step by step.
VOB (Video Object) is a container format in DVD-Video media, containing digital video, digital audio, subtitles and DVD menus. However, if you want to play your VOB videos in your Windows computer, Mac or your mobile phone, VOB videos usually are incompatible. So in that case, you'll need to transfer VOB to MP4 which is a multimedia format that is supported in most devices.
How to convert from VOB to MP4
Method 1: Convert VOB to MP4 with a video converter
To convert VOB to MP4, generally you can do it with a video converter, and this guarantees you high-quality videos after transforming. There are many third-party video converters. If you're not sure which software you could trust, you can use WinX HD Video Converter Deluxe.
With WinX HD Video Converter Deluxe, you can convert VOB to almost 1000 formats, including MP4, AVI, and MOV, you can edit and enhance your videos, and you can add DVD content to your computer with any format.
Why you should use the video converter:
Edit, merge, crop, cut, trim your videos easily
Convert videos and fix video playback problems
Download videos/music from 1000+ sites
30X Faster Video Conversion Speed
Record videos from computer screen or webcam
……
Follow these steps to convert VOB to MP4 quickly and easily:
1) Download and install WinX HD Video Converter Deluxe (available on Windows and Mac).
2) Run the downloaded VideoProc.
3) Click the Video button.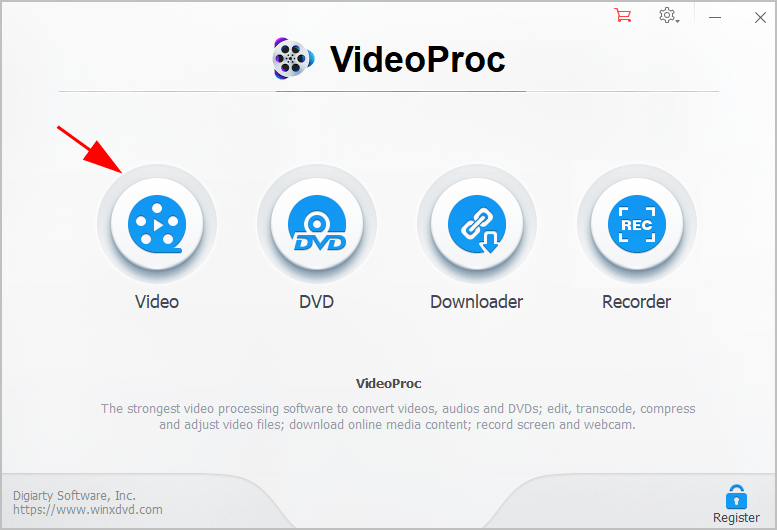 4) Click + Videos. Then select your VOB file to import.
Or you can simply drag and drop your .VOB file into the pane.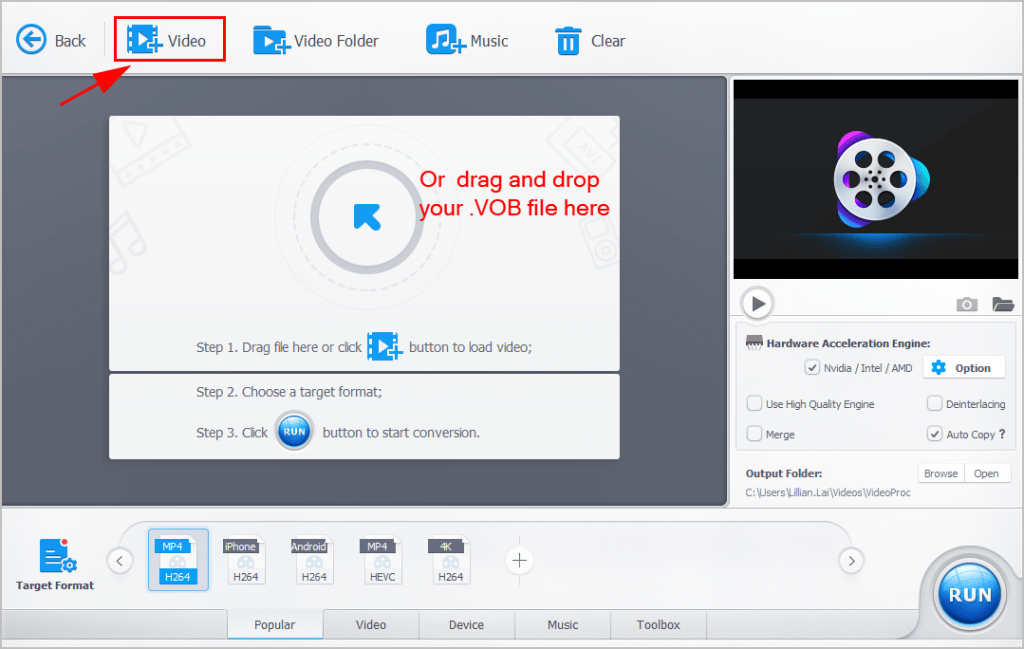 5) Under the Target Format section, click Video and choose MP4.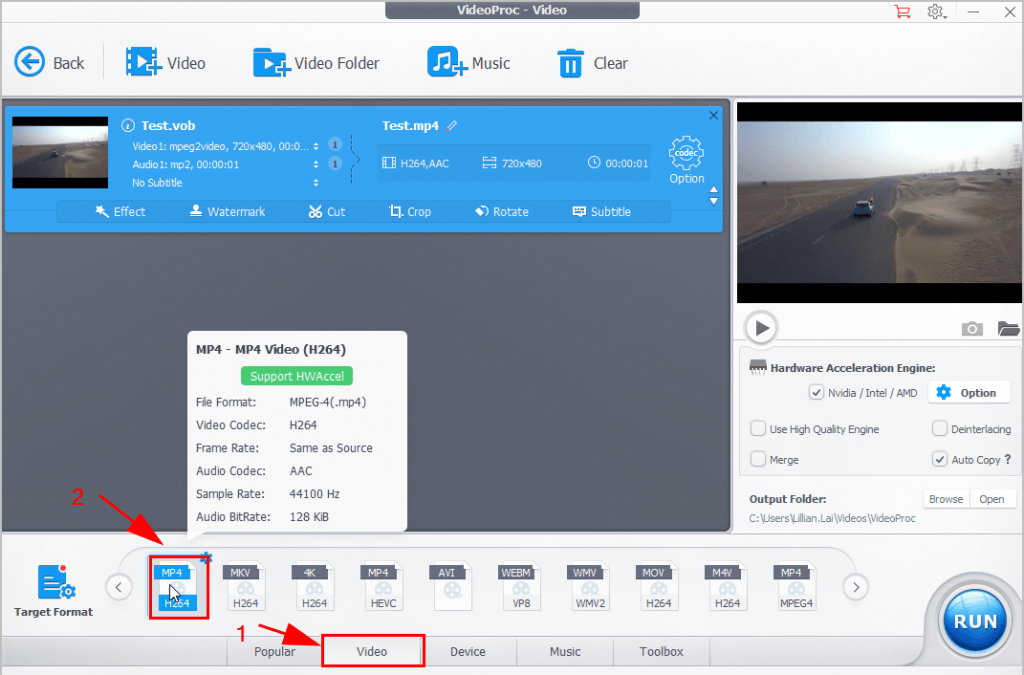 6) You can customize your output folder by clicking Browse.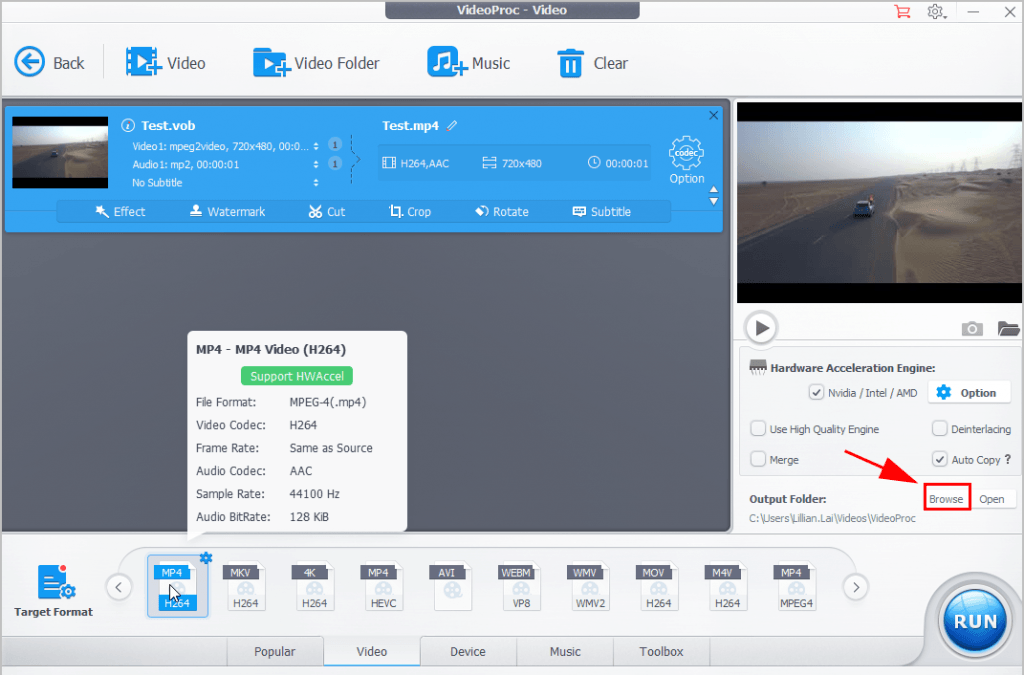 You can also click Codec Option to customize your video.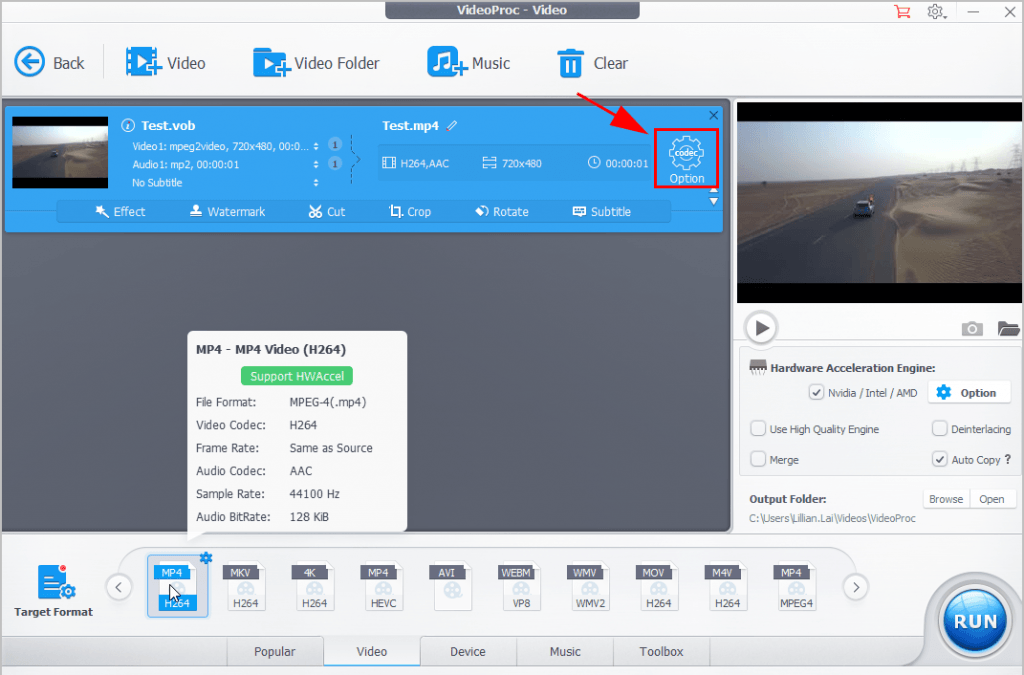 7) Click Run at the bottom right corner.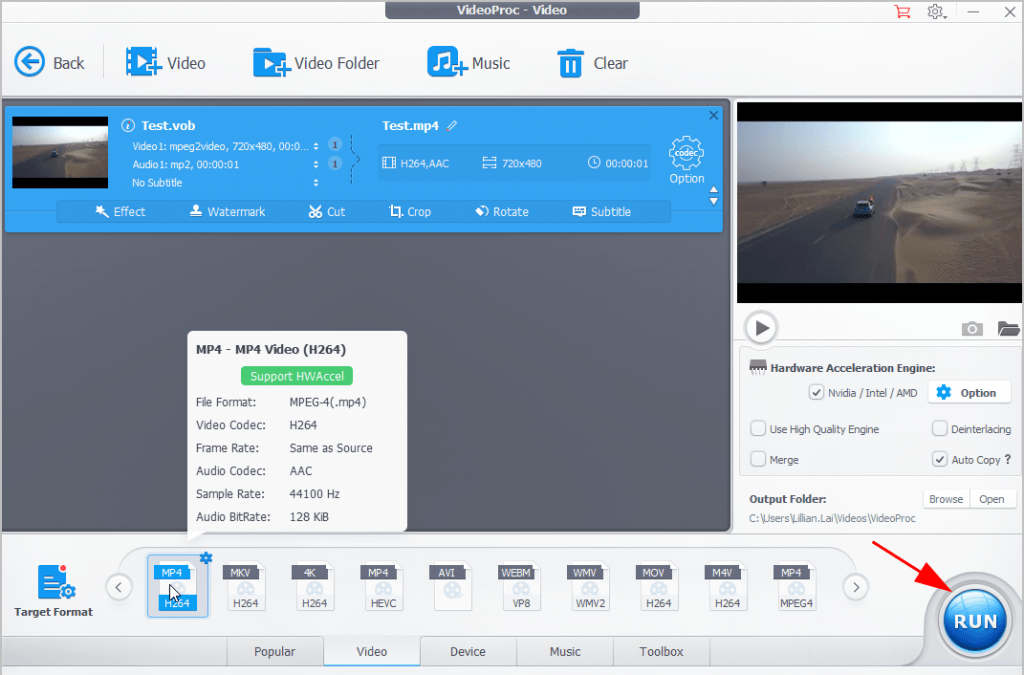 8) Then the video converter will automatically do the work for you, and open the location where your MP4 video file is saved in File Explorer for you.
Now you should have converted videos successfully from VOB to MP4. Enjoy it!
If this method doesn't work for you, don't worry. You can try Method 2.
Method 2: Convert VOB to MP4 online
If you wish convert VOB to MP4 online, that's completely possible. There are many online video converters that help you with that. Just search on the Internet and choose the online video converter you prefer, then follow the provided tutorial to finish it.
If you don't have the time or patience, just follow the steps below to convert VOB to MP4 online:
1) Open https://www.media.io/video-converter.html in your web browser.
2) Click Add your files on the left, and your File Explorer will pop up. Then choose your .VOB file in your computer to upload.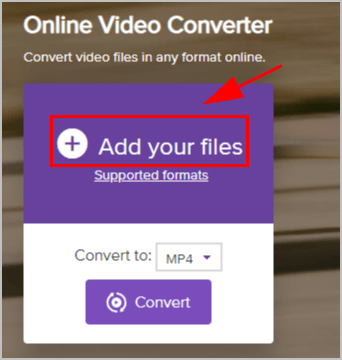 3) In the drop down menu of Convert to:, click Video > MP4. Then click Convert.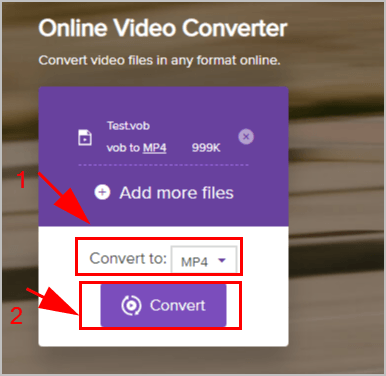 4) Once converted, you'll see "Success" on the page, then click Download All to download the .MP4 file.
5) Open the downloaded file and you'll see the MP4 file you want.
Tadah, now you've converted your videos from .VOB to .MP4. It's pretty easy!
Kindly note that online video converters is simple and easy to deal with when there is only one video with small size. If you have more than one videos or your video file is large, it's recommended to use the video converter in your computer.
So that's it. If you have any questions or suggestions, feel free to leave us a comment below.
10
10 people found this helpful
Available in other languages