Hiding your IP Address and Stopping ISP Throttling is One Click Away
uTorrent is one of the world's best torrent clients. It's been around for many years, and is trusted by millions of torrenters around the globe.
It enables you to download big files in small pieces, and each of those pieces comes from other users who are downloading the same file, or have already downloaded it. (Normally when you download a file, you download the whole thing from a single location – generally a server owned by the distributor of the file.)
This article describes how to use uTorrent to download movies.
Hide your IP address with Surfshark VPN
As low as $2.49/mo. 100% money-back guarantee for your first 30 days.
Get Surfshark VPN
Step 1: Install a VPN to protect your privacy (optional)
Downloading torrents is perfectly legal, so long as the files you're downloading aren't protected under copyright.
Downloading copyrighted shows, movies and music is illegal, and can attract significant penalties. All the major studios actively monitor torrent sites to capture the IP addresses of the people illegally downloading their works. They then contact the associated internet service providers (ISPs) and get them to trace that IP address back to you. In many countries, ISPs are legally obligated to tell the studios who you are. And even in countries where they're not legally obligated, many ISPs will share your details anyway, simply because it's easier.
If you plan to download copyrighted material, you should definitely use a VPN so you can't be tracked and prosecuted. A VPN (which stands for 'virtual private server') hides your IP address from prying eyes. Our favorite VPN is NordVPN. It's fast and cheap, and – most importantly – it will keep your IP address hidden.
Note: Some VPN services are free but, as with most things in life, you get what you pay for. Free VPNs are never as good as paid ones; either they're not as fast or reliable, or they can be forced to share your details with the authorities.
Step 2: Install uTorrent
If you haven't already installed uTorrent, that's your next step. Here's how:
1) Click here to download uTorrent.
2) Double-click on the downloaded file and follow the on-screen instructions to install it.
Pay attention to each step when you install uTorrent, as it may prompt you to install some bundled software like Adaware Web Companion. Don't worry, it won't harm your computer if you accidentally install the bundled software too. And you can easily uninstall it afterwards. See How to Uninstall Apps in Windows.
3) When you get to the Configuration screen, tick the boxes as follows: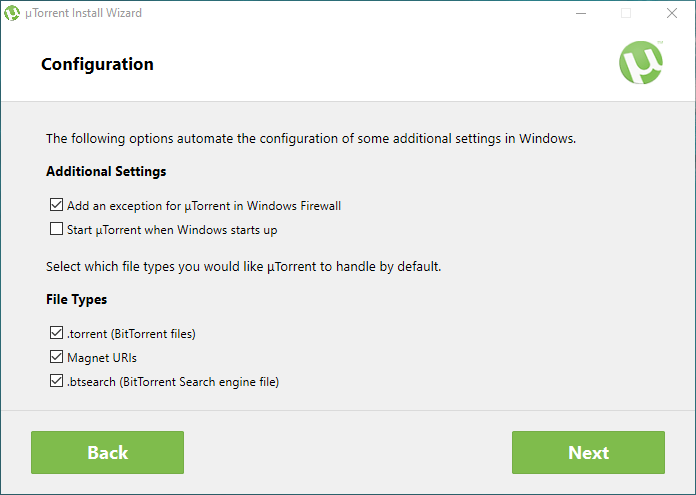 4) Click Next to complete the installation.
Step 3: Configure uTorrent settings for maximum privacy
Now it's time to specify where you want your downloaded movies to be stored.
1) Open uTorrent.
2) Select Options > Preferences > Directories.
3) Tick the Put new downloads in checkbox, then click the three dots to the right of the field to browse for the folder you'd like to save downloaded movies to.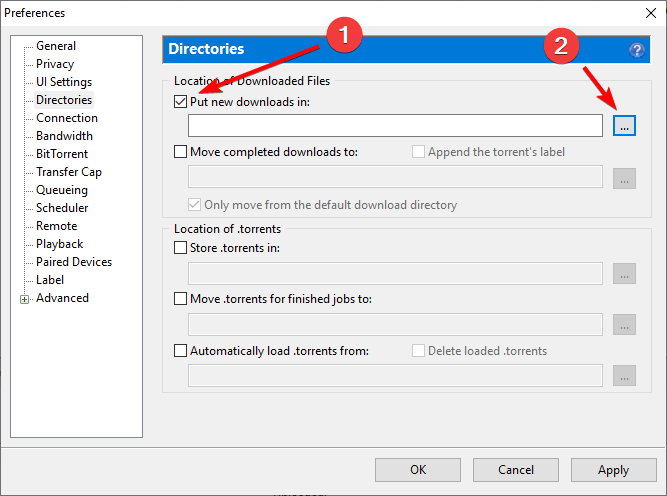 4) Click Apply.
Step 4: Install an anti-malware program to protect your computer (optional)
uTorrent is completely safe, but some files that you may download with it may not be.
If you don't already have an active anti-malware program installed, which constantly monitors your internet connection and scans downloads in real time, you should definitely install one. Importantly, Windows Defender isn't enough if you're downloading torrents. You need something more capable.
We recommend Malwarebytes Premium. In our testing, it's easily the best anti-malware program on the market. When you start downloading torrents, it will monitor your computer and connection and protect against malware in real time (including attacks that exploit bugs or vulnerabilities in your computer's security). And once you've downloaded the movie, you manually scan it with Malwarebytes to check for viruses and malware.
Step 5: Connect to a VPN server (optional)
Downloading torrents is perfectly legal, so long as the files you're downloading aren't protected under copyright. If you plan to download copyrighted material, you should definitely use a VPN so you can't be tracked and prosecuted.
When you connect to a VPN server, anyone monitoring the sites you visit will see only the IP address of the VPN server, not yours.
The steps below apply to NordVPN (because it's our favorite VPN), but other VPNs work in much the same way.
1) Open Nord.
2) Click Quick Connect.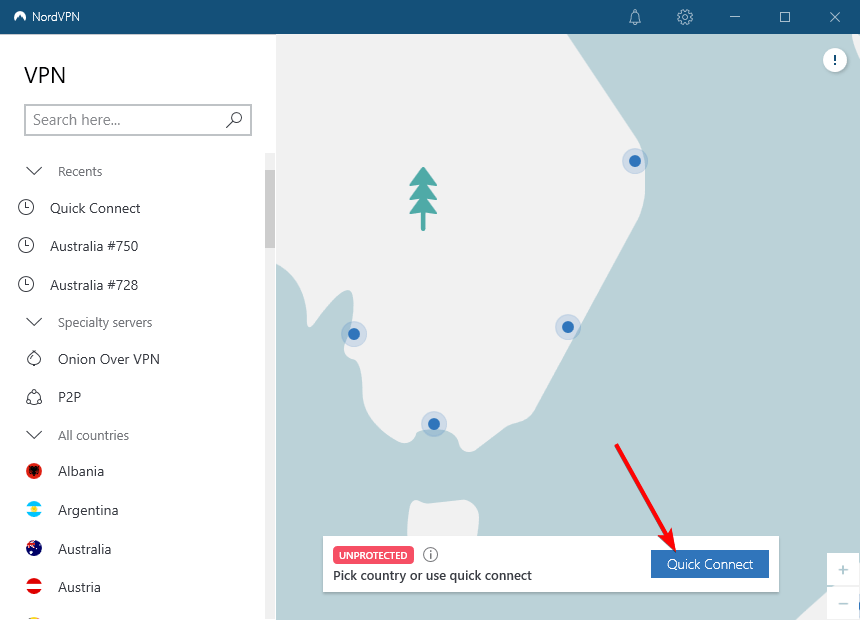 3) Wait for Nord to display PROTECTED.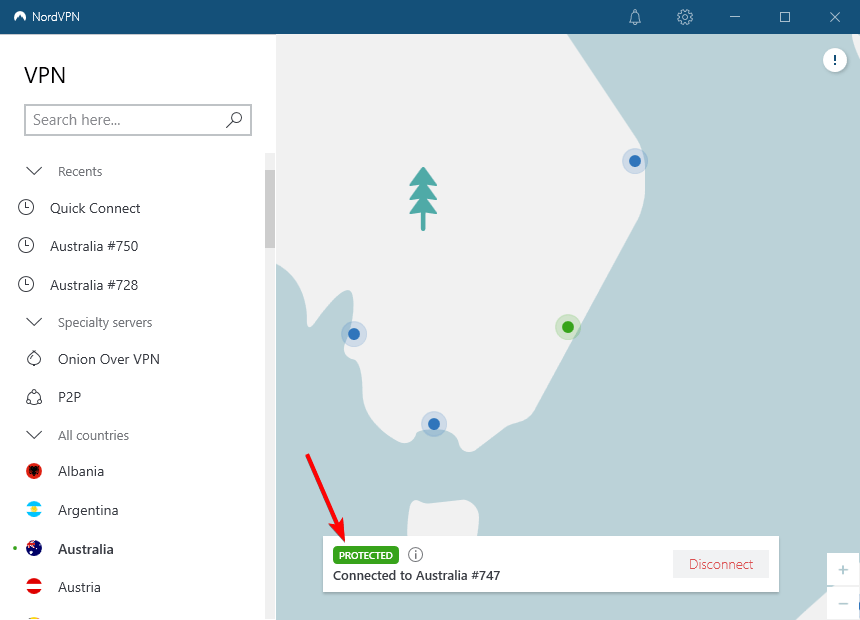 Step 6: Download a movie from a torrent website
Most torrent sites provide pirated content. We discourage the download of such content. You should download only content that is legal in your country.
There are hundreds (probably thousands) of torrent websites out there. But there aren't many good ones. Here's a list of our 10 favourites…
1) Search for the name of the movie you want to download.
2) The search results will usually be ordered with the best downloads at the top of the list. With torrents, "the best" means a trusted source, lots of 'seeds' (people who have finished downloading the movie, but are still sharing the file so others can download from them too), and lots of 'leeches' (people who are currently downloading the movie, and allowing others to download pieces of it from them while they do). Click the magnet icon next to the search result to download the torrent file.
3) uTorrent will recognize that you've downloaded the torrent file and ask if you want to open it with uTorrent. Click Open uTorrent, and the movie download will start.

4) When the movie download is complete, uTorrent will notify you. You can then switch to the Completed window, and double-click on the downloaded file to watch the movie. Or you can right-click on the downloaded file and select Open Containing Folder to locate the downloaded file.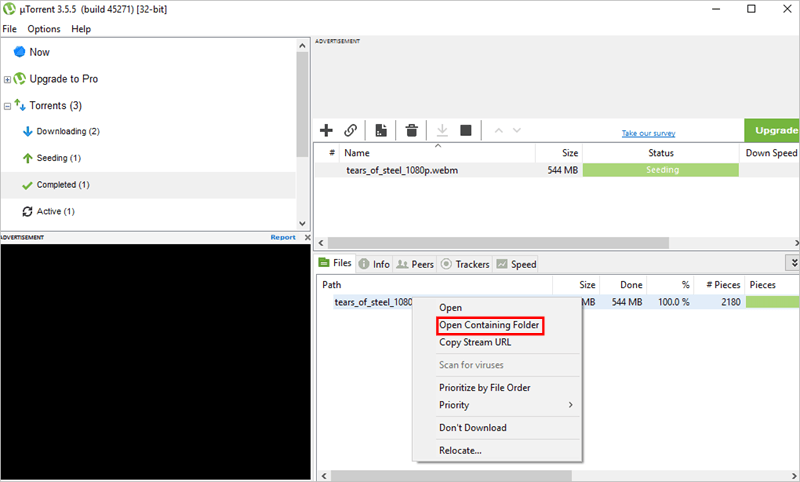 TIP: If you have multiple torrent files downloading at once, you can choose the order you want them to download in:
1) Switch to the Downloading window.
2) Select the download you want to download first.
3) Click the Move up queue button to move the download up to the top stop in the queue.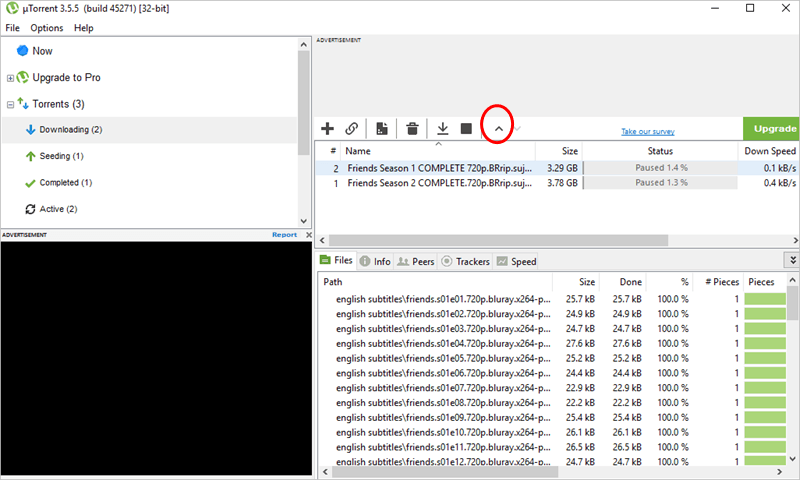 Hopefully, you know how to download movies with uTorrent with the steps above. If you have any questions, ideas, or suggestions, feel free to leave a comment below.
157
157 people found this helpful