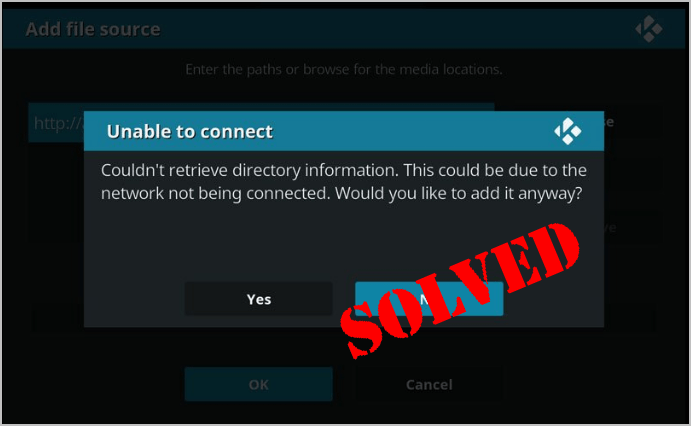 When you try to install a Kodi add-on or Kodi build but fail, and you're seeing this error message saying:
Unable to connect
Couldn't retrieve directory information. This could be due to the network not being connected. Would you like to add it anyway?
It could be super annoying. But there's no need to panic. You're not the only one. We've had many reports from Windows users about this issue. More importantly, you'll be relieved to know how to fix this Kodi unable to connect error easily. Read on and find how…
Follow the questions below to troubleshoot the issue step by step:
Q1: Is the source you've inputted exactly correct?
Generally, the "Couldn't retrieve directory information" error means the source you've inputted can't be found. It could be simply because the source you've inputted is wrong, like there's typo, extra space in the URL.
So when Kodi tells you the Unable to connect error, firstly check the URL you've type or paste, make sure it's exactly typed correctly.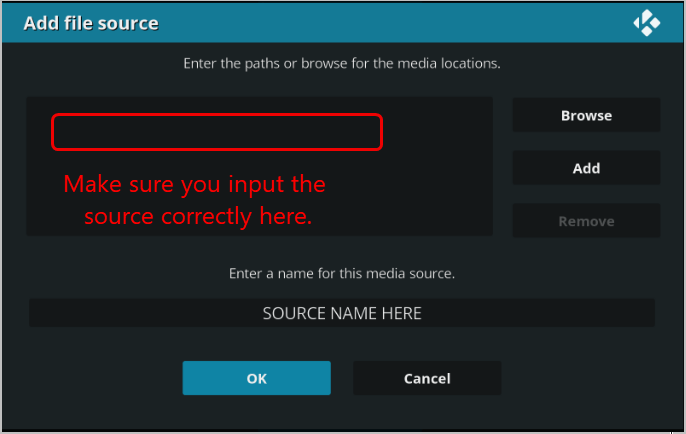 Then add the source again.
If you add the source successfully, so great. If you still see the error, don't panic, you have something else to try…
Q2: Does your Windows computer connect to Internet successfully?
The network connection error on your computer can also probably cause the Kodi Unable to connect issue. So when you see the error message, you should check the network connection on your computer.
Method 1
You can run the Windows Network Diagnostics utility on your computer to detect any network issue. It's easily and quickly, see how:
On the taskbar of your computer's desktop, right-click on the network icon, then select Troubleshoot problems.
The Windows Network Diagnostics utility will then run automatically and check for any problem.
You would see the error detected on the result window if the network connection has problem on your computer. Here are solutions for two common network errors: (Click the error message for the specific solutions)
Method 2
Many network connection problems could be due to the old, missing or corrupted network driver on your computer. You can solve it easily by updating your network driver. Whether you choose to update the network driver manually, using Windows Update, or you use a trusted third party product, it's essential that you have the latest correct device drivers for your operating system at all times.
If you're not comfortable playing with device drivers, we recommend using
Driver Easy
. It's a tool that detects, downloads and (if you go Pro) installs any driver updates your computer needs.
To update your drivers with Driver Easy, just click the Scan Now button, then when it lists the drivers you need to update, click Update. The correct drivers will be downloaded, and you can install them – either manually through Windows or all automatically with
Driver Easy Pro
.
Note: If your computer lose network connection, you can try the
Offline Scan
feature of Driver Easy to update your network driver.
Have you fix the problem? If yes, great! If the error still exists, don't give up hope, move onto the next step.
Q3: Does the source you want to add run properly?
If you've ensured that you enter the URL correctly and the network connection is great, time to check if the source you added runs properly.
Follow to check the status the source you want to add:
Enter the source in your browser and press Enter.
If the source runs properly, you would see a page containing a zip file.

If the source is down or offline, you would be prompted an error message saying: This site can't be reached.
If this is the case, we recommend downloading other add-ons from the official Kodi website of your choice.
Hopefully you've solve the Kodi unable to connect error. Feel free to comment below with your own experiences and share with your friends or colleagues if they have the same problems.
6
6 people found this helpful