Vehicle Search by VIN
Enter VIN below, get valuable information about a car.
Powered by approved NMVTIS Data Provider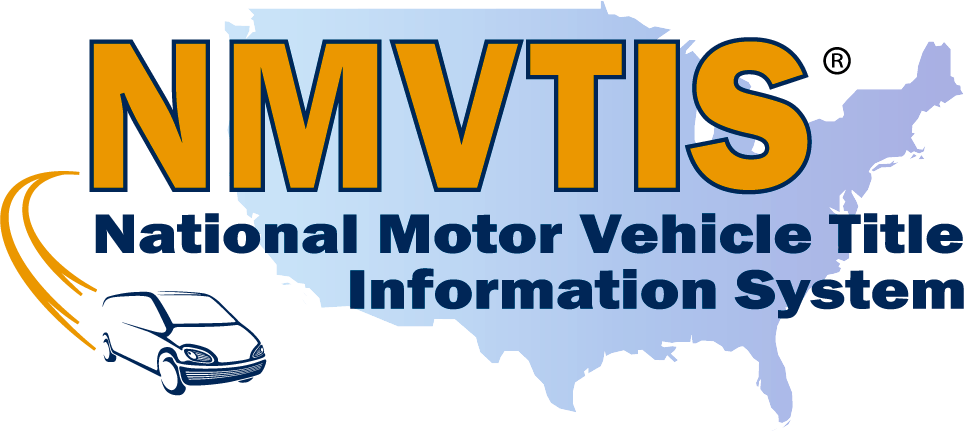 Whether you are interested in getting a used car or already own one, running a thorough car search will be greatly beneficial. With a car search, you can determine whether a vehicle is roadworthy or whether the transaction is fair, giving you peace of mind before you decide to buy it. If you're a car owner, you can find out through a car search which matching parts should be used when your car is being serviced.
So, where should you start your car search? It's not difficult at all, and the answer is to use a VIN.
---
What's VIN & How VIN can help with your car search
VIN stands for Vehicle Identification Number. It's a standardized and unique code that goes with every vehicle in the US. A VIN is like a fingerprint for a car and it can track a vehicle across its lifespan.
The VIN has been a 17-digit number on all vehicles since 1981. The numbers are not arranged at random; they display a car's basic information such as manufacturer, brand, engine size and type, vehicle year and so on.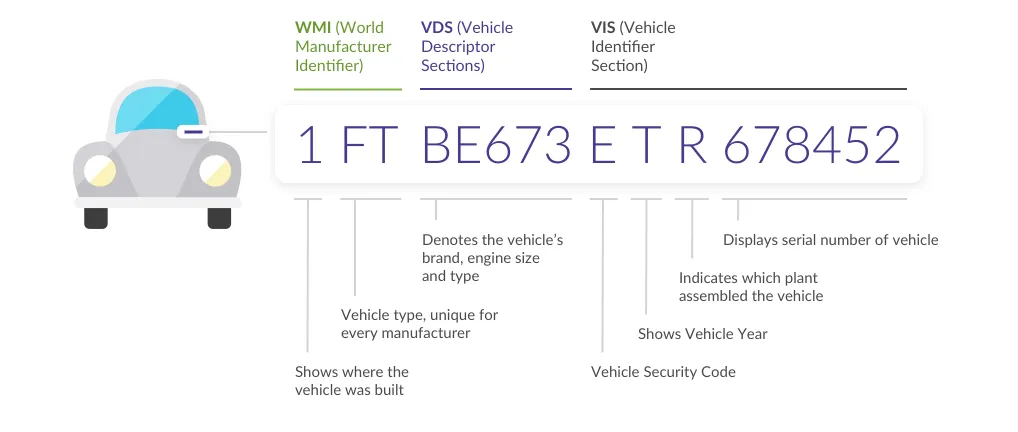 For a complete and comprehensive car search, such basic info is far from enough. In this case, a VIN lookup is necessary to get incredibly detailed information. From a VIN lookup, you can gain access to a lot more information as the following:
Photos
Vehicle specs
Warranties
Market value
Sale listings
Ownership cost
Past & present owner details
Special purpose designations
Recalls
Title records
Theft records
Salvage records
Accident history
Modification
Vehicle safety information
Etc.
With all the instrumental information in hand, you can have a clearer picture of the overall condition of a car. And that's how a VIN lookup can help with your car search: foresee potential problems, make an informed decision about buying a car, and become a qualified car owner.
If you're ready to run a car search by VIN, check out the methods we've compiled for you below.
---
How to perform a car search with VIN lookup services
Although there are many different VIN check tools out there on the market, not all of them can provide professional VIN lookup services with accurate information to help with your car search. If you have no idea which one is reliable, we've put together some reputable options (free or paid) that we recommend for you:
1. BeenVerified

BeenVerified is a wonderful place to start when you want to have a deep dive into a car search with a paid yet advanced VIN lookup tool. With the latest data acquired from NMVTIS-approved sources and a database of billions of public records collected from reliable sources, BeenVerified is able to offer vehicle history reports revealing a plethora of information as well as the feature of previous owners details lookup.
Visit the BeenVerified VIN lookup page and enter a VIN number. Then click Search Now.
Wait as BeenVerified scans its database and scours all the available records of the matching car. After that, a detailed car report containing various useful info will be presented to you.

2. Bumper

Based on data obtained from state-level organizations, auto insurance providers, and trustworthy automotive industry partners, Bumper is a great tool in the VIN check field. Along with its extensive VIN search report, Bumper puts emphasis on key indicators to assist you in checking a car's title validity: title history, total loss history and odometer reading.
Go to the Bumper official website, type the VIN number and then click SEARCH.

Sit tight for the search process to complete. Then you will get a detailed report built by Bumper and see all the info associated with the car. A mobile app is also available for you to check the results conveniently on your phone.

3. EpicVIN

EpicVIN is also a reliable vehicle search tool with trusted sources. Its reliability comes from the fact that it's powered by an official NMVTIS data provider and that it constantly updates its database. So with EpicVIN, you can expect to get a full backstory of a used car with just the VIN number you provide.
Head to the EpicVIN Vehicle Search, feed the VIN into its search box and click SEARCH.

Wait a few seconds as EPICVIN checks its database and compiles a comprehensive vehicle history report for you.

4. NICB

NICB (National Insurance Crime Bureau) is a government-provided free VIN lookup service. Its purpose is to help individuals quickly identify frauds and scams before they buy a secondhand car. In NICB, you can check if a car has been reported as lost, stolen or totaled as a result of an accident. But on this website, you can only look up 5 VIN numbers in a 24-hour period.
1. Go to NICB's VIN Check page. Enter a VIN number, complete the captcha and click Search VIN.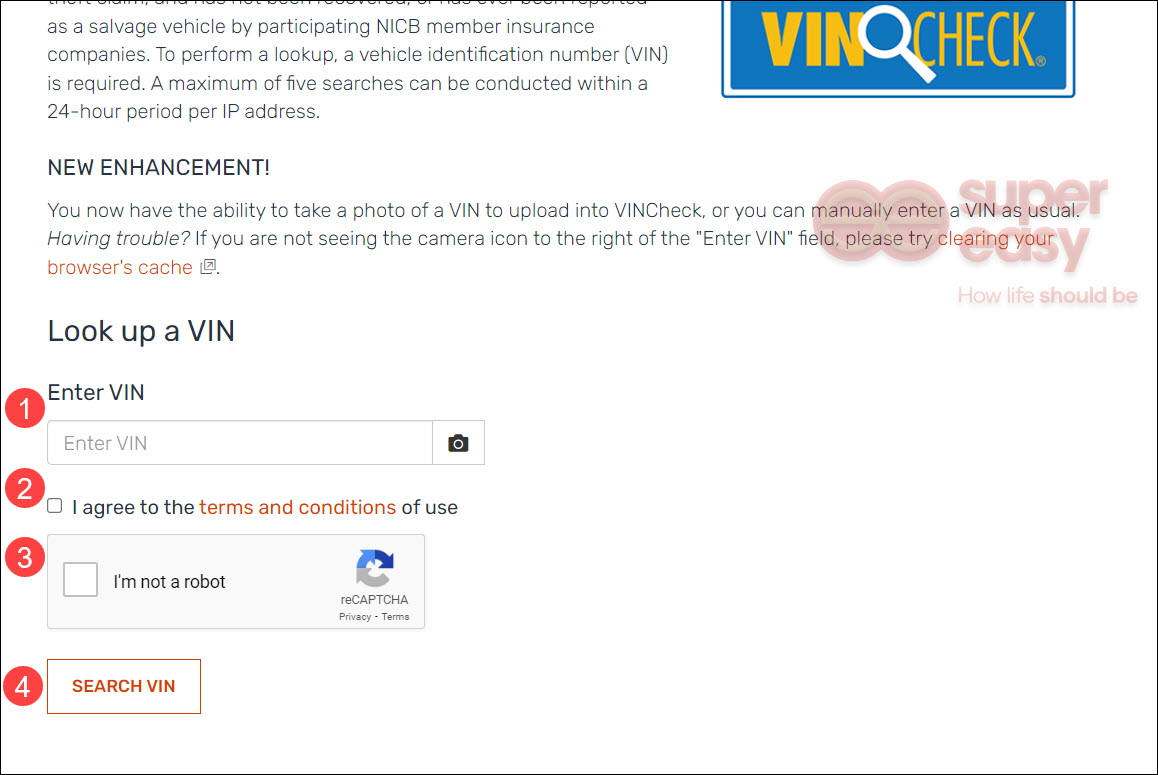 2. If the VIN is found in the NICB database, the VIN check results will be generated for you. In the results, you can check if the car you wish to buy has too many red flags.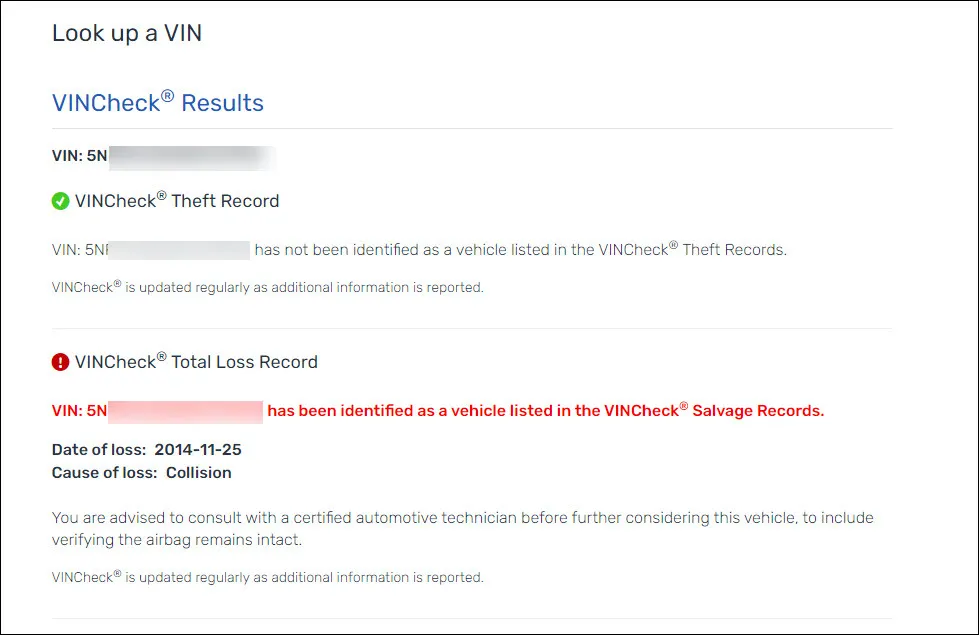 Many other free VIN lookup tools online can only provide basic car information and usually have a limit on the number of queries. If you want to go deeper into your VIN search without a usage limit, paid VIN lookup tools would be more helpful for you.
---
Where is a VIN located?
Different vehicles may have different VIN number locations, here are some of the more common locations where you can find a VIN: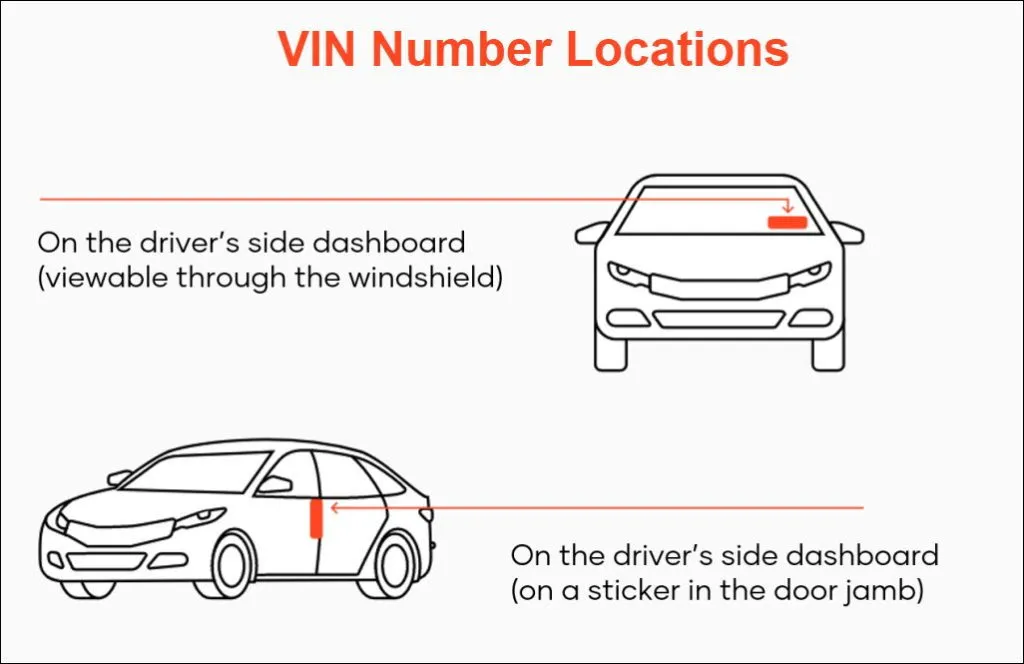 Interior dash on driver's side
On the inside of the driver's door
below the spare tire
On the front of the engine block
On the rear wheel well, directly above the tire
---
Wrapping up
In situations where you need to purchase a pre-owned car, it's always a good idea to have a car search beforehand. Especially if the car appears to be in perfect condition but the price seems to be too good to be true. With the help of a VIN check, you can glimpse into the car's history and reveal what hides behind its shiny coat.
Hopefully this post gives you some clues about what methods you may use to avoid falling into a price trap. Thanks for reading!
Featured image by vectorjuice on Freepik
The methods in this article provide you with easy access to public record information, but without a guarantee for accuracy and may include links to websites not listed as a Consumer Reporting Agency (CRA). Information acquired from these bodies is illegal to be used for employment, housing, credit, and other purposes alike, according to laws such as the Fair Credit Reporting Act (FCRA). If you're not sure whether your use of our methods is appropriate, click here for details.