Fix No Sound on Laptop Issue
When no sound is coming from your laptop, it can be frustrating. The no sound issue occurs can be due to several reasons like faulty audio drivers. To get the sound back, just follow instructions below. Apply to Windows 10, 7, 8.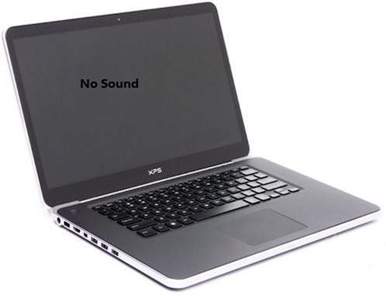 Firslty:

Ensure the audio device is enabled

If the speakers are disabled, you can't hear sound. Follow steps below to check for it.

1. Open Control Panel.

2. View by large icons and click Sound.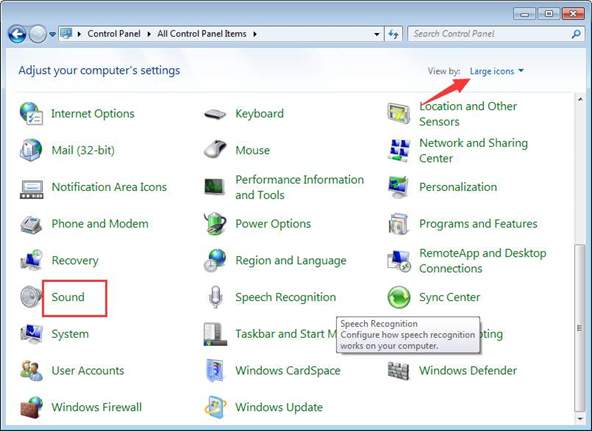 3. See the Speakers is disabled: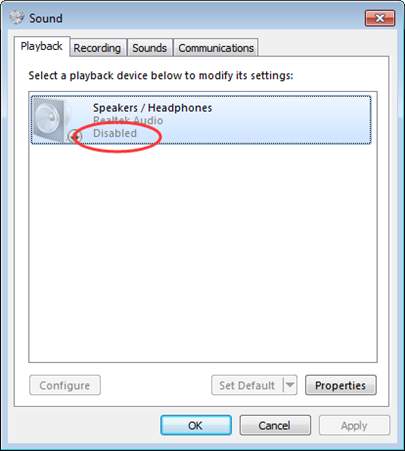 If it is disabled, right click on it and select Enable.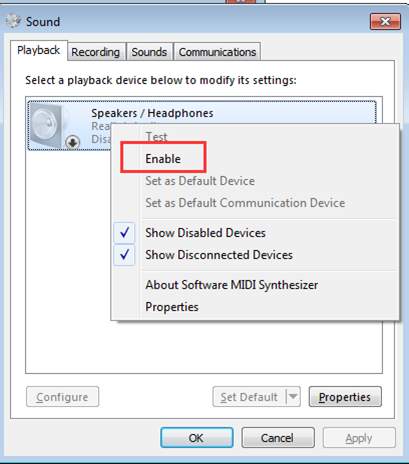 If you don't see Speakers option listed, it could be disabled and hidden. Right click on the blank space and select Show Disabled Devices. Then Enable it.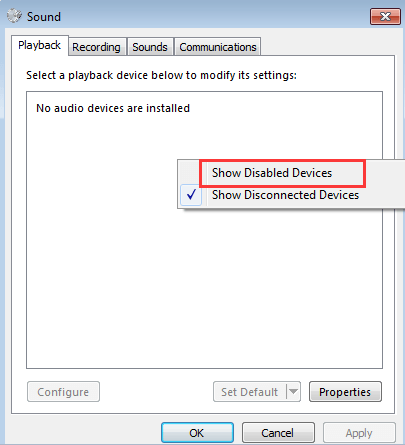 Secondly:

Ensure the sound is not muted

It could happen that the sound is muted by accident. Check for speaker icon at the bottom left corner of desktop, and make sure there is no red circle with a cross 
going through it. 

If you ensure above sound settings have no problems, try below methods.

Method 1: Disable the audio device in Device Manager and restart your PC

Follow these steps:

1. Open Device Manager.

2. Expand category "Sound, video and game controllers". Under this category, right-click on the audio device name. A context menu will pop up. Then select Disable.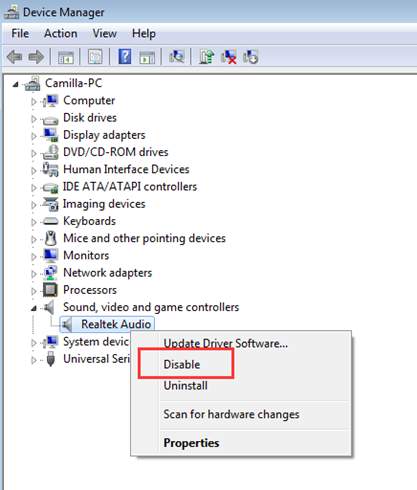 3. Restart your PC. Then a Window will pop up to ask you to solve the sound problem. Just follow the on-screen instructions. Then the sound issue should resolve.
Method 2: Update the audio driver
You can go to PC manufacturer's website or sound card manufacturer's website to download the latest sound driver. 
If you have difficulty downloading the driver manually, you can use 
Driver Easy
 to  help you. 
Driver Easy
will scan your computer to detect all problem drivers, then provide you with the latest drivers including the latest audio driver. It has Free version and PRO version. You can use both versions to download drivers automatically. With the PRO version, you will have fast download speed and full features. With the PRO version, you can update all drivers with just one click. With the PRO version, you will enjoy expert tech support guarantee. You can contact us for further assistance regarding the no sound issue.
If updating drivers doesn't work, you may need to uninstall the driver first then reinstall the driver. 
To uninstall the driver, just right click on the audio device name and select 
Uninstall
.

After uninstalling the driver, update the driver. Then the sound issue should resolve.